The current time in Athens is 09:34 on December 8, 2023 - For current weather, click here
28th Olympic Games - JO
Athens, Greece, August 14-28, 2004
Profile Start list Results
August 28: Men's Mountain Bike, 2hr 15min
Meirhaeghe's disgrace leaves men's race open
The men's cross-country mountain bike race concludes the Athens cycling program on Saturday. John Stevenson looks at the favourites on the off-road to gold.
Can Roel Paulissen take Meirhaeghe's place?
Photo ©: Colin Meagher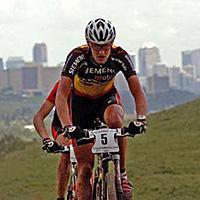 Fifty riders will line up on Sunday for the third-ever Olympic men's mountain bike race. The first, in 1996, was won by Bart Brentjens (Netherlands) who battled the Atlanta heat for a historic victory. For that achievement, Brentjens was honoured with a knighthood by the Queen of the Netherlands, though he doesn't seem to insist on being referred to as Sir Bart.
Four years later the men's race went to Miguel "Little Mig" Martinez of France, the 2000 world champion.
Martinez is back to defend his title after some time away from the top level of mountain biking. The tiny French climbing specialist returned to the dirt this year after an unsuccessful experiment with road racing. Unlike other former mountain bikers such as Cadel Evans, Dario Cioni and Michael Rasmussen, Martinez made no impact on the road, and found the drudgery of life as a domestique wasn't to his liking, so he returned to mountain biking this year.
Who will fill Meirhaeghe's shoes?
Just a month ago, though, the men's mountain bike race looked like a sure thing: Belgium's Filip Meirhaeghe had won three of the six World Cups and was hitting storming form at just the right time. Then Belgium's Olympic mountain bike dream came crashing down as Meirhaeghe returned a positive test for EPO and quit the sport in disgrace.
Nevertheless, Olympic MTB gold could still go to Belgium. Roel Paulissen won the year's second World Cup and was beaten by Meirhaeghe in the first. He slipped a little mid-season, but has only once finished outside the top five this year when you remove Meirhaeghe's suspect results from the placings.
Canada has two strong contenders in Ryder Hesjedal and Seamus McGrath. Hesjedel has had the best results this year of the two, and may be a surprise medalist if he can find the form that put him on the podium at the 2003 world's behind Meirhaeghe.
The remaining favourites include France's Julien Absalon, Lado Fumic of Germany, top Swiss rider Christoph Sauser, the 2000 bronze medalist and current European champion Jose Antonio Hermida (Spain).
Finally our dark horse wish-list picks are Australians Sid Taberley and Josh Fleming - but we're unashamedly biased here as they ride for the development teams we support, TIS/Cyclingnews and Cyclingnews.com!