The current time in Athens is 19:41 on September 23, 2023 - For current weather, click here
28th Olympic Games - JO
Athens, Greece, August 14-28, 2004
Thursday, August 19, 2004
No distractions: French endurance team in "quiet mode"
The French endurance track team for Games have quietly been training in Bordeaux until last Monday, preferring to skip the opening ceremony to fine-tune their form before heading to Athens. Two of their biggest hopes, Fabien Sanchez and Anthony Langella - one a second-year professional with FdJeux.com; the other a former pro with Credit Agricole - took time out to chat with former Olympian and track world champion, Marion Clignet.
Fabien Sanchez at the Regio-Tour in Germany, earlier this month
Photo: © Christine Schramm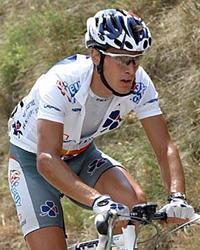 Cyclingnews to Fabien Sanchez: So Fabien, when did you start riding?
Fabien Sanchez: I started in 1997, as a first-year cadet.
CN: Did you start with the track or the road?
FS: I started with the road and included track in my program in my second year on the bike. My very first race, I broke my collarbone and I didn't race again until my second year as a junior when I won the national title. The track has been a good addition for my road racing, allowing me to work on things like speed and pedal stroke.
CN: What are your objectives for the Games? Will you continue to race on the track after the Olympics?
FS: In the individual pursuit, I'd like to finish in the top eight and in the team pursuit, top four. In 2005, the track program will be moved forward in the calendar, so I'll be able to particpate in the major competitions, but my main focus will be on the road.
CN: What are your dreams as a first-year pro?
FS: To win a medal at the Olympics in the pursuit and to win a classic in the Pro Tour.
CN: What's your favorite race memory?
FS: Probably coming third in the pursuit at the World Cup in Cali in 2002; it was my first international competition on the track and the ambiance was awesome.
Cyclingnews to Anthony Langella: What got you into cycling?
Anthony Langella: Cycling has a long history in my family, so it was only natural that I follow the footsteps of my grandfather, father, and uncle.
CN: You spent several years as a pro before turning to the track; how was that?
AL: I raced for six years as a pro, the last few with the Credit Agricole team. It was a great experience... I was able to live what a lot of cyclists dream of.
CN: What's your strongest race memory?
AL: Probably arriving on the Champs Elysée at the end of my first Tour de France. My best result was a stage victory during the Tour de l'Avenir in Chateau-Chinon in '98.
CN: So what brought you to the track?
AL: Well, I started riding the track after not finding a renewal for my pro contract in 2002. I really felt good physically and felt it would be waste not to race, so I started training on the track with the Olympics as my objective. As a pro I rode the track often for training, so I'm fairly used to it and living in Bordeaux really helps!
CN: You've recently become a dad for the second time. How does that fit in with your training?
AL: Well, it's not being a new dad again that's difficult, it's being a dad and having to leave [my family] that's really hard. For that reason, it seems like this season has been really long.
CN: What are your objectives for the Games - and afterwards?
AL: I really want to have an all-out time over there, do the absolute best I can, something awesome. I'm pretty sure it'll be my last big race, as I'll probably stop my career at the end of the season.