The current time in Athens is 03:19 on October 4, 2023 - For current weather, click here
28th Olympic Games - JO
Athens, Greece, August 14-28, 2004
Friday, August 20, 2004
The triumph of the team
Sara Carrigan's victory in the women's Olympic road race was down to three things: teamwork, teamwork and teamwork - and some meticulous preparation. During a lull in their celebrations, Kristy Scrymgeour spoke to Carrigan and her team-mates and coaches about the factors that contributed to a golden moment for Australian cycling.
Sara Carrigan wins the women's road race
Photo ©: Rob Jones
The Australian women have just came away from the 2004 Olympic Games with undoubtedly their best Olympic performance ever, with a display of teamwork in the women's road race that catapulted Sara Carrigan to the first Australian cycling gold medal of the Games.
Australian women's cycling came to prominence when Kathy Watt won the gold in Barcelona, her result making it possible for more Australian women in the future to have the opportunity to excel in the sport.
In 2000 in Sydney, Anna Millward was Australia's big hope, and remarkably came away with a fourth place in both the road race and the time trial despite suffering from illness in the days leading up to the Games. This week the three-person team of Oenone Wood, Olivia Gollan and Sara Carrigan combined their strengths to pull off a win that was the perfect example of teamwork and selfless ambition.
Cyclingnews talked to the three girls today, as well as Australian national coach Warren McDonald and former Australian national coach James Victor, who returned to Europe especially for the Olympics, to find out how they are feeling now and to perhaps learn the secret of their success.
McDonald, who has worked closely with the women's team all year, bringing them up individually to peak at the very right moment, was very proud of the girls.
"It's not very often that the whole team is strong on the day. We had three girls who had the legs to win. Sara had a great ride and has a very tactical brain, as has Olivia," he said. "In the end Oenone could have won the sprint except that she went too early. Gold and bronze would have been the pinnacle, but first, fourth and sixteenth is fantastic."
Oenone Wood (right) in the sprint for bronze
Photo ©: Rob Jones
"The great thing is that the girls have been racing together as a team all year and they really raced well together. Our pro guys who were watching the race were impressed and said that they really raced like the men.
"When you have all three girls who have great legs on the day, it makes it easier. They were all up there. Olivia had a puncture and ended up back in the bunch but she probably could have been up there too in the same position as Sara. Before the race Oenone was our highest chance of a medal, but we also had Olivia and Sara to play with."
During the year, McDonald knew that each rider was very different in the way they needed to prepare for the Games. Wood explained before the race that working on specific things with each individual rider is one of McDonald's great strengths as a coach. "He really listens and he takes advice from sports physiologists etc.," she told Cyclingnews in July. "He also really caters to the individual."
McDonald explained how things worked in the lead up to the Games for each of the athletes.
"Each girl's program was designed specifically for the Olympics and they each did what suited them best in the lead up. Sara came out of altitude and Olivia and Oenone raced a lot more. Basically we just had to control their recovery and control how they came off the tours leading up to August.
"James and I worked well together. I wasn't confident in taking Sara to altitude and I hadn't worked with her at altitude before. She was also on the list to race Thuringen after her first three week block at altitude, but she wasn't feeling ready yet so she stayed up there, whereas I took Oenone and Olivia to race.
"People had been saying that Oenone had been going well for too long this year and at times I thought she was too. But with the periodisation in the training and the plan we had, we knew she hadn't yet reached her peak. I didn't want her to do Tour de L'Aude just for the time trial, because it wasn't in the plan and she needed a break at that point. As it was this was perfect because she really recovered and came back up very well.
"Olivia made the decision at the beginning of the year to make the Olympics her main target and with her it was just a matter of build, build, build. She really started to show the beginning of her form at Montreal World Cup and she just kept getting better from there. Last year she said she raced too much and this year we wanted to make sure we didn't do that.
A delighted Sara Carrigan
Photo ©: Rob Jones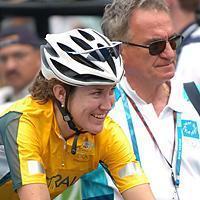 "Three days before, Olivia wasn't feeling right so we had to change her program and keep it a bit easier. Sometimes it is hard mentally to cope for an athlete when they're not feeling right the few days before the race. But she didn't let it get to her and she came through.
"The individual programs seemed to work out perfectly for each person because they got it right on the day. It's just amazing that everything came together," he continued. "It doesn't always happen like that. When you look at Anna Millward in 2000 getting sick just before the games, you always have to hope that you have some luck as well."
James Victor, who was National Coach for seven years and has always dreamed of getting Olympic gold, was very happy when we caught up with him.
"It's not bad at all," he said. "We've talked about getting a result like this for a long time and I'm happy to have had to opportunity to come back for this.
"Shane [Bannon] and Flynny [Michael Flynn] believed I was the right guy to come to this Olympics and all the work that we've put into it over the last eight years has paid off. We were lucky to have three of the strongest riders in the race and the girls really delivered on the day.
"Coming back for one final stint with the team has been fantastic. Shane and I have had a few teary moments going over what we've been doing for the past few years. To know that we've pulled off a good result due to teamwork is fantastic. I'll have great memories of this for years to come."
As for the plan on the day Victor said, "We talked about tactics over the last four or five weeks and had long discussions about all the girls' strengths. Thankfully with Wazza [Warren McDonald] alongside, we were able to nail it and have all three girls with good legs on the day. That was out first objective. Our second objective was to be able to control the race on the day.
When I heard the Olympics were in Athens, I knew it would feel like preparing for it at home. The girls spent eight months of the year in Italy and we were able to prepare in Italy right up until a few days before and fly in at the last minute. It's only a two-hour flight. It felt like preparing at home and so there wasn't as much pressure.
"Olivia and Oenone were able to go to some races to prepare and Sara was able to train at altitude. Sara has shown in the past that she comes down from altitude with good form, that she didn't need to race. We have done an altitude camp at Livigno for the last five years. We worked on the same plan and it paid off. Warren and I were pleased with it because we could see Sara getting better and better every day.
"In the end all three girls were hungry for a result for Australia and not necessarily individually. Unlike a couple of other riders, like Nicole Cooke, we had the numbers on the day and you couldn't have written a more perfect script.
For Olivia Gollan, it was "a big day. I knew we could win," she said. "I just didn't think we could do it so well. You couldn't have written the script better."
As to why it all came together for them this year Gollan said it was teamwork. "We just understand each other," she explained. "I think Oenone is an exceptional talent and we've been able to use that to out advantage. She can sprint, climb and time trial and when you add strength of Sara and me, we had a few different hands we could play. Warren McDonald has also had a lot to do with it. I feel that Oenone and I have come a long way in the past year. I had the legs of my life on Sunday.
"I also think our team is coming of age. A couple of years ago a few of the good riders like Anna [Millward] in the Australian team retired and we didn't really have any experience in the team. So it's taken a couple of years to build up to where we are. We have a lot of depth now."
Newly crowned Olympic champion, Sara Carrigan, is on top of the world and really enjoying the experience. "It's fantastic," she said. "It's something that I've been dreaming of for so long. It was amazing to turn up on the day and have all of us feeling great."
Mission accomplished
Photo ©: Rob Jones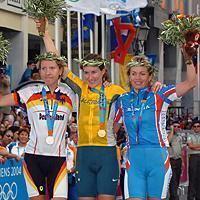 Carrigan spent the last part of the race in a two person break with German Judith Arndt who was very strong on the day. When asked if she was nervous as to whether she could pull it off coming into the finish, Carrigan said, "I wasn't really nervous because the adrenaline was pumping. I was able to sit on Judith towards the end because we had Oenone back in the bunch. When we came around that last corner and saw the finish line it was an amazing feeling.
"The support from Australia has been absolutely amazing," she added. "All the text messages, phone calls and emails have been really great. To achieve something and have so many people to share it with makes it so much more special.
"During the race I could see my Dad with his Australian flag in the crowd and it gave me goose bumps. Actually it was pretty funny. After the race he tried to jump the fence and fell over and hit his head, then the security guard threw him back over the fence and he was bruised and scraped and I think even a little concussed. He was so excited!"
Carrigan agreed with Gollan about the teamwork throughout the year and on the day.
"Basically we all knew each other's strengths and weaknesses and we were all prepared to lay it on the line for each other. When Oenone came up to me after the race, it was just so exciting."
Considered Australia's favourite to medal before the race, Wood has come away from this experience even more motivated to race.
"It was pretty amazing," she said "I think we rode so well as a team and it was a perfect scenario that you don't often experience in racing. I've come away from these two races with so much motivation. To be competitive here is amazing. I can't wait for the next race.
"From my own perspective, this year I've been focusing on specific things. Warren [McDonald] and I have been working on my cadence and my pacing in time trials, which had really helped. Also the exposure we've had to high level racing and also the fact that we have been racing together all year has been good.
"We came to the Olympics and despite it being the biggest race of our lives; the fact that we've been racing together all year really took the pressure off."
At the end of the interview, the Australian team reacted in disappointed tones to comments made by Norway's Anita Valen after the women's road race on Saturday. Despite their disappointment in the comments, their spirits are in no way dampened.
Norwegian newspaper VG reported that Valen was angry about Sara Carrigan's win, talked of a "secret room in their sports facility" and pointed out that Carrigan had not raced much this season, but had spent time at the AIS's training center in Italy instead.
"Before the race I underlined a lot of names of girls that could be the winner today," Valen said. "I didn't think of her at all. ... No way that she was a favourite."
When Cyclingnews caught up with Carrigan she said, "I was really, really, really disappointed. We were teammates last year and we've had our differences but for someone to make something up like that... Actually I was just talking to her before you called and she explained to me that all she really said to the journalist was she was surprised that I had won because she hadn't seen me racing lately and that the journalists had turned it all around. If Anita is telling me the truth, and I like to believe she is, then it is just the journalists trying to put more dirt on the sport of cycling and that makes me even sadder."
Australian team coach James Victor was less restrained in his response. "They can take as much blood and urine from the Australian girls and all the Australian girls who have been in the AIS program over the years and they will find nothing," he said in response to Valen's veiled implication that Carrigan's success was not just down to teamwork. "The UCI know that. Of all the Australian girls they have tested over the year, they have all been clean. I believe that we have shown that we can compete in the one day races and that you can do it clean."
Referring to Valen's 'non-negative' test for caffeine in May 2003, over which no action was taken, Victor added, "For people who have tested positive in the past to come forward and say things like this is really sad."
AIS women's coach Warren McDonald stood by his star. "Sara has proven by winning races in the last year, placing at worlds that she has the ability to win," said McDonald. "She also showed very strong moments this year. She burnt out last year so this year she simply didn't do as much racing.
"It's the same as any sort of result these days. If somebody wins, people always say 'what are they taking.' I believe Sara is 100 percent clean. We believe that all of our girls are capable of doing it clean and we have proven that."