The current time in Athens is 21:24 on September 23, 2023 - For current weather, click here
28th Olympic Games - JO
Athens, Greece, August 14-28, 2004
Saturday, August 14, 2004
Taking on the big guns
Scanlon heads Irish hopes
By Shane Stokes
Mark Scanlon will spearhead Ireland's cycling hopes in Athens
Photo ©: Shane Stokes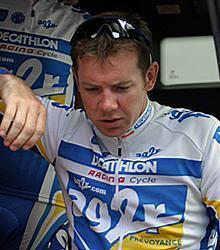 It may be very much a case of David against Goliath, but the two-man Irish team of Mark Scanlon and Ciarán Power are hoping for a decent showing in the Olympic road race this Saturday.
Both have taken very different routes in their bid to arrive in Athens in the best possible shape, with Scanlon riding and finishing his first Tour de France last month and then further building the workload with rides in the HEW Cyclassics World Cup race and the Tour of Denmark, where he finished eighteenth.
Power has followed a different path in his build-up to the Games, the Navigators Insurance professional having been given a temporary leave of absence from the team in order to prepare. For him, his recent programme has consisted of high speed, high intensity motorpacing work rather than competition, the Waterford rider returning to the type of training which served him well in the past. Both Irishmen have adopted completely different approaches but they have a common goal: to ensure the green of Ireland does as well as is possible this Saturday.
'I had five days off after the Tour. The big problem after doing a race like that is keeping your motivation up. You go from having a big crowd and great atmosphere on the Tour to heading home and having to train without any of that," said Scanlon. 'I decided that the best thing for me to do would be to head to the Tour of Denmark and ride around that at my own pace.'
'At the moment I am feeling a bit tired after the race and because of the travel to Athens, but I think by Saturday I will be all right.'
On paper at least, Scanlon is the more likely of the two to figure. The Sligoman showed his natural ability when he won the world junior championships in Valkenburg six years ago and since turning pro in 2003, he has quickly settled in to the pro ranks. Earlier this year, he won two 1.3 ranked races in Estonia, and then went on to ride respectably in his first Tour de France. He can climb a bit, sprint well from a small group and has bucketloads of determination, so he'll set out on Saturday hoping for a good ride.
All going to plan, Scanlon talks about the possibility of a place in the top 15 or 20, but says that is dependant on his form being just right and things falling into place with regards to luck and tactics.
Ciarán Power
Photo ©: Jon Devich

As for Power, he is happy with how things have gone recently. 'I decided to prepare for this race through training,' he said. 'I think it has been about five years since I was able to train properly for one specific event. Normally, I just try to go well early on in the season and then use the races to bring me on. But for the Olympics, the Navigators team was good enough to let me loose and see what I can do. I think I have done everything perfectly in terms of training. I have also been very well looked after by the team manager Martin O'Loughlin and the mechanic John Keegan, so I will have no excuses on Saturday. We will just have to wait and see how it goes.'
Following the withdrawal of David Millar from the Olympic time trial by British Cycling, a place for another rider became available in the event. Ireland secured a place for Scanlon but, following a team meeting, the 23 year-old decided to focus solely on the road race. With no riders qualified for the track contests, it means that the XC mountainbike races at the end of the Games will be the only other events in which Irish riders take part.
The first of those two MTB riders, Jenny McCauley, will line out in the women's cross country race on August 27. McCauley is the daughter of the former Irish international Denis Brennan and secured her first Olympic participation when she beat Irish champion Tarja Owens in the three-race fight-off earlier this year.
Last season, Owens and McCauley had between them landed a slot for Ireland in the event, thanks to their combined points total which saw them finish as fourteenth-best nation in the rankings. Both had been trying to qualify off their own bat, but with illness affecting McCauley's performances in the first half of the season and a broken collarbone hampering Owens' in the second, they had to be satisfied with that single place.
Robin Seymour
Photo ©: Valerio Marani

Ireland's other MTB slot goes to 33 year-old Robin Seymour, who has dominated the Irish off road scene for more than a decade. The Wicklow rider has won 13 straight cyclocross titles and 11 mountainbike championships at home, while in terms of international competition he has taken part in numerous world championships and World Cup races. He was 28th at the MTB event in Sydney 2000.
While neither will trouble the medal contenders, Seymour and McCauley have shown decent form of late and should post respectable performances. The former took a career best 23rd of 250 starters in the world marathon championships in Austria in July and then raced to a clear victory in the MTB race held in the Troodos Mountains in Cyprus last weekend. The Wicklow rider finished 12 minutes and 29 seconds ahead of second-placed Marios Athanasades at the end of the near three and a half hour event. As for McCauley, she was 26th in the world marathon championships and second in the women's event at Troodos Mountains.
They'll both be aiming for a good showing at the end of the month. Before then, the Irish focus will be fully on Scanlon and Power in tomorrow's road race. Medals may be a very long shot for this modest two-man squad, but with some luck, one or other might slip into a good move and pull off a high placing. One big plus for them is that the weight of expectation is not a major one; Italy, Spain, France and Belgium and their like are under real pressure to deliver, but for Scanlon and Power, the stakes are not quite as high.
Men's road team roster
Mark Scanlon
Age: 23
Career pro wins: 4
Olympic record: none
Ciarán Power
Age: 28
Career pro wins: 4
Olympic record: 74th, Men's Road Race, Sydney 2000
Mountain bike roster
Robin Seymour: Team WORC
Age: 33
Olympic record: 28th, Men's MTB cross country, Sydney 2000
Jenny McCauley: Bray Wheelers
Age: 30
Olympic record: none