The current time in Athens is 02:28 on October 3, 2023 - For current weather, click here
28th Olympic Games - JO
Athens, Greece, August 14-28, 2004
Thursday, August 12, 2004
German Olympic powerhouse returns
Ullrich looks for repeat in team with several cards to play
By Chris Henry
Andreas Klöden from T-Mobile Team
Photo ©: Christine Schramm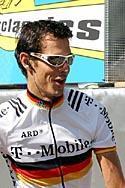 The Olympic road race only comes along once every four years, but if the last edition in Sydney in 2000 can provide any reference point, Germany will be a tough nation to beat. The 2000 Games were good to Jan Ullrich, who avenged defeat in the Tour de France by winning the road race and taking silver in the time trial. In the road race, Ullrich won ahead of breakaway companions Alexandre Vinokourov (Kazakhstan) and fellow German Andreas Klöden. All three rode then - and do today - for the same trade team.
Ullrich and Klöden are back in the German roster this year, along with another T-Mobile man, Erik Zabel. Jens Voigt (Team CSC) and Michael Rich (Gerolsteiner) round out the five man team. Four of these five rode together in Sydney, while Michael Rich (who rode in the 1988, 1992 and 1996 Olympics) takes the place of Rolf Aldag. Rich is the only rider in the team not to have ridden this year's Tour de France, where Klöden and Ullrich finished second and fourth overall.
"The Olympics are a big event for me," Jan Ullrich said on his trade team's website. "Sydney was a great experience. I am still really proud that Vino, Klödi and myself orchestrated that. Jens Voigt worked damn hard for the first 150 kilometres closing any gaps, then the three of us attacked. We were up the road before Lance Armstrong, or the Italians knew what had happened. It is unlikely that we could pull that off again."
Though knocked out of the finale by a mechanical failure, Ullrich showed good form in last weekend's Clasica San Sebastian, while Voigt was back to his usual attacking ways in the Tour of Denmark. Klöden, who took the German national title before going on to a breakthrough second overall in the Tour de France, is in the best form he's had in years and is back to being considered a top threat.
Jan Ullrich
Photo ©: Christine Schramm
Erik Zabel, while past his peak sprinting days, isn't ranked number one in the world for nothing. The ever-consistent Zabel has the strength and experience to challenge for cycling's top prizes. An error in judgment leading to premature celebration let Oscar Freire slip through for victory in this year's Milan-San Remo classic, but Zabel showed at least that he still has the kick. He missed out on stage victory in the Tour de France but was consistently present in the bunch sprints.
Most importantly, Zabel can make the tough selections on races that are anything but flat, often reaching the finale fresher than his fellow sprinters, or even without his biggest rivals. Zabel could figure in an Athens finish from a small group or a compact peloton, giving the German team several cards to play.
Between the sprint power of Zabel, Michael Rich's motor, Jens Voigt's never-say-die attacking style, and the varied talents of Ullrich and Klöden, Germany would appear on paper one of the top teams for Athens. Having three men from the same trade team doesn't hurt either, given the Telekom podium sweep of 2000.
"Klödi and Jens Voigt rode together for the national team as amateurs already," Ullrich noted. "Jens and Erik were school mates even, and have family connections. We are all pros and we approach the Olympics in a different way from the usual cycling circuit."
In the time trial, Germany will equally tough to beat, with Ullrich hoping to repeat or better his silver medal performance from Sydney (behind Russian Viatcheslav Ekimov) and specialist Rich in the start house. The 48km distance for the men's time trial should suit both riders.
Men's road team roster
Andreas Klöden: T-Mobile
Age: 29
Career pro wins: 12
Olympic record: One participation
Michael Rich: Gerolsteiner
Age: 34
Career pro wins: 26
Olympic record: One participation
Jan Ullrich: T-Mobile
Age: 30
Career pro wins: 39
Olympic record: One participation, including gold and silver medals
Jens Voigt: Team CSC
Age: 32
Career pro wins: 38
Olympic record: One participation
Erik Zabel: T-Mobile
Age: 34
Career pro wins: 174
Olympic record: Two participations