The current time in Athens is 02:25 on October 3, 2023 - For current weather, click here
28th Olympic Games - JO
Athens, Greece, August 14-28, 2004
Wednesday, August 11, 2004
After a fine Tour, France hopes for Olympic success
Former World Champion Brochard leads the charge
By Chris Henry
Laurent Brochard (Ag2r)
Photo ©: Sirotti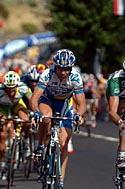 France enters the Olympic men's road race with a status of underdog, with a mixture of veterans and young riders completing the five man roster. With talk in recent years of the poor state of French cycling, the country has begun to enjoy something of a resurgence in 2004, highlighted by three stage wins in the Tour de France and young national champion Thomas Voeckler's ten days in the yellow jersey. Victories are coming more often for French riders, and the five men sent to Athens will be looking to put France back on the podium in the biggest international competition.
Heading the team will be the experienced Laurent Brochard (Ag2r-Prévoyance), professional since 1992 and contesting his third Olympiad. At 36 years old, Athens will surely be his last, but the 1997 world champion is as motivated as ever for hunt for Olympic gold. Brochard will be joined by Christophe Moreau (Crédit Agricole), Richard Virenque (Quick.Step-Davitamon), Sylvain Chavanel and Thomas Voeckler (Brioches La Boulangère).
"I've been thinking about Athens for two years," Brochard told AFP. "For two years I've kept this race at the top of my objectives. It's not often that a race instills such a feeling of pride."
Brochard had a disappointing showing in last weekend's Clasica San Sebastian, run on a similar course to the World's course he conquered for his rainbow jersey years ago. Nonetheless, his tactical sense and ability to act as captain on the road should give France the leadership necessary, in the absence of a true favourite for race victory.
"With five, it's not really possible to protect someone," Brochard explained. "It's not like a World Championships when you have 12 at the start. It's tough to put in place any real strategy and there's also the fact that we don't have any sprinters.
"We have to stick together, with a certain thought toward sacrifice. In a race like this you don't have the option of neutralising teams. But the French team has a certain allure, with this mixture of old and young."
The team's younger guard comes from the Brioches La Boulangère team, with Sylvain Chavanel and Thomas Voeckler each entering their first Olympics. A strong all-rounder, Chavanel kept a low profile on the post-Tour criterium circuit, but showed that he had recovered well from July's efforts with a stylish win in the Polynormand classic on August 1st. Winner of the Tour of Belgium this year, Chavanel will be put to the test in a top-level single day race. The smaller national teams in the Olympics can lead to more individualistic racing, which could suit the powerful Chavanel.
After delighting fans in both France and abroad with his ten days in yellow during the Tour, Thomas Voeckler capped an incredible two month journey from relative obscurity to new national hero. Winner of a tough mountain stage in the Route du Sud and the French national championships in June, Voeckler found out just how deep he could dig as he fought to defend his unexpected race lead in July's Tour. Voeckler will most likely play a team role for France in the Olympics, and the 25 year old is ready to do what he can in his first Games.
"That's going to be huge!" Voeckler told Cyclingnews in a post-Tour interview. "I really want to honour my selection and show the colours of France. Physically, I'm ok. The (post-Tour) criteriums have helped me keep the rhythm."
Rounding out the team will be Christophe Moreau and Richard Virenque, each of whom have ridden their fair share of big one day races. Neither guaranteed to figure in the finale of the Athens course, but Virenque in particular is never one to underestimate, as his 2001 victory in Paris-Tours demonstrated. Virenque hit peak form as planned for the Tour de France, where he claimed a dramatic stage win and his seventh polka dot jersey of best climber. Virenque, like Brochard, rode both the Atlanta and Sydney Olympics, while Moreau has experience from Sydney under his belt.
Both Brochard and Moreau are expected to contest the time trial.
Laurent Brochard: Ag2r-Prévoyance
Age: 36
Career pro wins: 40 including one World Championship
Olympic record: Two participations
Sylvain Chavanel: Brioches La Boulangère
Age: 25
Career pro wins: 19
Olympic record: none
Christophe Moreau: Crédit Agricole
Age: 33
Career pro wins: 23
Olympic record: One participation
Richard Virenque: Quick.Step-Davitamon
Age: 34
Career pro wins: 32
Olympic record: Two participations
Thomas Voeckler: Brioches La Boulangère
Age: 25
Career pro wins: 9
Olympic record: none