The current time in Athens is 21:02 on September 23, 2023 - For current weather, click here
28th Olympic Games - JO
Athens, Greece, August 14-28, 2004
Wednesday, August 11, 2004
Belgium: A small but quality delegation
By Jeff Jones
Merckx (Lotto-Domo)
Photo ©: Caroline Yang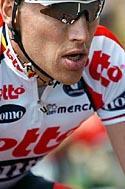 Although its complete road, track and MTB team numbers only nine riders, Belgium is still a country with strong medal chances in cycling at the Olympics.
The five member men's road team should be competitive with the other top squads in Athens such as Italy, Spain, Germany and Australia. Led by Lotto-Domo's Peter van Petegem and Axel Merckx, the team has a good mix of supporting riders and wild cards, with Marc Wauters, Philippe Gilbert and Wim Vansevenant all able to fill those roles. Merckx in particular has stood out in recent races, and he has often been in the decisive breakaway, never afraid to try his own chances. Peter Van Petegem's double in the 2003 Ronde van Vlaanderen/Paris-Roubaix won't be forgotten easily, and although the Athens course is not exactly the same as a spring classic, Van Petegem is a rider who can be brilliant when it matters. In the time trial, Belgian hopes will rest with Van Petegem and Wauters.
Belgium only has one female cyclist entered into the Olympics: 20 year old road rider Sharon Vandromme, from Roeselare. Vandromme finished 10th in the European U23 championships in Athens in 2003, and is also a consistent finisher in the women's World Cups.
On the track, Belgium has two cyclists in Matthew Gilmore, who won the silver medal in the madison at the 2000 Olympics, and the young and talented Iljo Keisse, who is developing into a madison specialist after many good results as an U23 and junior rider. The Gilmore/Keisse partnership will be one to watch in the madison, and Gilmore will also double up and ride the points race.
Mountain biker Filip Meirhaeghe's positive test for EPO was nothing short of a disaster for Belgian cycling, as he was considered a very solid chance at the gold medal in the men's cross country. However, Belgium's sole representative, 28 year old Roel Paulissen, should be able to fill the big shoes left by Meirhaeghe. Winner of the MTB World Cup in Houffalize this year, Paulissen is an experienced cross country rider and Athens will mark his third Olympic Games. His previous results at the Olympics were 17th in Atlanta (1996) and 19th in Sydney (2000). But don't be surprised to see him on the podium in Athens.
The squad
Axel Merckx: Lotto-Domo
Age: 32
Career Pro Wins: 8
Olympic record: One participation
Peter Van Petegem: Lotto-Domo
Age: 34
Career Pro Wins: 19
Olympic record: One participation
Marc Wauters: Rabobank
Age: 35
Career Pro Wins: 16
Olympic record: One participation
Philippe Gilbert: FDJeux.com
Age: 22
Career Pro Wins: 4
Olympic record: No participations
Wim Vansevenant: Lotto-Domo
Age: 32
Career Pro Wins: 2
Olympic record: No participations
Sharon Vandromme: Vlaanderen-T Interim
Age: 20
Wins in major competitions: 0
Olympic record: No participations
Matthew Gilmore: Vlaanderen-T Interim
Age: 31
Wins in major competitions: 20
Olympic record: One participation
Iljo Keisse: Jong Vlaanderen 2016
Age: 21
Wins in major competitions: 1
Olympic record: No participations
Roel Paulissen: Siemens Mobile Cannondale
Age: 28
Wins in major competitions: 13
Olympic record: Three participations