The current time in Athens is 20:04 on September 23, 2023 - For current weather, click here
28th Olympic Games - JO
Athens, Greece, August 14-28, 2004
Tuesday, August 10, 2004
Vai Azzuri: Ballerini's boys ready to rock Saturday in Athens
By Tim Maloney, European Editor in Ancona
Gli Azzuri, ready to rock
Photo: © Cyclingnews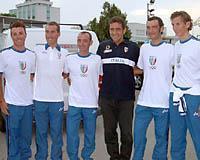 Cyclingnews was invited to the pre-Olympic press conference of the Italian Olympic Men's Road Cycling team in Ancona, Italy and CT Franco Ballerini was pleased to tell the assembled media that "It's a good team; I like it very much. There are so many good riders to chose from in Italy but I am confident that this is the best squad we could assemble for Athens."
The captain of the Italian team is Paolo Bettini, and Ballerini is happy to put his faith in his talented fellow Tuscan. "Bettini has shown how strong he is lately and without a doubt, he's our captain in Athens," Ballerini said. "But the other riders are also very dangerous, especially if they are in a break. So we have a lot of chances."
Although Michele Bartoli had to give up his Olympic place due to hamstring injury problems last week, Ballerini's selection of Bettini's most loyal teammate Luca Paolini will further reinforce Italy's chances in Athens. "I'm sorry Bartoli had to give up his place, but I'm confident that Paolini will be an excellent replacement."
As for Ballerini's look at the lay of the land in the Olympic road race Saturday, his frank opinion is that the race will be a "Bingo"; in other words, a crap shoot, pure and simple.
"To win the race in Athens, a rider has to ride well and be smart," he explained. "Plus you need good luck, without any mechanicals or crashes. With only five riders, the goal is to manage the situation as well as possible in real time under the circumstances."
Regarding the competition, Ballerini nominated Spain as having probably the strongest team in the race. "They will be the reference, with three riders (Valverde, Astarloa, Freire) who can win the race. Germany has a strong team as well with Ullrich, Klöden and Zabel, then there are the individual riders who can do well, like Van Petegem, a guy you can never underestimate. Plus the Australians are very good too. In any case, (the Olympics) will be a wide-open race."
Paolo Bettini: Quick.Step-Davitamon
Age: 30
Hometown: Cecina
Career Pro Wins: 41, including six World Cup races
Olympic Record: 1 Participation: Sydney (9th)
Cristian Moreni: Alessio-Bianchi
Age: 31
Hometown: Asola
Career Pro Wins: 7, including '04 Italian pro championship
Olympic Record: none
Daniele Nardello: T-Mobile
Age: 32
Hometown: Varese
Career Pro Wins: 29, including one World Cup race (Zurich '03)
Olympic Record: none
Luca Paolini: Quick.Step-Davitamon
Age: 27
Hometown: Milano
Career Pro Wins: 8
Olympic Record: none
Filippo Pozzato: Fassa Bortolo
Age: 22
Hometown: Sandrigo
Career Pro Wins: 22
Olympic Record: none