Recently on Cyclingnews.com
Tour of Southland - 2.5
New Zealand, November 1-6, 2004
2003 results Stage List Preview Past winners
Record field for Tour of Southland
By Alan Messenger
2003 winner Scott Guyton wins a wet stage of last year's race
Photo ©: Barry Harcourt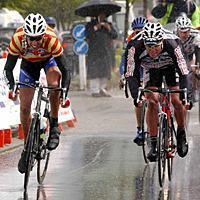 A record field of 95 will line up at Invercargill in the far south of New Zealand on Monday for the start of the PowerNet Tour of Southland. As well as attracting most of New Zealand's USA and Euro based riders the field for the UCI 2.5 Category race contains thirty overseas riders. "The inclusion of the overseas riders is most welcome and it continues to lift the profile of the event" Tour Manager Bruce Ross told Cyclingnews.
In the 47 year history of the Tour it has only been won once by a rider from outside Australasia and that rider, American John Lieswyn is back this year in a strong Southland Times team. His team-mates are last year's winner Scott Guyton, 2000 Winner Glen Mitchell, New Zealand track squad rider Tim Gudsell and world track champion Greg Henderson. Mitchell finished sixth and Guyton tenth in the recent Australian Herald Sun Tour so they will bring good form into the Southland race.
Heath Blackgrove won the road race and time trial double at the New Zealand national championships last week and he is teamed with European-based pro Hayden Roulston, New Zealand track squad rider Marc Ryan, Craig Thomsom and Logan Hutchings in a strong Zookeepers Café team.
The New Zealand chances don't stop there. New Zealand under 23 road champion and track Olympian Peter Latham heads a strong Rabobank lineup with 2000 Southland winner Karl Moore, Ryan Russell, Geoff Burndred and Ross Simmons.
Australians have always made an impact here and this year's lineup includes the Sycamore Print team of Steve Harcourt, Hilton McMurdo, Jason Rigg, Paul Millar and Mark Petterson. Harcourt is an expat Kiwi and is the son of race photographer and colourful cycling personality Barry Harcourt. Other Aussies in the field are Richard England, Joel Pearson, Michael McGee, Chris Carson and Josh Akarsn.
Three Germans from the Marin team Herspersdorf, Fabian Mathes, Hans Fischer and Christian Brockhoff will certainly add interest to the Tour as will the powerful Swiss rider Pascal Hugerbuhler and French regional champion Olivier Fesqnet.
The Tour gets under way on Monday with a team time trial at Invercargill but more significant will be the afternoon stage from Invercargill which finishes at the summit of the notorious Bluff Hill, the southernmost point of New Zealand's South Island. The stage will provide the race with a worthy leader. Other notable stages are Wednesday's 130km ride which finishes at the top of the Crown mountain range near Queenstown and Friday's gruelling 182km ride from Winton to the tourist spot, Te Anau.
The Tour finishes back at Invercargill on Saturday November 6 .
The Stages
Stage 1 - November 1: Team time trial Invercargill, 8.3km
Stage 2 - November 1: Invercargil-Bluff, 78.3km
Stage 3 - November 2: Invercargill - Tuatapere , 113.8km
Stage 4 - November 2: Tuatapere - Winton, 88.3km
Stage 5 - November 3: Lumsden - Crown Range, 132.8km
Stage 6 - November 4: Balfour - Riversdale Time Trial , 15km
Stage 7 - November 4: Riversdale - Invercargill , 127.3km
Stage 8 - November 5: Winton - Te Anau, 163.6km
Stage 9 - November 6: Te Anau - Lumsden, 79 km
Stage 10 - November 6: Winton - Invercargill, 64.4km
Past winners
2003 Scott Guyton (NZl) The Southland Times
2002 John Lieswyn (USA) Winton's Middle Pub
2001 Karl Moore (NZl) Southroads                     
2000 Glen Mitchell
1999 Graeme Miller
1998 Scott Guyton
1997 Graeme Miller
1996 Gordon McCauley
1995 Brian Fowler
1994 Doug Bath
1993 Landrey Burt
1992 Brian Fowler
1991 Stuart Lowe
1990 Brian Fowler
1989 Brian Fowler
1988 Brian Fowler
1987 Brian Fowler
1986 Brian Fowler
1985 Brian Fowler
1984 Jack Swart
1983 Jack Swart
1982 Stephen Cox
1981 Stephen Cox
1980 Anthony Cuff
1979 Eric McKenzie
1978 Paul Jesson
1977 Wayne Perkinson
1976 Paul Jesson
1975 Chris Hogan
1974 Bruce Ramsey
1973 Michael Hughes
1972 Blair Stockwell
1971 John Dean
1970 David Gee
1969 Warwick Dalton
1968 Merv Davis
1967 Tino Tabak
1966 Tino Tabak
1965 Tino Tabak
1964 Malcolm Powell (Aus)
1963 Dick Johnstone
1962 Tony Walsh
1961 Warwick Dalton
1960 Gary Ulmer
1959 Warwick Dalton
1957 Tom Tindale
1956 Kelvin Hastie


Past winners by Mario Stiehl, www.world-of-cycling.com