Nature Valley Grand Prix - NE
USA, June 9-13, 2004
Main Page Results Stage Details Next Stage
Stage 1 - June 9: Mesabi Trail Time Trial, 5.4 miles
Bessette and Jacques-Maynes take the early lead
Lyne Bessette (Team Quark)
Photo ©: Jason Elhardt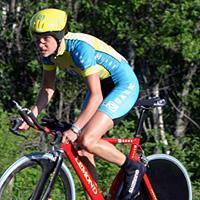 Lyne Bessette (Quark Cycling) and Ben Jacques-Maynes (Sierra Nevada) took out their respective events to take the early lead in the Nature Valley Grand Prix. The men and women both ride the same number of stages, however the women raced their time trial a day early, with the men racing the time trial on the morning of stage two.
Ben Jacques-Maynes (Sierra Nevada)
Photo ©: Jason Elhardt

The short course was set on the Mesabi Trail, which has recently been built purely for bike riding. The trail stretches from Grand Rapids and Ely and is currently 66 miles (105.km) long. When it is eventually finished it will cover 132 miles (211km). The course was on a part of the trail that is undulating and technical with some sharp turns and lots of bends.
Sierra Nevada took one-two today in the men's time trial that kicks of their five-stage race. Jacques-Maynes took the honours over his teammate Eric Wohlberg, giving Sierra Nevada the upper hand going into Stage Two later in the day.
This is the second victory this year for the two-time Collegiate National Champion, who is a renowned all rounder in the cycling world, having success both on the road and in Cyclocross. Taking third place in the time trial was Australian Henk Vogels who now sits 15" behind Jacques-Maynes and eight seconds behind Wohlberg and will be certainly challenging the Sierra Nevada Team over the next few days.
Women
Team Rona
Photo ©: Jason Elhardt

Having come second to her then-teammate Manon Jutras on the same course last year, Quark's Lyne Bessette took out the 5.4-mile (8.6km) time trial that kicked off the women's Nature Valley Grand Prix. With Jutras absent from the race this year, Bessette was last starter for the time trial and came home to narrowly edge out Rona's Katrina Grove for the win.
With the help of a tailwind, Bessette's time of 11'23" was 50 seconds faster than her time on the same course last year, setting a new course record for the women in this young event. Grove, who has had an exceptional year to date, came in only three seconds down and now sits in second place in GC in front of T-Mobile rider, Lynn Gaggioli, going into tomorrow's Iron Range Road Race.
Bessette was naturally happy with her ride and keen to defend the lead for the rest of the week. "I'm happy to take the lead," she said, "I prefer to defend the jersey."
Photography
Images by Jason Elhardt/www.jasonelhardt.com
Brief results
Men
 
1 Ben Jacques-Maynes (USA) Sierra Nevada                                    10.09
2 Eric Wohlberg (Can) Sierra Nevada                                          0.07
3 Henk Vogels (Aus) Navigators                                               0.15
4 Adam Bergman (USA) Jelly Belly/Aramark                                     0.18
5 Jason McCartney (USA) Health Net presented by Maxxis                       0.19
6 Glen Mitchell (NZl) Sierra Nevada                                          0.20
7 Tim Larkin (USA) Ofoto                                                     0.21
8 David Wenger (USA) Sharper Image - Mathis Bros                             0.22
9 Peter Fairbanks (USA) Bianchi/Grand Performance                            0.23
10 Caleb Manion (Aus) Jelly Belly/Aramark                                    0.24
11 Jason Bausch (USA) Ofoto                                                  0.25
12 Jason Lokkesmoe (USA) Health Net presented by Maxxis                      0.26
13 Wayne Puckett (USA) Team Spine                                            0.27
14 Bryan Smith (USA) Endeavour Cycling                                           
15 Brian Sheddy (USA) Team Sea Silver                                        0.28
16 Mike Taylor (USA) McGuire ProCycling                                      0.29
17 Jake Rosenbarger (USA) Jittery Joe's                                          
18 Phil Zajicek (USA) Navigators                                             0.30
19 Nick Reistad (USA) Endeavour Cycling                                      0.31
20 Rusty Beall (USA) Ridge Mortgage Services                                 0.32
21 Scott Moninger (USA) Health Net presented by Maxxis                           
22 Lawrence Perera (USA) Sharper Image - Mathis Bros                         0.33
23 John Kelly (USA) Webcor Cycling Team                                          
24 Jackson Stewart (USA) Ofoto                                                   
25 Eric Saunders (USA) Ofoto                                                     
26 Justin England (USA) Webcor Cycling Team                                  0.35
27 Matt Dubberley (USA) Sierra Nevada                                            
28 Garrett Peltonen (USA) Endeavour Cycling                                  0.36
29 Davide Frattini (USA) Monex                                                   
30 Frank Pipp (USA) Endeavour Cycling                                        0.40
31 Aric Hareland (USA) Team Salsa/SuperTeamracing                            0.41
32 Craig Wilcox (USA) Ridge Mortgage Services                                    
33 Andrew Bajadali (USA) Ofoto                                                   
34 Evan Elken (USA) Ridge Mortgage Services                                      
35 Roman Kilun (USA) McGuire ProCycling                                      0.42
36 Jeremy Sartain (USA) Bianchi/Grand Performance                                
37 John Hughes (USA) Visionquest                                             0.43
38 Ben Stafford (USA) Webcor Cycling Team                                    0.44
39 Steven Cate (USA) Sharper Image - Mathis Bros                                 
40 Tim Mulrooney (USA) MBRC/Flanders                                         0.45
41 Burke Swindlehurst (USA) Navigators                                           
42 Michael House (USA) Sharper Image - Mathis Bros                           0.46
43 Jesse Lawler (USA) Jittery Joe's                                              
44 John Lieswyn (USA) Health Net presented by Maxxis                             
45 Daniel Schmatz (USA) Health Net presented by Maxxis                       0.48
46 Domenic Gatto (USA) Brunswick Cycling Club                                    
47 Pete Hanna (USA) Bianchi/Grand Performance                                0.50
48 Chris Pic (USA) Jittery Joe's                                                 
49 Jonny Sundt (USA) Jittery Joe's                                               
50 Stathy Touloumis (USA) Visionquest                                        0.52
51 John Hygelund (USA) Sierra Nevada                                         0.53
52 Todd Cornelius (USA) Subway - Express                                     0.54
53 Daniel Ramsey (USA) Team Sea Silver                                           
54 Brian Koeneman (USA) Nature Valley/Penn Cycle                             0.55
55 Dan Swanson (USA) Nature Valley/Penn Cycle                                    
56 Peter Knudson (USA) Team Sea Silver                                           
57 John Semmelhack (USA) ABD Cycling Team                                    0.56
58 Neil Shirley (USA) Team Sea Silver                                            
59 Russell Hamby (USA) Sierra Nevada                                             
60 Ben Brooks (Aus) Jelly Belly/Aramark                                          
61 Ian Stanford (USA) Nature Valley/Penn Cycle                                   
62 Murray Carter (Can) Team Manitoba/Alter Ego                                   
63 Emile Abraham (Tri) Monex                                                     
64 Ben Raby (USA) ABD Cycling Team                                           0.57
65 Chad Hartley (USA) Jittery Joe's                                              
66 Conor Hurley (USA) Trek Doriti/Gellati                                        
67 Michael Lange (USA) Sharper Image - Mathis Bros                           0.58
68 Reid Mumford (USA) XXX Racing/AthletiCo                                       
69 Cameron Hughes (USA) Subway - Express                                         
70 Brandon Gavic (USA) Team Salsa/SuperTeamracing                            0.59
71 Dario Flaquier (USA) Webcor Cycling Team                                      
72 Christian Davenport (USA) Lincoln Plating/Specialized                         
73 Matthew Gates (USA) Nature Valley/Penn Cycle                              1.00
74 Paul Deninger (USA) Mercy-Specialized                                     1.02
75 Marty Nothstein (USA) Navigators                                              
76 Chris Doig (USA) MBRC/Flanders                                            1.03
77 Bryce Mead (USA) Bianchi/Grand Performance                                    
78 Terry Beenken (USA) Bianchi/Grand Performance                                 
79 Matt Sadauckas (USA) Team Sea Silver                                          
80 Christian Foster (USA) Subway - Express                                       
81 Josh Carter (USA) Long John Silver's Cycling Team                         1.04
82 Brian Dziewa (USA) Long John Silver's Cycling Team                            
83 Dale Sedgwick (USA) Bianchi/Grand Performance                             1.05
84 David Sachs (USA) Visionquest                                                 
85 Andy Minier (USA) Nature Valley/Penn Cycle                                1.06
86 David Pierce (USA) ClubOne/PMax                                               
87 evan Lawrence (USA) Hammer Gel                                                
88 Benjamin Haldman (USA) Webcor Cycling Team                                    
89 Robbie Yost (USA) Subway - Express                                            
90 Chris Flood (USA) MBRC/Flanders                                           1.07
91 Imanol Ayestaran (USA) Webcor Cycling Team                                    
92 Ted Huang (USA) Webcor Cycling Team                                           
93 Jason Waddell (USA) Sharper Image - Mathis Bros                               
94 Aaron Smathers (USA) Sharper Image - Mathis Bros                          1.08
95 Kevin Vanes (USA) Bacardi Racing                                              
96 Peter Horn (USA) Nature Valley/Penn Cycle                                 1.09
97 Michael York (USA) ABD Cycling Team                                           
98 Jacob Erker (Can) Team Sea Silver                                             
99 Robbie Ventura (USA) US Postal Service                                        
100 Peter Maxwell (USA) Birchwood/GIS                                        1.10
101 Randy Warren (USA) XXX Racing/AthletiCo                                  1.11
102 Matthew Moore (USA) Team Bloomington/Bacardi Rum                             
103 Paul Ellis (USA) Jelly Belly/Aramark                                         
104 Josh Crow (USA) HRRC/Mclaren                                             1.13
105 Chris Bolling (USA) Visionquest                                          1.15
106 Zach Fiocca (USA) XXX Racing/AthletiCo                                       
107 Jacob Stechman (USA) Subway - Express                                    1.16
108 Jason Snider (USA) MBRC/Flanders                                             
109 Dave Dow (USA) Bianchi/Grand Performance                                     
110 John Olney (USA) Mercy-Specialized                                           
111 Carlos Vargas (USA) Endeavour Cycling                                    1.17
112 Jason Woods (USA) Team Bloomington/Bacardi Rum                               
113 Daniel Arden (USA) Birchwood/GIS                                         1.18
114 Ben Lund (USA) Endeavour Cycling                                         1.19
115 Remi McManus (USA) Subway - Express                                          
116 Joshua Tack (USA) Cyclingfarm.com                                            
117 Omar Kem (USA) Subway - Express                                          1.21
118 Ryan Nenniger (USA) ABD Cycling Team                                         
119 Kevin Selker (USA) Ridge Mortgage Services                               1.24
120 Tone Coughlin (USA) Duluth Racing/ Cannondale                                
121 Banning Ostrow (USA) Team Salsa/SuperTeamracing                          1.27
122 Troy White (USA) Sierra Nevada                                               
123 Franklin Dierking (USA) ABD Cycling Team                                 1.28
124 David Richter (USA) Subway - Express                                     1.30
125 Martin Adamczyk (USA) Long John Silver's Cycling Team                    1.31
126 Gregor Mraz (USA) ClubOne/PMax                                           1.32
127 Lee Venteicher (USA) Cyclingfarm.com                                     1.33
128 David Mercer (USA) MBRC/Flanders                                             
129 Shane Peltonen (USA) Eclipse Racing                                      1.34
130 John Puffer (USA) ABD Cycling Team                                       1.35
131 Bryan Joas (USA) Spring Street Sports                                        
132 Jim Baldesare (USA) ABD Cycling Team                                     1.36
133 Adam Hodges Myerson (USA) Sharper Image - Mathis Bros                        
134 David Zimmerman (USA) MBRC/Flanders                                          
135 Grant Dunstan (USA) flag velo                                            1.37
136 Andy Powell (USA) MBRC/Flanders                                          1.39
137 Ernie Lechuga (USA) Jelly Belly/Aramark                                      
138 Drew Deters (USA) Team Sea Silver                                            
139 Ryan Calilung (USA) Visionquest                                          1.40
140 Adam Froemming (USA) MBRC/Flanders                                           
141 Tony Kisch (USA) Mercy-Specialized                                           
142 Rob Rigg (USA) Ridge Mortgage Services                                       
143 Jesse Bartholomew (USA) PowerTap Racing                                  1.41
144 Fred Feirn (USA) Team Salsa/SuperTeamracing                              1.50
145 Alex Robles (USA) Trek-VW                                                1.51
146 Michale Ebert (USA) ABD Cycling Team                                         
147 Matt Henry (USA) Nature Valley/Penn Cycle                                1.52
148 Colin Beardsley (USA) McGuire ProCycling                                 1.55
149 Eric Pardyjak (USA) Porcupine/Contender Bicycles                         2.00
150 Josh Goodwin (USA) Monex                                                 2.03
151 Shawn Brick (USA) Birchwood/GIS                                              
152 Dave McCook (USA) McGuire ProCycling                                     2.10
153 Robert Quinn (USA) XXX Racing/AthletiCo                                  2.11
154 Maciej Pike-Biegunski (USA) XXX Racing/AthletiCo                         2.15
155 Jason Tamminen (USA) Team Salsa/SuperTeamracing                          2.24
156 Jake Dufresne (USA) Team Salsa/SuperTeamracing                           2.37
157 Mike Johnson (USA) Spring Street Sports                                  2.42
158 Jason Klikna (USA) Sierra Nevada                                             
159 Kevin Hankens (USA) ICCC                                                     
DNF Devon Vigus (USA) McGuire ProCycling                                         
DNF Andy Bajosdali (USA) Liberty Cycles                                          
DNF Erik Saunders (USA) Liberty Cycles                                           
DNF Scott Zwiskanski (USA) Liberty Cycles                                        
DNF Bill Stolte (USA) HRRC/Mclaren                                               
 
Women
 
1 Lyne Bessette (Can) Quark Cycling Team                                    11.23
2 Katrina Grove (USA) Rona                                                   0.03
3 Lynn Gaggioli (USA) T-Mobile                                               0.05
4 Sandy Espeseth (Can) Victory Brewing                                       0.21
5 Jeannie Longo (Fra) Nature Valley/Penn Cycle                               0.26
6 Candice Blickem (USA) Genesis Scuba/FFCC                                   0.27
7 Felicia Greer (USA) Webcor Builders Cycling Team                           0.29
8 Magen Long (USA) Sportsbook.com                                            0.30
9 Leah Goldstein (Isr) Verizon Wireless Wheelworks                           0.32
10 Jessica Hulser (USA) Team Basis                                               
11 Kathryn Curi (USA) Rona                                                   0.33
12 Laura Van Gilder (USA) Genesis Scuba/FFCC                                 0.35
13 Annette Beutler (USA) Leitzsport Cycling                                      
14 Andrea Hannos (USA) Rona                                                  0.36
15 Erinne Willock (USA) Rona                                                     
16 Lauren Franges (USA) Victory Brewing                                      0.38
17 Sarah Uhl (USA) Quark Cycling Team                                        0.39
18 Chrissy Ruiter (USA) Team Basis                                               
19 Anne Samplonius (Can) TDS-Schwalbe                                        0.40
20 Joanne Kiesanowski (NZl) Colavita Olive Oil presented by Bolla Wines      0.41
21 Anna Milkowski (USA) Rona                                                 0.42
22 Johanna Buick (NZl) Victory Brewing                                       0.43
23 Maggie Shirley (USA) Genesis Scuba/FFCC                                       
24 Rebecca Much (USA) XXX Racing/AthletiCo                                       
25 Sarah Ulmer (NZl) TDS-Schwalbe                                            0.44
26 Helen Kelly (USA) Rona                                                    0.46
27 Teresa Moriarty (USA) Flanders' MBRC                                      0.48
28 Kate Sherwin (USA) Team Kendra Tire                                           
29 Andrea Ratkovic (USA) TDS-Schwalbe                                        0.49
30 Shannon Hutchison (USA) Colavita Olive Oil presented by Bolla Wines           
31 Kerry Soraci (USA) Lake Mary Cycles/ORC                                   0.50
32 Iona Wynter (USA) Genesis Scuba/FFCC                                      0.51
33 Lisa Norris (USA) Webcor Builders Cycling Team                            0.52
34 Gina Grain (Can) Victory Brewing                                              
35 Melissa Sanborn (USA) Wells Fargo/Ragatz                                  0.53
36 Ashley Kimmet (USA) Colavita Olive Oil presented by Bolla Wines               
37 Cat Malone (USA) Webcor Builders Cycling Team                             0.56
38 Jennifer Stevens (USA) Red 5 Racing                                           
39 Barbara Heeb (USA) Leitzsport Cycling                                         
40 Sarah Faulkner (USA) Sportsbook.com                                       0.57
41 Nicole Demars (Can) Victory Brewing                                       0.58
42 Kristy Scheffenacker (USA) Colavita Olive Oil presented by Bolla Wines    1.00
43 Alisha Little (USA) ABD Cycling Team                                      1.01
44 Megan Esmonde (USA) Lake Mary Cycles/ORC                                  1.03
45 Jennifer Eyerman (USA) Red 5 Racing                                       1.04
46 Hiroko Shimada (Jpn) Velo Bella                                           1.09
47 Megan Elliott (USA) Quark Cycling Team                                        
48 Nichole Wangsgard (USA) Team Basis                                            
49 Rebecca Broeder (USA) Wells Fargo/Ragatz                                  1.10
50 Jenn Wangerin (USA) Quark Cycling Team                                    1.11
51 Debbie Dust (USA) Team Kendra Tire                                        1.12
52 Kimberly Strom (USA) Bianchi/Grand Performance                                
53 Erin Carter (Can) TDS-Schwalbe                                            1.13
54 Brooke O'Connor (USA) Colavita Olive Oil presented by Bolla Wines         1.16
55 Stefanie Graeter (USA) Webcor Builders Cycling Team                       1.18
56 Rachel Couch (USA) America's Dairyland                                        
57 Katherine Lambden (USA) CRCA/Aquafina                                     1.19
58 Emily Gloeckner (USA) TDS-Schwalbe                                            
59 Christine Varadaros (USA) Velo Bella                                          
60 Alison McNulty (USA) ABD Cycling Team                                     1.20
61 Emma Rickards (Aus) Victory Brewing                                           
62 Nadine Bruhn (USA) Red 5 Racing                                               
63 April Anderson (USA) Red 5 Racing                                         1.21
64 Alexis Brown (USA) Genesis Scuba/FFCC                                     1.23
65 Andrea Dvorak (USA) Sportsbook.com                                        1.24
66 Lauren Gaffney (USA) Team Basis                                               
67 Sarah Tillotson (USA) ABD Cycling Team                                        
68 Anne Grabowski (USA) Nature Valley/Penn Cycle                                 
69 Michelle Kiesanowski (NZl) Lake Mary Cycles/ORC                           1.26
70 Yukie Nakamura (USA) Webcor Builders Cycling Team                         1.27
71 Shana Sturla (USA) Nature Valley/Penn Cycle                               1.28
72 Brenna Wolford (USA) Velo Bella                                           1.30
73 Leah Toffolon (USA) Verizon Wireless Wheelworks                               
74 Kelly Benjamin (USA) ABD Cycling Team                                     1.31
75 Sinead Fitzgibbon (USA) CRCA/Aquafina                                     1.33
76 Rebecca Anderson (USA) Americas Dairyland                                     
77 Ann Marie Miller (USA) Verizon Wireless Wheelworks                        1.35
78 Rebecca McClintock (USA) Colavita Olive Oil presented by Bolla Wines      1.36
79 Megan Monroe (USA) TDS-Schwalbe                                           1.37
80 Shawn Heidgen (USA) TDS-Schwalbe                                          1.39
81 Elizabeth Morse (USA) Sportsbook.com                                      1.40
82 Audrey Lemieux (Can) Quark Cycling Team                                       
83 Mary Georgetti (USA) Lake Mary Cycles/ORC                                 1.43
84 Trudy Van Der Straaten (Aus) Team Kendra Tire                             1.46
85 Jessica Peil (USA) Sportsbook.com                                         1.47
86 Kerry Cohen (Aus) ABD Cycling Team                                            
87 Liza Rachetto (USA) Bianchi/Grand Performance                             1.48
88 Tracy Cundiff (USA) Sportsbook.com                                            
89 Laurel Sundberg (USA) America's Dairyland                                 1.50
90 Sara Brokaw (USA) Nature Valley/Penn Cycle                                    
91 Krystyna Kras (USA) Bianchi/Grand Performance                                 
92 Tara Parsons (USA) CRCA/Aquafina                                          1.51
93 Holly Borowksi (USA) Lake Mary Cycles/ORC                                     
94 Kristen Lee Over (USA) Team Kendra Tire                                   1.55
95 Elisa Gagnon (Can) CRCA/Aquafina                                          2.02
96 Rachel Eichers (USA) America's Dairyland                                  2.08
97 Lee Penn (USA) Nature Valley/Penn Cycle                                   2.19
98 Cynthia Pike-Biegunski (USA) XXX Racing/AthletiCo                         2.32
99 Jamie Surges (USA) Americas Dairyland                                         
100 Anna Dierking (USA) Americas Dairyland                                   2.36
101 Karen Kraus (USA) Team Kendra Tire                                       2.38
102 Nicole Freedman (Isr) Team Basis                                         3.02
103 Rochelle Gilmore (Aus) Wells Fargo/Ragatz                                3.09
104 Meshy Holt (USA) TDS-Schwalbe