An interview with Robbie McEwen, January 20, 2004
Easing the tension
By Gabriella Ekström in Adelaide
Robbie McEwen
Photo ©: Mark Gunter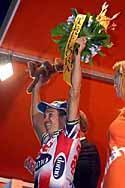 Before the start of Jacob's Creek Tour Down Under's opening criterium, Cyclingnews sat down with Robbie McEwen to sort out the ongoing rumours about his current form. Robbie, who won the Surfers Paradise Crit and the Launceston Intl. Classic before crashing and hurting his hip in the Jayco Bay Classic, didn't seem to be very concerned with the gossip about his pre-season performances.
"As far as I'm concerned, I'm on schedule with things," he said from his sofa in the foyer of the Adelaide Hilton. "I did ride four of the five races that the Bay Classic consist of, and I crashed in the first. I also felt a bit sick, and I had to get myself some rest after that race. The weekend after was the national championships, and by then I felt better already. The nationals were ridden on a circuit that didn't suit me, but I don't think there was anything wrong with my ride there, although I wasn't at the top of my condition. I guess that people are getting used to me winning at the Bay Classics, and when I don't do it, people think I'm creeping."
"The truth is, I haven't really prepared to be in top form right now. Some years I've been flying at this time, and been even better come February. Now I'm looking to reach top form in March since I'm targeting races like Het Volk and Milano-San Remo."
Having sorted that out, Robbie was keen to get on with the first TDU stage, a 50 kilometre criterium in central Adelaide. "It's the first race of the season for a lot of riders, and there's always a lot of tension before you get under way with it and get a feeling of the speed. It's also a good opportunity for me today to get a win to start my season with."
Five hours later, Robbie was back in the sofa, with another win added to his palmares. Although Robbie was no surprise winner, the way the race ended certainly raised a few eyebrows. After the major break went, the peloton sat up, and with just a few more laps to race, it was uncertain weather they would be caught by the 12 man break that was closing in on them.
Winning
Photo ©: Mark Gunter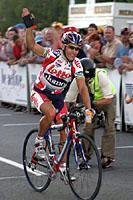 "For a while, it looked like we would possibly stay behind the peloton," McEwen, who was in the break, said. "Apparently the commissaries were talking about removing them, but seemingly that message wasn't passed on to the riders, so nothing really happened. They are professionals though, so they should know what to do, but it was all a bit confusing. David McKenzie attacked and just got through, while the rest of us were caught. We chased McKenzie down in the second last straight, but the peloton sort of got on his wheel, when they should rather have sat up. We finally got through, but there was people everywhere where they shouldn't be."
"Before that, I think our break formed pretty easily, like they normally do here at Tour Down Under. A group gets away, and everyone seem to think, 'Thank God'. I attacked once myself, really just to try and hurt a few guys legs, and then Portal and McKenzie attacked, but I gambled on that it would stay together until the end. It did, and I got on Brownie's wheel when he started his sprint. He started pretty early, we were just getting out from the last corner, so I stayed where I was, trying to wait a bit longer."
Whether he has proven a point or not, Robbie already looked ahead to another possible stage win. "I'm happy with my race today, and it always feels good to start your year with a win. I think that all the talking that has been going around about me being off form hasn't really been to my disadvantage either, because it does take pressure off me. I will be wearing the jersey tomorrow, but I'm not really leading the race since I don't have a time advantage over the others.
"I haven't really checked the course out that much yet. We will be going up Checkers Hill on tomorrow's stage, and that's a pretty steep one, and there's usually a lot of action before that climb, but I don't really expect any breaks to go until after. That stage will be pretty crucial for the GC. If I'm good, I'll ride aggressively, trying to get into a break, and if I'm not, we'll chase them."