An interview with Patrick Jonker - January 21, 2003
The Last Hurrah
Six, five, four, three, two, one... blast off!
Happy days at the 2001 JCTDU
Photo: © John Doggett-Williams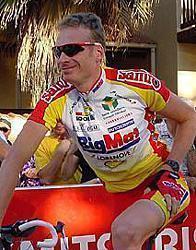 Patrick Jonker is spending this week counting down in days. By next Sunday night, once the 2004 Jacobs Creek Tour Down Under is over, it will be "blast off!" Blast off, that is, from being a professional cyclist after 11 years on the job. And as Karen Forman writes, a fitting ending, in the city he calls home.
Best known for his stints with international teams like Lance Armstrong's US Postal and the Spanish ONCE, the 34 year old has decided to hang up his racing number after this year's TDU for good. Continued bouts of tendonitis in his left ankle, combined with advancing age, have convinced him that it's time to look at life after cycling. And that's going to happen a bit sooner than what he was hoping. He has decided that the Tour Down Under will be "The End"?
Will he really go ahead with his retirement plan? Perhaps he might get caught up with the excitement of Australia's premier road racing series and change his mind? Apparently not. "These are my last six days," he says to Cyclingnews. "It's like a countdown: Six, five, four, three, two, one. And then. Well then, I am finished, apart from riding the bike just for fitness."
He seems very determined as he sits in the foyer of Adelaide's Hilton Hotel, taking a few moments to relax prior to the first stage of his finale event. "Yeah, this is it for me," he says. "You start at the bottom and you finish on the bottom. If you're a true champion, you finish at the top. My regret is that I just had bad luck when I was with US Postal. I got tendonitis in my left foot, where I didn't even know I had tendons. I would have had it removed if I had known I could. I would have cut off my toes if it would have meant I could have stayed with US Postal. But, I was injured three weeks before the Tour [de France] at a crucial point of my career, when I was over 30.
"You don't get second chances. Lance [Armstrong] is racing to win. He needs his domestiques to be 100 per cent. I had a fantastic opportunity but I couldn't take it up. I begged and crawled and we talked through it, but because of my age and with Heras and the other younger riders coming on board, there was no place for me."
Jonker is obviously pretty sad about losing what he realises was a "golden opportunity to earn a lot of money". "I was much more suited to working for Lance than for myself at, say, Rabobank. There I was paid to make top 10 and I never met their expectations."
After his US Postal contract expired, he moved to BigMat.Auber 93 and then Van Hemert Groep CT in Holland, his contract there expiring on December 31 last year. This week, he's riding with the UniSA team, which wanted to get involved with the JCTDU, but he says his days of riding with small teams at small races are over.
"It's difficult; after you have been with big teams, like US Postal, Rabobank and ONCE, with budgets of $20 million a year and living in luxury, to going to races in a train and in economy class," he said. "I was a Tour rider. I was named as a future Tour rider from the beginning. When I was a neo-pro, I was directed to do the Tour. The team boss said I was a Tour rider from the word go."
Looking back, he says he should have looked at stage wins rather than chasing overall wins from the word go. Jonker's first race as a pro was in August 1993. He contested his first Tour de France in 1994, but crashed out three days before the peloton arrived in Paris. He then proceeded to do another three Tours, with his best result 12th overall in 1997.
He also completed the Giro d'Italia, finishing the mid-30s, a Vuelta Espaņa where he was "working for the team" and two Olympics, his best result an eighth in the road race. Along the way, Jonker rode for the Dutch Histor team, the Spanish ONCE, the Dutch Rabobank, the American-based US Postal team, BigMat in France and finally, Hemert Groep in Holland.
All up, he's had 11 years in the pro peloton, spending 9 or 10 months every year in Europe and just two or three months at home in Adelaide, Australia. Previously, he had been an electrical apprentice, but says the Olympics got in the way. So he chucked the job in to become a pro rider.
"Getting a contract with US Postal was my big break. For me, that was the best thing, to excel in work and ride with the best riders; for example, Jalabert and Zulle. I was confident I would do well, but then I got the tendonitis in my left foot three weeks before the Tour."
Jonker said he could have continued riding "small races with small teams", but that it was too difficult. "I have been going up and down [to Europe] for 18 years," he said. "I will settle in Adelaide again, some time, but not yet. For now, I will be working for Bikestyle Tours based in Belgium."
He also hopes to work within the sport to help young riders. "I think I have enough experience to help young riders after working for the number one riders, like Armstrong, Jalabert, Zulle and Boogerd," he said.
He has stayed in touch with his US Postal team-mates, but doesn't hear from Armstrong too often. "I said hello last year at the Tour, but Lance is under so much pressure now," he said. "I think he'll be around a bit longer than what people think. He'll go until he wakes up one morning and feels that it's time to stop."
Jonker himself, while not expecting too much from himself, is hoping to finish on a respectable note after this TDU. "I haven't done it for a few years, because the main focus through my career has been the Tour de France. But my best ever was seventh overall," he said.
"I have had some good times but I am also looking forward to spending some time with my kids (aged three and one). Next week I will be on the beach with the kids. I have got the surfboard ready. Cycling is a sport that is 24 hours a day, seven days a week. It's a job like no other. It doesn't give you time to play with your kids. I think that's one thing Lance will probably regret is that he is not spending more time with his son Luke."
Jonker said without a doubt Armstrong's recent marriage split had a lot to do with the pressures of cycling. "It's the toughest sport. The TdF is the toughest race. I don't know how those guys to it. Most of us have a love/hate relationship with the sport. When you stop making money, you have to be motivated to keep going. It's very hard."
Editor's note: Follow's Patrick Jonker's final days as a pro cyclist through his daily diary from the Jacob's Creek Tour Down Under, The Last Hurrah, beginning tomorrow on Cyclingnews.