Recently on Cyclingnews.com
87th Giro d'Italia - Grand Tour
Italy, May 8-30, 2004
Main Page Live report Results Previous Stage Next Stage
Stage 19 - May 29: Bormio - Presolana, 122 Km
Saturday's penultimate Giro d'Italia stage simply doesn't leave much to the imagination when it comes to climbing. After a 30 km descent from Bormio to Valltelina, the parcours turns right and it's the terrible ascent of the super-steep Mortirolo. After 4 km of climbing, the steepest section ramps up at 18%, and then the hard part begins!
The middle 6.1 km section of Mortirolo has an average grade of 12.4%! Certainly Mortirolo will make an dramatic early selection on the stage, but then it's south down Val Camonica and west into the Alpi Orobie and the ascent of the seldom climbed Vivione. This climb is a monster, with almost 20 km of climbing at an average grade of 6.9%, with the final 4.7 km at 9.7% average grade.
After a 20km descent off Vivione, the final climb of the 2004 Giro awaits; a steep 7.9km climb up to Passo Presolana, then back down to the finish in Presolana. After today's Gavia/Bormio double, Saturday's 40 km of climbing may be one of the toughest stages on the 2004 calendar!
Climbs
Passo del Mortirolo (m. 1.855) - km. 12.8 - Gradient: 10.2 percent
Passo del Vivione (mt. 1.827) - km. 19.8 - Gradient: 6.9 percent
Presolana (m. 1.297) - km. 7.9 - Gradient: 6.9 percent
Profile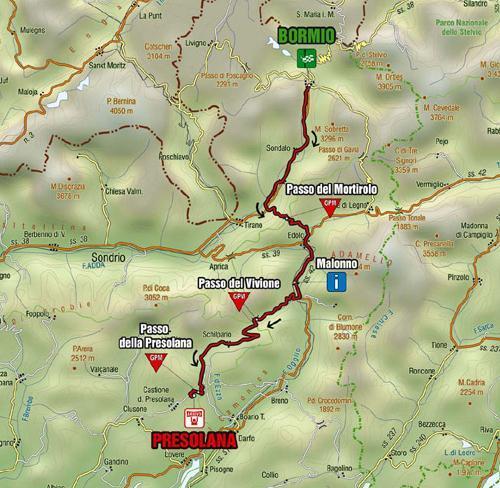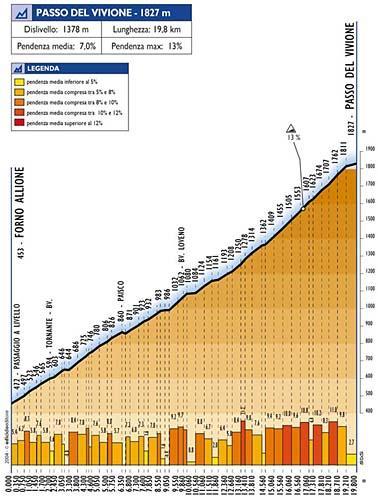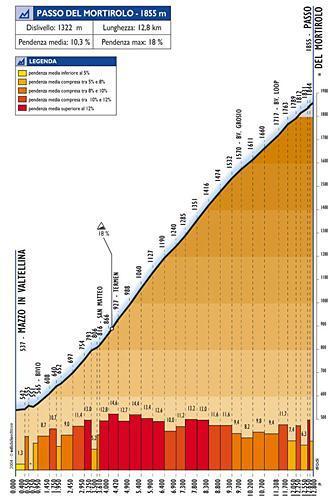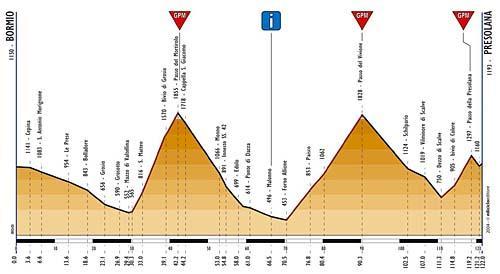 © www.gazzetta.it