87th Giro d'Italia - Grand Tour
Italy, May 8-30, 2004
The Defending Champion goes for three
Q&A with Gilberto Simoni
In 2003, Gilberto Simoni (Saeco) was unstoppable in the Giro d'Italia, not giving Stefano Garzelli an inch in his quest for the ultimate maglia rosa in Milan. Simoni also won the Giro in 2001, but was unceremoniously thrown out in 2002 after failing a drug test. In 2003 he came back for revenge and won convincingly. But although he wants to repeat his win this year, he wants to save some reserves for the Tour de France. The following interview is courtesy of Team Saeco.
Simoni has that determined look
Photo ©: Olympia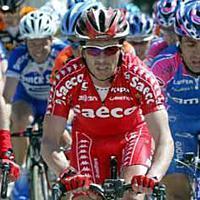 Q: Is it true that it's more difficult to win the Giro d'Italia when you're the big favourite?
GS: Perhaps that's true but I've got an important position and a lot of responsibility at Team Saeco and so it's right I accept my role as favourite.
Q: Are you going to win?
GS: I've got the experience to know that I can't be presumptuous and think I've already won the Giro. There are a lot of strong contenders that I have a lot of respect for. Garzelli is just one example, he was riding better than me before the Giro and so it's important to keep my feet on the ground.
Q: A lot of people are saying Simoni doesn't appears as competitive as he was in 2003
GS: I don't think it's a secret that I started the season much slower than last year and so it's natural that I'll start the Giro with not as good form. However I have to say that I was satisfied with how I rode in the last few races, especially at the GP Larciano on Saturday. To tell the truth I feel pretty good and I also feel that I've used up a lot less energy than in the past."
Q: Is the build up to the Giro different after you've already won it twice?
GS: Perhaps I'm not as emotional as in the first few years but there's still the tension of the big races. I'm going to go to the start in Genoa with a lot of determination but also with a clear conscience. I know I've done my job and I haven't over looked anything, including looking at all the key stages. I know what I have to do.
TT'ing in pink
Photo ©: Sirotti

Q: Where you scared of not being fit enough for the start of the Giro?
GS: I've had a few problems, especially because of the bad weather. The constant rain and cold in the early races affected my training with the most delicate moment was in Spain in April. I rode quite well in the Tour of the Basque Country and then got a result in the one-day race the Sunday after. However at the Vuelta Aragon I felt out of form again and for a while I was worried.
Q: Then you rode the Giro del Trentino...
GS: ...and it was a big help. Perhaps it was because I was racing near home and because the weather was finally good but things finally started to go much better.
Q: The Giro del Trentino also showed the talents of Damiano Cunego
GS: Damiano and Davide Rebellin are the riders of the moment. They have both got some important results in recent weeks in relation to their position of their careers. Cunego's success has really pleased me and if you think I'm jealous of him you've got it really wrong.
Q: What role do you think Cunego will have at the Giro?
GS: I trust the team ­ which is really strong, the management and Cunego. I think Damiano can ride a great Giro and be a protagonist but the roles in the team will be very clear. However this doesn't mean that Cunego can't get some important results. He's got the talent and is in great shape.
Q: So Cunego will have to wait his turn but do you think he can become your heir in a few years time?
GS: Damiano has got everything that it takes and above all he is very young and has time on his side. I think everybody will soon get to appreciate what he can do. He knows how to do well, he's modest but at the same time he's ambitious. He's a clever person and also knows how important it is to accept advice even if he always wants to make sure for himself. He's stubborn but a nice person. I certainly can't criticise him because I was exactly the same when I was his age.
Q: You seem to know every detail of this year's Giro after inspecting almost every stage, which are the most difficult stages?
Unbeatable in the mountains
Photo ©: Sirotti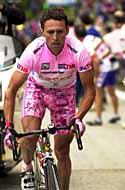 GS: Not necessarily the hardest one. It's obvious to talk about the mountain finishes at Bormio and Falzes and they are very hard but I think the most difficult stages are those with the most risks: The third stage with the uphill finish at Corno alle Scale and in part the finish at Montevergine and in Cesena could cause some problems. The fact that they come early in the race means it will be important to be vigilant from the start to the finish of the Giro, there is no alternative if you want to win.
Q: A lot of people believe that it will be relatively easy for you to win the Giro
GS: I don't agree and anyway we'll only know at the finish in Milan."
Q: What would it be like winning the Giro for a third time?
GS: I don't honestly think it'll be like 2003 because then I was very determined and very angry. This time I want to win and win well but without overdoing it.
Q: Does the facts that you also want do well at the Tour de France affect your performance in the Giro?
GS: Major stages races aren't objectives where you can try and calculate things. Now it's time for the Giro d'Italia and then there is the Tour de France. For the moment the only sure thing is that I'm the only one to have the courage to try and win both major stage races in the same year. Is there anybody else who is going to do it?"
Giro d'Italia home More Giro d'Italia features