2003 Road World Championships - CM
Hamilton, Canada, October 7-12, 2003
Main Page Results Live report Start list
Day 3 - October 10: Elite Men Time Trial, 41.6 km
Wanted: Santiago Botero's successor
By Jeff Jones
Santiago Botero in 2002
Photo: © Bettini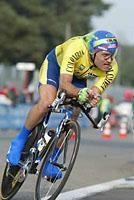 The 41.6 kilometre Elite Men's Time Trial takes place on Thursday, October 9 over two laps of the "long" course. At the Canadian national championships earlier this year, which were held on the same course, Erik Wohlberg averaged 45.5 km/h to win the men's event in a time of 54'50, demonstrating that this course is definitely slower than last year's at Zolder. Wohlberg will be the home town favourite of course, and will be looking to improve on his top 20 finish at the World's last year.
In the absence of defending champion Santiago Botero (Colombia), the favourite for the race is probably David Millar (Great Britain), who is coming off a successful Vuelta campaign where he claimed one stage victory and two second placings in the time trials. His nemesis on both occasions was Spaniard Isidro Nozal, who almost won the Vuelta but cracked on the penultimate stage - an uphill time trial. If Nozal has sufficiently recovered from his Vuelta efforts then he should do well in Hamilton, although the parcours is not quite his preferred flat terrain.
German duo Michael Rich and Uwe Peschel are both very strong against the clock, and either one of them could claim gold if everything falls into place on the day. Rich has won the silver medal twice, and also won the Grand Prix des Nations recently, over a similarly tough course. Belgian Bert Roesems has to be considered in that case, as he only finished one second behind Rich in the GP des Nations.
The Swiss favourite will be Fabian Cancellara, who excels over the shorter distances, but may be able to pull out a big ride on the day. 2000 World TT Champ Serguei Gonchar (Ukraine) is not a rider to be ruled out either, as he has the strength and experience to do well on this course.
The Australians Ben Day and Michael Rogers finished first and second in the national championships back in January, and will be coming to Hamilton with strong hopes. Rogers has ridden well all year, but has had to overcome some mental tiredness to focus himself for the World Championship.
The USA's Levi Leipheimer could be a dark horse for the TT, having ridden himself into form during the Vuelta with good performances against the clock. The varying Hamilton circuit should suit the American, who will have Bobby Julich as a teammate in the time trial.
With so many good time trialists coming together for this race, surprises are always possible. Hungarian Laszlo Bodrogi, Colombian Victor Hugo Pena and Russian Viatcheslav Ekimov are all outside favourites for the 2003 World's.
Start list
1st wave                                          Start time

45 Sergei Krushevskiy (Uzbekistan)                12:30:00
44 Dawid Krupa (Poland)                           12:31:30
43 Igor Pugaci (Moldavia)                         12:33:00
42 Attila Arvai (Hungary)                         12:34:30
41 Dmitriy Fofonov (Kazakhstan)                   12:36:00
40 David Mccann (Ireland)                         12:37:30
39 Benoit Joachim (Luxembourg)                    12:39:00
38 Glen Mitchell (New Zealand)                    12:40:30
37 Jean-Francois Laroche (Canada)                 12:42:00
36 Robert Nagy (Slovakia)                         12:43:30
35 Ben Day (Australia)                            12:45:00
34 Sergiy Matveyev (Ukraine)                      12:46:30
33 Mitja Mahoric (Slovenia)                       12:48:00
32 Bjørnar Vestøl (Norway)                        12:49:30
31 Eddy Seigneur (France)                         12:51:00

2nd wave

30 Levi Leipheimer (USA)                          13:30:00
29 Gustav Larsson (Sweden)                        13:31:30
28 Evgueni Petrov (Russia)                        13:33:00
27 Marlon Alirio Perez Arango (Colombia)          13:34:30
26 Michal Hrazdira (Czech Republic)               13:36:00
25 Dario Frigo (Italy)                            13:37:30
24 Pawel Zugaj (Poland)                           13:39:00
23 Ruslan Ivanov (Moldavia)                       13:40:30
22 Marc Wauters (Belgium)                         13:42:00
21 Andrey Mizourov (Kazakhstan)                   13:43:30
20 Tomas Vaitkus (Lithuania)                      13:45:00
19 Eugen Wacker (Kyrgyzstan )                     13:46:30
18 Bobby Julich (USA)                             13:48:00
17 Eric Wohlberg (Canada)                         13:49:30
16 Magnus Backstedt (Sweden)                      13:51:00

3rd wave

15 Jean Nuttli (Switzerland)                      14:30:00
14 Victor Hugo Pena Grisales (Colombia)           14:31:30
13 Sylvain Chavanel (France)                      14:33:00
12 Viatcheslav Ekimov (Russia)                    14:34:30
11 Raivis Belohvosciks (Latvia)                   14:36:00
10 Igor Gonzalez De Galdeano (Spain)              14:37:30
9 Fabian Cancellara (Switzerland)                 14:39:00
8 Michael Rogers (Australia)                      14:40:30
7 Uwe Peschel (Germany)                           14:42:00
6 Laszlo Bodrogi (Hungary)                        14:43:30
5 Bert Roesems (Belgium)                          14:45:00
4 Serguei Gontchar (Ukraine)                      14:46:30
3 Isidro Nozal Vega (Spain)                       14:48:00
2 David Millar (Great Britain)                    14:49:30
1 Michael Rich (Germany)                          14:51:00