2003 Road World Championships - CM
Hamilton, Canada, October 7-12, 2003
Main Page Results Start list Live report
Day 3 - October 9: Elite Men Time Trial, 41.3 km
Millar realises a dream
By Mark Zalewski in Hamilton
Millar, at last
Photo: © Sirotti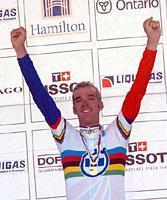 "This is the first time I've felt good in ten days!"
Those words by David Millar echoed over the loudspeakers at the finish of the today's Elite Men's Time Trial.
"This is the biggest [win] obviously," said Millar. "It's a bit of a pun, but all the others were 'prologue' to this! This proves my worth in time trials, which is something I've wanted to do for some time, so I am very happy."
The British professional, known the world over as a time trial specialist, had never won the coveted rainbow jersey in his best discipline. He came close in 2001, losing to Jan Ullrich by only six seconds. "[The World Championship] is something I've wanted since I lost it in 2001, and I've had a monkey on my back. I wanted to have the jersey in time trials - I wanted to have some sort of concrete evidence that I was one of the best in the world in time trials."
He may have wanted it badly, but he certainly didn't expect anything. "I was more afraid not to win," Millar said. "It's more of a relief now that I've won. I didn't expect anything - to be honest, I was like a junior the past ten days I was so scared. I just wanted to win - I didn't care if it was one second or three minutes. Even when I was on the course, when I saw I had big margins, I didn't want to put the hammer down and win by even more - I just kept the margins I had and went for the gold medal."
This time trial course is anything but normal, and Millar thought about his strategy of attack well before taking the start. "I spent a lot of time studying the course in the last few days, and I was trying to come up with a strategy of whether to go hard in certain places and relax in others, and then I finally decided late last night that I was basically keep the same rhythm the whole course - I was going to set of a speed of the start ramp that I was going to maintain until the finish. When I saw the time gaps off the first laps I event started to take it a bit easier - it was one of those good days."
Rogers goes deep
Photo: © CN

A very strong second place was ridden by Australian Michael Rogers, who almost lost his silver to Germany's Uwe Peschel due to a puncture near the finish. "I woke up this morning and hoped for a top five - certainly I was expecting second," said Rogers. "And after the first lap, in communication with my director behind, Neil Stephens, he said I was on a good run, and I just tried to pick up my pace for the last lap. Unfortunately, with 8km to go I punctured in the rear, and lost maybe thirty seconds there, but certainly wouldn't have beaten Dave. I'm just happy to have held on to the medal by such a small margin."
Peschel had no complaints about the small margin between him and Rogers. "I'm happy about the medal," he replied. "If someone had told me in the morning that I would have a medal after the race, I would have told him that he was crazy!"
Rogers has had a very bright career in just a few short years, and his plans don't seem to be getting dimmer any time soon. "I've been really following a steady line of progression - I started in the professional ranks with the young Mapei team and this year I've moved in with Quick Step, and had a very good team behind me there. I certainly shocked myself today - and it's not the first time I have shocked myself this year. I'm not resting here, I'm going to push myself for the next ten years of professional cycling. Hopefully, one day I can sit where Dave is sitting now.
The other Australian in the race, Ben Day, held the top spot for a while during the day and eventually finished in 11th. He spoke with Cyclingnews before his ride. "It's a pretty tough course. It's not your typical TT course, but you have to ride what you are given. I'm not quite sure what I am anymore [climber or sprinter], because I've changed my training so much this year. Maybe I'm in a transition phase."
The U.S. team was represented by experienced European peloton riders Bobby Julich and Levi Leipheimer. Julich, who is at the end of his contract with Telekom, was near the top ten during the time checks and finished 14th.
"I had the best form for the tour, and ended up using it to lay on my couch," Julich said in reference to being left off the tour roster by Telekom. "I'm looking forward to going home and spending some time with my wife and new baby."
Leipheimer came in to the finish with only the second best time on the day, with many powerful riders yet to start. He eventually finished just ahead of Julich in 13th. "This is definitely the hardest world championship time trial that I've ever seen," said Leipheimer. "My ride was so-so. I'm a slow starter by nature and it takes me a while to get warmed up, so I basically rode into the race and got better as I went along. I kind of wish the race was one lap longer."
Millar very powerful
Photo: © Sirotti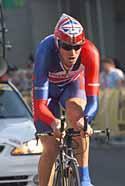 When asked about his chances for a double win here in Hamilton, Millar replied, "I'm fairly relaxed. This takes a lot of pressure off of the road race, and I think Sunday is going to be a war of attrition. I'm just going to sit in and see what happens in the race. It's going to be an incredibly hard race on Sunday, and it going to be the usual suspects up in front. I doubt it's going to be any great tactical nuance required to be up at the front at the final - I'm just going to do my best to stay with the best for as long as possible and see how it goes. I'm in a good position now, I've fulfilled my objectives, so anything else is a bonus."
Some will always point out that a guy named Lance or Jan wasn't here, but Millar doesn't mind. "I've got to a point in my career where riders like Jan and Lance don't scare me anymore, in the time trials - I've got no expectations of beating them in the high mountains. Especially in a one-day time trial, if they were on the start list now, it would have motivated me more. I wouldn't come here thinking 'Oh no, Jan is going to beat me!' Obviously it would be more fun racing against Jan and Lance... but I will get that chance at the Olympics next year."
Photography
Images by Mark Zalewski/Cyclingnews.com
Images by Jon Devich/www.www.epicimages.us
Images by Fotoreporter Sirotti
Images by Robert Naish/www.bikecrazie.com
Images by Marek Lazarski
Results
1 David Millar (Great Britain)             51.17.3 (48.319 km/h)
2 Michael Rogers (Australia)                1.25.1
3 Uwe Peschel (Germany)                     1.25.6
4 Michael Rich (Germany)                    1.35.7
5 Isidro Nozal Vega (Spain)                 1.39.5
6 Dario Frigo (Italy)                       1.51.5
7 Viatcheslav Ekimov (Russia)               1.58.4
8 Marc Wauters (Belgium)                    2.07.3
9 Michal Hrazdira (Czech Republic)          2.13.3
10 Bert Roesems (Belgium)                   2.15.8
11 Ben Day (Australia)                      2.20.0
12 Eugen Wacker (Kyrgyzstan )               2.26.3
13 Levi Leipheimer (USA)                    2.36.2
14 Bobby Julich (USA)                       2.43.1
15 Laszlo Bodrogi (Hungary)                 2.45.1
16 Evgueni Petrov (Russia)                  3.03.3
17 Gustav Larsson (Sweden)                        
18 Dmitriy Fofonov (Kazakhstan)             3.05.0
19 Fabian Cancellara (Switzerland)          3.05.2
20 Sylvain Chavanel (France)                3.07.1
21 Serguei Gontchar (Ukraine)               3.11.1
22 Jean Nuttli (Switzerland)                3.13.8
23 Eddy Seigneur (France)                   3.15.9
24 Sergiy Matveyev (Ukraine)                3.16.3
25 Eric Wohlberg (Canada)                   3.29.6
26 David McCann (Ireland)                   3.41.5
27 Andrey Mizourov (Kazakhstan)             3.54.9
28 Dawid Krupa (Poland)                     3.55.6
29 Igor Pugaci (Moldavia)                   4.02.4
30 Victor Hugo Pena Grisales (Colombia)     4.25.9
31 Ruslan Ivanov (Moldavia)                 4.31.0
32 Benoit Joachim (Luxembourg)              4.36.0
33 Bjørnar Vestøl (Norway)                  4.38.9
34 Magnus Backstedt (Sweden)                4.46.5
35 Robert Nagy (Slovakia)                   4.50.9
36 Marlon Alirio Perez Arango (Colombia)    5.11.4
37 Glen Mitchell (New Zealand)              5.15.0
38 Pawel Zugaj (Poland)                     5.38.3
39 Jean-Francois Laroche (Canada)           6.19.6
40 Tomas Vaitkus (Lithuania)                6.24.1
41 Mitja Mahoric (Slovenia)                 6.36.5
42 Attila Arvai (Hungary)                   8.53.7
DSQ Raivis Belohvosciks (Latvia)
DNF Igor Gonzalez De Galdeano (Spain)             
DNS Sergei Krushevskiy (Uzbekistan)
 
8.0 km
 
1 David Millar (Great Britain)              9.37.8
2 Uwe Peschel (Germany)                     0.07.6
3 Viatcheslav Ekimov (Russia)               0.15.0
4 Igor Gonzalez De Galdeano (Spain)         0.15.4
5 Fabian Cancellara (Switzerland)           0.19.9
6 Dawid Krupa (Poland)                      0.20.8
7 Michael Rich (Germany)                    0.22.1
8 Bert Roesems (Belgium)                    0.24.3
9 Marc Wauters (Belgium)                    0.24.7
9 Dario Frigo (Italy)                             
11 Michael Rogers (Australia)               0.24.8
12 Laszlo Bodrogi (Hungary)                 0.24.9
13 Michal Hrazdira (Czech Republic)         0.26.0
14 Sylvain Chavanel (France)                0.26.2
15 Bobby Julich (USA)                       0.26.3
16 Isidro Nozal Vega (Spain)                0.26.7
17 Sergiy Matveyev (Ukraine)                0.27.4
18 Evgueni Petrov (Russia)                  0.27.9
19 Dmitriy Fofonov (Kazakhstan)             0.30.1
20 Levi Leipheimer (USA)                    0.31.3
21 Eugen Wacker (Kyrgyzstan )               0.32.7
22 Tomas Vaitkus (Lithuania)                0.33.3
23 Ben Day (Australia)                      0.35.1
24 Victor Hugo Pena Grisales (Colombia)     0.35.4
25 Eric Wohlberg (Canada)                   0.37.4
26 Ruslan Ivanov (Moldavia)                 0.38.0
27 Serguei Gontchar (Ukraine)               0.38.6
28 Magnus Backstedt (Sweden)                0.39.5
29 Gustav Larsson (Sweden)                  0.39.6
30 Jean Nuttli (Switzerland)                0.40.4
31 Eddy Seigneur (France)                   0.42.4
32 David McCann (Ireland)                   0.42.8
33 Raivis Belohvosciks (Latvia)             0.44.0
34 Marlon Alirio Perez Arango (Colombia)    0.45.6
35 Benoit Joachim (Luxembourg)              0.45.8
36 Pawel Zugaj (Poland)                     0.46.2
37 Glen Mitchell (New Zealand)              0.48.3
38 Andrey Mizourov (Kazakhstan)             0.51.1
39 Igor Pugaci (Moldavia)                   0.52.6
40 Robert Nagy (Slovakia)                   0.55.1
41 Mitja Mahoric (Slovenia)                 1.00.4
42 Bjørnar Vestøl (Norway)                  1.01.8
43 Jean-Francois Laroche (Canada)           1.12.3
44 Attila Arvai (Hungary)                   1.24.8
 
20.5 km
 
1 David Millar (Great Britain)             25.12.8
2 Uwe Peschel (Germany)                     0.36.4
3 Michael Rogers (Australia)                0.37.3
4 Michael Rich (Germany)                    0.45.1
5 Viatcheslav Ekimov (Russia)               0.50.0
6 Marc Wauters (Belgium)                    0.52.7
7 Igor Gonzalez De Galdeano (Spain)         0.56.9
8 Bert Roesems (Belgium)                    0.58.5
9 Michal Hrazdira (Czech Republic)          0.58.7
10 Dario Frigo (Italy)                      1.03.5
11 Laszlo Bodrogi (Hungary)                 1.06.3
12 Bobby Julich (USA)                       1.08.1
13 Eugen Wacker (Kyrgyzstan )               1.13.1
14 Isidro Nozal Vega (Spain)                1.14.6
15 Dmitriy Fofonov (Kazakhstan)                   
16 Fabian Cancellara (Switzerland)          1.14.9
17 Levi Leipheimer (USA)                          
18 Sergiy Matveyev (Ukraine)                1.19.8
19 Evgueni Petrov (Russia)                        
20 Sylvain Chavanel (France)                1.19.9
21 Ben Day (Australia)                      1.24.3
22 Dawid Krupa (Poland)                     1.24.7
23 Eric Wohlberg (Canada)                   1.29.4
24 Gustav Larsson (Sweden)                  1.30.4
25 Serguei Gontchar (Ukraine)               1.31.0
26 Eddy Seigneur (France)                   1.33.1
27 Jean Nuttli (Switzerland)                1.38.5
28 David McCann (Ireland)                   1.48.1
29 Victor Hugo Pena Grisales (Colombia)     1.54.4
30 Magnus Backstedt (Sweden)                1.55.5
31 Robert Nagy (Slovakia)                   1.55.6
32 Benoit Joachim (Luxembourg)              1.58.0
33 Andrey Mizourov (Kazakhstan)             1.59.8
34 Raivis Belohvosciks (Latvia)             2.00.9
35 Ruslan Ivanov (Moldavia)                 2.04.3
36 Igor Pugaci (Moldavia)                   2.08.2
37 Marlon Alirio Perez Arango (Colombia)    2.09.3
38 Glen Mitchell (New Zealand)              2.09.6
39 Tomas Vaitkus (Lithuania)                2.17.7
40 Pawel Zugaj (Poland)                     2.25.3
41 Bjørnar Vestøl (Norway)                  2.26.1
42 Jean-Francois Laroche (Canada)           3.04.9
43 Mitja Mahoric (Slovenia)                 3.34.7
44 Attila Arvai (Hungary)                   3.48.9
 
28.8 km
 
1 David Millar (Great Britain)             35.33.4
2 Michael Rogers (Australia)                0.56.6
3 Uwe Peschel (Germany)                     1.03.0
4 Michael Rich (Germany)                    1.10.4
5 Igor Gonzalez De Galdeano (Spain)         1.26.3
6 Michal Hrazdira (Czech Republic)          1.27.4
7 Viatcheslav Ekimov (Russia)               1.28.5
8 Marc Wauters (Belgium)                    1.32.0
9 Dario Frigo (Italy)                       1.35.7
10 Bert Roesems (Belgium)                   1.41.3
11 Isidro Nozal Vega (Spain)                1.44.8
12 Levi Leipheimer (USA)                    1.54.1
13 Eugen Wacker (Kyrgyzstan )               1.57.9
14 Laszlo Bodrogi (Hungary)                 1.58.1
15 Bobby Julich (USA)                       2.01.8
16 Ben Day (Australia)                      2.05.9
17 Evgueni Petrov (Russia)                  2.07.4
18 Dmitriy Fofonov (Kazakhstan)             2.08.2
19 Sylvain Chavanel (France)                2.14.9
20 Gustav Larsson (Sweden)                  2.17.8
21 Sergiy Matveyev (Ukraine)                2.20.9
22 Fabian Cancellara (Switzerland)          2.27.4
23 Jean Nuttli (Switzerland)                2.28.2
24 Eddy Seigneur (France)                   2.32.2
25 Serguei Gontchar (Ukraine)               2.33.0
26 Eric Wohlberg (Canada)                   2.33.4
27 Dawid Krupa (Poland)                     2.41.2
28 David McCann (Ireland)                   2.46.4
29 Raivis Belohvosciks (Latvia)             2.56.7
30 Andrey Mizourov (Kazakhstan)             2.57.5
31 Victor Hugo Pena Grisales (Colombia)     3.07.9
32 Ruslan Ivanov (Moldavia)                 3.10.6
33 Robert Nagy (Slovakia)                   3.13.1
34 Igor Pugaci (Moldavia)                   3.14.5
35 Magnus Backstedt (Sweden)                3.24.0
36 Benoit Joachim (Luxembourg)              3.27.1
37 Bjørnar Vestøl (Norway)                  3.32.5
38 Glen Mitchell (New Zealand)              3.36.7
39 Marlon Alirio Perez Arango (Colombia)    3.56.6
40 Pawel Zugaj (Poland)                     4.09.3
41 Tomas Vaitkus (Lithuania)                4.15.0
42 Jean-Francois Laroche (Canada)           4.50.1
43 Mitja Mahoric (Slovenia)                 5.06.1
44 Attila Arvai (Hungary)                   6.09.2