90th Tour de France - July 5-27, 2003
Main Page Stage Profile Start List Latest live report
Produced by Jeff Jones, with additional reporting by Tim Maloney, Chris Henry, and Gabriella Ekström
Stage 2 - Monday, July 7: La Ferté-sous-Jouarre - Sedan, 204.5 km
Complete Live Report
Time conversion guide: GMT = CEST - 2 hrs, AEST = CEST + 8 hrs, EDT = CEST - 6 hrs, PDT = CEST - 9 hrs
Start time: 12:17 CEST
Estimated finish time: 17:09 CEST
Welcome to Cyclingnews' live coverage, powered by T-Mobile, of stage 2 of the Tour de France. Today's stage is somewhat longer than yesterday's fast 168 km dash between Montgeron and Meaux, taking the riders 204.5 km between La Ferté-sous-Jouarre and Sedan over undulating roads. The three time and points bonus sprints on offer today are at Jaulgonne (km 43), Avancon (km 128) and Amagne (km 149.5). There are also two Category 4 climbs along the route, the Côte de Le Charmel (km 46) and Côte de Longwé (km 169).
Riis says Hamilton will start
Photo: © C.Henry/CN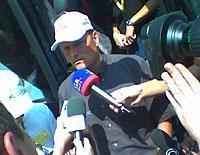 After yesterday's crash, it looked as though there would be three less riders in the peloton today: Levi Leipheimer (broken hip), Marc Lotz (facial injuries) and Tyler Hamilton (broken collarbone). However according to Danish TV2, Hamilton has decided to continue (a la Fiorenzo Magni). "Hamilton slept badly last night because of the pain, but he will do whatever he can to stay in the race as long as possible," said CSC spokesman Brian Nygaard. Hamilton has been given painkillers, and his collarbone is broken in two spots.
12:17 CEST
After a one kilometre neutral section, the riders leave La Ferté-sous-Jouarre for the start of the second stage of the Tour. The usual enormous crowds are lining the roads, cheering the riders along for their 200 km plus journey. The weather is perfect today, with temperatures predicted to reach 25 degrees celsius and bright blue skies accompanying the riders on their journey north east. In addition, there is very little wind, which should make for another fast stage today.
12:25 CEST - 5 km
They're off in stage 2, and it has been a moderately fast start like yesterday. The first bonus sprint is a little further down the road today, and if the bunch is still together by then, we can expect Robbie McEwen (green jersey wearer), Alessandro Petacchi (Fassa Bortolo), Erik Zabel (Telekom), Stuart O'Grady (Credit Agricole) and Brad McGee (FDJeux.com) all to challenge for the points.
It has been confirmed that all riders started today save for Levi Leipheimer and Marc Lotz (Rabobank). However Tyler Hamilton's bike is sporting three wraps of gel handlebar tape. It will be a miracle if he gets through this.
A clearly disappointed Levi Leipheimer was quoted on Belgian TV as saying "It hurts most knowing that the Tour carries on today and that I'm not there with it to achieve the goals I set for myself."
12:34 CEST - 12 km
Lilian Jegou has (Credit Agricole) has attacked at the 5 km mark, being joined by Frederic Finot (Jean Delatour) after 10 km. The pair now have a lead of 1'40 on the peloton.
12:47 CEST - 20 km
After 20 kilometres, Jegou and Finot have stretched their lead out to 4'30, so it looks like another long day for the Frenchmen out in front of the race. Finot is effectively the leader on the road, as he started the stage in 86th place at 33 seconds down on McGee.
12:57 CEST - 27 km
This two man breakaway will soak up many of the intermediate sprint points and bonus seconds, although there will still be a battle in the peloton for the third places on offer. McEwen has a chance to increase his lead in the green jersey competition, although Petacchi and Zabel might be interested too.
One rider who won't be is Jaan Kirsipuu (Ag2r), who will save his strength for the finish. Kirsipuu is much more relaxed than normal, in contrast to the other riders who are all very nervous. Cyclingnews asked him if they will change any of their team tactics, with Andy Flickinger now in the top 10 on GC.
"Probably not, because I really only have Flickinger to help me in the sprint. Turpin can do some work for me too, but I don't have the whole team at my disposal. I thought I was in a good place in the sprint yesterday but I got closed in and I was really frustrated with that."
13:11 CEST - 34 km
Lilian Jegou (Credit Agricole) and Frederic Finot (Jean Delatour) have extended their lead out to 7'00 after attacking in the first 10 kilometres. The peloton is cruising along at the moment, and this pair will be out there for a long time.
There are still 10 km to go until the first sprint in Jaulgonne.
13:24 CEST - 42 km
As they approach the first sprint, Jegou and Finot have built up their lead to 8'15, as the peloton continues to roll along at a steady pace. Only 38 km were covered in the first hour, a much slower start than yesterday's 44 km/h plus.
Cyclingnews had a fascinating chat with Lucien van Impe, 1976 Tour winner, before the start today. Van Impe told us that when he saw the finish yesterday, he thought there would be crashes. As far as the overall goes, Van Impe was sorry to see the Americans go, although one is hanging in there at the moment.
Van Impe also said that he thought Simoni was not the most dangerous foe for Lance Armstrong, but the Spanish riders. "Perhaps Simoni has done too much in the Giro and he is not a pure climber like Pantani," said the Belgian climbing star.
13:37 CEST - 50 km/154 km to go
The sprint points at Jaulgonne were taken by Frederic Finot in front of Lilian Jegou, while over nine minutes back Jean-Patrick Nazon (Jean Delatour) took third place.
The current time gap between the break is 9'40, and looks set to increase even more.
13:50 CEST - 58 km/146 km to go
The two leaders are now being pegged by the peloton, which doesn't want to let them get too far in front, despite the fact that there's still a long way to go. The latest time check is 9'50, which means the bunch has picked up its speed to match the break.
The results of the first climb of Côte de Le Charmel (Cat. 4) were 1. Lilian Jegou, 2. Frederic Finot and 3. Christophe Mengin, who will likely keep his polka dot jersey today.
14:06 CEST - 68 km/136 km to go
Fassa Bortolo has now put some riders on the front to bring down the gap to the two leading riders, Lilian Jegou (Credit Agricole) and Frederic Finot (Delatour). The maximum gap was 10'15 at 55 km, but it's down to 8'15 now.
14:19 CEST - 77 km/127 km to go

CN talks to Commesso
Photo: © C.Henry/CN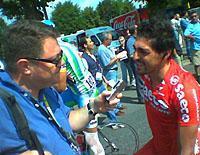 After 77 km of racing, we have two leaders, Lilian Jegou (Credit Agricole) and Frederic Finot (Delatour), who attacked after 10 km and now have an advantage of 11 minutes. Obviously Fassa Bortolo decided it was too early to ride hard yet, and has eased off the tempo in front of the peloton.
Cyclingnews spoke to Salvatore "Toto" Commesso of Saeco this morning. He said that "I'm feeling a bit better after my Tour de Suisse crash, but I still have some soreness in my coccyx."
We also spoke to Stefano Zanini, who crashed yesterday and banged his left knee, the one he injured in Tour de Suisse. Zaza is OK and will be very important to Saeco if Simoni gets the jersey to ride tempo.
As for Simoni, he said that he wasn't too nervous after yesterday. "We can expect some more crashes but I'm not really nervous about it because I'm an experienced rider with a good team, and they know how to protect me."
Asked about whether he thought the parcours was dangerous, Simoni replied, "I didn't think it was dangerous - it's the riders who make it dangerous."
14:32 CEST - 85 km/119 km to go
The two leaders are 11'20 in front of the peloton, which is cruising along led by Telekom. The injured Tyler Hamilton is right at the back of the bunch, on the tops of the bars, surrounded by several CSC teammates. He's obviously trying to stay out of trouble, but can he do that for three weeks?
Jimmy Casper (FDJ) is sporting a neck brace, and is not finding it easy today either. He won't be participating in the sprints of course.
14:38 CEST - 89 km/115 km to go
Jegou has crashed in the break! He was nearly run over by Jean-Marie Leblanc in the race director's car... But thankfully is OK, and gets a quick bike change and rejoins Finot. It looked like he hit a motorbike in front.
14:42 CEST - 92 km/112 km to go
Jegou gets a second bike change, and now needs work on his pedals before he can get going again. This will cost the break a bit of time, but they had 11 minutes anyway. The gap is now 9'57 to the peloton, which is led by Telekom, Loddo-Domo and Fassa Bortolo.
14:52 CEST - 97 km/107 km to go
Lilian Jegou stops again for another bike change (third?). Frederic Finot waits for him again, but must be getting annoyed! The two leaders are 9'18 in front of the peloton, which will likely begin chasing harder soon.
The sun is shining brightly now, as the bunch cruises along en bloc. Jan Ullrich (Bianchi) looks like he's got himself into the front row.
15:00 CEST - 102 km/102 km to go
Jegou gets more mechanical help from his Credit Agricole team car. However he looks to be coping alright after his fall, and wasn't badly hurt.
The bunch is cruising through St Thierry now, the town that hosted last year's Team Time Trial. Erik Zabel, in his German champion's jersey, is sitting at the back. Hamilton is also back there, staying out of trouble. However Danish TV2 reports that after talking to CSC manager Bjarne Riis, he said that Hamilton was feeling quite good and that he had been out of the saddle and was able to apply some pressure to his right arm.
15:08 CEST - 107 km/97 km to go
As they did yesterday, the boys from Lotto-Domo have started to ride in front of the peloton, to try and bring back the 11'15 gap to Lilian Jegou and Frederic Finot, who have been out there since kilometre 10.
Cyclingnews spoke to Dirk Demol of the USPS-Berry Floor team this morning. Demol was pleased with the fact that the team has the team GC lead. "This was a goal before the prologue that we would lead on team GC...that way, we can go into the TTT as last team off and ride off the split times of the other teams. Lance is OK today: it was a bit of a scare yesterday with the big crash with Lance, Eki and Hincapie, but they were OK. It's a pity that Levi is out and Tyler has cracked his collarbone...both guys have worked very hard all year for the Tour and for it to end like this is bad.
15:18 CEST - 114 km/90 km to go
Axel Merckx, Rik Verbrugghe, Serge Baguet and Leon Van Bon are all part of the Lotto-Domo train at the front of the peloton, which has reduced the gap to Jegou and Finot to 9'55 with 90 km to go. The gap will start to come down rapidly now, as Lotto line out the bunch. A couple of Fassa Bortolo riders are up there too.
Cyclingnews spoke to Jakob Piil of team CSC, who told us that the team was a bit sad about Tyler's cracked collarbone but "that's life...today Tyler started and CSC will play it by ear. Otherwise Riis will figure out plan B."
15:28 CEST - 120 km/84 km to go
It's starting to get hard now, as the bunch picks up speed in pursuit of Jegou and Finot, who have been away for 110 km now. They are rolling across the flat, open French countryside, enjoying the exposure that they're getting for their sponsors on TV. They know that the peloton will probably catch them though.
The latest gap is 8'10. At the back of the bunch, Danilo Di Luca (Saeco), Tyler Hamilton (CSC) and Jimmy Casper (FDJeux.com) are staying out of trouble. Di Luca has been suffering from a cold since the start.
15:33 CEST - 124 km/80 km to go
The second sprint at Avancon (km 128) is approaching, as Jegou and Finot find their lead cut to 7'25 by the Lotto/Fassa Bortolo led peloton, which is really moving now.
There is a crash on a bridge, and it's Uwe Peschel and Fabio Baldato (who also fell yesterday) who come off. They get back on their bikes quickly and start to chase.
Cyclingnews spoke to FDJ's Baden Cooke today, and asked him about the possibility of the team losing the yellow jersey. "Only McEwen or Petacchi can be a threat if it comes down to a sprint," he said. "Brad was second in a bonus sprint yesterday. Brad will probably continue to try and get seconds during the stage. We're not too scared about McEwen or Petacchi."
For himself, "I wasn't feeling good at all because I slept really badly the night before. Even if I get in the sprint today I'm too far from the yellow jersey. We're not hoping to keep the jersey."
15:39 CEST - 128 km/76 km to go
The sprint in Avancon is not contested by the two leaders, and Finot takes the bonus seconds ahead of Jegou. The peloton is now 6'30 behind them.
Robbie McEwen takes the final point and 2 seconds bonus in Avancon, after surprising the Jean Delatour leadout. He won the sprint easily, but will that cost him at the finish?
15:55 CEST - 138 km/66 km to go
Lilian Jegou and Frederic Finot are continuing their long breakaway, riding 6'14 in front of the peloton. Lotto-Domo and Fassa Bortolo are doing the work in front, although the chase has slackened off a little. Nick Gates (Lotto-Domo) is on the front.
16:06 CEST - 147 km/57 km to go

Elvis lives...in France
Photo: © C.Henry/CN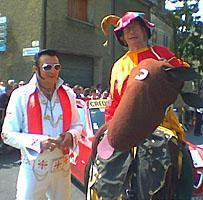 The two leaders seem to be picking up the pace too, as the bunch closes to 5'25. There is enough time to catch them, and the big peloton is being towed along by at least 10 men. Yellow jersey Brad McGee is well placed, chatting to a teammate.
At the back we have Jose Enrique Gutierrez (Kelme), who was the first rider down in yesterday's crash but did not actually cause it, Danilo Di Luca (Saeco, suffering from illness) and Fabio Baldato (Alessio) who crashed once yesterday and once today.
16:10 CEST - 149 km/55 km to go
The final sprint at Amagne (km 149.5) is taken by Frederic Finot in front of Lilian Jegou. Finot has taken 18 bonus seconds so far today, which puts him at 15" from the overall lead.
16:14 CEST - 152 km/52 km to go
Santi Botero punctures, but gets a quick wheel change and two teammates to help him back to the bunch. He regains it just as the group pass the sprint line in Amagne, with Alessandro Petacchi taking third place. Obviously he feels that the green jersey is a possibility.
16:21 CEST - 158 km/46 km to go
The chase has eased up a bit, and the two leaders Jegou and Finot are now 5'44 in front. Interesting, as it's getting close to the finish now.
Cyclingnews spoke to CSC's spokesman Brian Nygaard about Tyler Hamilton. "The first couple of hours up until now Tyler feels surprisingly good," said Nygaard. "He's doing surprisingly well with it."
Not that the Tour de France official medical communique was wrong yesterday. It reported that Hamilton had broken his left clavicle, where in fact he has fractured his right clavicle.
16:25 CEST - 161 km/43 km to go
Fassa Bortolo has three riders to help the big Lotto-Domo train, which has Van Bon, Merckx, Brandt, Moerenhout, and Baguet in it. Hamilton is now right near the back of the bunch.
Finot has attacked on a climb, and Jegou can't follow him. Finot will try to win the stage on his own now.
16:30 CEST - 164 km/40 km to go
With 40 km to go, the peloton needs to get a move on to catch Frederic Finot, who is alone in the lead riding a 40 km time trial. His erstwhile companion Lilian Jegou is 25" behind him, with the bunch at 5'02.
We spoke to stage 1 winner Alessandro Petacchi this morning, and asked him about his chances today. "I could take the yellow jersey. I'm feeling good," he said.
Team director Roberto Damiani (Fassa DS) said that "The team did a very important job yesterday and it's very important for Alessandro to have a big strong team to support him, even when he's not feeling good. Nicola Loda was not seriously injured in the crash. So Petacchi still has Marco Velo and Nicola Loda to set him up for the sprint."
16:32 CEST - 166 km/38 km to go
There is a crash in the peloton on a small climb, and Jose Azevedo comes off. The ONCE rider is quickly back on the bike, and is chasing on.
Race leader Finot benefits from the crash, and his gap goes out to over five minutes again. He is on the final climb of the day, the Côte de Longwé. He will take the points, followed by Jegou at 2'50 minutes.
16:39 CEST - 170 km/34 km to go
Finot crested the climb looking comfortable, as the peloton picks up speed behind him. Danilo Di Luca (Saeco) is off the back of the bunch now, with Paolo Fornaciari to help him. Starting the Tour sick was not good for him.
16:41 CEST - 172 km/32 km to go
Frederic Finot is holding a 4'50 lead on the peloton with just 32 km to go, as Walter Beneteau takes the final point on the Côte de Longwé. We could be looking at a Jean Delatour stage win here, as the peloton will have to ride really hard to catch him.
Jimmy Casper and Nick Gates are off the back on the climb, but are chasing back on through the caravan.
16:46 CEST - 177 km/27 km to go
Finot is hurting now as he goes up a small climb, but he has a 4'45 lead to the peloton, still led by Lotto-Domo and Fassa Bortolo. Maybe not enough to catch him. If Finot wins, he will take the yellow jersey.
Casper and Gates have got back onto the bunch. But Di Luca and Fornaciari are still off the back, chasing.
16:50 CEST - 181 km/23 km to go
Jegou is caught by the peloton with around 25 km to go, having been in front for 175 km. The leader is still Jean Delatour's Frederic Finot, who is on track to the biggest win of his career if he hangs on. The gap is 4'29.
16:53 CEST - 183 km/21 km to go
Finot is holding, as he hammers up the small climbs that mark the end of this stage. The bunch is at 4'30, and running out of time. Telekom has joined the chase, with Lotto and Fassa.
Di Luca is over 2 minutes behind now.
16:59 CEST - 187 km/17 km to go
Finot has just 17 km to go, with a handy 4'02 lead. He is crouched low over the bars, staying as aerodynamic as possible as he flies along towards the finish. Telekom is working hard in the bunch with Fassa Bortolo and Lotto-Domo still, but they will have to work very hard to pull back this gap.
16:02 CEST - 189 km/15 km to go
Frederic Finot goes under the 15 km to go banner, as Di Luca and Bertagnolli pass the 20 km banner. In between is the peloton, which is 3'30 behind the leading Frenchman. Telekom is working hard now, as it's Erik Zabel's 33rd birthday today.
16:04 CEST - 191 km/13 km to go
Finot fights with his bike as the road goes uphill again, taking a piece of food from his back pocket and swallowing it. The gap to the bunch is 3'17, and they surely won't catch the Jean Delatour rider now. McGee is near the front, but his time in yellow is at an end.
There is a big crash at the back, with a couple of riders lying on the ground. Dario Cioni is down, as is Olaf Pollack, who crossed the line on foot yesterday. A couple of Vini Caldirola riders are down too - Marco Milesi is one of them, and doesn't look good but gets up. He is treated by the race doctor.
16:08 CEST - 194 km/10 km to go
Frederic Finot has just 10 km to go, and has 2'30 to the bunch which slowed slightly after the crash. Finot can do it.
Marco Milesi is back on his bike, with a bandaged knee.
16:11 CEST - 196 km/8 km to go
Baldato has pulled off the back of the bunch, and will take it easy to the finish. In front, Michael Rogers has stepped up the pace with a couple of Quick.Step teammates. They fancy Bettini and Paolini. The gap to Finot is 2'00.
16:13 CEST - 197 km/7 km to go
7 km to go for Finot, who is suffering on yet another small climb. He is getting time checks on the blackboard, and they are getting smaller.
Jimmy Casper is off the back in a small group.
FDJ is at the front, with McGee quite prominent. The gap is now just 1'19. Finot is really suffering.
16:15 CEST - 196 km/6 km to go
Bettini attacks on this climb, and McGee gets his wheel. The peloton comes back to them, with difficulty. The gap is just 44". Finot will be caught. He is knackered.
Millar counter attacks, but McGee goes with him. A Gerolsteiner rider goes next - Rene Haselbacher.
16:17 CEST - 199 km/5 km to go
Petacchi has been dropped from the bunch, just as Finot has 10" with under 5 km to go. McGee is still up in front, as is Ullrich. The peloton is strung out, but still together. No teams to organise anything now.
16:19 CEST - 201 km/3 km to go
Finot hangs on, as the Quick Step riders get to the front again. McGee is back to the front, helping teammate Baden Cooke. Finot is caught with 3 km to go. Good ride, but he ran out of gas too early.
16:21 CEST - 202 km/2 km to go
O'Grady, McGee, McEwen, Cooke are all well placed, as is Freire.
16:21 CEST - 203 km/1 km to go
Brioches la Boulangere lead into the last km, for Nazon. McGee is fourth wheel, followed by Cooke.
16:22 CEST - 204 km/0 km to go
McGee goes too early, and Cooke has to wait. JP Nazon leads out, then Kirsipuu comes on the inside but it's Baden Cooke who wins!! Cooke beat Nazon and Kirsipuu by around half a wheel, taking FDJeux's second stage win of this Tour. Teammate Brad McGee keeps yellow after an awesome ride for Cooke.
"It's incredible," said Cooke at the finish. "In the finale all my teammates positioned me well. I had it in the big gear and I passed Kirsipuu, who moved a bit, but it didn't matter. I can't believe what's happening; it's unbelievable; I can't grasp it yet."
Results
Unofficial
1 Baden Cooke (Aus) FDJeux.com                          5.06.33
2 Jean-Patrick Nazon (Fra) Jean Delatour                     
3 Jaan Kirsipuu (Est) Ag2R Prevoyance                         
4 Erik Zabel (Ger) Team Telekom 
5 Thor Hushovd (Nor) Credit Agricole   
6 Robbie Mc Ewen (Aus) Lotto Domo
7 Paolo Bettini (Ita) Quick.Step-Davitamon         
8 Stuart O'Grady (Aus) Credit Agricole
9 Fred Rodriguez (USA) Vini Caldirola-So.Di
10 Mikel Artetxe (Spa) Euskaltel-Euskadi

General classification after stage 2
 
1 Bradley Mc Gee (Aus) FDJeux.com                      
2 David Millar (GBr) Cofidis, Credit Par Telephone         0.04 
3 Baden Cooke (Aus) FDJeux.com                    
4 Haimar Zubeldia (Spa) Euskaltel-Euskadi                  0.06
5 Jan Ullrich (Ger) Team Bianchi                               
6 Victor Hugo Pena (Col) US Postal-Berry Floor             0.10

Mail the commentary team Latest live report Results
Cyclingnews' live coverage of the 90th Tour de France is powered by