90th Tour de France - July 5-27, 2003
The five-times club, part three: Bernard Hinault
An event with a hundred years of history naturally attracts statistics-hounds who love to catalogue Tour numbers such as the youngest rider ever to win the Tour (Henri Cornet in 1904, just days before his twentieth birthday), the oldest (Firmin Lambot in 1922, at age 36), the average stage distance in 1930 (229.43km) and so on. But one Tour qualification most powerfully captures everyone's imagination: the elite club of riders who have won five Tours de France.
Every cycling fan can recite their names: Jacques Anquetil, Eddy Merckx, Bernard Hinault and Miguel Indurain. More serious trainspotters can recite the years of the victories, their winning margins, the decisive moments in each win and the riders they left in their wake wishing they'd been born outside the reign of one of the Tour's supermen.
In the third of our series on the five-Tour winners, we meet the last great French champion, Bernard Hinault.
The Badger
By Melanie Leveau
On Alpe d'Huez in 1982
Photo: © AFP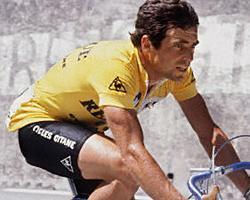 Nicknamed after the apparently cuddly mammal that's actually a tenacious fighter, Bernard Hinault was the natural successor to Eddy Merckx as overlord of the Tour de France.
Bernard Hinault rode eight Tours de France, and amassed five victories, two second places, the points and mountains classifications and 28 stage wins. This record was achieved through his exceptional physical talents but he built his carrier on his tremendous mental strength as well.
Hinault was always convinced he was the best and so was very self-confident. As early as 1975, his first season as a professional, he said, "One day, I will be French champion, World champion and Tour de France winner." He was obsessed by victory and had the ability to cope with suffering more than anybody else.
The young Hinault in yellow in 1979
Photo: © AFP

The Breton never showed fear of anyone, not even the Cannibal. "Merckx has got two legs, the same as me," Hinault said in 1975. He wasn't shy about voicing and demonstrating his beliefs either, and he was in front line at Valence d'Agen in 1978 when riders went on strike approaching the line to protest against early starts and transfers.
Climbing hard in 1981
Photo: © AFP

Like the previous five-Tour winners, Jacques Anquetil and Eddy Merckx, Hinault won the Tour the first time he took part, but he has never been comfortable with comparisons to other champions; he simply wanted to be himself. And as himself, Hinault excelled in all fields of the race, outclassing his opponents in the time trials, the mountains, and even bunch sprints.
Riding for teams run first by former pro Cyrille Guimard and then flamboyant businessman (and later convicted football match-fixer) Bernard Tapie, Hinault encountered just one major setback in his carrier: a knee problem that caused him to drop out of the 1980 Tour as the race crossed the Pyrenees. He came back the following year after to take a revenge on his fate and won what is considered his easiest victory, culminating in a sprint win on the Champs Elysees.
On the way to his final victory
Photo: © AFP

After disagreements with Guimard, and missing the 1983 Tour altogether because of a knee operation, he joined Bernard Tapie's La Vie Claire team in 1984 and took no refuge in excuses when he was beaten by over ten minutes by Laurent Fignon. Hinault preferred the dignity of silence to superfluous comments.
Passing the torch in 1986
Photo: © AFP

The following year, with the help of his new first lieutenant, a talented American called Greg LeMond who had been third in 1983, Hinault won his last Tour. In Paris he promised LeMond, the first American to ever have a serious chance of winning the Tour: "In 1986 the Tour is for you. I will be there to help you." It took a while for the proud Breton to settle into the role of chief helper, and there were plenty of moments in the 1986 Tour when it looked as though Hinault was attacking his team-mate, but their differences were eventually settled and the image of LeMond and Hinault crossing the line hand in hand at the top of Alpe d'Huez is a classic moment in Tour history.
Hinault hung up his bike on the day of his 32nd birthday in full glory. A proud man, despite his bravery and persistence he was not prepared to risk fading away while riding one more year. It's too easy to play the game of 'might-have-been' with the careers of great champions such as Hinault, but it's still tempting to say that had it not been for his knee problems, he was the rider most able to win six or even seven Tours.
Hinault now works for Tour de France organiser ASO.
Hinault's victories
Year  Team           Time          Distance    Average       Winning
                                               Speed         Margin
 
1978  Renault        108.18.00     4,103km     37.88km/h      3.56
1979  Renault        103.06.50     4,108km     39.83km/h      3.07
1981  Renault         96.19.38     3,740km     38.87km/h     14.34
1982  Renault         92.08.46     3,573km     38.77km/h      6.21
1985  La Vie Claire  113.24.23     4,109km     36.23km/h      1.42

Cyclingnews' live coverage of the 90th Tour de France is powered by