T-Mobile International - 1.3
San Francisco, USA, September 14, 2003
Main Page Results Men's Results Live report
Women - 80 km
Cooke comes through
By Kristy Scrymgeour
Katie Mactier, Nicole Cooke & Judith Arndt
Photo ©: Richard Brockie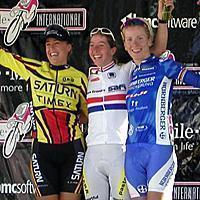 Race favourite Nicole Cooke did indeed take the win in the inaugural T-Mobile International which proved to be a huge success today. Lining the course at 7:30am before the fog had lifted in San Francisco were thousands of people with bells and loud voices. Cooke said after that the course was "amazing and it was unbelievable to ride in front of so many people." After the announcement that this race will be on the World Cup Series next year, Nicole was delighted. "It's a great course and I think T-Mobile need to be thanked for supporting such a great race."
The women started very aggressively on the torturous course with Ina Teutenberg instigating the first attack. She was caught but it wasn't long before she attacked again taking Kristin Armstrong (T-Mobile) and Katia Longhin (Acca Due O Lorena) with her. With Longhin sitting on in support of her team leader Diana Ziliute, it was Teutenberg and Armstrong who worked together in the break.
At the base of main climb on Fillmore st on lap two the break was caught as Nicole Cooke attacked hard out of the bunch. With her went, Dede Barry (T-Mobile) and Diana Ziliute (Acca Due O Pasta). In an unfortunate crash on the descent, Ziliute was out of the race, leaving Cooke and Barry were gradually joined by the remainder of the peloton and attacks continued and attrition continued to play it's part. It wasn't long before the starting field of 130 women was dwindled down to about 40 riders in the main group.
Cooke waited until the last time up Fillmore to make her winning move and literally sprinted out of the field and up the steep climb. According to Saturn's Katie Mactier "it was unbelievable. I saw her go," she said, and I thought 'she can't possible last for much longer', but she sprinted all the way up the hill and opened up such a big gap that would eventually win her the race."
Cooke soloed home with Barry tailing her, 8" behind and a group of three riders chasing them to the finish line. In the three were Katie Mactier (Saturn), Judith Arndt (Nurnberger) and Modesta Vzesniauskaite (Ausra Grodis Safi). Demet was caught by the trio and it would become a sprint for second place as Cooke crossed the line to take the win. Mactier lead out and won the sprint just 5" behind Cooke, with Arndt taking third place.
With Vzesniauskaite and Barry coming in to round out the top five, Christine Thorburn (Vaniqa Red 5 Racing) and Sue Palmer Komar (Genesis Scuba) rode very strong finishes to place alone in sixth and seventh place, whilst Tina Mayolo-Pic (Diet Rite) won the 21 person bunch sprint for eigth place.
Cooke spoke to the crowd immediately after the race with her lungs still aching. "This is such a hard course," she explained, "my lungs were burning on lap two. Of course this course suited me perfectly and it was my plan to use the hills to my advantage. I got a gap on the last climb and the crowd were just amazing, it was very nice to ride in this atmosphere. I'm excited by my win and now I am looking forward to the World Cup next year."
Second place getter, Mactier was delighted with her race and couldn't keep the grin off her face. "It was a very hard race and I was so happy that the race was so positive, it's a great thing for women's cycling. People were attacking all day and nobody seemed intimidated by the climbs all day. As for me, lap one was ouch! I arrived in San Francisco on Tuesday from Europe so I knew I would take a while to warm up, but after that I felt great. Nicole was just unbelievable on that last climb."
Photography
Images by Bob Wilson/www.wilsonsphotography.com
Images by Mitchell Clinton/www.clintonphoto.com
Images by Michael Murphy/www.whileseated.org
Results
1 Nicole Cooke (GBr) Ausra Gruodis Safi                  2.11.18
2 Katie Mactier (Aus) Saturn                                0.05
3 Judith Arndt (Ger) Team Nurnberger
4 Modesta Vzesniauskaite (Ltu) Ausra Gruodis Safi
5 Dede Barry (USA) Team T-Mobile                            0.07
6 Christine Thorburn (USA) Vaniqua Red 5 Racing             0.08
7 Susan Palmer Komar (USA) Genesis Scuba FFCC               0.11
8 Tina Mayolo Pic (USA) Diet Rite                           0.38
9 Laura Downey (USA) Minute Maid Dasani LaGrange
10 Katia Longhin (Ita) Acca Due O Pasara Zara Lorena
11 Sandy Espeseth (Can) Victory Brewing Amoroso
12 Laura Van Gilder (USA) Saturn
13 Katheryn Curi (USA) Los Gatos Bicycle Racing
14 Magen Long (USA) World Diff.com
15 Madeleine Lindberg (Swe) Team Nurnberger
16 Carmen D'alvisio (USA) Team McGuire
17 Dotsie Cowden (USA) Team T-Mobile
18 Julie Hutsebaut (Can) Canadian national team
19 Mari Holden (USA) Team T-Mobile
20 Shani Bloch (Isr) Verizon Wireless Cervelo
21 Alisha Little (USA) Team Fuji
22 Amy Moore (Can) Saturn
23 Kristin Armstrong (USA) Team T-Mobile
24 Karen Brems (USA) Webcor Alto Velo
25 Stacey Peters (USA) Team T-Mobile
26 Chrissy Ruiter (USA) Team Basis
27 Nicole Demars (Can) Victory Brewing Amoroso
28 Heather Albert (USA) Team Basis
29 Megan Monroe (USA) TDS Cycling Team
30 Catherine Malone (USA) Webcor Alto Velo
31 Linda Jackson (Can)
32 Rhonda Quick (USA) Vaniqua Red 5 Racing
33 Cybil Diguistini (Can) Diet Rite
34 Birgit Soellner (Ger) Team Nurnberger
35 Manon Jutras (Can) Saturn
36 Kori Kelly (USA) Diet Rite
37 Kimberly Anderson (USA) Team T-Mobile
38 Felicia Greer (USA) Vaniqua Red 5 Racing
39 Meredith Miller (USA) Team Basis                         1.32
40 Gina Hall (USA) Team McGuire
41 Johanna Buick (USA) World Diff.com                       4.03
42 Michelle Beltran (USA) Vaniqua Red 5 Racing              5.23
43 Lisa Magness (USA) ICO/New Belgium Brewing
44 Gina Grain (Can) Victory Brewing Amoroso                 5.59
45 Giorgia Bronzini (Ita) Ausra Gruodis Safi
46 Rochelle Gilmore (Aus) Ausra Gruodis Safi
47 Zoe Owers (USA) Ashmead King 5
48 Iona Wynter (Jam) Genesis Scuba FFCC
49 Kristin Drumm (USA) Team McGuire
50 Liza Rachetto (USA) ICO/New Belgium Brewing
51 Joanne Kiesanowski (NZl) Diet Rite
52 Anna Milkowski (USA) Los Gatos Bicycle Racing
53 Kate Sherwin (USA) Ashmead King 5
54 Kim Cunningham (USA) Team Basis
55 Yukie Nakamura (Use) Webcor Alto Velo
56 Lisa Norris (USA) Webcor Alto Velo
57 Christine Vardaros (USA) Velo Bella
58 Becky Broeder (USA) ICO/New Belgium Brewing
59 Zita Urbonaite (Ltu) Acca Due O Pasara Zara Lorena
60 Joan Wilson (USA) TDS Cycling Team
61 Kate Maher (USA) Team Basis
62 Jennifer Eyerman (USA) Vaniqua Red 5 Racing
63 Maggie Shirley (USA) Genesis Scuba FFCC
64 Keri Silk (USA) Palo Alto Bicycles
65 Rook Campbell
66 Jessica Phillips (USA) Saturn
67 Candice Blickem (USA) Genesis Scuba FFCC