T-Mobile International - 1.3
San Francisco, USA, September 14, 2003
Main Page Results Women's Results Live Report
Horner escapes to crush best-ever San Fran field
Huge crowds for truly International T-Mobile
By Tim Maloney in San Francisco
The men's podium: Mark McCormack (Saturn), Chris Horner (Saturn) & Viatcheslav Ekimov (USPS)
Photo ©: Michael Murphy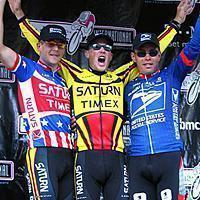 The City By The Bay welcomed the best field ever assembled for an American race with spectacular weather and huge, enthusiastic crowds of perhaps 500,000 people that lined the streets of San Francisco to cheer five-time Tour de France winner Lance Armstrong, 2003 Giro d'Italia winner Gilberto Simoni, 2003 Tour de France podium man Alexandre Vinokourov and 2003 Giro d'Italia runner-up Stefano Garzelli.
But in the final stages of the T-Mobile race, it was Saturn's Chris Horner who brought home the victory bouquet along San Francisco's Embarcadero. Horner has dominated the US racing scene in 2003 since the spring and won the inaugural edition of the Tour de Georgia stage race in April. With the Saturn team sponsorship renewal on the line for 2004, Horner wanted to go out with a bang, not a whimper and so the friendly freckle-faced rider from Bend, Oregon took matters into his own hands for his biggest single day win of his career.
As Horner crossed the finish line today after almost four and a half hours of racing, he wasn't certain that he had actually won the race and just kept on riding, missing his chance for a solo victory salute. "I didn't hear the bell the crowd was so noisy," explained the loquacious Saturn rider, "so I just kept on going. You don't want to take a chance in a race as important as this one!"
Horner's audacious solo move on the final finishing laps came after he had bridged up to a five-man group that escaped on the final ascent of the wall of Fillmore St. hill. Horner was ready for the challenge as he had specially prepared for this race in a tough three-week training camp with his Saturn teammate and friend Trent Klasna. "I'm away from my family a lot, but I asked them for the time for this race because I thought I could win it; and it worked out," said a delighted Horner. "This may be the last time our Saturn team races together and I wanted it to be something special."
For Horner's Saturn teammate and runner-up, USPRO champ Mark McCormack, San Francisco was doubly sweet. Not only did he win $5,000, Marky Mark also picked up a cool twenty grand prize for winning the season long Pro Cycling Tour points competition. Crafty old pro Viatcheslav Ekimov (USPS-Berry Floor) grabbed the final podium spot by sneaking away in the last 800m for third place. "Yeah, I'm still here," joked the 38 year old Russian evergreen. And like two years ago, Eki's boss, five-time Tour de France champ Lance Armstrong found himself debilitated by a stomach bug and was forced to abandon today. "I knew that I didn't have great legs from the start," a disappointed Armstrong told KGO-TV after retiring. Look for an exclusive interview with Lance later this week on Cyclingnews.
Although he finally ended up 42nd, Telekom's lanky Rolf Aldag animated the race for much of the day. Fourteen years ago, Aldag raced well in the first edition of the Tour de Trump on a German amateur squad and once again, the consummate German pro proved that he is still a solid rider at 35. "It was kind of strange for me from a tactical point of view," Aldag told Cyclingnews. "I mean, I don't know the riders and wasn't sure if they were sprinters or climbers or what. It was really windy today too when we headed towards the [Golden Gate] bridge. But this was a really good race today; I enjoyed it a lot. But I wish I had a 27 on the hills today!" His Telekom teammate Alexander Vinokourov echoed Aldag's appreciation of the race, telling Cyclingnews, "that hill (Fillmore) was almost too hard, but the race was good. I'm glad I came."
Formaggio Pinzolo Fiave's talented Slovenian Uros Murn, who will ride for Tyler Hamilton's new Phonak team next season missed his chance to win the PCT title due to the Saturn onslaught was satisfied in his fifth place performance today. "Yes I wanted to win the PCT, but I gave it my best effort," said Murn. "We had a good break on the last big lap but when Horner came across, he and McCormack started attacking. I tried to cover them but it was too hard; the other guys weren't chasing much. But I'm not too disappointed."
How it unfolded
Rolf Aldag (Telekom)
Photo: © Emory Ball

Right from the get-go, Saturn was racing hard today in SF, with rangy Trent Klasna charging off the front as soon as the first three laps around the Embarcadero were concluded. Eight big laps of the tough 19km parcours were ahead, but Saturn was not intimidated by the presence of Lance or the big Euro names. Chris Wherry (Navigators) made the first move of the day that stuck and was joined by Aldag, Jason Lokkesmoe and Gord Fraser (Healthnet) and Columbian climber Cesar Grajales (Jittery Joes). With big motors like the rejuvenated Wherry and Aldag powering away and the peloton playing piano behind, after three large laps, the break had 1.50 on a Prime Alliance and Saturn powered chase group and five minutes on the peloton.
Cesar Grajales (Jittery Joe's)
Photo ©: Michael Murphy

It was 30 year old Colombian Grajales that animated the climbing today, taking the KOM's on Fillmore and Taylor almost every lap. Jittery Joes's director Micah Rice told Cyclingnews, "last year, Grajales just hooked up with the bean team as an amateur rider, but when the Colombian mountain bike champion showed he could climb with the best American riders in the Tour of the Gila, we signed him up." Grajales was in an early break at last year's SF race and ended up third in the 2002 KOM competition, but he had an extra gear today and dominated the ascents.
Halfway through the eight large laps, with 100km to go, the front quintet was 1.30 up on the chasers, the peloton at 4.45 and the average speed was 39.5km/h. After five climbs up Fillmore, Fraser began to crack. Although he did get back on after a maladroit feeding episode with his inexperienced team car, two laps later, Gord was history. The now four-man break had a minute on the chasers and 3.25 on the Saeco-led peloton, and Aldag was beginning to get antsy as Wherry and Grajales tired.
Climbing up the steep ramp of Broadway from Embarcadero as the penultimate large lap began, Aldag launched a withering attack that dumped the Navigators and Jittery Joe's riders for good. Lokkesmoe managed to stay with Aldag, but was taking few pulls. Perhaps the inexperienced 25 year old Health Net man didn't trust Aldag, but he clung to the big Telekom man's rear wheel like a mad lamprey, occasionally taking a tiny turn at the front. Aldag tried to dump Lokkesmoe a few times, but his lack of a low-enough bottom gear made it tough.
As the break began the final large lap of the day, the front duo was 2.15 ahead of the slowing chase group. Prime Alliance's Dave Clinger was working hard in this group to get across but to no avail as his chase-mates couldn't collaborate well enough. As the break hit the Fillmore wall for the final time, the peloton - led by Saeco and 7-Up - had caught the chase and was only two minutes behind the break. Lokkesmoe tried to turn the tables on Aldag, but Rolf zig-zagged up Fillmore and Taylor to hang tough.
Despite being in the chase group all day, Clinger made a great move the last time up Fillmore and attacked the peloton. This drew US champ Mark McCormack (Saturn) and Uros Murn out of the peloton, who caught Lokkesmoe. Aldag was dropped, and when Murn and McCormack came up, the now five leaders had 1.15 to the peloton as the four laps of the 8km finishing circuits commenced.
But trouble was brewing behind the break, as Chris Horner attacked hard with Aussie Ben Brooks (Jelly Belly) from the peloton. Horner flatted but got a quick service from the mavic neutral service car and got back on. His surge brought him up the front group and with Horner on the rampage, there was nothing much the other riders could do. First Horner attacked, then his teammate McCormack, then Horner again with two laps to go. This time, it was the winning move and his final gap was 49 seconds over McCormack in second, and 1.04 over the peloton, led in by German speedster Danilo Hondo.
Photography
Images by Jonathan Devich/Cyclingnews.com, epicimages.us
Images by Bob Wilson/www.wilsonsphotography.com
Images by Mitchell Clinton/www.clintonphoto.com
Images by Celia Cole/www.sportsshooter.com/celiacole
Images by Michael Murphy/www.whileseated.org
Images by Richard Brockie
Images by Emory Ball
Results - 173 km
1 Chris Horner (USA) Saturn Cycling Team                    4.24.33
2 Mark McCormack (USA) Saturn Cycling Team                     0.49
3 Viatcheslav Ekimov (Rus) US Postal presented by Berry Floor  1.02
4 Danilo Hondo (Ger) Team Telekom                              1.04
5 Uros Murn (Slo) Formaggi Pinzolo Fiavé-Mix 1
6 Vassili Davidenko (Rus) Navigators Cycling Team
7 Massimo Giunti (Ita) Domina Vacanze-Elitron
8 Massimiliano Mori (Ita) Formaggi Pinzolo Fiavé-Mix 1
9 Lorenzo Cardellini (Ita) Domina Vacanze-Elitron
10 Eric Wohlberg (Can) Saturn Cycling Team
11 Mike Sayers (USA) Health Net Cycling Team
12 Ted Huang (USA) Webcor Cycling Team
13 Serguei Yakovlev (Kaz) Team Telekom
14 Andy Bajadali (USA) Ofoto-Lombardi Sports
15 Alex Candelario (USA) Prime Alliance Cycling Team
16 Mark Walters (Can) Navigators Cycling Team
17 Gordon McCauley (NZl) Schroeder Iron Cycling Team
18 Damon Kluck (USA) US Postal presented by Berry Floor
19 Leonardo Bertagnolli (Ita) Team Saeco
20 Cameron Hughes (Aus) LeMond - Capt Cra-Z
21 James Mattis (USA) Webcor Cycling Team
22 Tim Johnson (USA) Saturn Cycling Team
23 Ruben Elvira Lobato (Spa) Domina Vacanze-Elitron            1.14
24 Kai Hundertmarck (Ger) Team Telekom                         1.17
25 John Lieswyn (USA) 7UP / Maxxis                             1.19
26 Ryan Barrett (USA) Schroeder Iron Cycling Team
27 Nathan Russell (Aus) Collavita Bolla
28 Alexandr Kozlov (Blr) Health Net Cycling Team
29 Damiano Cunego (Ita) Team Saeco
30 Viktor Rapinski (Blr) Saturn Cycling Team
31 Marc Hagenlocher (USA) Webcor Cycling Team
32 Christian Vandevelde (USA) US Postal presented by Berry Floor
33 Ciaran Power (Irl) Navigators Cycling Team
34 John Hunt (USA) Health Net Cycling Team
35 Ivan Dominguez (Cub) Saturn Cycling Team
36 Gilberto Simoni (Ita) Team Saeco
37 Rigoberto Meza (Mex) Schroeder Iron Cycling Team            1.26
38 Scottie Weiss (USA) West Virginia Cycling Team              1.31
39 Tim Larkin (USA) Ofoto-Lombardi Sports                      1.41
40 Andy Jacques-Maynes (USA) Sierra Nevada-Clif Bar            1.46
41 Paul Martin (USA) West Virginia Cycling Team                2.00
42 Rolf Aldag (Ger) Team Telekom
43 John Peters (USA) Prime Alliance Cycling Team               2.29
44 Brice Jones (USA) 7UP / Maxxis                              2.42
45 David Clinger (USA) Prime Alliance Cycling Team             2.47
46 Adam Bergman (USA) Jelly Belly                              2.52
47 Benjamin Brooks (Aus) Jelly Belly
48 Jason Lokkesmoe (USA) Health Net Cycling Team               3.45
49 Kevin Monahan (USA) 7UP / Maxxis                            4.28
50 Steve Zampieri (Swi) Sidermec-Mix 1
51 Jesus Ramirez Torres (Spa) Mix 1
52 Burke Swindlehurst (USA) Navigators Cycling Team
53 Doug Ollerenshaw (USA) Health Net Cycling Team              8.58
54 Cesar Augusto Grajales (Col) Jittery Joe's                  9.21