Le Tour du Grand Montréal - 2.9.1
Canada, June 2-4, 2003
Main Page Results Previous Stage Next Stage
Stage 1 - June 3: Petite Italie Criterium, 50 km
Grain's Victory Brewed
By Kristy scrymgeour
A hug for the winner
Photo: © Kristy Scrymgeour/CN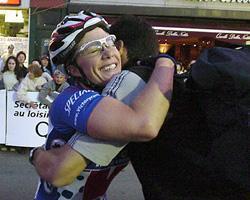 Gina Grain (Victory Brewing Amoroso) filled her hopes of winning a stage at the Tour du Grand Montreal tonight when she crossed the finish line of the Petite Italie Criterium with a big grin on her face and her hands raised high. Cyclingnews spoke to Grain and her teammates before the race, all of who seemed determined and confident that they would bring home their first big victory for the year in this 50km, four corner race.
With the sun low in the sky and a slight chill in the air, 96 girls lined up to start Stage two of the tour in front of a huge crowd. This time last year Laura Van Gilder was preparing to win the stage that would secure her overall tour win. Tonight it was Genevieve Jeanson (Rona Esker) in yellow after an impressive performance in the morning's three kilometer time trial.
The race was fast from the gun and immediately a few riders were struggling to hold the pace as riders such as Nicole Cooke (Acca Due O Pasta) and Amy Moore (Saturn) led early attacks. With multiple cash and time bonus primes up for grabs however, the field was unwilling to let a break form and stayed together for the entire 50 laps. Cooke and her Acca Due team were in great form as they worked to win primes and valuable bonus seconds for Diana Ziliute, "I just had so much fun out there," Cooke explained to Cyclingnews after the race, "races like this are what cycling is all about. It makes the hard winter training all worth it."
Reach for the sky
Photo: © Kristy Scrymgeour/CN

Other teams also had a go to make the race hard with Rachel Heal and Frances Newsted from the Great Britain team both getting involved in the action as well as Japanese Champion Miho Oki. Acca Due seemed to be in control of the race but Grain was persistent. She tested her sprinting legs early and picked up some early primes which gave her confidence for the finish. "I just wanted to test myself out", said Grain, "I really wanted to win this crit, and I felt good the whole race.
Coming into the final lap sprinters were fighting for position and no one team were able to form a strong enough lead out. "People were fighting for wheels and it was quite messy" said Grain. "I managed to find the wheel of Anne Samplonius (Quebec) coming into the last corner and was able to come around her for the finish". Cooke crossed the line to take second place from Erin Carter (Canadian National Team). "I was trying to find Ziliute in the last lap to get her to the front, but with half a lap to go I realized she wasn't on my wheel so I went for it myself" Cook Explained.
Jeanson succeeded in holding on to the leaders jersey despite Ziliute gaining quite a few time bonus seconds and will wear it going into tomorrows challenging 111km Road Race. The stage is described as "a very hilly course" that starts at the Sanctuary de Rigaud and finishes at the Sucrerie de la Montagne where the riders will stay for a famous maple syrup dinner at a sugar shack.
Photos
Images by Kristy Scrymgeour/Cyclingnews.com
Results
1 Gina Grain (Can) Victory Brewing/Amoroso's             1.11.15
2 Nicole Cooke (GBr) Ausra Gruodis - Safi
3 Erin Carter (Can) Équipe Nationale du Canada
4 Katia Longhin (Ita) Acca Due O Pasta
5 Anne Samplonius (Can) Équipe Québec
6 Giorgia Bronzini (Ita) Ausra Gruodis - Safi
7 Regina Schleicher (Ger) German National Team
8 Isabella Wieser (Aut) Charly Lietzsport
9 Liane Bahler (Ger) German National Team
10 Lyne Bessette (Can) Saturn Cycling Team
11 Catherine Marsal (Fra) Rona - Esker
12 Geneviève Jeanson (Can) Rona - Esker
13 Magali Le Floch (Fra) Rona - Esker
14 Diana Ziliute (Ltu) Acca Due O Pasta
15 Miho Oki (Jpn) Japan National
16 Frances Newstead (GBr) Great Britain National Team
17 Stacey Peters (USA) T-Mobile
18 Annette Beutler (Swi) Swiss Cycling Team
19 Deirdre Demet-Barry (USA) T-Mobile
20 Kristin Armstrong (USA) T-Mobile
21 Iona Wynter (Jam) Genesis Scuba/FFCC
22 Karen Bockel (Ger) Rona - Esker
23 Julie Hutsebaut (Can) Équipe Nationale du Canada
24 Amy More (Can) Saturn Cycling Team
25 Rochelle Gilmore (Aus) Ausra Gruodis - Safi
26 Bettina Kuhn (Swi) Swiss Cycling Team
27 Sabine Batz (Ger) Charly Lietzsport
28 Audrey Lemieux (Can) Équipe Nationale du Canada
29 Rachel Heal (GBr) Great Britain National Team
30 Katie Mactier (Aus) Saturn Cycling Team
31 Chantal Beltman (Ned) Acca Due O Pasta
32 Erinne Willock (Can) Rona - Esker
33 Amber Neben (USA) T-Mobile
34 Sara Waller (GBr) Great Britain National Team
35 Nicole Freedman (USA) Basis Women's Cycling Team
36 Nicole Demars (Can) Victory Brewing/Amoroso's
37 Tina Liebig (Ger) German National Team
38 Candice Blickem (USA) Genesis Scuba/FFCC
39 Melissa Holt (NZl) Rona - Esker
40 Theresa Senff (Ger) German National Team
41 Meredith Miller (USA) S.A.T.S.
42 Kimberly Bruckner (USA) T-Mobile
43 Susan Palmer-Komar (Can) Genesis Scuba/FFCC
44 Sarah Grab (Swi) Swiss Cycling Team
45 Diana Rast (Swi) Swiss Cycling Team
46 Leah Goldstein (Isr) Victory Brewing/Amoroso's
47 Sandy Espeseth (Can) Victory Brewing/Amoroso's
48 Heather Albert (USA) Basis Women's Cycling Team
49 Kimberly Anderson (USA) T-Mobile
50 Claudia Stumpf (Ger) German National Team
51 Ayumu Otsuka (Jpn) Japan National
52 Charlotte Goldsmith (GBr) Great Britain National Team
53 Trine Hansen (Den) S.A.T.S.
54 Manon Jutras (Can) Saturn Cycling Team
55 Claudia Meyer (Ger) Charly Lietzsport
56 Jessica Hulser (USA) S.A.T.S.
57 Barbara Heeb (Swi) Swiss Cycling Team
58 Jessica Phillips (USA) Saturn Cycling Team
59 Grace Fleury (USA) Genesis Scuba/FFCC
60 Lauren Franges (USA) Victory Brewing/Amoroso's
61 Anne Wagner (Den) S.A.T.S.                               0.12
62 Caroline L'heureux (Can) Équipe Québec
63 Élisa Gagnon (Can) Équipe Québec                         0.34
64 Geneviève Leblanc (Can) Équipe Nationale du Canada
65 Yvonne Ilton (USA) Verizon Wireless-Cervélo              2.07
66 Sarah Düster (Ger) German National Team
67 Stéphanie Bourbeau (Can) Équipe Québec
68 Francesca Pellegrini (Ita) Ausra Gruodis - Safi
69 Maggie Shirley (USA) Genesis Scuba/FFCC
70 Julia Bradley (Can) Team Ontario
71 Ann-Marie Miller (USA) Verizon Wireless-Cervélo
72 Catherine Bearce (USA) Basis Women's Cycling Team
73 Karin Wieser (Aut) Charly Lietzsport
74 Lauren Gaffney (USA) Basis Women's Cycling Team
75 Petra Pilz (Aut) Charly Lietzsport
76 Hiroko Shimada (Jpn) Japan National
77 Julie Belanger (Can) Équipe Nationale du Canada
78 Christina Peick-Anderson (Den) S.A.T.S.
79 Sophie St-Jacques (Can) Victory Brewing/Amoroso's
80 Geneviève Gagnon (Can) Équipe Québec
81 Julie Monagle (USA) Verizon Wireless-Cervélo
82 Magalie Boulay (Can) Équipe Nationale du Canada
83 Penny Edwards (GBr) Great Britain National Team
84 Sophie Blanchette (Can) Équipe Québec
85 Barbara Brzezicki (Can) Team Ontario                     5.53
86 Clara Constantinescu (Rom) Genesis Scuba/FFCC           10.03
87 Sarah Foulkes (USA) Verizon Wireless-Cervélo
HD Holland Gidney (Can) Team Ontario                       17.14
DNF Amy Maher (Can) Team Ontario
DNS Claudine Labelle (Can) Team Ontario
DNS Marie-Pier Bédard (Can) Basis Women's Cycling Team
DNS Miyoko Karami (Jpn) Japan National
DNS Ghita Beltman (Ned) Acca Due O Pasta
 
General classification after stage 2
 
1 Geneviève Jeanson (Can) Rona - Esker                   1.15.07
2 Katie Mactier (Aus) Saturn Cycling Team                   0.04
3 Lyne Bessette (Can) Saturn Cycling Team                   0.05
4 Manon Jutras (Can) Saturn Cycling Team                    0.07
5 Amber Neben (USA) T-Mobile                                0.08
6 Diana Ziliute (Ltu) Acca Due O Pasta                      0.09
7 Deirdre Demet-Barry (USA) T-Mobile                        0.10
8 Erin Carter (Can) Équipe Nationale du Canada              0.11
9 Karen Bockel (Ger) Rona - Esker
10 Candice Blickem (USA) Genesis Scuba/FFCC                 0.12
11 Susan Palmer-Komar (Can) Genesis Scuba/FFCC
12 Anne Samplonius (Can) Équipe Québec                      0.13
13 Kimberly Bruckner (USA) T-Mobile
14 Amy More (Can) Saturn Cycling Team                       0.14
15 Kristin Armstrong (USA) T-Mobile                         0.15
16 Nicole Cooke (GBr) Ausra Gruodis - Safi                  0.16
17 Catherine Marsal (Fra) Rona - Esker
18 Melissa Holt (NZl) Rona - Esker                          0.17
19 Leah Goldstein (Isr) Victory Brewing/Amoroso's           0.18
20 Kimberly Anderson (USA) T-Mobile
21 Sandy Espeseth (Can) Victory Brewing/Amoroso's
22 Frances Newstead (GBr) Great Britain National Team
23 Grace Fleury (USA) Genesis Scuba/FFCC                    0.19
24 Jessica Phillips (USA) Saturn Cycling Team
25 Stacey Peters (USA) T-Mobile
26 Chantal Beltman (Ned) Acca Due O Pasta
27 Gina Grain (Can) Victory Brewing/Amoroso's               0.20
28 Erinne Willock (Can) Rona - Esker                        0.21
29 Nicole Freedman (USA) Basis Women's Cycling Team
30 Iona Wynter (Jam) Genesis Scuba/FFCC
31 Jessica Hulser (USA) S.A.T.S.
32 Barbara Heeb (Swi) Swiss Cycling Team                    0.22
33 Sarah Grab (Swi) Swiss Cycling Team
34 Audrey Lemieux (Can) Équipe Nationale du Canada
35 Nicole Demars (Can) Victory Brewing/Amoroso's
36 Katia Longhin (Ita) Acca Due O Pasta                     0.23
37 Liane Bahler (Ger) German National Team                  0.24
38 Ayumu Otsuka (Jpn) Japan National
39 Diana Rast (Swi) Swiss Cycling Team                      0.25
40 Annette Beutler (Swi) Swiss Cycling Team
41 Magali Le Floch (Fra) Rona - Esker
42 Heather Albert (USA) Basis Women's Cycling Team
43 Claudia Meyer (Ger) Charly Lietzsport                    0.26
44 Sabine Batz (Ger) Charly Lietzsport
45 Giorgia Bronzini (Ita) Ausra Gruodis - Safi              0.27
46 Miho Oki (Jpn) Japan National
47 Meredith Miller (USA) S.A.T.S.
48 Isabella Wieser (Aut) Charly Lietzsport
49 Claudia Stumpf (Ger) German National Team                0.28
50 Rachel Heal (GBr) Great Britain National Team
51 Julie Hutsebaut (Can) Équipe Nationale du Canada         0.29
52 Trine Hansen (Den) S.A.T.S.
53 Theresa Senff (Ger) German National Team
54 Tina Liebig (Ger) German National Team
55 Sara Waller (GBr) Great Britain National Team            0.31
56 Bettina Kuhn (Swi) Swiss Cycling Team
57 Rochelle Gilmore (Aus) Ausra Gruodis - Safi
58 Charlotte Goldsmith (GBr) Great Britain National Team    0.33
59 Lauren Franges (USA) Victory Brewing/Amoroso's           0.34
60 Regina Schleicher (Ger) German National Team             0.41
61 Caroline L'heureux (Can) Équipe Québec                   0.46
62 Anne Wagner (Den) S.A.T.S.                               0.52
63 Geneviève Leblanc (Can) Équipe Nationale du Canada       1.07
64 Élisa Gagnon (Can) Équipe Québec                         1.12
65 Maggie Shirley (USA) Genesis Scuba/FFCC                  2.23
66 Catherine Bearce (USA) Basis Women's Cycling Team        2.30
67 Julia Bradley (Can) Team Ontario                         2.32
68 Magalie Boulay (Can) Équipe Nationale du Canada          2.35
69 Yvonne Ilton (USA) Verizon Wireless-Cervélo              2.36
70 Hiroko Shimada (Jpn) Japan National
71 Karin Wieser (Aut) Charly Lietzsport                     2.37
72 Penny Edwards (GBr) Great Britain National Team          2.38
73 Stéphanie Bourbeau (Can) Équipe Québec                   2.39
74 Sarah Düster (Ger) German National Team                  2.42
75 Ann-Marie Miller (USA) Verizon Wireless-Cervélo
76 Julie Monagle (USA) Verizon Wireless-Cervélo             2.43
77 Julie Belanger (Can) Équipe Nationale du Canada          2.44
78 Geneviève Gagnon (Can) Équipe Québec
79 Petra Pilz (Aut) Charly Lietzsport                       2.46
80 Sophie St-Jacques (Can) Victory Brewing/Amoroso's
81 Lauren Gaffney (USA) Basis Women's Cycling Team          2.47
82 Christina Peick-Anderson (Den) S.A.T.S.                  2.48
83 Francesca Pellegrini (Ita) Ausra Gruodis - Safi          3.00
84 Sophie Blanchette (Can) Équipe Québec                    3.02
85 Barbara Brzezicki (Can) Team Ontario                     6.34
86 Sarah Foulkes (USA) Verizon Wireless-Cervélo            10.44
87 Clara Constantinescu (Rom) Genesis Scuba/FFCC           10.47
 
Points classification
 
1 Gina Grain (Can) Victory Brewing/Amoroso's                  10 pts
2 Diana Ziliute (Ltu) Acca Due O Pasta                        10
3 Nicole Cooke (GBr) Ausra Gruodis - Safi                      8
4 Miho Oki (Jpn) Japan National                                6
5 Erin Carter (Can) Équipe Nationale du Canada                 5
6 Katia Longhin (Ita) Acca Due O Pasta                         4
7 Isabella Wieser (Aut) Charly Lietzsport                      2
8 Diana Rast (Swi) Swiss Cycling Team                          2
9 Anne Samplonius (Can) Équipe Québec                          1
 
Teams classification
 
1 Saturn Cycling Team                                    3.45.37
2 Rona - Esker                                              0.11
3 T-Mobile                                                  0.15
4 Genesis Scuba/FFCC                                        0.24
5 Acca Due O Pasta                                          0.35
6 Victory Brewing/Amoroso's                                 0.42
7 Équipe Nationale du Canada                                0.47
8 Swiss Cycling Team                                        0.56
9 Great Britain National Team                               1.01
10 S.A.T.S.
11 Ausra Gruodis - Safi                                     1.02
12 Charly Lietzsport                                        1.03
13 German National Team                                     1.05
14 Équipe Québec                                            1.49
15 Basis Women's Cycling Team                               3.00
16 Japan National                                           3.11
17 Verizon Wireless-Cervélo                                 7.45
18 Team Ontario                                            26.36