News for January 31, 2003
O'Neill in sparkling form as he opens his account in Le Tour
Nathan O'Neill
Photo: © CN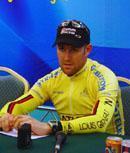 By Tommy Campbell in Langkawi
Prior to the start Nathan took some time out to show Tommy Campbell that he is a down-to-earth guy.
CN: How did you get involved with cycling?
NO'N: I was 14 years old and I had often been amazed by the sport of cycling. In Australia in those days, it was a sport that never received a lot of publicity. I guess my curiosity grew, and when I started riding to school, I became keen to experience racing first hand.
NO'N: I met an old friend one day and he encouraged me to follow him out to a local club event one morning. It was a 10 mile handicap - the handicapper was generous to me and I won the race. I've never looked back.
CN: Who was your idol?
NO'N: When I first started, I would have to say it was the most prominent English speaking pros that I looked up to; Phil Anderson, Greg Lemond, Andy Hampsten... all of whom I'm pleased to say I've had a beer with, except Greg. Maybe you can fix that!
CN: The participant you most admire in the sport?
NO'N: It's hard to name one rider these days whom you admire above all others. I'd say perhaps Botero, since he's really shown true class in the past season.
CN: Who do you admire in other sports?
NO'N: Muhammed Ali
CN: Which event do you look forward on the calendar?
NO'N: The early season tours... especially if I've begun to find form.
CN: Your favourite book?
NO'N: I'm not really a book worm - the last book I read was called The Cell. It was about the true events that led up to 9-11. Interesting read.
CN: The last CD purchased?
NO'N: I've haven't bought a CD in a while , but my girlfriend's family gave me Robbie Williams' latest album.
CN: Would you recommend a life in sport for your offsprings?
NO'N: Only if it involved Golf clubs or tennis racquets!!
CN: When did you realise that you could make a worthwhile career out of cycling?
NO'N: I knew I had a chance to go somewhere in the early 90s when I had started performing well internationally.
CN: What non-sporting figure do you most admire?
NO'N: Peter Garret (the lead singer and head man of Australian rock group Midnight Oil). He's just quit the band and begun a career in politics. A great ambassador for Australia and human rights activist.
CN: When you hang up the wheels what would like to do?
NO'N: Relax, relax relax; whatever I can do to take my mind off the bike.
CN: Your most memorable moment to date?
NO'N: The World Championships in 2001 were pretty amazing for me - I finished 8th in the pro time trial, then two days later, I met my girlfriend Katie Mactier.
CN: How do view the payment to stars in other disciplines?
NO'N: Difficult question to answer... all I can say is I think as a whole, men's professional cycling is underrated from many angles. Financially and publically, we deserve more - especially when one considers the length and conditions in which we work sometimes.
CN: What are you called in the peloton (nickname)?
NO'N: Nath - or The Bull sometimes.
CN: How do view opinions of you as a cyclist?
NO'N: I feel I am well respected within the peloton, and I know that others can always depend on me.
CN: What is your favourite piece of sporting memorabillia?
NO'N: My National Champions jerseys and especially my jerseys from the 2000 Olympic Games in Sydney.
CN: If your house were on fire, what one item would you take with you as you dashed for safety?
NO'N: Since I've got two arms, I'd grab my dog Jesse under one and my girl Katie under the other!