85th Giro d'Italia (GT)
Italy, May 11-June 2, 2002
Stage profile Results Live coverage Previous stage Next stage
Stage 4 - May 15: E.s Alzette-Strasbourg, 232 km
Robbie rocks Cipo in Strasbourg
Giro says ciao to Euro-stages
By Tim Maloney, European editor
Cipo vs McEwen
Photo: © AFP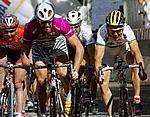 Robbie McEwen (Lotto-Addeco) knows two words in Italian; "bella vittoria". Today along the Quai des Alpes in Strasbourg, France at the photo-finish conclusion to the Euro-Giro d'Italia's Stage 4, the compact Brisbane speedster may have turned to Super-Mario just after the sprint and polished his Italian skills; "No worries, mate...that was a bella vittoria...for me this time!"
On a bella giornata with sun, warm temperatures and fast racing, it was a bella vittoria for McEwen: the oft-maligned but always fast almost 30-something who earned his 11th win this season and 45th career pro victory by simply blasting off the wheel of Mario Cipollini (Acqua & Sapone) with 100 meters to go and with a textbook bike throw, relegate the 35 year old Pisan powerhouse to first loser in Strasbourg.
"It was some good revenge for the other day," said a slightly sardonic McEwen, referring to Giro Stage One in Munster, Germany where Cipo's team-mate Giovanni Lombardi "took me across the road and ruined my sprint", according to McEwen, who finished 3rd there.
Bad luck struck the Lotto-Addeco rider yesterday as his front wheel blew up with 4km to race and took him out of the action, but any misfortune has not dimmed the Aussie's enthusiasm.
"I was sure that I could beat Cipollini this year, but it's not always that simple."
Mega-Mario would probably agree with him, as a crash and tough chase back in the 20km by Cipo's pivot man in the sprint Mario Scirea unbalanced the usually reliable zebra-striped stampede of the Acqua & Sapone train. 35 year old Scirea, nicknamed "l'Avvocatto" (the Attorney) plays the crucial role of organizing and managing the lead-out train for Cipo and when he is out of action, the A&S boys lose focus.
That's what happened when Scirea, who came back after a brave chase did organize the train, but it was too little, too late. The speed wasn't fast enough in the last few klicks, especially with a tricky 120 degree left hander with 1300 meters to go and McEwen sitting pretty, bided his time on Mario's wheel until the last half-furlong and kicked for the win, his first Giro d'Italia stage win ever.
Robbie McEwen
Photo: © Sirotti

Now Robbie has 35 to go to draw even with Cipo!
As for the GC faves, Garzelli should have his hands full defending his race leader's Maglia Rosa on Friday's stage after the transfer back to Italia. The Giro's first climbing stage, a tough 150km stage from Fossano to a mountaintop finish in Limone Piemonte is when the real Giro d'Italia begins.
. Beautiful warm weather is expected for Stage 5, so watch for Colletto del Moro to make the first important selection with 25km to go; a 3km climb at 11.6% average gradient, with some sections of 20%! After this tough hill, there is a 10km climb at an easy 4% average gradient up the main SS-20 road to Limone. Unless the in-form Garzelli cracks unexpectedly, he should have little trouble maintaining his Maglia Rosa Friday.
Photography
Photos by Fotoreporter Sirotti
Results
1 Robbie McEwen (Aus) Lotto-Adecco                     5.37.13 (41.28 km/h)
2 Mario Cipollini (Ita) Acqua & Sapone-Cantina Tollo
3 Enrico Degano (Ita) Ceramiche Panaria-Fiordo
4 Graeme Brown (Aus) Ceramiche Panaria-Fiordo
5 Alessandro Petacchi (Ita) Fassa Bortolo
6 Fabrizio Guidi (Ita) Team Coast
7 Aart Vierhouten (Ned) Lotto-Adecco
8 Sven Teutenberg (Ger) Phonak Hearing Systems
9 Massimo Strazzer (Ita) Phonak Hearing Systems
10 Moreno Di Biase (Ita) Formaggi-Trentini
11 Robert Hunter (Rsa) Mapei-Quick Step
12 Danilo Hondo (Ger) Team Telekom
13 Mykhaylo Khalilov (Ukr) Colombia-Selle Italia
14 Zoran Klemencic (Slo) Tacconi Sport-Emmegi
15 Cristian Moreni (Ita) Alessio
16 Giovanni Lombardi (Ita) Acqua & Sapone-Cantina Tollo
17 Santiago Perez Fernandez (Spa) Kelme-Costa Blanca
18 Uros Murn (Slo) Formaggi-Trentini
19 Ruggero Marzoli (Ita) Formaggi-Trentini
20 Angelo Furlan (Ita) Alessio
21 Rene' Haselbacher (Aut) Gerolsteiner
22 Miguel Angel Meza (Mex) Team Colpack-Astro
23 Yuri Mitlushenko (Ukr) Landbouwkrediet-Colnago
24 Christophe Detilloux (Bel) Lotto-Adecco
25 Stefan Van Dijck (Ned) Lotto-Adecco
26 Steven De Jongh (Ned) Rabobank
27 Mariano Piccoli (Ita) Lampre-Daikin
28 Lars Michaelsen (Den) Team Coast
29 Isaac Galvez Lopez (Spa) Kelme-Costa Blanca
30 Andre' Korff (Ger) Team Coast
31 Vladimir Duma (Ukr) Ceramiche Panaria-Fiordo
32 Aitor Gonzalez Jimenez (Spa) Kelme-Costa Blanca
33 Peter Wrolich (Aut) Gerolsteiner
34 Cadel Evans (Aus) Mapei-Quick Step
35 Angel Vicioso Arcos (Spa) Kelme-Costa Blanca
36 Gabriele Missaglia (Ita) Lampre-Daikin
37 Biagio Conte (Ita) Saeco-Longoni Sport
38 Franco Pellizotti (Ita) Alessio
39 Georg Totschnig (Aut) Gerolsteiner
40 Vladimir Smirnov (Ltu) Team Colpack-Astro
41 Matthias Kessler (Ger) Team Telekom
42 Stefano Garzelli (Ita) Mapei-Quick Step
43 Matthias Buxhofer (Aut) Phonak Hearing Systems
44 Rik Verbrugghe (Bel) Lotto-Adecco
45 Andrea Noe' (Ita) Mapei-Quick Step
46 Matteo Carrara (Ita) Team Colpack-Astro
47 Serguei Gontchar (Ukr) Fassa Bortolo
48 Oscar Mason (Ita) Saeco-Longoni Sport
49 Francesco Casagrande (Ita) Fassa Bortolo
50 Manuel Beltran (Spa) Team Coast
51 Dario Frigo (Ita) Tacconi Sport-Emmegi
52 Davide Rebellin (Ita) Gerolsteiner
53 Tyler Hamilton (USA) Team CSC Tiscali
54 Matteo Tosatto (Ita) Fassa Bortolo
55 Paolo Savoldelli (Ita) Index Alexia
56 Francisco J. Lara Ruiz (Spa) Team Coast
57 Gustavo Otero Gomez (Spa) Kelme-Costa Blanca
58 Paolo Fornaciari (Ita) Mapei-Quick Step
59 Luca Mazzanti (Ita) Mercatone Uno
60 Marco Pantani (Ita) Mercatone Uno
61 Roberto Sgambelluri (Ita) Mercatone Uno
62 Fabiano Fontanelli (Ita) Mercatone Uno
63 Fernando Escartin (Spa) Team Coast
64 Ivan Quaranta (Ita) Index Alexia
65 Mauro Gerosa (Ita) Tacconi Sport-Emmegi
66 Michael Boogerd (Ned) Rabobank
67 Thorwald Veneberg (Ned) Rabobank
68 Jan Schaffrath (Ger) Team Telekom
69 Juan Manuel Garate (Spa) Lampre-Daikin
70 Michele Colleoni (Ita) Team Colpack-Astro
71 Daniele De Paoli (Ita) Alessio
72 Volodymyr Bileka (Ukr) Landbouwkrediet-Colnago
73 Fabio Sacchi (Ita) Saeco-Longoni Sport
74 Michele Scarponi (Ita) Acqua & Sapone-Cantina Tollo
75 Oscar Cavagnis (Ita) Landbouwkrediet-Colnago
76 Eddy Mazzoleni (Ita) Tacconi Sport-Emmegi
77 Massimo Apollonio (Ita) Tacconi Sport-Emmegi
78 Cayetano Julia Cegarra (Spa) Kelme-Costa Blanca
79 Gilberto Simoni (Ita) Saeco-Longoni Sport
80 Frank Hoj (Den) Team Coast
81 Bert Grabsch (Ger) Phonak Hearing Systems
82 Mauro Radaelli (Ita) Tacconi Sport-Emmegi
83 Sergiy Adyeyev (Ukr) Landbouwkrediet-Colnago
84 Maximilian Sciandri (GBr) Lampre-Daikin
85 Guido Trenti (USA) Acqua & Sapone-Cantina Tollo
86 Denis Lunghi (Ita) Team Colpack-Astro
87 Igor Astarloa (Spa) Saeco-Longoni Sport
88 Jens Heppner (Ger) Team Telekom
89 Pavel Tonkov (Rus) Lampre-Daikin
90 Grischa Niermann (Ger) Rabobank
91 Milan Kadlec (Cze) Lampre-Daikin
92 Oscar Pereiro Sio (Spa) Phonak Hearing Systems
93 Massimo Codol (Ita) Lampre-Daikin
94 Juan Carlos Dominguez (Spa) Phonak Hearing Systems
95 Paolo Lanfranchi (Ita) Index Alexia
96 Wladimir Belli (Ita) Fassa Bortolo
97 Jan Boven (Ned) Rabobank
98 Rolf Sorensen (Den) Landbouwkrediet-Colnago
99 Bo Hamburger (Den) Index Alexia
100 Alexandre Moos (Swi) Phonak Hearing Systems
101 Daniele Righi (Ita) Index Alexia
102 Yaroslav Popovych (Ukr) Landbouwkrediet-Colnago
103 Lorenzo Bernucci (Ita) Landbouwkrediet-Colnago
104 Luis Laverde Jimenez (Col) Formaggi-Trentini
105 Gianni Faresin (Ita) Gerolsteiner
106 Denis Bondarenko (Rus) Formaggi-Trentini
107 Fortunato Baliani (Ita) Colombia-Selle Italia
108 Kurt Van De Wouwer (Bel) Lotto-Adecco
109 Joaquim Castelblanco (Col) Colombia-Selle Italia
110 Davide Bramati (Ita) Mapei-Quick Step
111 Pietro Caucchioli (Ita) Alessio
112 Mathew Hayman (Aus) Rabobank
113 Andrei Mizourov (Kaz) Mercatone Uno
114 Danny Jonasson (Den) Team CSC Tiscali
115 Juan J. De Los Angeles (Spa) Kelme-Costa Blanca
116 Marius Sabaliauskas (Ltu) Saeco-Longoni Sport
117 Denis Zanette (Ita) Fassa Bortolo
118 Francisco Cerezo Perales (Spa) Team CSC Tiscali        0.23
119 Carlos Sastre Candil (Spa) Team CSC Tiscali
120 Ivan Gotti (Ita) Alessio
121 Malte Urban (Ger) Team Coast
122 Geert Verheyen (Bel) Rabobank
123 Sylvester Szmyd (Pol) Tacconi Sport-Emmegi
124 Daniele Nardello (Ita) Mapei-Quick Step
125 Igor Pugaci (Mda) Saeco-Longoni Sport
126 Sergio Barbero (Ita) Lampre-Daikin
127 Marc Lotz (Ned) Rabobank
128 Ruben Alverio Marin (Col) Colombia-Selle Italia
129 Jimmi Madsen (Den) Team CSC Tiscali
130 Gian Mario Ortenzi (Ita) Mercatone Uno
131 Mario Manzoni (Ita) Index Alexia
132 Manuel Calvente (Spa) Team CSC Tiscali
133 Serguei Yakovlev (Kaz) Team Telekom
134 Francisco Leon Mane (Spa) Kelme-Costa Blanca
135 Hidenori Nodera (Jpn) Team Colpack-Astro
136 Juan D. Ramirez (Col) Colombia-Selle Italia
137 Julio Perez Cuapio (Mex) Ceramiche Panaria-Fiordo
138 Fabrice Gougot (Fra) Phonak Hearing Systems
139 Jesus Manzano Ruaņo (Spa) Kelme-Costa Blanca
140 John Freddy Garcia (Col) Colombia-Selle Italia
141 Alessandro Spezialetti (Ita) Saeco-Longoni Sport
142 Filippo Perfetto (Ita) Ceramiche Panaria-Fiordo
143 Fredy Gonzalez (Col) Colombia-Selle Italia
144 Kurt Van Lancker (Bel) Lotto-Adecco
145 Addy Engels (Ned) Rabobank
146 Vladimir Miholievic (Cro) Alessio
147 Hector Mesa Mesa (Col) Formaggi-Trentini
148 Martin Derganc (Slo) Acqua & Sapone-Cantina Tollo
149 Stephan Schreck (Ger) Team Telekom
150 Torsten Schmidt (Ger) Gerolsteiner
151 Ralf Grabsch (Ger) Team Telekom
152 Torsten Hiekmann (Ger) Team Telekom
153 Marc Streel (Bel) Landbouwkrediet-Colnago
154 Dario David Cioni (Ita) Mapei-Quick Step
155 Alessandro Bertolini (Ita) Alessio
156 Domenico Gualdi (Ita) Formaggi-Trentini
157 Thierry Marichal (Bel) Lotto-Adecco
158 Kai Hundertmark (Ger) Team Telekom
159 Steve Zampieri (Swi) Tacconi Sport-Emmegi
160 Mario Scirea (Ita) Acqua & Sapone-Cantina Tollo        0.34
161 Andrea Peron (Ita) Team CSC Tiscali
162 Alessio Galletti (Ita) Saeco-Longoni Sport             0.40
163 Gabriele Colombo (Ita) Acqua & Sapone-Cantina Tollo    0.45
164 Paolo Bettini (Ita) Mapei-Quick Step                   1.07
165 Sergiy Matveyev (Ukr) Ceramiche Panaria-Fiordo         1.24
166 Hernan Dario Munoz (Col) Colombia-Selle Italia         1.47
167 Ief Verbrugghe (Bel) Lotto-Adecco                      2.04
168 Matteo Gigli (Ita) Team Colpack-Astro                  2.16
169 Mauro Zinetti (Ita) Index Alexia                       2.49
170 Antonio Rizzi (Ita) Formaggi-Trentini                  3.28
171 Saja Gajicic (Yug) Formaggi-Trentini
172 Renzo Mazzoleni (Ita) Team Colpack-Astro               3.55
173 Eddy Serri (Ita) Index Alexia                          4.46
174 Dario Andriotto (Ita) Index Alexia
175 Riccardo Forconi (Ita) Mercatone Uno                   4.58
176 Simone Bertoletti (Ita) Lampre-Daikin
177 Roberto Conti (Ita) Acqua & Sapone-Cantina Tollo
178 Daniele Contrini (Ita) Gerolsteiner
179 Yauheni Seniushkine (Blr) Ceramiche Panaria-Fiordo
180 Mauro Zanetti (Ita) Alessio
181 Ellis Rastelli (Ita) Gerolsteiner
182 Faat Zakirov (Rus) Ceramiche Panaria-Fiordo
183 Marcelino Garcia Alonso (Spa) Team CSC Tiscali         5.00
184 Michael Rasmussen (Den) Team CSC Tiscali
185 Nicola Chesini (Ita) Ceramiche Panaria-Fiordo
186 Cristian Gasperoni (Ita) Acqua & Sapone-Cantina Tollo
187 Raphael Schweda (Ger) Team Coast
188 Domenico Romano (Ita) Landbouwkrediet-Colnago          9.07
189 Dmitri Konyshev (Rus) Fassa Bortolo                   13.01
190 Daniel Clavero (Spa) Mercatone Uno                    15.48
191 Francesco Secchiari (Ita) Mercatone Uno
DNS Leonardo Giordani (Ita) Team Colpack-Astro

Points
 
1 Robbie McEwen (Aus) Lotto-Adecco                            25 pts
2 Mario Cipollini (Ita) Acqua & Sapone-Cantina Tollo          20
3 Enrico Degano (Ita) Ceramiche Panaria-Fiordo                16
4 Fabrizio Guidi (Ita) Team Coast                             16
5 Massimo Strazzer (Ita) Phonak Hearing Systems               15
6 Graeme Brown (Aus) Ceramiche Panaria-Fiordo                 14
7 Alessandro Petacchi (Ita) Fassa Bortolo                     12
8 Aart Vierhouten (Ned) Lotto-Adecco                           9
9 Sven Teutenberg (Ger) Phonak Hearing Systems                 9
10 Danilo Hondo (Ger) Team Telekom                             7
11 Moreno Di Biase (Ita) Formaggi-Trentini                     6
12 Zoran Klemencic (Slo) Tacconi Sport-Emmegi                  6
13 Robert Hunter (Rsa) Mapei-Quick Step                        5
14 Mykhaylo Khalilov (Ukr) Colombia-Selle Italia               3
15 Miguel Angel Meza (Mex) Team Colpack-Astro                  2
16 Cristian Moreni (Ita) Alessio                               1
 
Mountains
 
1 Daniele Contrini (Ita) Gerolsteiner                          3 pts
2 Dmitri Konyshev (Rus) Fassa Bortolo                          2
3 Ruggero Marzoli (Ita) Formaggi-Trentini                      1
 
Intergiro
 
1 Massimo Strazzer (Ita) Phonak Hearing Systems         2.41.15
2 Fabrizio Guidi (Ita) Team Coast
3 Zoran Klemencic (Slo) Tacconi Sport-Emmegi
4 Danilo Hondo (Ger) Team Telekom
5 Miguel Angel Meza (Mex) Team Colpack-Astro
6 Sven Teutenberg (Ger) Phonak Hearing Systems
7 Daniele Contrini (Ita) Gerolsteiner
8 Lars Michaelsen (Den) Team Coast
9 Yuri Mitlushenko (Ukr) Landbouwkrediet-Colnago
10 Moreno Di Biase (Ita) Formaggi-Trentini
 
Most combative
 
1 Robbie McEwen (Aus) Lotto-Adecco                             6 pts
2 Mario Cipollini (Ita) Acqua & Sapone-Cantina Tollo           5
3 Fabrizio Guidi (Ita) Team Coast                              5
4 Massimo Strazzer (Ita) Phonak Hearing Systems                5
5 Enrico Degano (Ita) Ceramiche Panaria-Fiordo                 4
6 Graeme Brown (Aus) Ceramiche Panaria-Fiordo                  3
7 Zoran Klemencic (Slo) Tacconi Sport-Emmegi                   3
8 Alessandro Petacchi (Ita) Fassa Bortolo                      2
9 Danilo Hondo (Ger) Team Telekom                              2
10 Daniele Contrini (Ita) Gerolsteiner                         2
11 Miguel Angel Meza (Mex) Team Colpack-Astro                  1
12 Dmitri Konyshev (Rus) Fassa Bortolo                         1
 
Trofeo Fuga Piaggio
 
1 Daniele Contrini (Ita) Gerolsteiner                         93 pts
2 Dmitri Konyshev (Rus) Fassa Bortolo                         93
 
Azzurri d'Italia
 
1 Robbie McEwen (Aus) Lotto-Adecco                             4 pts
2 Mario Cipollini (Ita) Acqua & Sapone-Cantina Tollo           2
3 Enrico Degano (Ita) Ceramiche Panaria-Fiordo                 1
 
Trofeo Fast Team
 
1 Lotto-Adecco                                          16.51.39
2 Ceramiche Panaria-Fiordo
3 Formaggi Trentini
4 Phonak Hearing Systems
5 Team Coast
6 Alessio
7 Kelme-Costa Blanca
8 Mapei-Quick Step
9 Acqua&Sapone-Cantina Tollo
10 Gerolsteiner
11 Fassa Bortolo
12 Team Colpack-Astro
13 Team Telekom
14 Tacconi Sport-Emmegi
15 Lampre-Daikin
16 Saeco-Longoni Sport
17 Rabobank
18 Landbouwkrediet-Colnago
19 Mercatone Uno
20 Index Alexia
21 Colombia-Selle Italia
22 Team CSC-Tiscali                                         0.23
 
Trofeo Super Team
 
1 Ceramiche Panaria-Fiordo                                    35 pts
2 Lotto-Adecco                                                34
3 Phonak Hearing Systems                                      25
4 Acqua&Sapone-Cantina Tollo                                  24
5 Fassa Bortolo                                               16
6 Formaggi Trentini                                           16
7 Team Coast                                                  15
8 Mapei-Quick Step                                            10
9 Team Telekom                                                 9
10 Colombia-Selle Italia                                       8
11 Tacconi Sport-Emmegi                                        7
12 Alessio                                                     7
13 Kelme-Costa Blanca                                          4
14 Rabobank                                                    0
15 Gerolsteiner                                                0
16 Team CSC-Tiscali                                            0
17 Saeco-Longoni Sport                                         0
18 Landbouwkrediet-Colnago                                     0
19 Team Colpack-Astro                                          0
20 Index Alexia                                                0
21 Lampre-Daikin                                               0
22 Mercatone Uno                                               0

General classification after stage 4

1 Stefano Garzelli (Ita) Mapei-Quick Step              22.34.55
2 Fabrizio Guidi (Ita) Team Coast                          0.09
3 Rik Verbrugghe (Bel) Lotto-Adecco                        0.19
4 Juan Carlos Dominguez (Spa) Phonak Hearing Systems       0.21
5 Matthias Kessler (Ger) Team Telekom                      0.27
6 Francesco Casagrande (Ita) Fassa Bortolo                 0.31
7 Mykhaylo Khalilov (Ukr) Colombia-Selle Italia
8 Matthias Buxhofer (Aut) Phonak Hearing Systems           0.34
9 Cadel Evans (Aus) Mapei-Quick Step                       0.37
10 Dario Frigo (Ita) Tacconi Sport-Emmegi                  0.41
11 Andrea Noe' (Ita) Mapei-Quick Step                      0.43
12 Grischa Niermann (Ger) Rabobank                         0.44
13 Daniele De Paoli (Ita) Alessio                          0.45
14 Serguei Gontchar (Ukr) Fassa Bortolo                    0.47
15 Wladimir Belli (Ita) Fassa Bortolo
16 Isaac Galvez Lopez (Spa) Kelme-Costa Blanca             0.48
17 Mario Cipollini (Ita) Acqua & Sapone-Cantina Tollo
18 Cristian Moreni (Ita) Alessio
19 Danilo Hondo (Ger) Team Telekom                         0.49
20 Davide Rebellin (Ita) Gerolsteiner                      0.50
21 Tyler Hamilton (USA) Team CSC Tiscali                   0.52
22 Fernando Escartin (Spa) Team Coast
23 Gilberto Simoni (Ita) Saeco-Longoni Sport
24 Michael Boogerd (Ned) Rabobank                          0.53
25 Santiago Perez Fernandez (Spa) Kelme-Costa Blanca       0.59
26 Oscar Cavagnis (Ita) Landbouwkrediet-Colnago            1.00
27 Jens Heppner (Ger) Team Telekom                         1.03
28 Matteo Carrara (Ita) Team Colpack-Astro                 1.05
29 Oscar Pereiro Sio (Spa) Phonak Hearing Systems          1.06
30 Paolo Savoldelli (Ita) Index Alexia                     1.09
31 Aitor Gonzalez Jimenez (Spa) Kelme-Costa Blanca         1.11
32 Franco Pellizotti (Ita) Alessio
33 Kurt Van De Wouwer (Bel) Lotto-Adecco                   1.13
34 Maximilian Sciandri (GBr) Lampre-Daikin                 1.17
35 Manuel Beltran (Spa) Team Coast                         1.18
36 Francisco J. Lara Ruiz (Spa) Team Coast
37 Marius Sabaliauskas (Ltu) Saeco-Longoni Sport           1.23
38 Michele Scarponi (Ita) Acqua & Sapone-Cantina Tollo     1.25
39 Carlos Sastre Candil (Spa) Team CSC Tiscali             1.27
40 Lars Michaelsen (Den) Team Coast
41 Gianni Faresin (Ita) Gerolsteiner
42 Angel Vicioso Arcos (Spa) Kelme-Costa Blanca
43 Georg Totschnig (Aut) Gerolsteiner                      1.28
44 Paolo Lanfranchi (Ita) Index Alexia                     1.29
45 Alessandro Petacchi (Ita) Fassa Bortolo
46 Vladimir Duma (Ukr) Ceramiche Panaria-Fiordo            1.30
47 Juan Manuel Garate (Spa) Lampre-Daikin
48 Joaquim Castelblanco (Col) Colombia-Selle Italia        1.31
49 Massimo Codol (Ita) Lampre-Daikin                       1.32
50 Lorenzo Bernucci (Ita) Landbouwkrediet-Colnago          1.36
51 Yaroslav Popovych (Ukr) Landbouwkrediet-Colnago         1.37
52 Pavel Tonkov (Rus) Lampre-Daikin                        1.39
53 Juan J. De Los Angeles (Spa) Kelme-Costa Blanca         1.43
54 Pietro Caucchioli (Ita) Alessio
55 Marco Pantani (Ita) Mercatone Uno                       1.44
56 Torsten Hiekmann (Ger) Team Telekom                     1.50
57 Bert Grabsch (Ger) Phonak Hearing Systems               1.53
58 Luca Mazzanti (Ita) Mercatone Uno                       1.57
59 Milan Kadlec (Cze) Lampre-Daikin                        2.07
60 Alexandre Moos (Swi) Phonak Hearing Systems
61 Denis Bondarenko (Rus) Formaggi-Trentini                2.08
62 Giovanni Lombardi (Ita) Acqua & Sapone-Cantina Tollo
63 Fortunato Baliani (Ita) Colombia-Selle Italia           2.11
64 Igor Pugaci (Mda) Saeco-Longoni Sport                   2.12
65 Gustavo Otero Gomez (Spa) Kelme-Costa Blanca
66 Andrei Mizourov (Kaz) Mercatone Uno                     2.13
67 Andrea Peron (Ita) Team CSC Tiscali                     2.23
68 Peter Wrolich (Aut) Gerolsteiner                        2.28
69 Roberto Sgambelluri (Ita) Mercatone Uno                 2.30
70 Marc Lotz (Ned) Rabobank                                2.32
71 Jan Schaffrath (Ger) Team Telekom
72 Kai Hundertmark (Ger) Team Telekom                      2.33
73 Francisco Cerezo Perales (Spa) Team CSC Tiscali         2.35
74 Igor Astarloa (Spa) Saeco-Longoni Sport                 2.39
75 Serguei Yakovlev (Kaz) Team Telekom                     2.41
76 Geert Verheyen (Bel) Rabobank                           2.43
77 Juan D. Ramirez (Col) Colombia-Selle Italia             2.44
78 Sylvester Szmyd (Pol) Tacconi Sport-Emmegi              2.50
79 Sergiy Adyeyev (Ukr) Landbouwkrediet-Colnago            2.51
80 Manuel Calvente (Spa) Team CSC Tiscali                  2.53
81 Matteo Tosatto (Ita) Fassa Bortolo                      3.02
82 Gabriele Missaglia (Ita) Lampre-Daikin                  3.07
83 Massimo Strazzer (Ita) Phonak Hearing Systems           3.14
84 Mauro Gerosa (Ita) Tacconi Sport-Emmegi                 3.19
85 Hernan Dario Munoz (Col) Colombia-Selle Italia          3.20
86 Frank Hoj (Den) Team Coast                              3.28
87 Jesus Manzano Ruaņo (Spa) Kelme-Costa Blanca            3.30
88 Robert Hunter (Rsa) Mapei-Quick Step                    3.37
89 Steven De Jongh (Ned) Rabobank                          3.40
90 Guido Trenti (USA) Acqua & Sapone-Cantina Tollo         3.44
91 Robbie McEwen (Aus) Lotto-Adecco                        3.56
92 Uros Murn (Slo) Formaggi-Trentini                       3.58
93 Thorwald Veneberg (Ned) Rabobank                        3.59
94 Eddy Mazzoleni (Ita) Tacconi Sport-Emmegi
95 Gian Mario Ortenzi (Ita) Mercatone Uno                  4.00
96 Francisco Leon Mane (Spa) Kelme-Costa Blanca            4.01
97 Julio Perez Cuapio (Mex) Ceramiche Panaria-Fiordo       4.01
98 Aart Vierhouten (Ned) Lotto-Adecco                      4.06
99 Stefan Van Dijck (Ned) Lotto-Adecco                     4.07
100 Davide Bramati (Ita) Mapei-Quick Step                  4.20
101 Andre' Korff (Ger) Team Coast                          4.22
102 Jan Boven (Ned) Rabobank                               4.23
103 Paolo Fornaciari (Ita) Mapei-Quick Step
104 Denis Lunghi (Ita) Team Colpack-Astro                  4.24
105 Mariano Piccoli (Ita) Lampre-Daikin                    4.27
106 Oscar Mason (Ita) Saeco-Longoni Sport                  4.31
107 Mario Scirea (Ita) Acqua & Sapone-Cantina Tollo
108 Mauro Radaelli (Ita) Tacconi Sport-Emmegi              4.33
109 Stephan Schreck (Ger) Team Telekom                     4.37
110 Massimo Apollonio (Ita) Tacconi Sport-Emmegi           4.38
111 Sergiy Matveyev (Ukr) Ceramiche Panaria-Fiordo
112 Daniele Righi (Ita) Index Alexia                       4.39
113 Daniele Nardello (Ita) Mapei-Quick Step                4.40
114 Martin Derganc (Slo) Acqua & Sapone-Cantina Tollo      4.42
115 Ralf Grabsch (Ger) Team Telekom                        4.49
116 Cayetano Julia Cegarra (Spa) Kelme-Costa Blanca        4.51
117 Dario David Cioni (Ita) Mapei-Quick Step
118 Ivan Gotti (Ita) Alessio                               4.53
119 Sergio Barbero (Ita) Lampre-Daikin
120 Torsten Schmidt (Ger) Gerolsteiner                     4.58
121 John Freddy Garcia (Col) Colombia-Selle Italia         5.04
122 Ruben Alverio Marin (Col) Colombia-Selle Italia        5.05
123 Paolo Bettini (Ita) Mapei-Quick Step                   5.06
124 Vladimir Miholievic (Cro) Alessio                      5.15
125 Alessandro Spezialetti (Ita) Saeco-Longoni Sport       5.34
126 Addy Engels (Ned) Rabobank                             5.57
127 Renzo Mazzoleni (Ita) Team Colpack-Astro               6.14
128 Fabio Sacchi (Ita) Saeco-Longoni Sport                 6.26
129 Rene' Haselbacher (Aut) Gerolsteiner                   6.33
130 Gabriele Colombo (Ita) Acqua & Sapone-Cantina Tollo    6.35
131 Faat Zakirov (Rus) Ceramiche Panaria-Fiordo            6.54
132 Biagio Conte (Ita) Saeco-Longoni Sport                 7.03
133 Luis Laverde Jimenez (Col) Formaggi-Trentini           7.32
134 Marcelino Garcia Alonso (Spa) Team CSC Tiscali         7.45
135 Alessio Galletti (Ita) Saeco-Longoni Sport             8.04
136 Fredy Gonzalez (Col) Colombia-Selle Italia             8.27
137 Sven Teutenberg (Ger) Phonak Hearing Systems           8.47
138 Jimmi Madsen (Den) Team CSC Tiscali                    8.54
139 Mathew Hayman (Aus) Rabobank                           9.06
140 Miguel Angel Meza (Mex) Team Colpack-Astro             9.17
141 Rolf Sorensen (Den) Landbouwkrediet-Colnago            9.24
142 Mauro Zanetti (Ita) Alessio                            9.34
143 Fabiano Fontanelli (Ita) Mercatone Uno                 9.35
144 Raphael Schweda (Ger) Team Coast                       9.37
145 Danny Jonasson (Den) Team CSC Tiscali                  9.57
146 Christophe Detilloux (Bel) Lotto-Adecco               10.06
147 Ruggero Marzoli (Ita) Formaggi-Trentini               10.11
148 Volodymyr Bileka (Ukr) Landbouwkrediet-Colnago        10.20
149 Denis Zanette (Ita) Fassa Bortolo                     10.44
150 Alessandro Bertolini (Ita) Alessio                    10.47
151 Filippo Perfetto (Ita) Ceramiche Panaria-Fiordo       10.51
152 Fabrice Gougot (Fra) Phonak Hearing Systems           11.07
153 Thierry Marichal (Bel) Lotto-Adecco                   11.41
154 Kurt Van Lancker (Bel) Lotto-Adecco                   11.42
155 Angelo Furlan (Ita) Alessio                           12.02
156 Yauheni Seniushkine (Blr) Ceramiche Panaria-Fiordo    12.46
157 Graeme Brown (Aus) Ceramiche Panaria-Fiordo           13.06
158 Michele Colleoni (Ita) Team Colpack-Astro             13.07
159 Domenico Romano (Ita) Landbouwkrediet-Colnago         13.34
160 Bo Hamburger (Den) Index Alexia                       13.46
161 Moreno Di Biase (Ita) Formaggi-Trentini               14.14
162 Daniele Contrini (Ita) Gerolsteiner                   14.40
163 Ellis Rastelli (Ita) Gerolsteiner                     15.00
164 Riccardo Forconi (Ita) Mercatone Uno                  15.08
165 Michael Rasmussen (Den) Team CSC Tiscali              15.08
166 Simone Bertoletti (Ita) Lampre-Daikin                 15.35
167 Yuri Mitlushenko (Ukr) Landbouwkrediet-Colnago        15.40
168 Roberto Conti (Ita) Acqua & Sapone-Cantina Tollo      15.58
169 Malte Urban (Ger) Team Coast                          16.25
170 Ief Verbrugghe (Bel) Lotto-Adecco                     17.21
171 Daniel Clavero (Spa) Mercatone Uno                    17.54
172 Enrico Degano (Ita) Ceramiche Panaria-Fiordo          18.07
173 Dmitri Konyshev (Rus) Fassa Bortolo                   18.10
174 Matteo Gigli (Ita) Team Colpack-Astro                 18.20
175 Marc Streel (Bel) Landbouwkrediet-Colnago             18.28
176 Steve Zampieri (Swi) Tacconi Sport-Emmegi             19.00
177 Vladimir Smirnov (Ltu) Team Colpack-Astro             19.24
178 Hidenori Nodera (Jpn) Team Colpack-Astro              19.31
179 Francesco Secchiari (Ita) Mercatone Uno               19.53
180 Zoran Klemencic (Slo) Tacconi Sport-Emmegi            20.36
181 Hector Mesa Mesa (Col) Formaggi-Trentini              21.06
182 Cristian Gasperoni (Ita) Acqua & Sapone-Cantina Tollo 21.20
183 Mauro Zinetti (Ita) Index Alexia                      21.22
184 Mario Manzoni (Ita) Index Alexia                      21.30
185 Ivan Quaranta (Ita) Index Alexia                      22.33
186 Domenico Gualdi (Ita) Formaggi-Trentini               23.21
187 Antonio Rizzi (Ita) Formaggi-Trentini                 26.14
188 Eddy Serri (Ita) Index Alexia                         26.36
189 Saja Gajicic (Yug) Formaggi-Trentini                  26.39
190 Dario Andriotto (Ita) Index Alexia                    26.59
191 Nicola Chesini (Ita) Ceramiche Panaria-Fiordo         38.16

Points classification
 
1 Mario Cipollini (Ita) Acqua & Sapone-Cantina Tollo          78 pts
2 Massimo Strazzer (Ita) Phonak Hearing Systems               51
3 Graeme Brown (Aus) Ceramiche Panaria-Fiordo                 44
4 Robbie McEwen (Aus) Lotto-Adecco                            41
5 Danilo Hondo (Ger) Team Telekom                             37
6 Fabrizio Guidi (Ita) Team Coast                             36
7 Mykhaylo Khalilov (Ukr) Colombia-Selle Italia               34
8 Alessandro Petacchi (Ita) Fassa Bortolo                     29
9 Sven Teutenberg (Ger) Phonak Hearing Systems                29
10 Stefano Garzelli (Ita) Mapei-Quick Step                    26
11 Francesco Casagrande (Ita) Fassa Bortolo                   20
12 Isaac Galvez Lopez (Spa) Kelme-Costa Blanca                19
13 Jens Heppner (Ger) Team Telekom                            16
14 Miguel Angel Meza (Mex) Team Colpack-Astro                 16
15 Enrico Degano (Ita) Ceramiche Panaria-Fiordo               16
16 Robert Hunter (Rsa) Mapei-Quick Step                       15
17 Steven De Jongh (Ned) Rabobank                             15
18 Moreno Di Biase (Ita) Formaggi-Trentini                    15
19 Davide Rebellin (Ita) Gerolsteiner                         14
20 Tyler Hamilton (USA) Team CSC Tiscali                      12
21 Aart Vierhouten (Ned) Lotto-Adecco                         11
22 Michael Boogerd (Ned) Rabobank                             10
23 Rik Verbrugghe (Bel) Lotto-Adecco                           9
24 Marc Streel (Bel) Landbouwkrediet-Colnago                   8
25 Cadel Evans (Aus) Mapei-Quick Step                          8
26 Juan Carlos Dominguez (Spa) Phonak Hearing Systems          6
27 Matteo Carrara (Ita) Team Colpack-Astro                     6
28 Zoran Klemencic (Slo) Tacconi Sport-Emmegi                  6
29 Dario Frigo (Ita) Tacconi Sport-Emmegi                      4
30 Oscar Cavagnis (Ita) Landbouwkrediet-Colnago                4
31 Maximilian Sciandri (GBr) Lampre-Daikin                     4
32 Lars Michaelsen (Den) Team Coast                            4
33 Michele Scarponi (Ita) Acqua & Sapone-Cantina Tollo         3
34 Bert Grabsch (Ger) Phonak Hearing Systems                   3
35 Rene' Haselbacher (Aut) Gerolsteiner                        3
36 Franco Pellizotti (Ita) Alessio                             2
37 Frank Hoj (Den) Team Coast                                  2
38 Andrea Noe' (Ita) Mapei-Quick Step                          1
39 Cristian Moreni (Ita) Alessio                               1
40 Santiago Perez Fernandez (Spa) Kelme-Costa Blanca           1
41 Georg Totschnig (Aut) Gerolsteiner                          1
 
Mountains classification
 
1 Francesco Casagrande (Ita) Fassa Bortolo                     5 pts
2 Fredy Gonzalez (Col) Colombia-Selle Italia                   5
3 Mariano Piccoli (Ita) Lampre-Daikin                          4
4 Ruggero Marzoli (Ita) Formaggi-Trentini                      4
5 Daniele Contrini (Ita) Gerolsteiner                          3
6 Marc Streel (Bel) Landbouwkrediet-Colnago                    3
7 Stefano Garzelli (Ita) Mapei-Quick Step                      3
8 Dmitri Konyshev (Rus) Fassa Bortolo                          2
9 Ief Verbrugghe (Bel) Lotto-Adecco                            2
10 Michael Boogerd (Ned) Rabobank                              1
 
Intergiro classification
 
1 Massimo Strazzer (Ita) Phonak Hearing Systems         16.42.19
2 Fabrizio Guidi (Ita) Team Coast                           0.14
3 Mario Cipollini (Ita) Acqua & Sapone-Cantina Tollo        0.52
4 Marc Streel (Bel) Landbouwkrediet-Colnago
5 Alessandro Petacchi (Ita) Fassa Bortolo                   0.58
6 Zoran Klemencic (Slo) Tacconi Sport-Emmegi                1.04
7 Lars Michaelsen (Den) Team Coast
8 Maximilian Sciandri (GBr) Lampre-Daikin
9 Giovanni Lombardi (Ita) Acqua & Sapone-Cantina Tollo
10 Mykhaylo Khalilov (Ukr) Colombia-Selle Italia
11 Danilo Hondo (Ger) Team Telekom                          1.08
12 Bert Grabsch (Ger) Phonak Hearing Systems
13 Sven Teutenberg (Ger) Phonak Hearing Systems             1.09
14 Miguel Angel Meza (Mex) Team Colpack-Astro               1.13
15 Moreno Di Biase (Ita) Formaggi-Trentini
16 Frank Hoj (Den) Team Coast
17 Georg Totschnig (Aut) Gerolsteiner                       1.18
18 Daniele Contrini (Ita) Gerolsteiner                      1.22
19 Yuri Mitlushenko (Ukr) Landbouwkrediet-Colnago
20 Angelo Furlan (Ita) Alessio
 
Most combative classification
 
1 Mario Cipollini (Ita) Acqua & Sapone-Cantina Tollo          22 pts
2 Massimo Strazzer (Ita) Phonak Hearing Systems               18
3 Fabrizio Guidi (Ita) Team Coast                             12
4 Robbie McEwen (Aus) Lotto-Adecco                            10
5 Danilo Hondo (Ger) Team Telekom                              9
6 Graeme Brown (Aus) Ceramiche Panaria-Fiordo                  9
7 Stefano Garzelli (Ita) Mapei-Quick Step                      8
8 Francesco Casagrande (Ita) Fassa Bortolo                     8
9 Marc Streel (Bel) Landbouwkrediet-Colnago                    7
10 Alessandro Petacchi (Ita) Fassa Bortolo                     6
11 Mykhaylo Khalilov (Ukr) Colombia-Selle Italia               5
12 Jens Heppner (Ger) Team Telekom                             4
13 Enrico Degano (Ita) Ceramiche Panaria-Fiordo                4
14 Isaac Galvez Lopez (Spa) Kelme-Costa Blanca                 3
15 Davide Rebellin (Ita) Gerolsteiner                          3
16 Maximilian Sciandri (GBr) Lampre-Daikin                     3
17 Giovanni Lombardi (Ita) Acqua & Sapone-Cantina Tollo        3
18 Fredy Gonzalez (Col) Colombia-Selle Italia                  3
19 Sven Teutenberg (Ger) Phonak Hearing Systems                3
20 Zoran Klemencic (Slo) Tacconi Sport-Emmegi                  3
21 Tyler Hamilton (USA) Team CSC Tiscali                       2
22 Michael Boogerd (Ned) Rabobank                              2
23 Lars Michaelsen (Den) Team Coast                            2
24 Bert Grabsch (Ger) Phonak Hearing Systems                   2
25 Mariano Piccoli (Ita) Lampre-Daikin                         2
26 Daniele Contrini (Ita) Gerolsteiner                         2
27 Frank Hoj (Den) Team Coast                                  1
28 Robert Hunter (Rsa) Mapei-Quick Step                        1
29 Miguel Angel Meza (Mex) Team Colpack-Astro                  1
30 Ruggero Marzoli (Ita) Formaggi-Trentini                     1
31 Moreno Di Biase (Ita) Formaggi-Trentini                     1
32 Ief Verbrugghe (Bel) Lotto-Adecco                           1
33 Dmitri Konyshev (Rus) Fassa Bortolo                         1
 
Trofeo Fuga Piaggio classification
 
1 Marc Streel (Bel) Landbouwkrediet-Colnago                  162 pts
2 Ief Verbrugghe (Bel) Lotto-Adecco                          101
3 Daniele Contrini (Ita) Gerolsteiner                         93
4 Dmitri Konyshev (Rus) Fassa Bortolo                         93
5 Hector Mesa Mesa (Col) Formaggi-Trentini                    88
6 Fredy Gonzalez (Col) Colombia-Selle Italia                  18
7 Thierry Marichal (Bel) Lotto-Adecco                         16
8 Yaroslav Popovych (Ukr) Landbouwkrediet-Colnago             12
9 Aart Vierhouten (Ned) Lotto-Adecco                          11
 
Azzurri d'Italia classification
 
1 Mario Cipollini (Ita) Acqua & Sapone-Cantina Tollo          10 pts
2 Robbie McEwen (Aus) Lotto-Adecco                             5
3 Stefano Garzelli (Ita) Mapei-Quick Step                      4
4 Massimo Strazzer (Ita) Phonak Hearing Systems                2
5 Francesco Casagrande (Ita) Fassa Bortolo                     2
6 Graeme Brown (Aus) Ceramiche Panaria-Fiordo                  2
7 Danilo Hondo (Ger) Team Telekom                              1
8 Jens Heppner (Ger) Team Telekom                              1
9 Enrico Degano (Ita) Ceramiche Panaria-Fiordo                 1
 
Trofeo Fast Team classification
 
1 Mapei-Quick Step                                      67.19.54
2 Team Coast                                                0.16
3 Fassa Bortolo                                             0.31
4 Team Telekom                                              0.55
5 Phonak Hearing Systems                                    1.03
6 Gerolsteiner                                              1.23
7 Alessio                                                   1.27
8 Rabobank                                                  1.37
9 Saeco-Longoni Sport                                       1.42
10 Kelme-Costa Blanca                                       1.43
11 Colombia-Selle Italia                                    1.51
12 Landbouwkrediet-Colnago                                  2.22
13 Lotto-Adecco                                             2.26
14 Acqua&Sapone-Cantina Tollo                               2.28
15 Lampre-Daikin                                            2.37
16 Team CSC-Tiscali                                         3.14
17 Mercatone Uno                                            3.22
18 Ceramiche Panaria-Fiordo                                 4.11
19 Tacconi Sport-Emmegi                                     4.40
20 Index Alexia                                             4.47
21 Team Colpack-Astro                                       5.23
22 Formaggi Trentini                                        9.03
 
Trofeo Super Team classification
 
1 Phonak Hearing Systems                                      91 pts
2 Lotto-Adecco                                                73
3 Acqua&Sapone-Cantina Tollo                                  72
4 Ceramiche Panaria-Fiordo                                    72
5 Mapei-Quick Step                                            70
6 Team Telekom                                                66
7 Fassa Bortolo                                               63
8 Colombia-Selle Italia                                       49
9 Rabobank                                                    40
10 Team Colpack-Astro                                         40
11 Kelme-Costa Blanca                                         37
12 Team Coast                                                 35
13 Formaggi Trentini                                          31
14 Gerolsteiner                                               25
15 Alessio                                                    21
16 Tacconi Sport-Emmegi                                       16
17 Team CSC-Tiscali                                           16
18 Landbouwkrediet-Colnago                                    14
19 Lampre-Daikin                                               9
20 Saeco-Longoni Sport                                         0
21 Index Alexia                                                0
22 Mercatone Uno                                               0