Interview: Giovanni Battaglin
Amarcord dell' Euro-Giro: Battaglin recalls his first Giro 29 years on
By Tim Maloney, Cyclingnews European Editor
Back in the day: winning the 1982 Giro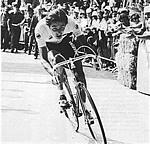 As a 21 year old neo-pro, Giovanni Battaglin amazed the cycling world with his debut performance in a grand tour, the 56th edition of the Giro d'Italia in 1973. At the height of his powers, hungry Eddy Merckx had decided to take a year off from winning the Tour de France and win only the Vuelta a Espana and Giro that year...
As expected, the unstoppable Merckx won the Vuelta ahead of Luis Ocana and headed for Italy in May. The Cannibal was insatiable in Italia, winning the GC and six stages on the way from the start in Verviers, Belgium to the finish in Trieste. On the eve of the 85th Giro, Cyclingnews spoke to Giovanni Battaglin, who finished third in the 1973 Giro, 10:20 behind Merckx, opening the door to a great 11 year pro career for the man from Marostica.
Cyclingnews: It was 29 years ago as a neo-pro that you went to Verviers, Belgium as a member of the Jollicermica team. What do you remember about that experience?
Giovanni Battaglin: The year before (1972), I had won the amateur Giro d'Italia and a lot of us on the Jollicermica team had been amateurs the year before. Well, Tumellero was already pro, he had more experience than most of us. At the beginning of the season, the team had some good results and we started the Giro in good shape.
CN: How did the race start off for you?
GB: The prologue time trial was in the center of Verviers; it was a two-up time trial run in the evening and I rode with Giacomo Bazzan. [That prologue was won by Eddy Merckx and Roger Swerts – Ed] There was lots of pavé and corners, it was really tough but we did pretty well. The last riders were finishing at 9pm!
I was a rider who went well in stage races so I decided to try and show myself as soon as I could. After Verviers, we went to Germany, Luxembourg. I was in front there when the group broke up, then I was third [Stage 4, 163km from Geneva to Aosta - Battaglin was just behind Merckx and Fuente]. I felt good on the stage to Aosta and I was pulling more than Merckx in the finale... we hit the final climb of San Carlo and Fuente was first over, ahead of Merckx, me and Faresato. I caught up to the leaders on the descent; there was Merckx and two Spanish riders who never pulled in the final 25km to Aosta.
CN: That must have been hard to battle with such big name riders.
GB: Sure, but by the halfway point of the Giro, I was in second place on GC behind Merckx, but then I lost time, crashed twice and flatted. [Stage 10, 174km from Alba Adriatica to Lanciano] We climbed the Maialetta that day. I was dropped by Merckx on the climb because I flatted. It was raining that day and the climb was tough and the road wasn't paved. I was a good descender and after my wheel change I was coming back to Merckx on the descent. Halfway down, I came to a corner and the Molteni car was stopped right in the middle of the road. The road wasn't paved and it was wet so I had to go around the car and so I crashed and had to change my bike because I broke my brake lever.
When the stage started that morning, it was a nice day and the tyres on my spare bike had the normal pressure for dry roads, but no one had let them down when I changed. I still came close to Merckx, but at the bottom of the descent where the road changed from gravel to pavement, I was only 10 meters behind [Merckx] but I crashed again and had to change my bike again. Luckily I had two bikes on the car but Gimondi and Panizza and some others caught me in the last 10km. Instead of gaining time on Gimondi that day, we arrived at the same time.
CN: What happened then?
GB: The next day [Stage 11, 230km, Lanciano to Benevento] was another bad day for me. It was really, really hot and a very tough stage, up and down all day. After 50 or 60km there was a big crash. I was caught behind it and in those days, there was no feeding from the cars. You had to stop at bars; the gregari had to stop along the way and grab the drinks... so I got behind the crash and a few kilometres later, there was a GPM. 14 riders got away; all the best riders with Merckx, Gimondi, De Vlaeminck, five Spanish riders. We chased them all day; there were thunderstorms and at the finish I had lost about three minutes to Gimondi (second on the stage).
CN: What kind of climber was Fuente?
GB: He was really tough. He always used a big gear when he attacked. I think he was the rider who was the best climber I ever encountered.
CN: More then Lucien Van Impe?
GB: Yes; in my opinion. Van Impe only went well in the Tour and that was it. Fuente was better.
CN: What kind of bikes did you use in the '73 Giro d'Italia?
GB: We were using steel bikes then; compared with the bikes today, a frame weighed a lot. A frame without fork weighed 2kg 300 grams and nowadays we are building bikes that are 900 grams for a frame! So we had bikes that were a lot different than today's bikes. My bike for the '73 Giro probably weighed 10.5kg. We had downtube shifters that were not indexed and now you don't even have to take your hands off the handlebars to shift. There are automatic pedals now, but we used to use toe clips and straps then. These always gave you problems because they hurt your feet. When you pulled tight on the straps this would cut off your circulation. We had six speed rear clusters, then seven speed. We used 53/41 with 170 or 172.5mm cranks. We didn't use a 12 back then; only 13. Twelve came in at the beginning of the '80's...after Maertens started to use it. 53X13 was a really big gear then; we were used to pedaling a lot faster, using a smaller gear than now. No, it was really different then. Cycling has had major advances in bike design and these days the bike is really more important. For example, in '73, our wheels were all ball-bearing hubs but now it's all roller bearings. This makes the bike faster. . .
CN: What was your Jollicermica team like?
GB: Well it was a young team as I said. We had Tumellero, Pierino Gavazzi, Brentegani, Gambarotto, Giacomo Bazzan. Gavazzi was a good sprinter and I was able to be up there with Merckx and Gimondi [Stage winner and '73 World Pro road champ]. In the end I believe I could have come second but I didn't have enough experience and the team was pretty small.
CN: What were you best placings in the '73 Giro?
Battaglin, right, with Julio Perez Cuapio
Photo: © Tim Maloney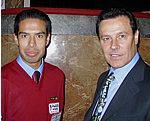 GB: There was the stage [Stage 8, 156km, Lido Nazioni to Carpegna) where Merckx and I got a big lead and finished over four minutes on the field. Then there was the stage to Monte Andalo. [Stage 18, 173km, Verona to Monte Andalo] . It was another tough climb; raining and gravel. That day, Merckx attacked and he got a 50 meter gap on Gimondi and me. We couldn't bring Merckx back; I tried to drop him by attacking but Gimondi ended up beating me by half a wheel.
CN: How was it for you as a 21 year old to ride head to head with Eddy Merckx, Felice Gimondi and Jose-Manuel Fuente?
GB: I had a lot of respect and admiration for them, They were untouchable but the reality was that I was right up there with them, so I just had to ride. I just had to go for it.
Today, Battaglin runs his eponymous bike company in Marostica, Italy. (www.Battaglin.com), sponsoring the Ceramiche Panaria-Fiordo squad with Battaglin bikes, including Mexican climbing sensation Julio Perez Cuapio.
Latest newsflashes
May 25 - Mathew Hayman interview: Making hay while the sun shines
May 25 - Stage 12 wrap up, Post stage comments, Lunghi wins 12th stage, Simoni out, Saeco cancels journos' football game, Perfetto denies doping
May 24 - Stage 11 wrap up, Post stage comments, Simoni not in the clear yet, Cadel Evans re-launches website, Garzelli case to be heard on June 3, Frigo taken for a ride, Saeco pulls Simoni before B sample announced, Mercatone flicks Sgambelluri
May 23 - Stage 10 wrap up, Post stage comments, Simoni allowed to continue, regardless of B test, Mapei to continue in the Giro
May 22 - Stage 9 wrap up, Garzelli's B sample positive, Post stage comments, Gutted Garzelli to take a break from cycling, Cipollini comments, Castellano comments, Why probenecid?, Policeman admits to supplying Varriale and co. with doping products, Simoni non-negative for cocaine
May 21 - Stage 8 wrap up, Post stage comments, Santi Perez hospitalised with cranial trauma, Garzelli's counter-analysis due on Tuesday, Varriale and the wicked fridge
Complete story index
Other Talking Cycling Interviews