85th Giro d'Italia (GT)
Italy, May 11-June 2, 2002
News for June 1, 2002
Edited by Karen Forman & John Stevenson
Fifth Giro stage for Cipo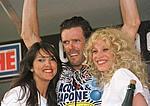 Another day on the podium
Photo: © Sirotti
Mario Cipollini survived hills and a fierce three-way sprint to collect his fifth stage win in the 18th stage of the 2002 Giro d'Italia in Brescia, on Friday.
The tougher than expected victory was the Aqua & Sapone team leader's 39th Giro stage win. Raced over 143km with three six-kilometre finishing laps containing a twisting, cobbled climb, the stage, at least on paper, should not have been Cipo's ideal. Until now, he has only won flat stages.
His winning ride - made more difficult by the Fassa Bortolo team which was trying to derail Cipo's zebra train - therefore came as a bit of a surprise to commentators.
Fassa Bortolo sprinter Alessandro Petacchi managed to get himself behind Cipo's leadout man Giovanni Lombardi in the final kilometre. Lombardi jumped with 500m to go and Petacchi quickly hit top speed after Lombardi pulled off. Still, Cipo managed to get around him.
Cipo said later he had expected to be next to Lombardi but instead, found himself fighting it out with Petacchi.
"They got onto my wheel, then we had a sprint and I struck it," he said. Still, he was very happy with his efforts. "It was a beautiful sprint ".
With four stage wins before the Giro reached the mountains, many commentators had not believed Cipo could break Alfredo Binda's 1940 seven stage-win record, due to his penchant for winning on the flats.
However, with number five under his belt and possibly a sixth before the final run to Milan on Sunday, he is going close.
(Interestingly, Binda - an all-round rider who had twice the winning average of Cipo - was paid not to take part that year after having won four and placing second in five consecutive tours. He went on to win another tour in 1933.)
Cipollini said he was prepared to be patient when it came to breaking Binda's record.
"I will not catch up the record of Binda for this year, I will try to make it next year," he said.
"I have 35 years in the head, but I have the enthusiasm of a 21 year old. My motor works very well. Even if I won to Milan I would lack still one (stage win) but I will try to win. Therefore I would have to conquer it next year.
Cipo said he had spoken to team director Salutini and had both agreed the stage was not suited to him. "Salutini did not convince me to sprint 4 km from the finish but then I have seen many people on the pave and the hills in the classics in Belgium, and they are heroes to me. "
He was full of compliments for the Fassa Bortolo rider. "From one who has nine years less than me (26 against 35), his future, it is a beautiful one I compliment," he said. "Incredibly they (the team) are satisfied because I have demonstrated of being still in great condition: I have gained the first and nineteenth stage of the Giro, a Giro that for me is the most beautiful."
A defeated Petacchi said he had done his best. "I have made the maximum, more I could not make," he said. "I was not much good between the other (two). I tried to take the wheel of Lombardi but Cipollini beat me to it."
Wearer of the pink jersey, Paolo Savoldelli finished not far behind Cipollini in 15th position. He said he was putting the stage behind him and looking forward to the next.
"I am calm," he said. "We hope all goes well. "
Simoni 'non-negative' at Giro
Gilberto Simoni has once again been found 'non-negative' in a doping control, this time during the Giro d'Italia. The control, conducted on May 21 after stage 9 of the Giro d'Italia, again found traces of cocaine in Simoni's urine. He went on to win stage 11, the day after he had been revealed to be 'non-negative' at a control conducted at the Giro Trentino on April 24. Under pressure from riders and the organisers Saeco withdrew Simoni from the Giro two days later.
Simoni has attempted to explain the positive test at Trentino as the result of an injection during dental work, a claim supported by his dentist who has said he administered carbocaine to Simoni. However, medical experts have pointed out that cocaine and carbocaine produce different metabolites in urine, and it's unlikely carbocaine could produce the same test result as cocaine.
Simoni's Saeco team will announce its official position towards the rider today, Saturday June 1.
The last rider to test positive for cocaine was another Italian, Daniel Pontoni on January 11 1998. Pontoni was reigning world cyclo-cross champion at the time and was eventually suspended for six months, but not until he'd had a chance to defend his title. Pontoni claimed that it was an alcohol-based leg rub containing cocaine that caused the positive.
Editorial note: 'Non-negative' is the term used by the UCI when a banned substance has been detected in the first sample from a rider, but not confirmed by analysis of the B sample. In Simoni's case he is now 'non-negative' from two tests, as the results of tests on his B sample from Trentino have not yet been revealed. Yes, we know it's inelegant.