25th Redlands Bicycle Classic - NE
USA, March 26-29, 2009
Main Page Results men Results women Men overall standings Women overall standings Previous Stage Next Stage
Stage 1 - March 27: Beaumont Circuit Race, 110/138km
Louder takes a victory and the yellow jersey
By Kirsten Robbins in Redlands, California
Jeff Louder (BMC) leads
Photo ©: Jon Devich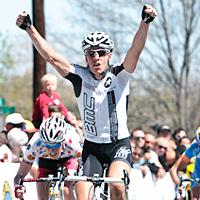 Jeff Louder (BMC) sprinted to the stage one victory at the Redlands Bicycle Classic ahead of a late-race breakaway of four men. Louder took a slim win ahead of second placed Will Routely (Jelly Belly) and third placed Peter Stetina (Garmin-Holoweko). Tom Zirbel (Bissell) rode in for fourth place.
"I have a pretty good jump in a cross wind like that," Louder said, regarding the nearly 40-mile per hour cross winds through the start-finish straight away. "Compared to last year, this race was longer with a lot more wind. Once I got the gap in the sprint I held it and I think that paid off. It wasn't really a tactical sprint because we were desperate to get to the line."
Stetina made the decisive move when he counter-attacked a break of five riders, which the peloton caught on the fourth and final descent off the KOM climb. Louder bridged across to Stetina, with Routely and Zirbel on his wheel. After a long day setting tempo, the previous race leader Ben Day (Fly V Australia) met a point of weakness with no teammates at his side to help chase the final break. Ouch p/b Maxxis and Kelley Benefit Strategies used what horse power they had left to try to reel in the escaped riders. The bunch fell shy by ten seconds at the finish line.
"It was a really hard head wind and when I looked back the three guys were coming across," Stetina said. "There was a lot of horse power in our group and we all just put our heads down and basically time trialed the whole way in. My gears were skipping at the finish from a wheel change I had during the race and I'm a little bummed that they skipped when I tried to go. But I'm still really happy with third – a podium is really great."
Time bonuses are key
The men's bunch comes through
Photo ©: Jon Devich

Time bonuses played a key role in the yellow leader's jersey changed from Ben Day to Jeff Louder. He moved into the leading role with a seven-second margin ahead of Zirbel. Day was forced to settle for third place, nine seconds back.
Louder received a ten-second time bonus for the stage win. That, combined with an intermediate time bonus along with the final separation between his breakaway and the field, gave him a slim lead heading into the stage two Redlands Downtown Criterium.
"I think Fly V Australia rode really well today and Ben came up to me after the stage and said that it's easier to win this race from behind and wished me luck," joked Louder, who would like to add his name to the list of overall winners.
Rock Racing comes to the front
Photo ©: Jon Devich

"I think it was a hard race, very tactical and Ben got a bit isolated at the end. The wind played a big role in the outcome of the race today. My team is well prepared and have done a lot of racing like this over in Europe."
An additional seven points came with the victory moving Louder into the early lead of the points jersey competition. Kirk Carlsen (Garmin-Holoweko) scooped up King of the Mountain jersey by picking up fifteen valuable points on the three hilltop hot spots.
"I went for the first KOM only because I was up there and felt like I had nothing to lose," Carlsen said who went up against riders like Chris Baldwin (Rock Racing) and Kiel Reijnen (Jelly Belly). "I won so after that my team decided to line it up for me on each climb after that to get more points. All I had to do was jump around my teammates to get the points. It was a short climb and a climb meant for someone who could sprint a little to get a gap."
A mountain circuit race
Fly V-Australia stacked on the front
Photo ©: Jon Devich

The Beaumont Circuit Race tunred into a 156-kilometre road stage. The nearly 40-kilometre circuit include two steep climbs that weighed heavy on the peloton toward the final of four laps. Time bonus played an important factor for riders looking to improve on their overall placing.
The two intermediate time bonuses were hotly contested by Team's Ouch p/b Maxxis, BMC and the previous race leader Ben Day. Rory Sutherland took the first of three time bonus placements followed by Day and Louder. Day won the second hot spot time bonus with Sutherland and Brent Bookwalter hot on his heels. Louder claimed the final time bonus upon capturing the stage victory at the finish line.
The wind blew strong during the men' s race and Fly V Australia had their work cut out for them holding together. Benjamin King (Trek-Livestrong) was the first rider to make a significant solo split from the peloton, gaining a maximum of two minutes on the second lap. OUCH p/b Maxxis reeled him giving Sutherland an opportunity to pick up more time bonus seconds positioned on the third lap.
A second break of five riders formed on the last lap that gained 40 seconds before reaching the base of the final climb. The second move included the familiar face of Benjamin King, Cesar Grajales (Rock Racing), Davide Frattini (Colavita-Sutter Home), Brad White (OUCH p/b Maxxis) and Burke Swindlehurst (Bissell). The front group dwindled down to some thirty riders as the chasing field hit the last climb. Stetina took a clever opportunity to counter attack the remnants of the break who were caught on the descent.
"We needed to try to bring it back because there were two threatening GC riders, Zirbel and Louder in that break and we want to continue to be in contention for the overall win here," said OUCH p/b Maxxis team directeur Mike Tamayo.
The Redlands Bicycle Classic will continued on the downtown streets of Redlands at the stage two criterium. "We need to take it day by day but everyone is on good form," Louder continued. "Tomorrow is a matter of riding hard for 90 minutes. I think Sunset is going to be a real battle but I'm confident in my team and everyone is really strong and motivated. It will be hard but if we win this race it will be that much sweeter."
Teutenberg proves fastest; Neben still strongest
Ina Yoko Teutenberg (Columbia-Highroad) wins the stage
Photo ©: Mitch Clinton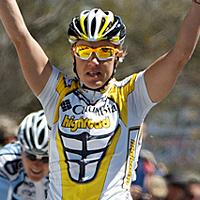 Ina-Yoko Teutenberg (Columbia-Highroad) once again showed how fast she really is, winning the Redlands Bicycle Classic stage one field sprint ahead of Tina Pic (Colavita-Sutter Home) and Lauren Tamayo (TIBCO).
"It was in the gutter from the bottom of the climb all the way to the last corner," Teutenberg said who moved closer to race leader, Amber Neben (Nürnberger-Shoair) in the overall after sprinting for added time bonuses.
"There was no big lead-out and everyone was just trying to survive and stay out of the wind. I was tired at the end because I had to jump after Lauren Tamayo in the end and I was lucky that I won. I think everyone was a little tired. There are still a lot of time bonuses and maybe Amber will want to play with me a little bit for them."
A dwindled peloton of some 30 riders split into pieces in the cross winds during the last kilometres of the race. Tamayo decided it was time to force Columbia-Highroad to chase and attacked before the final corner. The decisive move sent a red flag up to Teutenberg who instinctively went after the soloist.
"After I was caught some of the other teams had started to set up a bit of a lead-out," Tamayo said. "I stayed on Ina and I had my teammate Katharine Carroll drive it through that section to the finish. My other teammates took me through the corner. The effort that I put in before took a bit out of my legs and Ina and Tina are great sprinters so it was hard to compete against them."
Neben still ahead
Amber Neben (Nürnberger) gets to hold onto the lead
Photo ©: Jon Devich

Neben continued her lead in the overall classification with a 14-second margin ahead of Teutenberg and 37 seconds ahead of Alison Powers (Team Type 1). "Personally I think you need to be really fit and you also have to have a really strong team behind you to win this race," said former two-time winner Neben.
"I'll do what I can do but I have way too much respect for the other riders in the peloton. Ina is super good and she has teammates who are capable of supporting her. There are time bonuses available and technically speaking she can take the yellow with those plus she is riding well enough."
Teutenberg's stage victory came with an additional seven points that put her in the lead of the sprint competition. Neben leads the QOM competition after her GC lead broke a three way tie between Carla Swart (Lip Smackers) and Liza Rachetto (DFT/Treads). "I have to manage things in the sense that I'm one person," Neben said. She is riding as a guest rider, with ShoAir providing co-sponsorhip for the rider of Germany-based Equipe Nürnberger. "I have to take my risks and I have to conserve where I can and play my cards to see what will happen."
Heavy cross winds shatter field
The main field gets a little spread out
Photo ©: Jon Devich
The Beaumont Circuit Race presented the women's field with a lengthy 116 kilometre road stage. The nearly 40-kilometre circuit included two steep climbs neither decisive enough to make major separations in the field. It was the 40-mile per hour cross winds combined with an aggressive peloton that shattered the field into multiple small groups before the day's end.
Tactics were the name of the game between competing teams TIBCO and Columbia-Highroad, both having the bulk of their riders within the top fifteen behind a Neben in the overall classification. TIBCO forced a strong tempo on the first lap that caused the field to struggle behind. Attacking from Colavita-Sutter Home, Webcor, Columbia-Highroad made the race so hard that small groups who fell out of contention were forced to consolidate and work together in the wind.
"I think it was TIBCO's attacking that initiated the first break in the field," Teutenberg said. "It was just too windy out there. Amber is really good in the wind but she wasn't there straight away. She bridged across soon enough and I don't think she was ever in any danger. But I think in general there was a headwind on the long section of road before the climb which made it really hard to do something."
Mara Abbott (Columbia-Highroad) sitting comfortably in the bunch
Photo ©: Jon Devich

The second lap saw a lull in the field long enough for riders to catch their breath for another round of ammunition. A significant five-rider break that included Canadian National Champion, Alex Wrubleski (Columbia-HighRoad), Kori Seehafer (Team Type 1), Chrissy Ruiter (Value Act Capital) and teammates Joanne Keisonawski and Julie Beveridge (TIBCO). Notably missing from that break were riders from team's Colavita-Sutter Home and Webcor-Builders.
"I wasn't too concerned about that break because there were a couple of strong teams that didn't make it," said Neben. "There is only one of me and so I have to choose where I'm going to spend my energy."
TIBCO leads the overall team classification based on their performance in placing five riders within the top fifteen of the previous day's prologue. They continued their consistent performance placing third, fourth, fifth and sixth in the stage one sprint held on the streets of Beaumont.
"We were hoping to have a lot of us high up in the GC after the prologue," said Tamayo. "This race can come down to seconds and with the time bonuses offered in the races, those seconds can get eaten up. Having multiple cards to play is better. Coming into a race like today, with the wind the way that it was, it was easier for us to take control."
Photography
For a thumbnail gallery of these images, click here
Images by Jonathan Devich/

Images by Mitch Clinton/www.clintonphoto.com
Results
1 Jeff Louder (BMC Racing Team)                          3.45.09 (41.51 km/h)
2 Will Routley (Jelly Belly)                                    
3 Peter Stetina (Garmin-Holoweko Partners-Felt)
4 Tom Zirbel (Bissell Pro Cycling)
5 Lucas Sebastian Haedo (Colavita Sutter Home)              0.13
6 Shawn Milne (Team Type 1)                                     
7 Frank Pipp (Bissell Pro Cycling)                              
8 Jackson Stewart (BMC Racing Team)                             
9 Alex Candelario (Kelly Benefits Strategies)                   
10 Kiel Reijnen (Jelly Belly)                                   
11 Jonathan Clarke (Jelly Belly)                                
12 Caleb Fairly (Garmin-Holoweko Partners-Felt)                 
13 Brent Bookwalter (BMC Racing Team)                           
16 Chris Baldwin (Rock Racing)                                  
17 Benjamin King (Trek-Livestrong)                              
18 Justin England (California Giant-Specialized)                
19 Ben Jacques-Maynes (Bissell Pro Cycling)                     
20 Kirk Carlsen (Garmin-Holoweko Partners-Felt)                 
21 Andrew Pinfold (Ouch p/b Maxxis)                             
22 Reid Mumford (Kelly Benefits Strategies)                     
23 Rory Sutherland (Ouch p/b Maxxis)                            
25 Jeremy Vennell (Bissell Pro Cycling)                         
26 Neil Shirley (Kelly Benefits Strategies)                     
27 Roman Kilun (Ouch p/b Maxxis)                                
28 Andrew Bajadali (Kelly Benefits Strategies)                  
29 Luis Romero Amaran (Colavita Sutter Home)                    
30 Chad Beyer (BMC Racing Team)                                 
31 Bjorn Selander (Trek-Livestrong)                             
32 Cesar Grajales (Rock Racing)                                 
33 David Frattini (Colavita Sutter Home)                        
34 Corey Collier (Team Hotel San Jose)                      0.25
35 Cameron Evans (Ouch p/b Maxxis)                              
36 Florian Stalder (BMC Racing Team)                        0.28
37 Chris Wherry (Team Hotel San Jose)                           
38 Raymond Kreder (Garmin-Holoweko Partners-Felt)           0.42
39 Phillip Zajicek (Fly V Australia/Successful Liv)             
40 Tyler Wren (Colavita Sutter Home)                            
41 Daniel Bowman (Kelly Benefits Strategies)                    
42 Matthew Crane (Jelly Belly)                                  
43 Andy Jacques-Maynes (Bissell Pro Cycling)                    
44 Peter Salon (Garmin-Holoweko Partners-Felt)                  
45 Fabrice Dubost (Webcor / Alto Velo)                          
46 Christopher Jones (Team Type 1)                              
47 Bernard Van Ulden (Jelly Belly)                              
48 Scott Srewart (Team Waste Management)                    0.56
49 Nick Reistad (Jelly Belly)                                   
50 Steve Bovay (BMC Racing Team)                                
51 Daniel Summerhill (Garmin-Holoweko Partners-Felt)            
52 Matthew Rice (Jelly Belly)                                   
53 Mark Hekman (Team Mountain Khakis)                           
54 Tim Johnson (Ouch p/b Maxxis)                                
55 Andy Guptill (Colavita Sutter Home)                          
56 Matthew Cooke (Ride Clean Team)                              
57 Karl Menzies (Ouch p/b Maxxis)                               
58 Burke Swindlehurst (Bissell Pro Cycling)                     
59 Kirk Obee (Bissell Pro Cycling)                              
60 Tim Henry (DLP Racing)                                       
61 Alejandro Borrajo (Colavita Sutter Home)                     
62 Josh Bartlett (Land Rover-ORBEA)                         1.15
63 Adam Switters (California Giant-Specialized)                 
64 Bradley White (Ouch p/b Maxxis)                              
65 Chris Butler (Metro Volkswagen Cycling Team)                 
66 Carter Jones (Team Waste Management)                         
67 Guy East (Trek-Livestrong)                                   
68 Fabio Calabria (Team Type 1)                                 
69 Dan Vaillancourt (Colavita Sutter Home)                      
70 Ken Hanson (Team Type 1)                                     
71 Chris Barton (BMC Racing Team)                               
72 Mike Creed (Rock Racing)                                     
73 Kyle Wamsley (Colavita Sutter Home)                          
74 Ryan Anderson (Kelly Benefits Strategies)                    
75 Walker Savidge (Garmin-Holoweko Partners-Felt)               
76 Christian Helmig (Metro Volkswagen Cycling Team)         1.41
77 Jame Gunn-Wilkinson (Empire Cycling / Northwave)             
78 Aaron Bar Tuckerman (Land Rover-ORBEA)                       
79 Jeremiah Wiscovitch (Now-MS Society)                         
80 Sergio Hernandez (Rock Racing)                               
81 David Glick (Ride Clean Team)                                
82 Brad Huff (Jelly Belly)                                      
83 Andrew Dahlheim (Metro Volkswagen Cycling Team)              
84 Dirk Copeland (California Giant-Specialized)                 
85 Ben Kneller (Bobs-Bicycles.com)                              
86 Scott Nydam (BMC Racing Team)                                
87 Michael Mathis (Empire Cycling / Northwave)                  
88 Jorge Alvarado (Kahala-LaGrange)                             
89 James Mattis (California Giant-Specialized)                  
90 Darren Lill (Team Type 1)                                    
91 Bobby Sweeting (Land Rover-ORBEA)                        2.37
92 Daniel Zmolik (Empire Cycling / Northwave)                   
93 Larry Warbasse (Team Waste Management)                       
94 Graham Howard (Bissell Pro Cycling)                      2.41
95 Jim Camut (Land Rover-ORBEA)                             2.43
96 Sean Mazich (Team Waste Management)                      2.55
97 Benjamin Baungarter (Metro Volkswagen Cycling Team)          
98 Ryan Parnes (Webcor / Alto Velo)                             
99 Alessandro Bazzana (Fly V Australia/Successful Liv)          
100 Jared Gilyard (Ride Clean Team)                             
101 Ryohei Komori (Trek-Livestrong)                             
102 Michael Grabinger (Fly V Australia/Successful Liv)          
103 Heath Blackgrov (Team Hotel San Jose)                   3.00
104 Rahsaan Bahati (Rock Racing)                                
105 Moises Aldape (Team Type 1)                                 
106 Brian Forbes (Ride Clean Team)                              
107 Jacob Keough (Kelly Benefits Strategies)                5.49
108 Johnathan Cantwell (Fly V Australia/Successful Liv)     6.10
109 Roman Van Uden (Land Rover-ORBEA)                           
110 Stefan Rothe (Now-MS Society)                               
111 Daniel Ramsey (Team Mountain Khakis)                        
112 Ben King (Fly V Australia/Successful Liv)                   
113 Charles Dionne (Fly V Australia/Successful Liv)             
114 Bernard Sulzberger (Fly V Australia/Successful Liv)         
115 Evan Elken (Land Rover-ORBEA)                               
116 Ignacio (Iggy Silva (Rock Racing)                       7.29
117 Jesse Anthony (Team Type 1)                                 
118 Kevin Soller (Team Waste Management)                    9.50
119 Ryan Taylor (Land Rover-ORBEA)                          9.57
120 Brian Buchholz (Webcor / Alto Velo)                         
121 Steven Gordon (DLP Racing)                                  
122 Brandon Gritters (Kahala-LaGrange)                          
123 Anthony Aker (Kahala-LaGrange)                              
124 Matthew Johnson (Empire Cycling / Northwave)                
125 Mike Telega (California Giant-Specialized)                  
126 Gavriel Epstein (Champion Systems Racing)                   
127 Allen Krugoff (Team Hotel San Jose)                         
128 Kyle Colavito (Ride Clean Team)                             
129 Peter Carey (Metro Volkswagen Cycling Team)                 
130 David Guttenplan (Team Mountain Khakis)                     
131 Spencer Smitheman (Now-MS Society)                          
132 Julian Kyer (Trek-Livestrong)                               
133 Cody Campbell (Trek-Livestrong)                             
134 Ryan Bauman (Trek-Livestrong)                          12.12
135 Alexander Bremer (Empire Cycling / Northwave)          12.25
136 Brock Curry (Now-MS Society)                                
137 Osvaldo Olmos (California Giant-Specialized)                
138 Cristian Velasquez (Ten Speed Drive / BH Bicycles)          
139 Alex Welch (Now-MS Society)                            12.30
140 Scott Tietzel (DLP Racing)                             14.05
141 Stevie Cullinan (Team Waste Management)                17.35
142 Boyd Johnson (DLP Racing)                              19.12
143 Taylor Kuphaldt (Trek-Livestrong)                      19.43
144 Ronnie Strange (Ten Speed Drive / BH Bicycles)              
145 Ted Huang (Webcor / Alto Velo)                              
146 Charles Marzot (Team Mountain Khakis)                       
147 James Badia (Webcor / Alto Velo)                            
148 Rodney Santiago (Champion Systems Racing)                   
149 Eric Losak (Now-MS Society)                                 
150 Eric Barlevar (Team Mountain Khakis)                        
151 Raul Frias (Kahala-LaGrange)                           20.24
152 Frederick Stamm (Webcor / Alto Velo)                        
153 Will Hoffarth (Team Mountain Khakis)                        
154 Aldo Ino Ilesic (Team Type 1)                               
155 Victor Ayala (Kahala-LaGrange)                              
156 Raj Seepersaud (Champion Systems Racing)               22.14
HD Alder Martz (DLP Racing)                                26.11
HD Gustavo Mendez (Kahala-LaGrange)                             
HD Brandon Lynch (Bobs-Bicycles.com)                            
HD Tad Hamilton (Bobs-Bicycles.com)                             
HD Erik Slack (Bobs-Bicycles.com)                               
HD Justin Williams (Rock Racing)                           26.48
DNS Jesse Moore (California Giant-Specialized)                  
DNF Caleb Manion (Rock Racing)                                  
DNF Floyd Landis (Ouch p/b Maxxis)                              
DNF Logan Hunn (Land Rover-ORBEA)                               
DNF Tom Soladay (Team Mountain Khakis)                          
DNF Michael Stoop (Team Mountain Khakis)                        
DNF Tiago Depaula (DLP Racing)                                  
DNF Sean Sullivan (Team Hotel San Jose)                         
DNF Barry Lee (Team Hotel San Jose)                             
DNF Robert MacNeill (Webcor / Alto Velo)                        
DNF Rand Miller (Webcor / Alto Velo)                            
DNF John Hunt (California Giant-Specialized)                    
DNF Cory Ray (Metro Volkswagen Cycling Team)                    
DNF Chris Parrett (Metro Volkswagen Cycling Team)               
DNF Eric Bennett (Now-MS Society)                               
DNF Michael Van Eerd (Now-MS Society)                           
DNF Luis Zamudio (Kahala-LaGrange)                              
DNF Franklin Burgos (Champion Systems Racing)                   
DNF Lisban Quintero (Champion Systems Racing)                   
DNF Ron Jensen (Ride Clean Team)                                
DNF Paul Thomas (Ride Clean Team)                               
DNF Norm Carter (Ride Clean Team)                               
DNF John Loehner (Empire Cycling / Northwave)                   
DNF Michael Margarite (Empire Cycling / Northwave)              
DNF Josh Liberles (Ten Speed Drive / BH Bicycles)               
DNF Chris Keane (Ten Speed Drive / BH Bicycles)                 
DNF Garrett White (Ten Speed Drive / BH Bicycles)               
DNF Emiliano Jordan (Ten Speed Drive / BH Bicycles)             
DNF Adam Carr (Ten Speed Drive / BH Bicycles)                   
DNF Brian Husen (Ten Speed Drive / BH Bicycles)                 
DNF Chris Stuart (Bobs-Bicycles.com)                            
DNF Chris Hong (Bobs-Bicycles.com)                              
 
Points
 
Lap 1
1 Cameron Evans (Ouch p/b Maxxis)                              3 pts
2 Steve Bovay (BMC Racing Team)                                2
3 Mike Creed (Rock Racing)                                     1
 
Lap 3
1 Kyle Wamsley (Colavita Sutter Home)                          3 pts
2 Chris Barton (BMC Racing Team)                               2
3 Roman Kilun (Ouch p/b Maxxis)                                1
 
Finish - Lap 4
1 Jeff Louder (BMC Racing Team)                                7 pts
2 Will Routley (Jelly Belly)                                   5
3 Peter Stetina (Garmin-Holoweko Partners-Felt)                3
4 Tom Zirbel (Bissell Pro Cycling)                             2
5 Lucas Sebastian Haedo (Colavita Sutter Home)                 1
 
Mountains
 
Lap 1
1 Kiel Reijnen (Jelly Belly)                                   7 pts
2 Kirk Carlsen (Garmin-Holoweko Partners-Felt)                 5
3 Chris Baldwin (Rock Racing)                                  4
4 Bradley White (Ouch p/b Maxxis)                              3
5 Matthew Cooke (Ride Clean Team)                              2
 
Lap 3
1 Kirk Carlsen (Garmin-Holoweko Partners-Felt)                 7 pts
2 Kiel Reijnen (Jelly Belly)                                   5
3 Chris Baldwin (Rock Racing)                                  4
4 Luis Romero Amaran (Colavita Sutter Home)                    3
5 Phillip Zajicek (Fly V Australia/Successful Liv)             2
 
Lap 4
1 Cesar Grajales (Rock Racing)                                 7 pts
2 David Frattini (Colavita Sutter Home)                        5
3 Benjamin King (Trek-Livestrong)                              4
4 Kirk Carlsen (Garmin-Holoweko Partners-Felt)                 3
5 Kiel Reijnen (Jelly Belly)                                   2
 
General classification men after stage 1
 
1 Jeff Louder (BMC Racing Team)                          3.54.28
2 Tom Zirbel (Bissell Pro Cycling)                          0.07
3 Ben Day (Fly V Australia/Successful Liv)                  0.09
4 Brent Bookwalter (BMC Racing Team)                        0.16
5 Chris Baldwin (Rock Racing)                               0.22
6 Peter Stetina (Garmin-Holoweko Partners-Felt)             0.23
7 Ben Jacques-Maynes (Bissell Pro Cycling)                  0.26
8 Rory Sutherland (Ouch p/b Maxxis)                         0.27
9 Will Routley (Jelly Belly)                                0.31
10 Luis Romero Amaran (Colavita Sutter Home)                0.35
11 Jeremy Vennell (Bissell Pro Cycling)                     0.39
12 Jacob Erker (Kelly Benefits Strategies)                      
13 Jackson Stewart (BMC Racing Team)                        0.41
14 Kiel Reijnen (Jelly Belly)                               0.42
15 Chad Beyer (BMC Racing Team)                                 
16 Cesar Grajales (Rock Racing)                             0.45
17 Frank Pipp (Bissell Pro Cycling)                             
18 Corey Collier (Team Hotel San Jose)                      0.48
19 Andrew Bajadali (Kelly Benefits Strategies)              0.50
20 Alex Howes (Garmin-Holoweko Partners-Felt)                   
21 Florian Stalder (BMC Racing Team)                        0.52
22 Shawn Milne (Team Type 1)                                    
23 Caleb Fairly (Garmin-Holoweko Partners-Felt)                 
24 Reid Mumford (Kelly Benefits Strategies)                 0.53
25 Roman Kilun (Ouch p/b Maxxis)                                
26 Justin England (California Giant-Specialized)            0.54
27 Alex Candelario (Kelly Benefits Strategies)              1.04
28 Kirk Carlsen (Garmin-Holoweko Partners-Felt)                 
29 Neil Shirley (Kelly Benefits Strategies)                 1.06
30 Matthew Crane (Jelly Belly)                              1.07
31 Jonathan Clarke (Jelly Belly)                            1.11
32 Bernard Van Ulden (Jelly Belly)                          1.13
33 Andrew Pinfold (Ouch p/b Maxxis)                             
34 Cameron Evans (Ouch p/b Maxxis)                          1.14
35 Tyler Wren (Colavita Sutter Home)                        1.16
36 Phillip Zajicek (Fly V Australia/Successful Liv)         1.25
37 David Frattini (Colavita Sutter Home)                        
38 Bjorn Selander (Trek-Livestrong)                         1.27
39 Tim Johnson (Ouch p/b Maxxis)                            1.28
40 Chris Wherry (Team Hotel San Jose)                       1.29
41 Burke Swindlehurst (Bissell Pro Cycling)                 1.30
42 Benjamin King (Trek-Livestrong)                              
43 Matthew Cooke (Ride Clean Team)                          1.31
44 Lucas Sebastian Haedo (Colavita Sutter Home)                 
45 Andy Jacques-Maynes (Bissell Pro Cycling)                1.33
46 Karl Menzies (Ouch p/b Maxxis)                           1.34
47 Carter Jones (Team Waste Management)                     1.38
48 Peter Salon (Garmin-Holoweko Partners-Felt)              1.40
49 Christopher Jones (Team Type 1)                          1.42
50 Chris Barton (BMC Racing Team)                               
51 Steve Bovay (BMC Racing Team)                            1.43
52 Daniel Bowman (Kelly Benefits Strategies)                1.46
53 Matthew Rice (Jelly Belly)                                   
54 Fabrice Dubost (Webcor / Alto Velo)                      1.47
55 Dan Vaillancourt (Colavita Sutter Home)                  1.49
56 Daniel Summerhill (Garmin-Holoweko Partners-Felt)        1.52
57 Mike Creed (Rock Racing)                                 1.55
58 Nick Reistad (Jelly Belly)                                   
59 Kyle Wamsley (Colavita Sutter Home)                      2.00
60 Tim Henry (DLP Racing)                                   2.02
61 Walker Savidge (Garmin-Holoweko Partners-Felt)           2.06
62 Bradley White (Ouch p/b Maxxis)                          2.07
63 Darren Lill (Team Type 1)                                2.08
64 Mark Hekman (Team Mountain Khakis)                       2.09
65 Chris Butler (Metro Volkswagen Cycling Team)             2.11
66 Raymond Kreder (Garmin-Holoweko Partners-Felt)               
67 Scott Nydam (BMC Racing Team)                            2.15
68 Kirk Obee (Bissell Pro Cycling)                          2.19
69 Ryan Anderson (Kelly Benefits Strategies)                    
70 Adam Switters (California Giant-Specialized)             2.22
71 Alejandro Borrajo (Colavita Sutter Home)                 2.24
72 Scott Srewart (Team Waste Management)                    2.25
73 Ben Kneller (Bobs-Bicycles.com)                          2.31
74 Michael Mathis (Empire Cycling / Northwave)              2.32
75 Fabio Calabria (Team Type 1)                             2.34
76 Andy Guptill (Colavita Sutter Home)                          
77 Guy East (Trek-Livestrong)                               2.36
78 Josh Bartlett (Land Rover-ORBEA)                         2.39
79 Aaron Bar Tuckerman (Land Rover-ORBEA)                   2.44
80 Christian Helmig (Metro Volkswagen Cycling Team)         2.45
81 Sergio Hernandez (Rock Racing)                           2.46
82 Brad Huff (Jelly Belly)                                  2.56
83 David Glick (Ride Clean Team)                            3.04
84 Jame Gunn-Wilkinson (Empire Cycling / Northwave)         3.06
85 James Mattis (California Giant-Specialized)              3.08
86 Dirk Copeland (California Giant-Specialized)             3.10
87 Ken Hanson (Team Type 1)                                 3.17
88 Jorge Alvarado (Kahala-LaGrange)                         3.28
89 Heath Blackgrov (Team Hotel San Jose)                        
90 Andrew Dahlheim (Metro Volkswagen Cycling Team)          3.30
91 Jeremiah Wiscovitch (Now-MS Society)                     3.37
92 Graham Howard (Bissell Pro Cycling)                          
93 Michael Grabinger (Fly V Australia/Successful Liv)       3.43
94 Bobby Sweeting (Land Rover-ORBEA)                        3.47
95 Jim Camut (Land Rover-ORBEA)                             3.50
96 Daniel Zmolik (Empire Cycling / Northwave)               3.51
97 Larry Warbasse (Team Waste Management)                   3.53
98 Ryan Parnes (Webcor / Alto Velo)                         3.57
99 Alessandro Bazzana (Fly V Australia/Successful Liv)      4.07
100 Sean Mazich (Team Waste Management)                     4.34
101 Jared Gilyard (Ride Clean Team)                         4.35
102 Ryohei Komori (Trek-Livestrong)                         5.07
103 Rahsaan Bahati (Rock Racing)                            5.35
104 Benjamin Baungarter (Metro Volkswagen Cycling Team)     5.40
105 Moises Aldape (Team Type 1)                             6.10
106 Brian Forbes (Ride Clean Team)                          6.25
107 Ben King (Fly V Australia/Successful Liv)               7.02
108 Daniel Ramsey (Team Mountain Khakis)                    7.03
109 Bernard Sulzberger (Fly V Australia/Successful Liv)     7.05
110 Roman Van Uden (Land Rover-ORBEA)                           
111 Evan Elken (Land Rover-ORBEA)                           7.19
112 Charles Dionne (Fly V Australia/Successful Liv)         7.21
113 Jacob Keough (Kelly Benefits Strategies)                7.22
114 Johnathan Cantwell (Fly V Australia/Successful Liv)     7.27
115 Stefan Rothe (Now-MS Society)                           7.43
116 Ignacio (Iggy Silva (Rock Racing)                       9.47
117 Jesse Anthony (Team Type 1)                             9.56
118 Kevin Soller (Team Waste Management)                   10.40
119 Kyle Colavito (Ride Clean Team)                        10.57
120 Anthony Aker (Kahala-LaGrange)                         10.58
121 Julian Kyer (Trek-Livestrong)                          10.59
122 Allen Krugoff (Team Hotel San Jose)                    11.04
123 Brandon Gritters (Kahala-LaGrange)                     11.13
124 Brian Buchholz (Webcor / Alto Velo)                    11.18
125 Matthew Johnson (Empire Cycling / Northwave)           11.20
126 Peter Carey (Metro Volkswagen Cycling Team)                 
127 Mike Telega (California Giant-Specialized)             11.32
128 Ryan Taylor (Land Rover-ORBEA)                         11.39
129 Cody Campbell (Trek-Livestrong)                        11.41
130 Gavriel Epstein (Champion Systems Racing)              11.48
131 David Guttenplan (Team Mountain Khakis)                12.05
132 Spencer Smitheman (Now-MS Society)                     12.09
133 Steven Gordon (DLP Racing)                             12.41
134 Ryan Bauman (Trek-Livestrong)                          13.26
135 Brock Curry (Now-MS Society)                           13.37
136 Osvaldo Olmos (California Giant-Specialized)           13.49
137 Cristian Velasquez (Ten Speed Drive / BH Bicycles)     14.00
138 Alex Welch (Now-MS Society)                            14.06
139 Alexander Bremer (Empire Cycling / Northwave)          14.30
140 Scott Tietzel (DLP Racing)                             15.32
141 Stevie Cullinan (Team Waste Management)                18.37
142 Boyd Johnson (DLP Racing)                              20.28
143 Eric Barlevar (Team Mountain Khakis)                   21.11
144 Ted Huang (Webcor / Alto Velo)                         21.15
145 Charles Marzot (Team Mountain Khakis)                  21.22
146 Taylor Kuphaldt (Trek-Livestrong)                      21.23
147 Rodney Santiago (Champion Systems Racing)              21.56
148 James Badia (Webcor / Alto Velo)                            
149 Aldo Ino Ilesic (Team Type 1)                          22.07
150 Ronnie Strange (Ten Speed Drive / BH Bicycles)         22.08
151 Eric Losak (Now-MS Society)                            22.17
152 Frederick Stamm (Webcor / Alto Velo)                   22.20
153 Will Hoffarth (Team Mountain Khakis)                   22.27
154 Victor Ayala (Kahala-LaGrange)                         22.43
155 Raul Frias (Kahala-LaGrange)                           23.09
156 Raj Seepersaud (Champion Systems Racing)               27.39
157 Erik Slack (Bobs-Bicycles.com)                         27.40
158 Brandon Lynch (Bobs-Bicycles.com)                      27.44
159 Alder Martz (DLP Racing)                               28.24
160 Gustavo Mendez (Kahala-LaGrange)                       28.28
161 Tad Hamilton (Bobs-Bicycles.com)                       28.30
162 Justin Williams (Rock Racing)                          29.45
 
Points classification
 
1 Jeff Louder (BMC Racing Team)                                7 pts
2 Will Routley (Jelly Belly)                                   5
3 Cameron Evans (Ouch p/b Maxxis)                              3
4 Kyle Wamsley (Colavita Sutter Home)                          3
5 Peter Stetina (Garmin-Holoweko Partners-Felt)                3
6 Tom Zirbel (Bissell Pro Cycling)                             2
7 Chris Barton (BMC Racing Team)                               2
8 Steve Bovay (BMC Racing Team)                                2
9 Roman Kilun (Ouch p/b Maxxis)                                1
10 Lucas Sebastian Haedo (Colavita Sutter Home)                1
11 Mike Creed (Rock Racing)                                    1
 
Mountains classification
 
1 Kirk Carlsen (Garmin-Holoweko Partners-Felt)                15 pts
2 Kiel Reijnen (Jelly Belly)                                  14
3 Chris Baldwin (Rock Racing)                                 11
4 Ben Day (Fly V Australia/Successful Liv)                     7
5 Cesar Grajales (Rock Racing)                                 7
6 Brent Bookwalter (BMC Racing Team)                           5
7 David Frattini (Colavita Sutter Home)                        5
8 Tom Zirbel (Bissell Pro Cycling)                             4
9 Benjamin King (Trek-Livestrong)                              4
10 Luis Romero Amaran (Colavita Sutter Home)                   3
11 Bradley White (Ouch p/b Maxxis)                             3
12 Jeff Louder (BMC Racing Team)                               2
13 Phillip Zajicek (Fly V Australia/Successful Liv)            2
14 Matthew Cooke (Ride Clean Team)                             2
 
Teams classification
 
1 Garmin-Holoweko Partners                              11.15.53
2 BMC Racing Team                                               
3 Jelly Belly                                                   
4 Bissell Pro Cycling                                           
5 Colavita Sutter Home                                      0.13
6 Kelly Benefits Strategies                                     
7 Ouch p/b Maxxis                                               
8 Rock Racing                                               1.15
9 Trek-Livestrong                                               
10 Team Type 1                                                  
11 California Giant-Speciali                                2.43
12 Fly V Australia/Successfu                                3.24
13 Team Hotel San Jose                                      3.27
14 Metro Volkswagen Cycling                                 4.11
15 Team Waste Management                                    4.22
16 Ride Clean Team                                          5.06
17 Land Rover-ORBEA                                         5.07
18 Empire Cycling / Northwav                                5.33
19 Webcor / Alto Velo                                      13.08
20 Team Mountain Khakis                                    16.37
21 Now-MS Society                                          17.22
22 Kahala-LaGrange                                         21.09
23 DLP Racing                                              24.32
24 Champion Systems Racing                                 51.28
25 Bobs-Bicycles.com                                       53.37

Results women

1 Ina-Yoko Teutenberg (Team Columbia Highroad)          3.09.19 (37.03 km/h)
2 Tina Pic (Colavita Sutter Home)                              
3 Lauren Tamayo (Team TIBCO)
4 Katharine Carroll (Team TIBCO)
5 Meredith Miller (Team TIBCO)                                 
6 Joanne Kiesanowski (Team TIBCO)                              
7 Alison Powers (Team Type 1)                                  
8 Christina Ruiter (Value Act Capital)                         
9 Alex Wrubleski (Team Columbia Highroad)                      
11 Kristin Sanders (Value Act Capital)                         
12 Katheryn Mattis (Webcor Builders Cycling Team)              
13 Julie Beveridge (Team TIBCO)                                
15 Amber Neben (Nürnberger Shoair)                             
16 Mara Abbott (Team Columbia Highroad)                    0.12
17 Andrea Dvorak (Colavita Sutter Home)                        
18 Tiffany Cromwell (Colavita Sutter Home)                     
19 Kimberely Anderson (Team Columbia Highroad)                 
20 Rebecca Much (Webcor Builders Cycling Team)             0.16
21 Robin Farina (Value Act Capital)                            
22 Casey Gale (Metro VW)                                       
23 Ruth Clemence (Touchstone Climbing)                         
24 Emilia Fahlin (Team Columbia Highroad)                      
26 Janel Holcomb (Webcor Builders Cycling Team)            0.20
27 Maris Asplund-Owens (DFT p/b Treads)                        
28 Carla Swart (Team Lip Smackers)                             
29 Shannon Koch (Metro VW)                                 0.37
30 Heather Logan (Colavita Sutter Home)                    1.09
31 Jacquelyn Crowell (Team Type 1)                         1.24
32 Jen Purcell (Wines of Washington)                       1.26
33 Melissa Sanborn (Vanderkitten Racing)                       
34 Gina Grain (Webcor Builders Cycling Team)                   
35 Nikki Butterfield (Webcor Builders Cycling Team)            
36 Jenny Trew (Canadian National Team)                         
37 Emily Zell (Value Act Capital)                              
38 Leah Goldstein (Value Act Capital)                          
39 Christina Smith (Veloforma / Zym)                       1.09
40 Melisa McWhirther (Veloforma / Zym)                         
41 Rushlee Buchanan (Team TIBCO)                           2.14
42 Madeleine Sandig (Nürnberger Shoair)                        
43 Veronica Leal (Team Type 1)                                 
44 Heather Sborz (Specialized D4W/Bicycle Haus)            2.26
45 Stacy Marple (Colavita Sutter Home)                     2.37
46 Sarah Bamberger (Touchstone Climbing)                       
47 Evelyn Stevens (Velo Classic Tours / Incycle)           3.12
48 Olivia Dillon (Touchstone Climbing)                     3.14
49 Erinne Willock (Webcor Builders Cycling Team)           5.36
50 Coryn Rivera (Metro VW)                                     
51 Rachel Heal (Colavita Sutter Home)                      6.55
52 L Bradshaw-Sandoval (DFT p/b Treads)                    9.52
53 Sarah Stewart (Canadian National Team)                  9.54
54 Marilyn McDonald (Specialized D4W/Bicycle Haus)             
55 Liza Rachetto (DFT p/b Treads)                              
56 Tiffany Pezzulo (DFT p/b Treads)                            
57 Megan Hottman (DFT p/b Treads)                              
58 Alice Pennington (Veloforma / Zym)                     10.37
59 Jane Robertson (Metromint Cycling)                     13.05
60 Andrea Bunnin (Team BC)                                     
61 Kacey Manderfield (Team Lip Smackers)                       
62 Monique Hein (DFT p/b Treads)                               
63 Cara Gillis (Touchstone Climbing)                           
64 Margaret Shirley (Velo Classic Tours / Incycle)             
65 Nicole Evans (Value Act Capital)                            
66 Amber Rais (Team TIBCO)                                     
67 Karla Kingsley (DFT p/b Treads)                             
68 Gabriela Ferrat (Metromint Cycling)                         
69 Joanie Caron (Canadian National Team)                       
70 Martina Patella (Value Act Capital)                         
71 Emma Rickards (Team TIBCO)                                  
72 Jennifer Reither (Vanderkitten Racing)                      
73 Ashley Anderson (Metro VW)                                  
74 Samantha Schneider (Team Type 1)                            
75 Amy Dombroski (Webcor Builders Cycling Team)                
76 Whitney Schultz (Metro VW)                                  
77 Kristen LaSasso (Kahala LaGrange)                           
78 Hilary Billington (Team Lip Smackers)                       
79 Marie Lindberg (Nürnberger Shoair)                          
80 Romy Kasper (Nürnberger Shoair)                             
81 Jadine Riley (Wines of Washington)                          
82 Kathleen Billington (Velo Classic Tours / Incycle)          
83 Carolyn Cartmill (Canadian National Team)                   
84 Karol-Ann Canuel (Canadian National Team)                   
85 Alexis Rhodes (Webcor Builders Cycling Team)                
86 Lisa Turnbull (Velo Classic Tours / Incycle)                
87 Melinda Weiner (Kahala LaGrange)                            
88 Kathryn Donovan (Kahala LaGrange)                           
89 Sabrina Savage (Veloforma / Zym)                            
90 Kelly Benjamin (Colavita Sutter Home)                       
91 Nicky Wangsgard (Colavita Sutter Home)                      
92 Moriah MacGregor (Team BC)                             13.47
93 Kathryn Bertine (Specialized D4W/Bicycle Haus)         14.46
94 Kendal Ryan (Metro VW)                                 15.16
95 Veronique Labonte (Canadian National Team)             15.46
96 Beatriz Rodriguez (Kahala LaGrange)                    16.06
HD Mary Maroon (Vanderkitten Racing)                      22.30
HD Leah Guloien (Team BC)                                      
HD Lauren Liscinski (Team Squadra Swami's)                     
HD Shoshauna Laxson (Team Squadra Swami's)                     
HD Anna Gerber (Team Squadra Swami's)                          
HD Anna Young (Team Lip Smackers)                              
HD Marie-Claude Gagnon (Team BC)                               
HD Melodie Metzger (Vanderkitten Racing)                       
HD Gina Kavesh (Wines of Washington)                           
HD Malouin Annie (Team BC)                                     
HD Kimberly Fong (Wines of Washington)                         
HD Heather Kay (Team BC)                                       
HD Stacy Sims (Metromint Cycling)                         22.52
HD Alyssa Weninger (Canadian National Team)               24.13
HD Amy McGuire (Metromint Cycling)                        24.16
HD Melanie Meyers (Specialized D4W/Bicycle Haus)          26.00
HD Tracie Akerhielm (Wines of Washington)                 26.13
HD Robin Secrist (Veloforma / Zym)                        26.50
HD Lauren Hall (Nürnberger Shoair)                        28.32
HD Jennifer Wilson (Vanderkitten Racing)                  31.33
HD Lana Atchley (Nürnberger Shoair)                            
HD Yuki Nakamura (Metromint Cycling)                           
HD Lori Barrett (Wines of Washington)                     32.58
HD Leslie Vice (Team BC)                                       
HD Jacqueline Cohen (Velo Classic Tours / Incycle)             
HD Morgan Kapp (Kahala LaGrange)                               
HD Laura Hines (Velo Classic Tours / Incycle)                  
HD Jennifer Weinbrecht (Team Squadra Swami's)                  
HD Tamara Wildgoose (Team Squadra Swami's)                     
HD Anne Guzman (Nürnberger Shoair)                             
HD Anna Drakulich (Kahala LaGrange)                            
HD Anny Henry (Metromint Cycling)                              
HD Kate Ross (Team Lip Smackers)                          38.07
DNF Morgan Patton (Team Type 1)                                
DNF Gillian Moody (Team BC)                                    
DNF Rachel Byus (Wines of Washington)                          
DNF Nicole Brandt (Team Squadra Swami's)                       
DNF C Robertson-Goodkin (Team Squadra Swami's)                 
DNF Kelli Jones (Team Squadra Swami's)                         
DNF Maggie Williams (Specialized D4W/Bicycle Haus)             
DNF Kristina Seley (Touchstone Climbing)                       
DNF Amanda Seigle (Metromint Cycling)                          
 
Points
 
Lap 1
1 Lauren Tamayo (Team TIBCO)                                  3 pts
2 Kimberely Anderson (Team Columbia Highroad)                 2
3 Alison Powers (Team Type 1)                                 1
 
Lap 2
1 Kori Seehafer (Team Type 1)                                 3 pts
2 Joanne Kiesanowski (Team TIBCO)                             2
3 Julie Beveridge (Team TIBCO)                                1
 
Finish - Lap 3
1 Ina-Yoko Teutenberg (Team Columbia Highroad)                7 pts
2 Tina Pic (Colavita Sutter Home)                             5
3 Lauren Tamayo (Team TIBCO)                                  3
4 Katharine Carroll (Team TIBCO)                              2
5 Meredith Miller (Team TIBCO)                                1
 
Mountains
 
Lap 1
1 Liza Rachetto (DFT p/b Treads)                              7 pts
2 Tamara Wildgoose (Team Squadra Swami's)                     5
3 Sarah Bamberger (Touchstone Climbing)                       4
4 Robin Farina (Value Act Capital)                            3
5 Maris Asplund-Owens (DFT p/b Treads)                        2
 
Lap 3
1 Carla Swart (Team Lip Smackers)                             7 pts
2 Tiffany Cromwell (Colavita Sutter Home)                     5
3 Andrea Dvorak (Colavita Sutter Home)                        4
4 Kristin Sanders (Value Act Capital)                         3
5 Alex Wrubleski (Team Columbia Highroad)                     2
 
General classification women after stage 1
 
1 Amber Neben (Nürnberger Shoair)                       3.19.59
2 Ina-Yoko Teutenberg (Team Columbia Highroad)             0.14
3 Alison Powers (Team Type 1)                              0.37
4 Mara Abbott (Team Columbia Highroad)                     0.39
5 Katheryn Mattis (Webcor Builders Cycling Team)           1.02
6 Lauren Tamayo (Team TIBCO)                               1.07
7 Kristin Sanders (Value Act Capital)                      1.08
8 Meredith Miller (Team TIBCO)                             1.09
9 Christina Ruiter (Value Act Capital)                         
10 Alex Wrubleski (Team Columbia Highroad)                 1.10
11 Katharine Carroll (Team TIBCO)                              
12 Julie Beveridge (Team TIBCO)                                
13 Ruth Clemence (Touchstone Climbing)                     1.24
14 Joanne Kiesanowski (Team TIBCO)                         1.26
15 Janel Holcomb (Webcor Builders Cycling Team)            1.27
16 Kori Seehafer (Team Type 1)                             1.28
17 Rebecca Much (Webcor Builders Cycling Team)                 
18 Emilia Fahlin (Team Columbia Highroad)                  1.29
19 Kimberely Anderson (Team Columbia Highroad)             1.35
20 Andrea Dvorak (Colavita Sutter Home)                    1.37
21 Tiffany Cromwell (Colavita Sutter Home)                 1.42
22 Carla Swart (Team Lip Smackers)                         1.48
23 Robin Farina (Value Act Capital)                        1.52
24 Tina Pic (Colavita Sutter Home)                         1.54
25 Maris Asplund-Owens (DFT p/b Treads)                    1.56
26 Casey Gale (Metro VW)                                   2.04
27 Lindsey Myers (Wines of Washington)                     2.07
28 Joelle Numainville (Canadian National Team)             2.17
29 Melisa McWhirther (Veloforma / Zym)                     2.20
30 Heather Logan (Colavita Sutter Home)                    2.28
31 Shannon Koch (Metro VW)                                 2.45
32 Jacquelyn Crowell (Team Type 1)                         2.55
33 Nikki Butterfield (Webcor Builders Cycling Team)        2.56
34 Leah Goldstein (Value Act Capital)                      3.05
35 Emily Zell (Value Act Capital)                          3.22
36 Melissa Sanborn (Vanderkitten Racing)                   3.31
37 Gina Grain (Webcor Builders Cycling Team)               3.33
38 Rushlee Buchanan (Team TIBCO)                           3.35
39 Christina Smith (Veloforma / Zym)                       3.41
40 Veronica Leal (Team Type 1)                             3.49
41 Jen Purcell (Wines of Washington)                       3.54
42 Jenny Trew (Canadian National Team)                     4.01
43 Heather Sborz (Specialized D4W/Bicycle Haus)            4.03
44 Stacy Marple (Colavita Sutter Home)                         
45 Evelyn Stevens (Velo Classic Tours / Incycle)           4.24
46 Madeleine Sandig (Nürnberger Shoair)                    4.25
47 Sarah Bamberger (Touchstone Climbing)                   4.29
48 Olivia Dillon (Touchstone Climbing)                     5.18
49 Erinne Willock (Webcor Builders Cycling Team)           7.21
50 Coryn Rivera (Metro VW)                                 8.14
51 Rachel Heal (Colavita Sutter Home)                      8.54
52 Sarah Stewart (Canadian National Team)                 11.24
53 Megan Hottman (DFT p/b Treads)                         11.44
54 L Bradshaw-Sandoval (DFT p/b Treads)                   12.07
55 Liza Rachetto (DFT p/b Treads)                         12.16
56 Marilyn McDonald (Specialized D4W/Bicycle Haus)        12.24
57 Alice Pennington (Veloforma / Zym)                     12.36
58 Tiffany Pezzulo (DFT p/b Treads)                       12.59
59 Kristen LaSasso (Kahala LaGrange)                      14.19
60 Kathryn Donovan (Kahala LaGrange)                      14.30
61 Alexis Rhodes (Webcor Builders Cycling Team)           14.35
62 Carolyn Cartmill (Canadian National Team)              14.38
63 Amy Dombroski (Webcor Builders Cycling Team)           14.45
64 Sabrina Savage (Veloforma / Zym)                       14.48
65 Amber Rais (Team TIBCO)                                14.55
66 Hilary Billington (Team Lip Smackers)                  15.07
67 Cara Gillis (Touchstone Climbing)                      15.09
68 Melinda Weiner (Kahala LaGrange)                       15.15
69 Nicole Evans (Value Act Capital)                            
70 Emma Rickards (Team TIBCO)                             15.19
71 Kathleen Billington (Velo Classic Tours / Incycle)     15.28
72 Nicky Wangsgard (Colavita Sutter Home)                 15.29
73 Lisa Turnbull (Velo Classic Tours / Incycle)           15.32
74 Joanie Caron (Canadian National Team)                  15.33
75 Kacey Manderfield (Team Lip Smackers)                  15.34
76 Marie Lindberg (Nürnberger Shoair)                     15.44
77 Whitney Schultz (Metro VW)                             15.45
78 Margaret Shirley (Velo Classic Tours / Incycle)        15.46
79 Jennifer Reither (Vanderkitten Racing)                      
80 Ashley Anderson (Metro VW)                             15.53
81 Jane Robertson (Metromint Cycling)                          
82 Gabriela Ferrat (Metromint Cycling)                    15.55
83 Karol-Ann Canuel (Canadian National Team)              15.56
84 Romy Kasper (Nürnberger Shoair)                        16.02
85 Kelly Benjamin (Colavita Sutter Home)                  16.03
86 Karla Kingsley (DFT p/b Treads)                        16.09
87 Andrea Bunnin (Team BC)                                16.16
88 Martina Patella (Value Act Capital)                    16.26
89 Moriah MacGregor (Team BC)                             16.27
90 Monique Hein (DFT p/b Treads)                          16.34
91 Jadine Riley (Wines of Washington)                     16.46
92 Kathryn Bertine (Specialized D4W/Bicycle Haus)         17.10
93 Samantha Schneider (Team Type 1)                       17.11
94 Veronique Labonte (Canadian National Team)             18.15
95 Kendal Ryan (Metro VW)                                 18.22
96 Beatriz Rodriguez (Kahala LaGrange)                    18.53
 
Points classification
 
1 Ina-Yoko Teutenberg (Team Columbia Highroad)                7 pts
2 Lauren Tamayo (Team TIBCO)                                  6
3 Tina Pic (Colavita Sutter Home)                             5
4 Kori Seehafer (Team Type 1)                                 3
5 Katharine Carroll (Team TIBCO)                              2
6 Joanne Kiesanowski (Team TIBCO)                             2
7 Kimberely Anderson (Team Columbia Highroad)                 2
8 Alison Powers (Team Type 1)                                 1
9 Meredith Miller (Team TIBCO)                                1
10 Julie Beveridge (Team TIBCO)                               1
 
Mountains classification
 
1 Amber Neben (Nürnberger Shoair)                             7 pts
2 Carla Swart (Team Lip Smackers)                             7
3 Liza Rachetto (DFT p/b Treads)                              7
4 Mara Abbott (Team Columbia Highroad)                        5
5 Tiffany Cromwell (Colavita Sutter Home)                     5
6 Ina-Yoko Teutenberg (Team Columbia Highroad)                4
7 Andrea Dvorak (Colavita Sutter Home)                        4
8 Sarah Bamberger (Touchstone Climbing)                       4
9 Alison Powers (Team Type 1)                                 3
10 Kristin Sanders (Value Act Capital)                        3
11 Robin Farina (Value Act Capital)                           3
12 Katheryn Mattis (Webcor Builders Cycling Team)             2
13 Alex Wrubleski (Team Columbia Highroad)                    2
14 Maris Asplund-Owens (DFT p/b Treads)                       2
 
Teams classification
 
1 Team TIBCO                                            9.27.57
2 Team Columbia Highroad                                   0.12
3 Value Act Capital                                        0.16
4 Colavita Sutter Home                                     0.24
5 Webcor Builders Cycling T                                0.36
6 Team Type 1                                              1.24
7 Touchstone Climbing                                      6.07
8 Metro VW                                                 6.29
9 Canadian National Team                                  11.20
10 Veloforma / Zym                                        12.55
11 Wines of Washington                                    14.47
12 Nurnberger Shoair                                      15.19
13 DFT p/b Treads                                         20.06
14 Team Lip Smackers                                      26.30
15 Specialized D4W/Bicycle H                              27.06
16 Velo Classic Tours / Incy                              29.22
17 Kahala LaGrange                                        39.15