SRAM Tour of the Gila - NE
USA, April 29-May 3, 2009
Main Page Results Overall standings Previous Stage Next Stage
Stage 4 - May 2: Downtown Silver City Criterium, 40/25 laps
Van Uden sprints to Gila victory
Leipheimer holds lead despite criterium crash
By Kirsten Robbins in Silver City, New Mexico
Roman van Uden (Landrover-Orbea) provided the day's first upset
Photo ©: Mitch Clinton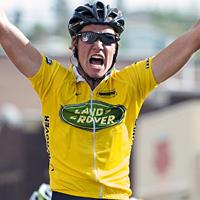 Roman van Uden (Landrover-Orbea) surprised everyone when he out-paced bigger named rivals to claim victory in SRAM Tour of the Gila's criterium bunch sprint. The U23 rider had the fans screaming when he punched it out of the last corner and held off Sebastian Haedo (Colavita-Sutter Home) and Alex Howes (Garmin-Holowesko Partners-Felt).
"This is a really awesome win," Van Uden said. "Its really great riding next to Lance [Armstrong]. I never thought I'd get to do that in my life, riding up next to him.
"I took it wide out of the last corner in first position, put my head down and took it home," he added.
Several high-speed crashes marred the last two laps of the race, causing the front of the peloton to reshuffle from organised lead-out trains to scattered individual riders. Runner up Haedo was one rider forced to re-establish his position on the last lap.
"My team did a great job in the last two laps," Haedo said. "I was caught behind the crash with two laps to go and then another one on the last lap so I had to restart and spend energy to try to get back to the front."
Levi Leipheimer (Mellow Johnny's) lost no time in the overall classification, despite crashing with two laps to go outside of the free lap rule. The crowds cheered as Chris Horner, who was riding several wheels behind Leipheimer, got off his bike and gave it to his desperate team-mate.
Despite the significant height difference between the two riders, Leipheimer was able to finish the last two laps on Horner's bike while Horner made do on Leipheimer's much smaller frame. Peter Stetina (Garmin-Holowesko Partners-Felt) and Chris Baldwin (Rock Racing) maintained second and third place respectively on general classification.
"I got a rear wheel for his bike and rode in on it and he finished on mine," Horner said, who won the event in 1996. "We did the bike change really quick. My job was to stay behind him because if I'm in front of him then I can't see him. Especially in a criterium where there are always some crazy crashes.
"Levi is fine," he added. "He just had to dismount behind the accident but I don't think he actually hit the pavement."
The Silver City downtown criterium had never seen so many fans, out to catch a glimpse of Armstrong in action. Spectators were treated to 40 laps of professional men racing, held on a relatively non-technical four corner circuit. Strong winds and a steep hill on the back-side of the course heightened the criterium's difficulty.
Consistent attacks highlighted the race, but the right combination of riders never seemed to transpire. All attempts at a breakaway never gained more than 10 seconds before being reabsorbed into the peloton with in two or three laps.
Ben Day (Fly V Australia) made a bid for a solo victory when he launched himself off the front of the peloton mid-race. The Australian is better known for his time trialing and gained a near 40 second margin for eight laps. Riders trying to bridge across reduced the gap and he was back in the field with seven laps to go.
Other time trialist Darren Lill (Team Type 1) and Tom Zirbel (Bissell) took individual flyers with three laps to go. Teams Kelly Benefit Strategies, Trek-Livestrong, Planet Energy and Colavita-Sutter Home aimed for a field sprint and rallied at the front of the field with two laps to go. A crash on the second turn jostled their efforts and forced sprinters to find their own way.
Swart takes first NRC victory
Carla Swart (Lip Smackers) takes an upset sprint win
Photo ©: Mitch Clinton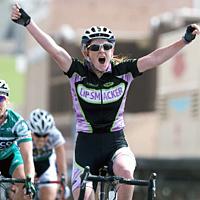 South African talent Carla Swart (Lip Smackers) sprinted to her first National Racing Calendar win at the Tour of the Gila's downtown criterium. She was the first rider to round the final corner and held off Canadian sprinter Gina Grain (Webcor Builders) who place second with Catherine Cheatley (Colavita-Sutter Home) finishing third.
With no changes on the overall classification Kristin Armstrong (Cervelo Test team) leads from Alison Powers (Team Type 1) and Katheryn Mattis (Webcor-Builders).
Armstrong attempted to split the race apart from the gun using her strong time trialing power on the front of the field for the opening five laps. The women behind her struggled to hang on during the lengthy start-finish straightaway and gaps opened thanks to the strong cross winds.
The second blow to the field came from United States Time Trial Champion Powers, who put in a second push at the front. Her efforts kept the field safe from crashes and in single file through the moderately technical turns.
Grain and Anne Samplonius (Lip Smackers) swapped prime victories several time throughout the race picking up lucrative prizes in the first half of the race.
Value Act Capital, Touchstone Climbing, Webcor Builders and Colavita-Sutter Home initiated a flurry of attacks mid-race, but no break gained more than 10 seconds on the field. Toni Bradshaw (Lip Smackers) took the pressure off her winning team-mate by launching a solo move with two laps to go.
Behind Bradshaw, teams with strong sprinters prepared for a bunch sprint. Bradshaw was swallowed up by the field sprint on last lap.
Photography
For a thumbnail gallery of these images, click here
Images by Mitch Clinton/www.clintonphoto.com
Images by Jonathan Devich/

Results
Pro men
 
1 Roman Van Uden (Land Rover-ORBEA)                      1.35.56
2 Lucas Haedo (Colavita Sutter Home p/b)                        
3 Alex Howes (Felt-Holowesko Partners)                          
4 Davide Frattini (Colavita Sutter Home p/b)                    
5 Shawn Milne (Team Type1)                                      
6 Neil Shirley (Kelly Benefit Strategies)                       
7 Zach Watson (Athletes by Design Cycling)                      
8 Bradley White (OUCH Pro Cycling Team p/b)                     
9 Florian Stalder (Team B)                                      
10 Chad Beyer (Team B)                                          
11 Lance Armstrong (Mellow Johnny's)                            
12 Bjorn Selander (Trek Livestrong)                             
13 Scott Davis (Fly V Australia-Successful)                     
14 Ben King (Trek Livestrong)                                   
15 Philip Zajicek (Fly V Australia-Successful)                  
16 Roman Kilun (OUCH Pro Cycling Team p/b)                      
17 Tom Zirbel (Bissell Pro Cycling)                             
18 Christopher Baldwin (BOULDER)                                
19 Guy East (Trek Livestrong)                                   
20 Darren Lill (Team Type 1)                                    
21 Valeriy Kobzarenko (Team Type 1)                             
22 Evan Hyde (Incycle)                                          
23 Ben Jacques-Maynes (Bissell Pro Cycling)                     
24 Dan Bowman (Kelly Benefit Strategies)                        
25 Stefan Rothe (Warp9bikes.com/Tristar)                        
26 Matt Cooke (RideClean)                                       
27 Francois Parisien (PLANET ENERGY Pro)                        
28 Ian MacGregor (Team Type 1)                                  
29 Burke Swindlehurst (Bissell Pro Cycling)                     
30 Ben Day (Fly V Australia-Successful)                         
31 Chris Jones (Team Type1)                                     
32 Anthony Colby (Colavita Sutter Home p/b)                     
33 Tim Henry (DLP Racing)                                       
34 Scott Zwizanski (Kelly Benefit Strategies)                   
35 Alfredo Cruz (Auto-Tec)                                      
36 Michael Olheiser (Warp9bikes.com/tristar)                    
37 Peter Stetina (Felt-Holowesko Partners)                      
38 James Gunn-Wilkinson (Nytro Racing)                          
39 Alister Ratcliff (BikeReg.com / Cannondale)                  
40 Nick Fey (Ciclismo Racing)                                   
41 Logan Garey (Team Rio Grande)                                
42 Cameron Evans (OUCH Pro Cycling Team p/b)                    
43 Hayden Brooks (Fly V Australia-Successful)                   
44 Eric Slack (Bobs-Bicycles.com)                               
45 Jesse Moore (California Giant-Specialized)                   
46 Matt Wilson (Team Type 1)                                    
47 Patrick McCarty (OUCH Pro Cycling Team p/b)                  
48 Corey Collier (Team Rio Grande)                              
49 Floyd Landis (OUCH Pro Cycling Team p/b)                     
50 Ian Holt (RMCEF/Westside Cycling)                            
51 Michael Grabinger (Fly V Australia-Successful)               
52 Tyler Wren (Colavita Sutter Home p/b)                        
53 Rory Sutherland (OUCH Pro Cycling Team p/b)                  
54 Daniel Vaillancourt (Colavita Sutter Home p/b)               
55 John Hunt (California Giant-Specialized)                     
56 Maxime Vives (PLANET ENERGY Pro)                             
57 Bill Demong (Incycle)                                        
58 Jeff Hartman (Incycle)                                       
59 John Eisinger (Ciclismo Racing)                              
60 Julian Kyer (Trek Livestrong)                                
61 Levi Leipheiner (Mellow Johnny's)                            
62 Ryan Baumann (Trek Livestrong)                               
63 Paul Esposti (Ciclismo Racing)                               
64 Paul Mach (Bissell Pro Cycling)                              
65 Clay Mufret (Kelly Benefit Strategies)                       
66 Andrew Talansky (Amore & Vita-McDonald's)                    
67 Matthew Busche (ISCorp Cycling Team/Nova)                    
68 Scott Tietzel (DLP Racing)                                   
69 Taylor Sheldon (Felt-Holowesko Partners)                     
70 Tim Johnson (OUCH Pro Cycling Team p/b)                      
71 Fabio Calabria (Team Type 1)                                 
72 Ron Jensen (RideClean)                                       
73 Mike Northey (Land Rover-ORBEA)                              
74 Jesse Sergent (Trek Livestrong)                              
75 Carson Miller (Land Rover-ORBEA)                             
76 Chris Winn (RMCEF/WestSide Cycling)                          
77 Eddy Kwon (ZteaM Elite)                                      
78 Jonathan Mumford (Kelly Benefit Strategies)                  
79 Kris Lunning (Above Category Racing)                         
80 Alexander Hagman (Ciclismo Racing)                           
81 Caleb Fairly (Felt-Holowesko Partners)                       
82 Walker Savidge (Felt-Holowesko Partners)                     
83 Justin England (California Giant-Specialized)                
84 Corey Carlson (Team Rio Grande)                              
85 Jared Gilyard (RideClean)                                    
86 David Glick (RideClean)                                      
87 Mike Sohm (Specialized/Porcupine Racing)                     
88 Cristian Velasquez (Ten Speed Drive / BH Bicycles)           
89 Sam Johnson (hagens berman)                                  
90 Jaime Gandara (Kenda Pro Cycling p/b Spinergy)               
91 John Chodroff (OUCH Pro Cycling Team p/b)                    
92 Bruno Langlois (PLANET ENERGY Pro)                           
93 Bryson Bowers (JetFuel coffee)                               
94 Flavio De Luna (Aguascalientes)                              
95 Allen Krughoff (Team Rio Grande)                             
96 Osvaldo Olmos (California Giant-Specialized)                 
97 Chris Turner (Above Category Racing)                         
98 James Mattis (California Giant-Specialized)                  
99 Aaron Pool (Lincoln Industries)                              
10 Brandon Lynch (Bobs-Bicycles.com)                            
10 Ian Tuttle (Above Category Racing)                           
10 Vincent Owens (Ten Speed Drive / BH Bicycles)                
10 Josh Liberles (Ten Speed Drive / BH Bicycles)                
10 Sergio Hernandez (EL SEGUNDO)                                
10 Tad Hamilton (Bobs-Bicycles.com)                             
10 Emiliano Jordan (Ten Speed Drive / BH Bicycles)              
10 Derek Loudermilk (Horizon Organic p/b Prerace.com)           
10 Sheldon Deeny (Bissell Pro Cycling)                          
10 David Duncan (DLP Racing)                                    
11 Jesse DeKrey (Incycle)                                       
11 Taylor Phinney (Trek Livestrong)                             
11 Phillip Mann (Ciclismo Racing)                               
11 Andrew Guptill (Colavita Sutter Home p/b)                    
11 Moises Aldape (Team Type 1)                                  
11 Ben King (Fly V Australia-Successful)                        
11 Evan Elken (Land Rover-ORBEA)                                
11 Andrew Randell (PLANET ENERGY Pro)                           
11 Jacob Erker (Kelly Benefit Strategies)                       
11 Jacob Mueller (Kelly Benefit Strategies/LSV)                 
12 Daniel Workman (Ciclismo Racing)                             
12 Omer Kem (Bissell Pro Cycling)                               
12 Graham Howard (Bissell Pro Cycling)                          
12 Alessandro Bazzana (Fly V Australia-Successful)              
12 Scott Nydam (Team B)                                         
12 Chris Horner (Mellow Johnny's)                               
12 Benjamin Kneller (Ciclismo Racing)                           
12 Alex Candelario (Kelly Benefit Strategies)                   
12 Keven Lacombe (PLANET ENERGY Pro)                            
12 Luis Amaran (Colavita Sutter Home p/b)                       
13 Anibal Borrajo (Colavita Sutter Home p/b)                    
13 Tiago DePaula (DLP Racing)                                   
13 Jeremy Vennell (Bissell Pro Cycling)                         
13 Luis Zamudio (Incycle)                                       
13 Brad Cole (Ciclismo Racing)                              2.16
13 Blair Berbert (Kelly Benefit Strategies/LSV)             4.34
13 Kevin Hazzard (JetFuel Coffee)                               
13 Tucker Olander (RMCEF Racing/Westside)                   5.19
13 Travis Sherman (Warp9bikes.com/Tristar)                  6.51
13 Chris Hong (Bobs-Bicycles.com)                           7.22
14 Colt Trant (Matrix/RBM)                                 13.42
14 Logan Hunn (Land Rover-ORBEA)                                
14 Tim Srenaski (Rocky Mountain Elite Cycling)             14.01
14 Travis Hagner (Warp9bikes.com/Tristar)                  15.59
14 Jose Orellana (Ten Speed Drive / BH Bicycles)                
14 Bradley Gehrig (Cole Sport Racing)                      19.11
 
Pro women
 
1 Carla Swart (Team Lip Smacker)                         1.07.20
2 Gina Grain (Webcor Builders)                                  
3 Cath Cheatley (Colavita Sutter Home p/b)                      
4 Alison Powers (Team Type 1)                                   
5 Coryn Rivera (PROMAN Hit Squad)                               
6 Olivia Dillon (Touchstone Climbing)                           
7 Amanda Miller (Team Lip Smacker)                              
8 Kristin Armstrong (Cervelo Test Team)                         
9 Tiffany Cromwell (Colavita Sutter Home p/b)                   
10 Christina Ruiter (ValueAct Capital Cycling Team)             
11 Leah Goldstein (ValueAct Capital Cycling Team)               
12 Robin Farina (ValueAct Capital Cycling Team)                 
13 Anne Samplonius (Team Lip Smacker)                           
14 Hilary Billington (Team Lip Smacker)                         
15 Stacy Marple (Colavita Sutter Home p/b)                      
16 Nikki Butterfield (Webcor Builders)                          
17 Katheryn Mattis (Webcor Builders)                            
18 Kelly McDonald (Touchstone Climbing Racing)                  
19 Marisa Asplund (DFT p/b TREADS)                              
20 Toni Bradshaw (Team Lip Smacker)                             
21 Heather Sborz (Specialized D4W/Bicycle Haus)                 
22 Susannah Gordon (ColoBikeLaw.com)                            
23 Ruth Clemence (Touchstone)                                   
24 Alexis Rhodes (Webcor Builders)                              
25 Marilyn McDonald (Specialized D4W/Bicycle Haus)              
26 Nicole Evans (ValueAct Capital Cycling Team)                 
27 Kelli Emmett (Giant Bicycles)                                
28 Gabriela Ferrat (Metromint Cycling)                          
29 Rebecca Much (Webcor Builders)                               
30 Andrea Dvorak (Colavita Sutter Home p/b)                     
31 Chloe Forsman (Luna Pro Team)                                
32 Alisha Welsh (PCIM)                                          
33 Melanie Meyers (Specialized D4W/Bicycle Haus)                
34 Gwen Inglis (DFT p/b TREADS)                             0.14
35 Kristin Sanders (ValueAct Capital Cycling Team)              
36 Kathyrn Bertine (Specialized D4W/Bicycle Haus)           0.18
37 Daniela Gandara (TEN SPEED DRIVE)                            
38 Lindsey Bishop (ColoBikeLaw.com)                         0.22
39 Lauren Edwards (Absolute Racing)                         0.36
40 Ambre Levy (DFT p/b TREADS)                              0.39
41 Amy Dombroski (Webcor Builders)                          0.41
42 Rachel Heal (Colavita Sutter Home p/b)                   0.58
43 MEGAN HOTTMAN (DFT p/b TREADS)                           2.23
44 Tracey Jacobs (GS Boulder)                               4.12
45 Nina Baum (Cannondale Factory Racing)                    4.48
46 Erica Zaveta (University of Arizona)                     5.10
47 Laura McCaughey (Salamander Racing)                      5.36
48 Terrie Clouse (ColoBikeLaw.com)                              
49 Megan Rathwell (Touchstone Climbing)                     6.07
50 Sydney Brown (DFT p/b TREADS)                            6.44
51 Cara Gillis (Touchstone Climbing)                            
52 Trish Cohen (Unattached)                                 8.25
53 Sharon Allpress (ValueAct Capital Cycling Team)          9.37
54 Kate Ross (Team Lip Smacker)                                 
55  Thurston-Hicks (ColoBikeLaw.com)                            
56 Ashley Anderson (PROMAN Hit Squad)                           
57 catherine DICKSON (Metro Phx)                           13.28
58 Lisa Tumminello (ColoBikeLaw.com)                            
59 Judy Jenkins (Specialized D4W/Bicycle Haus)                  
60 Spring Clegg (Specialized D4W/Bicycle Haus)                  
61 Molly Van Houweling (Metromint Cycling)                      
62 Anny Henry (Metromint Cycling)                               
63 Yukie Nakamura (Metromint Cycling)                           
64 Sue Stokes (ColoBikeLaw.com)                            22.26
 
General Classification after Stage 4
 
Pro men
 
1 Levi Leipheiner (Mellow Johnny's)                      8.57.16
2 Peter Stetina (Felt-Holowesko Partners)                   2.39
3 Christopher Baldwin (BOULDER)                             2.51
4 Lance Armstrong (Mellow Johnny's)                         3.03
5 Philip Zajicek (Fly V Australia-Successful)               3.36
6 Burke Swindlehurst (Bissell Pro Cycling)                  3.37
7 Tom Zirbel (Bissell Pro Cycling)                          3.40
8 Scott Nydam (Team B)                                      3.59
9 Florian Stalder (Team B)                                  4.09
10 Matt Cooke (RideClean)                                       
11 Chad Beyer (Team B)                                      4.25
12 Rory Sutherland (OUCH Pro Cycling Team p/b)              4.27
13 Darren Lill (Team Type 1)                                4.35
14 Benjamin Kneller (Ciclismo Racing)                       4.54
15 Francois Parisien (PLANET ENERGY Pro)                    5.03
16 Tyler Wren (Colavita Sutter Home p/b)                    5.23
17 Anthony Colby (Colavita Sutter Home p/b)                 5.34
18 Matthew Busche (ISCorp Cycling Team/Nova)                5.43
19 Cameron Evans (OUCH Pro Cycling Team p/b)                5.51
20 Alex Howes (Felt-Holowesko Partners)                     6.03
21 Scott Tietzel (DLP Racing)                               6.09
22 John Hunt (California Giant-Specialized)                 6.21
23 Valeriy Kobzarenko (Team Type 1)                         6.22
24 Jesse Moore (California Giant-Specialized)               6.26
25 Paul Mach (Bissell Pro Cycling)                          6.28
26 Ben Jacques-Maynes (Bissell Pro Cycling)                 6.31
27 Bjorn Selander (Trek Livestrong)                         6.43
28 Chris Horner (Mellow Johnny's)                           6.47
29 Michael Grabinger (Fly V Australia-Successful)           6.54
30 Ben King (Fly V Australia-Successful)                    6.57
31 Julian Kyer (Trek Livestrong)                            6.59
32 John Eisinger (Ciclismo Racing)                              
33 Davide Frattini (Colavita Sutter Home p/b)                   
34 Andrew Talansky (Amore & Vita-McDonald's)                7.00
35 Tim Johnson (OUCH Pro Cycling Team p/b)                      
36 Michael Olheiser (Warp9bikes.com/tristar)                7.11
37 Corey Collier (Team Rio Grande)                          7.16
38 Daniel Vaillancourt (Colavita Sutter Home p/b)           8.09
39 Roman Kilun (OUCH Pro Cycling Team p/b)                  8.10
40 Ian MacGregor (Team Type 1)                              8.12
41 David Glick (RideClean)                                  8.16
42 Luis Amaran (Colavita Sutter Home p/b)                   8.23
43 Bradley White (OUCH Pro Cycling Team p/b)                8.31
44 Dan Bowman (Kelly Benefit Strategies)                    8.45
45 Justin England (California Giant-Specialized)            8.52
46 Ben Day (Fly V Australia-Successful)                     8.53
47 Eric Slack (Bobs-Bicycles.com)                           9.04
48 Matt Wilson (Team Type 1)                                9.19
49 Kris Lunning (Above Category Racing)                         
50 Jonathan Mumford (Kelly Benefit Strategies)              9.28
51 Aaron Pool (Lincoln Industries)                          9.32
52 James Mattis (California Giant-Specialized)              9.33
53 Nick Fey (Ciclismo Racing)                               9.37
54 Shawn Milne (Team Type1)                                 9.39
55 Chris Jones (Team Type1)                                 9.42
56 Carson Miller (Land Rover-ORBEA)                         9.47
57 Floyd Landis (OUCH Pro Cycling Team p/b)                10.03
58 Ben King (Trek Livestrong)                              10.12
59 Scott Zwizanski (Kelly Benefit Strategies)              10.14
60 Taylor Sheldon (Felt-Holowesko Partners)                10.21
61 Bill Demong (Incycle)                                   10.30
62 Mike Northey (Land Rover-ORBEA)                         10.36
63 Taylor Phinney (Trek Livestrong)                             
64 Moises Aldape (Team Type 1)                             10.37
65 Walker Savidge (Felt-Holowesko Partners)                10.40
66 Alexander Hagman (Ciclismo Racing)                      10.42
67 Patrick McCarty (OUCH Pro Cycling Team p/b)                  
68 Allen Krughoff (Team Rio Grande)                        10.46
69 Jeff Hartman (Incycle)                                  10.51
70 Jeremy Vennell (Bissell Pro Cycling)                    10.53
71 Flavio De Luna (Aguascalientes)                         11.04
72 Paul Esposti (Ciclismo Racing)                          11.24
73 Jared Gilyard (RideClean)                                    
74 Fabio Calabria (Team Type 1)                            11.29
75 John Chodroff (OUCH Pro Cycling Team p/b)               11.31
76 Evan Hyde (Incycle)                                     11.43
77 Zach Watson (Athletes by Design Cycling)                11.45
78 Graham Howard (Bissell Pro Cycling)                          
79 Jesse Sergent (Trek Livestrong)                         11.51
80 James Gunn-Wilkinson (Nytro Racing)                     11.53
81 Stefan Rothe (Warp9bikes.com/Tristar)                   12.00
82 Andrew Guptill (Colavita Sutter Home p/b)               12.18
83 Sheldon Deeny (Bissell Pro Cycling)                     12.30
84 Eddy Kwon (ZteaM Elite)                                 12.43
85 Caleb Fairly (Felt-Holowesko Partners)                  12.49
86 Sergio Hernandez (EL SEGUNDO)                           13.25
87 Lucas Haedo (Colavita Sutter Home p/b)                  13.39
88 Alex Candelario (Kelly Benefit Strategies)              13.49
89 Sam Johnson (hagens berman)                                  
90 Guy East (Trek Livestrong)                              14.04
91 Brandon Lynch (Bobs-Bicycles.com)                       14.46
92 Anibal Borrajo (Colavita Sutter Home p/b)               15.01
93 Alister Ratcliff (BikeReg.com / Cannondale)             15.11
94 Hayden Brooks (Fly V Australia-Successful)              15.52
95 Ron Jensen (RideClean)                                  15.59
96 Omer Kem (Bissell Pro Cycling)                          17.19
97 Chris Winn (RMCEF/WestSide Cycling)                     17.22
98 Jacob Erker (Kelly Benefit Strategies)                  17.27
99 Alfredo Cruz (Auto-Tec)                                 18.17
100 Roman Van Uden (Land Rover-ORBEA)                      18.19
101 Evan Elken (Land Rover-ORBEA)                          18.29
102 Neil Shirley (Kelly Benefit Strategies)                18.47
103 Keven Lacombe (PLANET ENERGY Pro)                      19.01
104 Andrew Randell (PLANET ENERGY Pro)                     19.20
105 Ian Holt (RMCEF/Westside Cycling)                      19.35
106 Bruno Langlois (PLANET ENERGY Pro)                     21.18
107 Daniel Workman (Ciclismo Racing)                       21.22
108 Ian Tuttle (Above Category Racing)                     21.52
109 Ryan Baumann (Trek Livestrong)                         22.15
110 Tim Henry (DLP Racing)                                 22.35
111 Emiliano Jordan (Ten Speed Drive / BH Bicycles)        24.36
112 Scott Davis (Fly V Australia-Successful)               24.38
113 Osvaldo Olmos (California Giant-Specialized)           27.14
114 Jesse DeKrey (Incycle)                                 28.38
115 Brad Cole (Ciclismo Racing)                            29.23
116 Vincent Owens (Ten Speed Drive / BH Bicycles)          29.39
117 Josh Liberles (Ten Speed Drive / BH Bicycles)          30.03
118 Chris Turner (Above Category Racing)                   30.09
119 Phillip Mann (Ciclismo Racing)                         30.15
120 Luis Zamudio (Incycle)                                 30.57
121 Cristian Velasquez (Ten Speed Drive / BH Bicycles)     32.12
122 Colt Trant (Matrix/RBM)                                33.07
123 Blair Berbert (Kelly Benefit Strategies/LSV)           33.50
124 Mike Sohm (Specialized/Porcupine Racing)               34.08
125 Bryson Bowers (JetFuel coffee)                         36.28
126 Chris Hong (Bobs-Bicycles.com)                         36.59
127 Tad Hamilton (Bobs-Bicycles.com)                       39.50
128 Clay Mufret (Kelly Benefit Strategies)                 40.05
129 Alessandro Bazzana (Fly V Australia-Successful)        40.24
130 Jacob Mueller (Kelly Benefit Strategies/LSV)           40.27
131 David Duncan (DLP Racing)                              43.22
132 Logan Garey (Team Rio Grande)                          43.59
133 Maxime Vives (PLANET ENERGY Pro)                       45.18
134 Tiago DePaula (DLP Racing)                             45.22
135 Jaime Gandara (Kenda Pro Cycling p/b Spinergy)         46.07
136 Kevin Hazzard (JetFuel Coffee)                         48.53
137 Tucker Olander (RMCEF Racing/Westside)                 50.28
138 Jose Orellana (Ten Speed Drive / BH Bicycles)          51.31
139 Derek Loudermilk (Horizon Organic p/b Prerace.com)     54.37
140 Corey Carlson (Team Rio Grande)                        58.15
141 Bradley Gehrig (Cole Sport Racing)                     59.44
142 Tim Srenaski (Rocky Mountain Elite Cycling)          1.00.50
143 Logan Hunn (Land Rover-ORBEA)                        1.01.21
144 Travis Hagner (Warp9bikes.com/Tristar)               1.01.47
145 Travis Sherman (Warp9bikes.com/Tristar)              1.11.09
 
Pro women
 
1 Kristin Armstrong (Cervelo Test Team)                  9.13.11
2 Alison Powers (Team Type 1)                               3.22
3 Katheryn Mattis (Webcor Builders)                         3.33
4 Leah Goldstein (ValueAct Capital Cycling Team)            3.55
5 Cath Cheatley (Colavita Sutter Home p/b)                  3.56
6 Christina Ruiter (ValueAct Capital Cycling Team)          4.03
7 Robin Farina (ValueAct Capital Cycling Team)              4.24
8 Anne Samplonius (Team Lip Smacker)                        4.42
9 Rebecca Much (Webcor Builders)                            4.50
10 Tiffany Cromwell (Colavita Sutter Home p/b)              5.35
11 Alisha Welsh (PCIM)                                      5.56
12 Carla Swart (Team Lip Smacker)                           6.03
13 Kelly McDonald (Touchstone Climbing Racing)              6.15
14 Alexis Rhodes (Webcor Builders)                          6.20
15 Nicole Evans (ValueAct Capital Cycling Team)             6.42
16 Marisa Asplund (DFT p/b TREADS)                          7.16
17 Nikki Butterfield (Webcor Builders)                      7.24
18 Andrea Dvorak (Colavita Sutter Home p/b)                 7.27
19 Kristin Sanders (ValueAct Capital Cycling Team)          8.00
20 Ruth Clemence (Touchstone)                               8.36
21 Kelli Emmett (Giant Bicycles)                            9.26
22 Gabriela Ferrat (Metromint Cycling)                     10.20
23 Olivia Dillon (Touchstone Climbing)                     10.37
24 Amanda Miller (Team Lip Smacker)                        10.42
25 Stacy Marple (Colavita Sutter Home p/b)                 10.54
26 Marilyn McDonald (Specialized D4W/Bicycle Haus)         12.14
27 Gina Grain (Webcor Builders)                            12.29
28 Toni Bradshaw (Team Lip Smacker)                        12.33
29 Terrie Clouse (ColoBikeLaw.com)                         14.21
30 Heather Sborz (Specialized D4W/Bicycle Haus)            15.22
31 Amy Dombroski (Webcor Builders)                         16.20
32 Chloe Forsman (Luna Pro Team)                           19.24
33 Gwen Inglis (DFT p/b TREADS)                            20.04
34 Rachel Heal (Colavita Sutter Home p/b)                  21.21
35 Melanie Meyers (Specialized D4W/Bicycle Haus)           21.46
36 Susannah Gordon (ColoBikeLaw.com)                       25.09
37 Hilary Billington (Team Lip Smacker)                    26.52
38 MEGAN HOTTMAN (DFT p/b TREADS)                          27.15
39 Lindsey Bishop (ColoBikeLaw.com)                        27.26
40 Sydney Brown (DFT p/b TREADS)                           27.37
41 Tracey Jacobs (GS Boulder)                              28.06
42 Nina Baum (Cannondale Factory Racing)                   28.18
43 Kathyrn Bertine (Specialized D4W/Bicycle Haus)          31.03
44 Cara Gillis (Touchstone Climbing)                       31.52
45 Trish Cohen (Unattached)                                34.53
46 Molly Van Houweling (Metromint Cycling)                 37.03
47 Coryn Rivera (PROMAN Hit Squad)                         39.45
48 Lisa Tumminello (ColoBikeLaw.com)                       40.07
49 Daniela Gandara (TEN SPEED DRIVE)                       45.41
50 Lauren Edwards (Absolute Racing)                        46.09
51 Sharon Allpress (ValueAct Capital Cycling Team)         49.52
52 Ambre Levy (DFT p/b TREADS)                             49.57
53 Megan Rathwell (Touchstone Climbing)                    52.33
54 Ashley Anderson (PROMAN Hit Squad)                      53.39
55 Erica Zaveta (University of Arizona)                    54.55
56 catherine DICKSON (Metro Phx)                           58.20
57  Thurston-Hicks (ColoBikeLaw.com)                     1.00.33
58 Laura McCaughey (Salamander Racing)                   1.01.03
59 Yukie Nakamura (Metromint Cycling)                    1.03.26
60 Anny Henry (Metromint Cycling)                        1.04.09
61 Spring Clegg (Specialized D4W/Bicycle Haus)           1.05.27
62 Judy Jenkins (Specialized D4W/Bicycle Haus)           1.11.49
63 Kate Ross (Team Lip Smacker)                          1.12.39
64 Sue Stokes (ColoBikeLaw.com)                          1.17.55
 
Teams classification
 
Pro men
 
1 Bissell Pro Cycling                                   27.04.42
2 Fly V Australia                                           2.23
3 Team Type 1                                               3.58
4 OUCH Pro Cycling Team p/b                                 4.12
5 Colavita Sutter Home p/b                                  4.27
6 Felt-Holowesko Partners-                                  6.19
7 RideClean                                                 8.03
8 Ciclismo Racing                                           8.31
9 California Giant-Specialized                              8.45
10 Trek Livestrong                                          9.59
11 Kelly Benefit Strategies                                12.45
12 Incycle                                                 17.02
13 Land Rover-ORBEA                                        18.51
14 PLANET ENERGY Pro                                       28.36
15 Bobs-Bicycles.com                                       40.33
16 Team Rio Grande                                         40.44
17 DLP Racing                                              49.38
18 warp9bikes.com/TriStar                                  58.56
19 Ten Speed Drive / BH Bicycles                         1.00.17
 
Pro women
 
1 ValueAct Capital Cycling                              27.51.55
2 Webcor Builders                                           1.11
3 Colavita Sutter Home p/b                                  4.46
4 Team Lip Smacker                                          9.06
5 Touchstone Climbing                                      13.06
6 Specialized D4W/Bicycle                                  34.07
7 DFT p/b TREADS                                           34.59
8 ColoBikeLaw.com                                          52.56
9 Metromint Cycling                                      1.33.1