SRAM Tour of the Gila - NE
USA, April 29-May 3, 2009
2008 results Stage List Preview Past winners
The Stages
Conquering the Gila Monster
By Kirsten Robbins
Burke Swindlehurst (l), 2nd overall in 2008, will face the likes of Lance Armstrong this year.
Photo ©: Mitch Clinton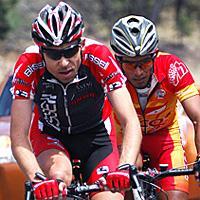 The 23rd annual SRAM Tour of the Gila is set to begin on April 29 in Silver City, New Mexico. The five-day stage race offers some of the toughest terrain on American soil and the emerging winner will be crowned one of the fiercest mountain climbers in the nation.
The men's peloton will notably be bolstered by the presence of Lance Armstrong and his Astana teammates Levi Leipheimer and Chris Horner. The Astana trio received a last-minute entry once USA Cycling worked out an agreement with the UCI, who had earlier denied them permission to compete because the world body's rules prohibit top-level riders from entering national-level races.
"Having Armstrong, Leipheimer and Horner at Gila? It's an honour, a big honour," said Race Director Jack Brennan. "We have a really great race in place, a great organization and great community and state support. Yes, I think there will be a lot more crowds and we have been preparing for them."
Last year's individual winner, Ladino Vega Gregorio, and his overall winning team Tecos-Trek will not be competing at this year's event. The 2008 runner up Burke Swindlehurst (Bissell) will no doubt want to improve to the top spot on the podium this time around. Confirmed teams include Bissell Pro Cycling, BMC, Colavita-Sutter Home, California Giant Berry Farms, Ciclismo Racing, Fly V Australia, Garmin-Holoweski Partners-Felt, Kelly Benefit Strategies, Landrover Orbea, Planet Energy, Ride Clean, Rock Racing, Team Type 1, Rio Grand, Ten Speed Drive, Trek Livestrong, Warp Nine Bikes and DLP.
On the women's side, former world time trial champion Kristin Armstrong will compete under the support of Michael Engleman's and the US Women's Cycling Development Program. Armstrong will no doubt want to capture another Tour of the Gila title but she will have a battle on her hands against last year's champion Leah Goldstein (Value Act Capital). Confirmed teams include Colavita-Sutter Home, Colorado Bike Law, DRT p/b Treads, Specialized DFW, Team Lip Smackers, Touchstone Climbing and Webcor-Builders.
Two months ago the event was about to be cancelled, now it is bigger than ever. According to Brennan, the event has grown ten-fold thanks to public donations and a new title sponsor in SRAM. "It will be the biggest year we've ever seen and the strongest," Brennan said. "We were literally two days away form canceling the event and it turned around so quickly. I've never seen something turn a dime like this did. I don't know if we are blessed or if all the stars lined up, but this is amazing."
The event started to receive public donations in February when word of its cancellation got out. SRAM signed on board as the event's title sponsor shortly after. "We raised money locally and people in and outside the state have donated money," Brennan said. "People have followed our race for a number of years. SRAM said it was a quality race and they wanted to come on board. I was really surprised to see people stepping forward and helping, especially in the hard economic times. You don't really appreciate how good it is until you think it might not be around."
Tour of the Gila stages
Stage 1, April 29: The five day event kicks off with the Silver City to Mogollan Road Race, a point-to-point event covering 151 kilometres for the pro men and 115 kilometres for the pro women. Large gaps will separate the overall classification early with one of the event's difficult climbing stages.
Stage 2, April 30: The Inner Loop Road Race offers the pro men a 128-kilometre and the pro women a 125-kilometre race that starts and finishes in Fort Bayard Medical Centre. Although the peloton will take in several thousand feet of climbing, the event typically ends in a smaller group sprint.
Stage 3, May 1: The Dan Potts Memorial Tyrone Individual Time Trial is sure to shake up the overall with a 25-kilometre grueling out-and-back race against the clock. Each rider will be up against large rollers and strong crosswinds, the biggest obstacles that are sure to separate the strong time trialists from the weak.
Stage 4, May 2: The Downtown Silver City Criterium is a criterium for the climbers. The 1.7-kilometre circuit offers a steep hill followed by a fast descent each lap. The pro men will complete 40 laps and the pro women 25 laps.
Stage 5, May 3: The Gila Monster Road Race is known as the 'queen stage' for its mountain top finish at Pinos Altos. The pro men will complete 170 kilometres and the pro women 115 kilometres. The toughest stage is saved for the very end where the overall GC contenders will be pushed to their limits and an overall victor will emerge.
Past winners
2008 Gregorio Ladino Vega (Col) Tecos        Leah Goldstein (Isr) Valueact Capital Cycling Team
2007 Nathan O'Neill (HealthNet-Maxxis)       Mara Abbott (Webcor Builders)
2006 Chris Baldwin (Toyota-United)           Kristin Armstrong (TEAm Lipton)
2005 Burke Swindlehurst (USA) Team Seasilver Kimberly Baldwin (USA) T-Mobile
2004 Scott Moninger (USA) Health Net/Maxxis  Amber Meben (USA) T-Mobile
2003 Drew Miller (USA) Trek/VW All-Stars     Genevieve Jeanson (Can) Rona Esker
2002 Chris Wherry (USA) Mercury              Genevieve Jeanson (Can) Rona
2001 Scott Moninger (USA) Mercury            Genevieve Jeanson (Can) Rona         
2000 Eric Wohlberg (Can) Shaklee-Marin       Mari Holden
1999 Chris Wherry                            Kimberly Bruckner
1998 Burke Swindlehurst                      Jeannie Longo
1997 Bart Bowen                              (Women's race cancelled)
1996 Burke Swindlehurst                      Desiree Margagliano
1995 Johnathan Vaughters                     Carolyn Donnelly
1994 Andrew Miller                           Carolyn Donnelly
1993 Jose Robles                             Martha Wavrin
1992 Kevin Livingston                        Jane Gagne
1991 Bjorn Backman                           Laura Peycke
1990 Andrew Miller                           Carolyn Donnelly
1989 John Lieswyn                            Carolyn Donnelly
1988 Gavin O'Grady                           Jane Marshall
1987 Andy Bishop                             Nancy Shipp
 
Past winners by Mario Stiehl, www.world-of-cycling.com