Noosa International Criterium - NE
Noosa, Qld, Australia, November 1, 2008
2007 Results Results Past winners
McEwen's bittersweet victory
Robbie McEwan (Silence Lotto)
Photo ©: Ben Mason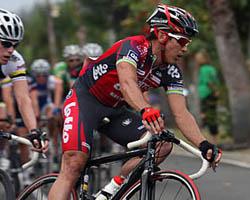 Riding yet another Noosa International Criterium on home turf, Australia's Robbie McEwen won one of Queensland's best-known races as a swansong of sorts for his Silence-Lotto team. In a tight finish the veteran sprinter took the win ahead of compatriot Henk Vogels and Jonathan Cantwell, who for the second consecutive year, found himself on the lower step of the podium.
Emotions were running high for Vogels, who will retire from professional racing at the end of the year. To celebrate his final Noosa race, Vogels' wife Cindy and three children were watching one of Australia's toughest and most experienced riders compete on one of his last outings.
"I can't believe my luck here today; my very last race in Noosa and to get caught by Robbie on the line... I am devastated," said Vogels. "I hit him with a lap to go and I thought I had him."
Henk Vogels (Toyota United)
Photo ©: Ben Mason

As a result, McEwen's win was somewhat bittersweet. Snatching a win from one of his former teammates and training partner in the closing seconds was tough, but he's a tough racer. Having arrived back in the country just three days ago McEwen was surprised at his form after a long flight and a bit of jet lag.
"I would have loved to have seen Henk win his last race," said a reserved McEwen. "On the final lap we were sprinting on full gas and I couldn't stop; I was only sitting a few metres out and Henk was on the attack. I sat up on the seat and thought there was another rider coming through so I went for it... You cannot stage a race like this.
"I have mixed feelings about today's win, I may have taken the event out but the moral victory is Henk's."
The race was also one of the last for Silence-Lotto's Nick Gates, who has been a regular by McEwen's side since 1994. "We have ridden the last six years together in Belgium, we train together, roomed together and with him stopping and not being there will be really strange," explained McEwen. "You cannot replace guys like Nick and Henk, riders like them don't come along too often."
Goss grabs first Noosa title
Tasmanian Belinda Goss opened up her season with a win in the women's race in Noosa, edging out national criterium champion Kirsty Broun and Skye-lee Armstrong.
"That was a good race, lots of attacks which kept the race fast... and it felt fast. It's a nice race when it's like that," said Goss.
Goss has produced some great results this season, including a bronze in the 10km scratch race at the World Championships in England, but was delighted with the win and said it's a real confidence boost ahead of her programme next year.
The day started off with a sprint for Belinda. Her bike failed to arrive on the same plane and it appeared just prior to the start. She then faced a field of nearly 30 riders in a race that was marked with plenty of attacks. The pace forced a few retirements in second half of the race as Lorian Graham and Armstrong inflicted most of the damage, with Ruth Corset also contributing to the tough conditions.
The big guns made their move in the final laps. Armstrong worked her way through the field after taking a break following the early pace-making and Broun sat comfortably at the front. Neither could match the strength of Goss however, who grabbed her first win in Noosa.
Goss had an early end to her road season with a forced break. "This is really just the start of my season, I head into camp tomorrow to prepare for the World Cup in Melbourne in December and then the national track champs in February."
Goss will race for the Toshiba team and contest the point score in the national track championships in February.
Photography
For a thumbnail gallery of these images, click here
Images by Ben Mason/www.benmason.com.au
Results
Elite men

1 Robbie McEwen (Aus) Silence-Lotto
2 Henk Vogels (Aus) Toyota United Cycling Team
3 Jonathan Cantwell
4 Deon Lock
5 Mark Ledgerwood

Elite women

1 Belinda Goss
2 Kirsty Broun
3 Skye-Lee Armstrong
4 Ruth Corset
5 Simone Grounds


Past winners
2007 Aaron Kemps (Aus) Astana                          Rochelle Gilmore (Aus)
2006 Allan Davis (Aus)
2005 Jaaron Poad (Aus)
2004 Robbie McEwen (Aus) Lotto-Domo
2003 Allan Davis (Aus) O.N.C.E.-Eroski
2002 Matt White (Aus) US Postal
2001 Robbie McEwen (Aus) Domo-Farm Frites
2000 Scott Sunderland (Aus) Palmans
1999 Marcel Wüst (Ger)
1998 Stuart O'Grady (Aus)
1997 Robbie McEwen (Aus)