Noosa International Criterium - NE
Noosa, Qld, Australia, November 3, 2007
2005 Results Results Past winners
Kemps claims biggest Noosa Crit pay day
Aaron Kemps (Astana)
Photo ©: Tim Francis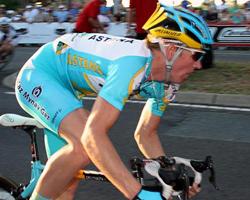 Australian professional rider Aaron Kemps (Astana) produced an explosion of speed to pick up a $50,000 booty in the richest one day criterium in the country in Saturday's Ridley Dash for Cash at Noosa. With a winner take all $50,000 on offer and two $5,000 primes also up for grabs, the Ridley Dash for Cash promised to be the biggest criterium ever seen at the Noosa Multisport Festival and it lived up to pre-race expectations.
The grand finale to Super Saturday delivered everything it promised with Kemps, fresh from the Herald Sun tour, upsetting the pre-race favourites, including Tour de France legend Robbie McEwen (Predictor-Lotto), to steal the money with a blistering last lap and a frantic sprint for the line.
The criterium at Noosa is always a high pressure affair, but this year there was an added intensity that was obvious from the starting gun. With so much up for grabs tactics more important than ever but the added incentive of two $5,000 primes, ensured there were no cruisy laps. With all the hype of the event and the class of the field assembled in Noosa, the 24 year-old from Bundaberg admitted to being a little on edge going into the race.
Henk Vogels (Toyota-United Pro) was just one
Photo ©: Tim Francis

"After I finished the Herald Sun tour I went to Tasmania on holiday," explained Kemps. "I have only touched the bike for about two hours, about three days this week and I thought I'd be very underdone. But obviously I still had a bit of form left."
"With a lot of money up for grabs, I was very nervous at the start line but also I had a bit of confidence," he added. "I think all the other guys in the race today were scared, they knew I'd just come off three wins at the Herald Sun Tour, they knew I was one of the guys to watch."
Picking up the first prime, Kemp was $5,000 richer but there were definitely bigger things in store for him later in the afternoon. "It was fast all day, I thought I'd try my luck early and went out early for that intermediate sprint, so I thought if it could get any money I'd go for one of them," explained Kemps.
Robbie McEwen (Predictor-Lotto),
Photo ©: Tim Francis

After 45 minutes of hard racing it still came down to who had the best legs on the day and that was Kemps. "The last three laps were so fast and the field was just strung out single file and anybody who was behind definitely wasn't coming back to the front," he explained. "I got myself in a good position on Graeme Browne's wheel and he led out for the sprint about just before the bridge. For last month I've been going strong and I just played my cards right and I was really happy to sprint around him and take the $50,000 first prize."
"To come away with the win is really exciting," Kemps said.
Baden Cooke (Unibet.com)
Photo ©: Tim Francis

Although one rider usually gets the accolades, elite cycling is a team sport and Kemps had plenty of praise for his Astana team-mates. "They've done a great deal, I've got to be grateful for my team-mates and a couple of other guys, they did a lot of work and obviously it paid dividends for me," said Kemps.
Asked what he was going to do with the huge financial windfall, Kemps said he would "split it a little bit with my team mates they've helped me today".
Kemps plans to take a short break before competing in Surfers Paradise and a criterium in Cronulla, the farewell race for Matt White of the Discovery Team. "I'll then prepare for next season," he noted. "I am back with Astana next year, they've got a complete new change of management taking over. I am racing with a lot of confidence and I'm looking forward to next year."
Gilmore rides into Noosa history
Rochelle Gilmore
Photo ©: Tim Francis

The cream of Australia's women cyclists made history by turning on an awesome display of riding in the inaugural Cannibal Women's Noosa Grand Prix criterium at the Noosa Triathlon Multisport Fesitval. A strong field assembled in Noosa for the race, including nine Beijing Olympic Games hopefuls, thrilled the huge crowd that was six deep along the hotdog course on Noosa Parade.
The heat of Noosa was matched only by the intense pressure on the track for the 30 minutes plus three lap event, with the lead continually changing and riders testing each other to see who had the legs for the gruelling run home.
It all came down to a bunch sprint and a mad dash for the line with the European-based Aussie Rochelle Gilmore from the Menikini team, riding herself into the record books with a blinding finish to out sprint Belinda Goss and Nicole Whitburn and claim the title.
Lorian Graham drives it along
Photo ©: Tim Francis

It was a tough day for Gilmore who not only had to battle against her competitors but also the effects of an illness that threatened to derail her Noosa debut. "I have been staying with my father in Tweed Heads and been sick in bed for a week," explained Gilmore. "I've had the flu, jetlag, tired, and been knocked out for a week, so I arrived here without high expectations."
"I wanted to have a rest after the European season but there are such good races like this with so many spectators and it is important for us to support women's racing in Australia," she added. "It was important for me to have a good race here in Noosa because we don't often get crowds like this in Australia. In Europe we get this every day but in Australia this is something really special for us."
The win in Noosa has kick started Gilmore's summer and her preparation for the Oceania Titles in New Zealand, the National Road Race Championships and possible qualification for the Beijing Olympics.
Photography
For a thumbnail gallery of these images, click here
Images by Tim Francis
Results
Elite Men

1 Aaron Kemps (Aus) Astana
2 Graham Brown (Aus) Rabobank
3 Jonathan Cantwell (Aus) Team Scody
4 Chris Sutton (Aus) Cofidis
5 Felix Odebrecht (Ger)

Elite Women

1 Rochelle Gilmore (Aus) 
2 Belinda Goss (Aus)
3 Nicole Whitburn (Aus)
4 Kirsty Broun (Aus)
5 Skye-lee Armstrong (Aus)

Past winners
2006 Allan Davis (Aus)
2005 Jaaron Poad (Aus)
2004 Robbie McEwen (Aus) Lotto-Domo
2003 Allan Davis (Aus) O.N.C.E.-Eroski
2002 Matt White (Aus) US Postal
2001 Robbie McEwen (Aus) Domo-Farm Frites
2000 Scott Sunderland (Aus) Palmans
1999 Marcel Wüst (Ger)
1998 Stuart O'Grady (Aus)
1997 Robbie McEwen (Aus)