6th Mount Hood Classic - NE/2.2W
Oregon, USA, May 13-18, 2008
Main Page Results Overall standings Previous Stage Next Stage
Stage 2 - May 15: Cooper Spur Circuit Race, 85/65 miles
Kiesanowski back in yellow, Lill takes over men's lead
By Mark Zalewski, North American Editor in Mt. Hood, Oregon
Kiesanowski takes field sprint for lead
Joanne Kiesenowski (TIBCO) regains the race leader's jersey
Photo ©: Mark Zalewski/Cyclingnews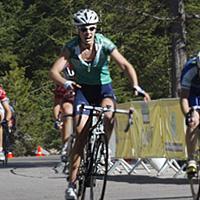 The first real road stage of the Mt. Hood Cycling Classic was a circuit race climbing up to the Cooper Mountain ski resort, with the women climbing to the top four times. While a break did form early on the group was all together on the final lap. France's Jeanie Longog-Ciprelli continued to be a one-woman team, attacking multiple times before and on the final climb. However, prologue winner Joanne Kiesanowski (TIBCO) would not be denied another yellow jersey, as she sprinted for her second stage win followed by Longog-Ciprelli.
"There was lots of attacking going on and I just kept waiting and waiting, staying in the top five trying to make the selection," she told Cyclingnews. "Aaron's did a lot on the front for the climb, and then Longo by herself!"
The yellow jersey on the road was worn by Tina Pic (Colavita-Sutter Home) which she gained for winning yesterday's criterium stage. Pic hung tough among the climbers, aided by a slow pace for much of the race, but could not find the legs for the sprint on the final ascent. "I was hoping to go at least for the sprint but I gotta work on the climbing a little more," she said.
On the final climb team-mate Tiffany Cromwell was giving her leader a push up the steep sections. "I was like, 'Tif just go, don't worry about grandma back here!'" she said laughing. Pic knows that her place now is working for her team-mates, and Cromwell is their best-placed rider. "I'll work for the girls. Tiffany finished up there and she is strong as an ox!"
Tomorrow's stage will be the defining moment for the race, a tough 18.5-mile time trial with tough climbing along the Columbia River gorge. Kiesanowski admitted that she is in unfamiliar territory with the race lead. "Let's just say I've only worn a yellow jersey like once or twice in my life, so it's a new experience for me! And starting last in the time trial will be a little crazy."
She also said that she is not known as a time trial specialist by any means, but is hoping that will change tomorrow. "Typically I'm not a time trialist, but I've definitely improved, as evident by the prologue. I told someone the other day that I will be a time trialist on Friday!"
The Aaron's team suffered a tough break on the day, as their designated climber Kristin Sanders, for whom they had been working for all day, crashed on the third QOM sprint and was forced to abandon after losing briefly consciousness and with stitches in her elbow. "Leah Hobson was coming around me on the right and honestly the next thing I know Carmen is picking me up off the ground. Somehow my front wheel was taken out from the right."
Her team had set the pace up the climb every lap to set her up, led by strong rider Meredith Miller. "Meredith is just amazing, she is just wonder woman! I don't know how she does it. She would take it from out on the highway and ride a nice steady pace all the way up."
Lill jumps at right time into lead
South African Darren Lill (BMC) attacked with one kilometre
Photo ©: Mark Zalewski/Cyclingnews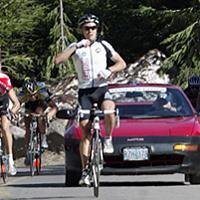 The men's race featured a large ten-rider break that rolled off early and had almost every team represented. But a lack of coherence in the group insured its demise, with the Bissell team riding the front all day to keep the race intact heading into tomorrow's time trial. With the break in sight the BMC team, with only a half-team here, pitched in to the effort to close things down. At the base of the climb the remnants of the break were swept up and it was a race to the top, with BMC's Darren Lill remembering last year's suffering on this course to make his revenge with a solo win.
"At the start of the stage my legs didn't feel that great, and I have bad memories of this stage from last year," he said. "I was just praying that today would be different. I put last year out of my mind and tried to conserve as much because the stage can be won in the final kilometre of the climb – it's the steepest part but then it flattens. If you can carry the momentum over the top it will be difficult for the group to catch. I just attacked all out and got the gap, but I felt like my legs were going to fall off! "
Lill held off the field which was led by second-place overall Rory Sutherland (Health Net-Maxxis). Sutherland, winner of last week's Joe Martin race in Arkansas, said he and team-mate Phil Zajicek were being watched by prologue winner Ben Jazques-Maynes (Bissell). "The other guys were just looking around and it looked like Jacques-Maybes was just covering me and Phil," he said about Lill's attack. "Phil and I got together and he rode as hard as he could, but once you get over the top with a gap that's it. Another day of seconds!"
The main break had all of the major teams represented, but some were representing their own interests. "I had a bad day but if everyone would have ridden together we would have had a chance," said Toyota-United's Chris Wherry. "It was just really unorganised and guys were attacking with 40 miles to go."
One of the guys sitting on the break was Burke Swindlehurst, looking out for his Bissell team's GC plans. "I was sitting on to protect our interests for the time trial, as were both the Health Net riders. That encouraged a lot of attacks, guys attacking all day," noted Swindlehurst.
"Bissell did most of the work and did a really good job keeping a steady tempo," said Lill. "The break was pretty big but started coming back in drips and drabs. We could see them at one point and knew they were going to come back, so we put a few guys on the front on the last two laps to make sure."
As for Lill's GC hopes, he is happy to have exacted his revenge on the course and will give his best shot in the time trial tomorrow. And even though the team is shorthanded, tomorrow is a one-rider show.
"Tomorrow is the time trial and that is up to me. If it goes well maybe I can retain the jersey. Even though we don't have as many guys we have a strong bunch."
With two riders in the top five, Health Net-Maxxis is looking strong – either with Sutherland or Zajicek. "I've just come off Joe Martin, and Georgia was pretty full-on for me. It's been pretty full-on all season. I don't feel fantastic but that doesn't mean I'm bad. I think I had a good day today and I think we both have a card to play. We can both have a good time trial tomorrow; it just depends on who has a great one."
Photography
For a thumbnail gallery of these images, click here
Images by Mark Zalewski/mzphoto.printroom.com
Images by Kurt Jambretz /www.actionimages.cc
Results
Pro men
 
1 Darren Lill (RSA) BMC Pro Cycling Team                                3.48.06 (35.982 km/h)
2 Rory Sutherland (Aus) Health Net/Maxis
3 Christian Meier (Can) Symmetrics Cycling
4 Freddy Rodriguez (USA) Rock Racing
5 Cesar Grajales (USA) Rock Racing
6 Caleb Manion (Can) Toyota-United
7 Matt Shriver (USA) Jittery Joe's
8 Benjamin Jacques-Maynes (USA) Bissell Pro Cycling Team
9 Justin England (USA) Toyota-United
10 Phil Zajicek (USA) Health Net/Maxis
11 Jesse Moore (USA) California Giant Berry Farms/ Specialized
12 Jonathan Garcia (USA) BMC Pro Cycling Team                              0.08
13 William Routley (Can) Symmetrics Cycling
14 Chris Baldwin (USA) Toyota-United
15 Daniel Bowman (USA) Kelly Benefit Strategies/Medifast
16 Michael Grabinger (USA) Successful Living.com P/B Parkpre
17 Michael Olheiser (USA) Memphis Motor Works/Carve
18 Michael Creed (USA) Rock Racing
19 Jacob Erker (Can) Symmetrics Cycling
20 Marco Rios (Mex) Liquid Cycling Elite Team
21 Neil Shirley (USA) Jittery Joe's
22 Edward King (USA) Bissell Pro Cycling Team
23 Andrew Pinfold (Can) Symmetrics Cycling
24 Justin Spinelli (USA) Kelly Benefit Strategies/Medifast
25 Bradley White (USA) Successful Living.com P/B Parkpre
26 Andrew Bajadali (USA) Kelly Benefit Strategies/Medifast
27 Morgan Schmitt (USA) Bissell Pro Cycling Team
28 Jamey Driscoll (USA) Fiordifrutta Elite Cycling Team
29 Adrian Gerrits (USA) Kahala La Grange
30 Nicholas Clayville (USA) Hagens Berman LLP Cycling Team
31 Matt Cooke (USA) Health Net/Maxis
32 Kirk O'Bee (USA) Health Net/Maxis
33 Taylor Shelden (USA) Rio Grande                                         0.22
34 Josh Dillon (USA) Fiordifrutta Elite Cycling Team
35 Roman Kilun (USA) Health Net/Maxis
36 Jonathan Mumford (USA) Kelly Benefit Strategies/Medifast                0.29
37 Ryan Hamity (USA) Rio Grande
37 Jeremy Vennell (NZl)) Bissell Pro Cycling Team
39 Corey Collier (USA) Health Net/Maxis
40 Burke Swindlehurst (USA) Bissell Pro Cycling Team
41 Ian McKissick (USA) BMC Pro Cycling Team
42 Ben Kneller (USA) Jittery Joe's
43 Christian Valenzuela (Mex) Successful Living.com P/B Parkpre            0.42
44 Curtis Gunn (USA) Successful Living.com P/B Parkpre                     0.45
45 Trevor Connor (Can) Chris Cookies/Swan Cycles                           0.54
46 Evan Elken (USA) Jittery Joe's                                          1.13
47 Rob Britton (Can) Trek Red-Truck Racing presented by Mosaic Homes       1.17
48 Alessandro Bazzana (Ita) Successful Living.com P/B Parkpre
49 Jonnie Clarke (USA) Toyota-United
50 Andy Jacques-Maynes (USA) California Giant Berry Farms/ Specialized     1.26
51 Aaron Olson (USA) Bissell Pro Cycling Team                              1.47
52 Mike Telega (USA) California Giant Berry Farms/ Specialized             2.00
53 David Clinger (USA) Rock Racing                                         2.02
54 Phil Gaimon (USA) Fiordifrutta Elite Cycling Team                       2.13
55 James Mattis (USA) California Giant Berry Farms/ Specialized            2.38
56 Matt Crane (USA) Health Net/Maxis
57 Andrew Randell (Can) Symmetrics Cycling
58 Craig Luekens (USA) Targetraining U25/Elite Development                 3.15
58 Justin Kerr (NZl) Liquid Cycling Elite Team
60 Josh Horowitz (USA) Liquid Cycling Elite Team
61 Ryan Anderson (Can) Symmetrics Cycling
62 Max Jenkins (USA) California Giant Berry Farms/ Specialized
63 Jason Sager (USA) MonavieCannondale.com
64 Tim Johnson (USA) Health Net/Maxis
65 Peter Dawson (Aus) Rock Racing
66 Doug Ollerenshaw (USA) Rock Racing
67 Christian Kearney (USA) ZteaM Cycling
68 Justin Rose (USA) Team Bobs-Bicycles.com
69 Jorge Alvarado (Mex) Kahala La Grange
70 Mitchell Trux (USA) Metromint Cycling on Marin Bikes
71 Matt Seagrave (USA) Kahala La Grange
72 Joe Wiley (USA) Kahala La Grange
73 Omer Kem (USA) Bissell Pro Cycling Team
74 Jamie Sparling (Can) Trek Red-Truck Racing presented by Mosaic Homes
75 Chris Stuart (USA) Team Bobs-Bicycles.com
76 Jonathan Gormick (Can) Kona-Adobe                                       3.39
77 Kevin Rowe (USA) Team Bobs-Bicycles.com                                 3.59
78 Brian Buchholz (USA) Kelly Benefit Strategies/Medifast                  4.36
79 Alister Ratcliff (USA) Fiordifrutta Elite Cycling Team
80 Dave Vukets (Can) Trek Red-Truck Racing presented by Mosaic Homes       4.37
81 Roman Van Uden (NZl) Team Rubicon
82 Kevin Noiles (Can) Trek Red-Truck Racing presented by Mosaic Homes
83 Daniel Harm (USA) Hagens Berman LLP Cycling Team
84 Adrian Hegyvary (USA) Hagens Berman LLP Cycling Team
85 Gustavo-Adolfo Mendez (USA) Kahala La Grange
86 Vincent Owens (USA) Sierra Pacific Racing
87 Rand Miller (USA) ZteaM Cycling
88 Ivan Stevic (Srb) Toyota-United                                         4.57
89 Dave Richter (USA) Benaroya Research Institute                          5.14
90 Sam Johnson (USA) Hagens Berman LLP Cycling Team                        5.29
91 Ben Day (Can) Toyota-United                                             5.48
92 Tom Githen (USA) Kahala La Grange
93 Chris Wherry (USA) Toyota-United
94 Ryan Trebon (USA) Kona-Adobe
95 Joe Saperstein (USA) Rio Grande
96 Osvaldo Olmos (USA) California Giant Berry Farms/ Specialized           7.00
97 Michael Sayers (USA) BMC Pro Cycling Team                               7.16
98 Anthony Akers (USA) Kahala La Grange
99 Matt White (USA) Fiordifrutta Elite Cycling Team
100 Colby Pearce (USA) Slipstream/Chipotle pb H3O                          8.34
101 Hayden Brooks (Aus) Fiordifrutta Elite Cycling Team                    9.09
102 Nicholas Waite (USA) Kelly Benefit Strategies/Medifast                10.35
103 Nathan Miller (USA) BMC Pro Cycling Team
104 Graham Howard (USA) Bissell Pro Cycling Team
105 Hilton Clarke (Aus) Toyota-United                                     10.56
106 Jeff Shestobitoff (Can) Symmetrics Cycling                            11.47
107 Tyler Trace (Can) Trek Red-Truck Racing presented by Mosaic Homes     13.10
108 Nate Page (USA) Contender Bicycles                                    13.58
109 Jackson Stewart (USA) BMC Pro Cycling Team                            14.03
110 Patrick Caro (USA) Liquid Cycling Elite Team                          17.01
111 Charles Dionne (Can) Successful Living.com P/B Parkpre
112 Chris Swan (USA) ZteaM Cycling
113 Logan Garey (USA) Rio Grande
114 Mike Zagorski (USA) Pacific Velo - IT&B
115 Dave Brooks (Can) Trek Red-Truck Racing presented by Mosaic Homes
116 Allen Krughoff (USA) Rio Grande                                       17.48
117 Tyler Dibble (USA) California Giant Berry Farms/ Specialized          18.27
118 Corey Carlson (USA) Rio Grande                                        27.04
119 Matt Weyen (USA) Team Bobs-Bicycles.com                               27.43
HD Nathan MacDonald (Can) Trek Red-Truck Racing presented by Mosaic Homes
HD Steve Weller (USA) Fiordifrutta Elite Cycling Team
HD Cody O'Reilly (USA) Successful Living.com P/B Parkpre
HD Travis Sherman (USA) Marx and Bensdorf/Tristar
DNF Kevin Klein (USA) Rock Racing
DNF Kris Koke (Aus) Liquid Cycling Elite Team
DNF Richard Speer (NZl) Liquid Cycling Elite Team
DNF Jacob MacArthur (USA) Hagens Berman LLP Cycling Team
DNF Joshua Bartlett (USA) Team Rubicon
DNF Shaun Morris (Aus) Team Rubicon
DNF Alex Rock (USA) Contender Bicycles
DNF Markus Weinberg (Ger) Dresdner SC
DNF Trevor Mays (USA) Gin Optics
DNF Erik Tonkin (USA) Kona-Adobe
DNF Sam Silvey (USA) Marx and Bensdorf/Tristar
DNF Tim Sherstobitoff (Can) Total Restoration Cycling Team
DNF Zach Winter (USA) Guinness
 
Pro women
 
1 Joanne Kiesanowski (NZl) Team TIBCO                                   3.30.28 (29.821 km/h)
2 Jeanie Longo-Ciprelli (Fra) River City Racing
3 Felicia Gomez (USA) Aaron's Professional Women's Cycling Team
4 Mara Abbott (USA) Discover Bicycles/Athletes for a Cure
5 Julie Beveridge (Can) Aaron's Professional Women's Cycling Team
6 Catherine Cheatley (NZl) Cheerwine Cycling
7 Tiffany Cromwell (USA) Colavita / Sutter Home p/b Cooking Light          0.03
8 Ruth Corset (Aus) Jazz Apple Cycling Team
9 Leigh Hobson (Can) Cheerwine Cycling
10 Leah Goldstein (Can) ValueAct Capital Cycling Team                      0.04
11 Kristin McGrath (USA) Colavita / Sutter Home p/b Cooking Light          0.06
11 Anne Samplonius (Can) Cheerwine Cycling
13 Gillian Moody (Can) River City Racing                                   0.07
14 Jenn Halladay (USA) Bobs-Bicycles.com
15 Kim Anderson (USA) Discover Bicycles/Athletes for a Cure                0.08
16 Andrea Dvorak (USA) Colavita / Sutter Home p/b Cooking Light            0.09
17 Suz Weldon (USA) Wines of Washington                                    0.15
18 Tina Pic (USA) Colavita / Sutter Home p/b Cooking Light                 0.18
19 Alison Testroete (Can) Aaron's Professional Women's Cycling Team
20 Stacy Marple (USA) Cheerwine Cycling
21 Dotsie Bausch (USA) Colavita / Sutter Home p/b Cooking Light
22 Sharon Allpress (USA) ValueAct Capital Cycling Team                     0.26
23 Sarah Barber (USA) Bobs-Bicycles.com
24 Maria Monica (USA) Touchstone Climbing Cycling                          0.39
25 Rachel Heal (GBr) Team TIBCO
26 Sarah Stewart (Can) Wines of Washington                                 0.42
27 Iona Wynter (Jam) Colavita / Sutter Home p/b Cooking Light              0.46
28 Betina Hold (USA) PROMAN Racing                                         0.47
29 Lauren Franges (USA) Team TIBCO                                         1.22
30 Victoria Bastide (Swe) Team TIBCO
31 Rebecca Larson (USA) Aaron's Professional Women's Cycling Team
32 Jacquelyn Crowell (USA) Team Kenda Tire
33 Alice Pennington (USA) VELOFORMA
34 Susy Pryde (USA) Jazz Apple Cycling Team
35 Meredith Miller (USA) Aaron's Professional Women's Cycling Team
36 Jane Robertson (USA) Metromint Cycling on Marin Bikes                   1.45
37 Erin Ford (USA) Discover Bicycles/Athletes for a Cure                   2.03
38 Beverly Harper (USA) Touchstone Climbing Cycling                        2.08
39 Tricia Bailey (USA) Wines of Washington
40 Ally Stacher (USA) Bobs-Bicycles.com                                    2.43
41 Molly Van Houweling (USA) Metromint Cycling on Marin Bikes              3.02
42 Kathleen Billington (USA) VELOFORMA                                     4.25
43 Heather Sborz (USA) Touchstone Climbing Cycling                         8.01
44 Emily Zell (USA) ValueAct Capital Cycling Team
45 Alison Shanks (NZl) Jazz Apple Cycling Team
46 Virginia Perkins (USA) PROMAN Racing
47 Lara Kroepsch (USA) ValueAct Capital Cycling Team                       8.45
48 Sarah Bamberger (USA) Cheerwine Cycling
49 Allison Beall (USA) Bobs-Bicycles.com                                   8.53
50 Marni Hambleton (Can) ValueAct Capital Cycling Team                     9.01
51 Megan Rathwell (Can) Touchstone Climbing Cycling                       15.17
52 Melodie Metzger (USA) PROMAN Racing
53 Amanda Eaken (USA) Metromint Cycling on Marin Bikes                    15.29
54 Megan Guarnier (USA) PROMAN Racing
55 Rebecka Hartkop (USA) VELOFORMA
56 Helen Kelly (Aus) Team TIBCO
57 Moriah Jo MacGregor (Can) Discover Bicycles/Athletes for a Cure        19.07
58 Martina Patella (USA) ValueAct Capital Cycling Team
59 Melissa Sanborn (USA) Discover Bicycles/Athletes for a Cure
60 Tina Brubaker (USA) VELOFORMA
61 Gabriela Gonzalez-Ferrat (Mex) Metromint Cycling on Marin Bikes        20.32
62 Heather Kay (Can) River City Racing
63 Lisa Turnbull (USA) Wines of Washington
64 Kelly Benjamin (USA) Cheerwine Cycling                                 22.56
65 Holly Borowski (USA) Touchstone Climbing Cycling                       24.12
66 Yukie Nakamura (Jpn) Team Kenda Tire                                   27.10
67 Elizabeth Nettles (USA) Team Kenda Tire
68 Jennifer Gaertner (USA) Bobs-Bicycles.com                              28.15
HD Sally Annis (USA) Metromint Cycling on Marin Bikes
HD Lauren Ellis (NZl) Jazz Apple Cycling Team
HD Sami Fournier (USA) River City Racing
HD Abby Lyn Cooper (USA) PROMAN Racing
HD Laura Brown (Can) Touchstone Climbing Cycling
DNF Kristin Sanders (USA) Aaron's Professional Women's Cycling Team
DNF Gina Kavesh (USA) Wines of Washington
DNF Leah Guloien (Can) Wines of Washington
DNF Kristina Seley (USA) PROMAN Racing
DNF Flavia Oliveira (USA) River City Racing
DNF Hilary Billington (USA) VELOFORMA
DNF Miranda Moon (USA) VELOFORMA
DNF Emma Petersen (NZl) Jazz Apple Cycling Team
DNF Belinda Goss (Aus) Jazz Apple Cycling Team
DNF Jen Joynt (USA) Metromint Cycling on Marin Bikes
 
Teams
 
Pro men
 
1 Rock Racing                                                          11.24.26
2 Toyota-United
3 Health Net/Maxis
4 Symmetrics Cycling                                                       0.08
5 Bissell Pro Cycling Team
6 Kelly Benefit Strategies/Medifast                                        0.16
7 BMC Pro Cycling Team                                                     0.29
8 Successful Living.com P/B Parkpre                                        0.50
9 Fiordifrutta Elite Cycling Team                                          2.35
10 California Giant Berry Farms/ Specialized                               3.18
11 Liquid Cycling Elite Team                                               6.30
12 Kahala La Grange
13 Rio Grande                                                              6.31
14 Trek Red-Truck Racing presented by Mosaic Homes                         9.01
15 Hagens Berman LLP Cycling Team                                          9.14
16 Team Bobs-Bicycles.com                                                 10.21
 
Pro women
 
1 Cheerwine Cycling                                                    10.31.33
2 Aaron's Professional Women's Cycling Team                                0.09
3 Colavita / Sutter Home p/b Cooking Light
4 Team TIBCO                                                               1.52
5 Discover Bicycles/Athletes for a Cure                                    2.02
6 Wines of Washington                                                      2.56
7 Bobs-Bicycles.com                                                        3.07
8 ValueAct Capital Cycling Team                                            8.22
9 Jazz Apple Cycling Team                                                  9.17
10 Touchstone Climbing Cycling                                            10.39
11 Metromint Cycling on Marin Bikes                                       20.07
12 River City Racing                                                      20.30
13 VELOFORMA                                                              21.07
14 PROMAN Racing                                                          23.56
15 Team Kenda Tire                                                        55.33
 
General Classification after 
 
Pro men
 
1 Darren Lill (RSA) BMC Pro Cycling Team                                5.20.22
2 Rory Sutherland (Aus) Health Net/Maxis                                   0.01
3 Benjamin Jacques-Maynes (USA) Bissell Pro Cycling Team                   0.06
4 Freddy Rodriguez (USA) Rock Racing                                       0.10
5 Phil Zajicek (USA) Health Net/Maxis                                      0.12
6 Christian Meier (Can) Symmetrics Cycling                                 0.14
7 Matt Shriver (USA) Jittery Joe's
8 Justin England (USA) Toyota-United                                       0.16
9 Jonathan Garcia (USA) BMC Pro Cycling Team                               0.17
10 Edward King (USA) Bissell Pro Cycling Team
11 William Routley (Can) Symmetrics Cycling                                0.19
12 Caleb Manion (Can) Toyota-United                                        0.21
13 Bradley White (USA) Successful Living.com P/B Parkpre
14 Michael Creed (USA) Rock Racing
15 Andrew Pinfold (Can) Symmetrics Cycling
16 Chris Baldwin (USA) Toyota-United
17 Kirk O'Bee (USA) Health Net/Maxis                                       0.22
18 Michael Olheiser (USA) Memphis Motor Works/Carve                        0.23
19 Daniel Bowman (USA) Kelly Benefit Strategies/Medifast
20 Morgan Schmitt (USA) Bissell Pro Cycling Team                           0.24
21 Jesse Moore (USA) California Giant Berry Farms/ Specialized
22 Matt Cooke (USA) Health Net/Maxis                                       0.26
23 Justin Spinelli (USA) Kelly Benefit Strategies/Medifast
24 Adrian Gerrits (USA) Kahala La Grange
25 Cesar Grajales (USA) Rock Racing                                        0.27
26 Jacob Erker (Can) Symmetrics Cycling
27 Nicholas Clayville (USA) Hagens Berman LLP Cycling Team                 0.28
28 Neil Shirley (USA) Jittery Joe's
29 Jamey Driscoll (USA) Fiordifrutta Elite Cycling Team
30 Andrew Bajadali (USA) Kelly Benefit Strategies/Medifast                 0.29
31 Marco Rios (Mex) Liquid Cycling Elite Team                              0.34
32 Roman Kilun (USA) Health Net/Maxis
33 Taylor Shelden (USA) Rio Grande                                         0.36
34 Ian McKissick (USA) BMC Pro Cycling Team                                0.39
35 Josh Dillon (USA) Fiordifrutta Elite Cycling Team                       0.40
36 Ben Kneller (USA) Jittery Joe's                                         0.41
37 Michael Grabinger (USA) Successful Living.com P/B Parkpre
38 Jonathan Mumford (USA) Kelly Benefit Strategies/Medifast                0.43
39 Corey Collier (USA) Health Net/Maxis                                    0.46
40 Burke Swindlehurst (USA) Bissell Pro Cycling Team                       0.48
41 Ryan Hamity (USA) Rio Grande                                            0.50
42 Christian Valenzuela (Mex) Successful Living.com P/B Parkpre            0.58
43 Curtis Gunn (USA) Successful Living.com P/B Parkpre                     0.59
44 Trevor Connor (Can) Chris Cookies/Swan Cycles                           1.23
45 Rob Britton (Can) Trek Red-Truck Racing presented by Mosaic Homes       1.29
46 Evan Elken (USA) Jittery Joe's                                          1.31
47 Jonnie Clarke (USA) Toyota-United                                       1.32
48 Andy Jacques-Maynes (USA) California Giant Berry Farms/ Specialized     1.36
49 Alessandro Bazzana (Ita) Successful Living.com P/B Parkpre              1.37
50 Aaron Olson (USA) Bissell Pro Cycling Team                              1.57
51 Mike Telega (USA) California Giant Berry Farms/ Specialized             2.15
52 David Clinger (USA) Rock Racing
53 Phil Gaimon (USA) Fiordifrutta Elite Cycling Team                       2.31
54 Matt Crane (USA) Health Net/Maxis                                       2.48
55 Andrew Randell (Can) Symmetrics Cycling                                 2.53
56 James Mattis (USA) California Giant Berry Farms/ Specialized            2.54
57 Peter Dawson (Aus) Rock Racing                                          3.26
58 Doug Ollerenshaw (USA) Rock Racing                                      3.27
59 Jamie Sparling (Can) Trek Red-Truck Racing presented by Mosaic Homes    3.29
60 Jeremy Vennell (NZl)) Bissell Pro Cycling Team                           3.32
61 Ryan Anderson (Can) Symmetrics Cycling                                  3.33
62 Tim Johnson (USA) Health Net/Maxis
63 Craig Luekens (USA) Targetraining U25/Elite Development
64 Joe Wiley (USA) Kahala La Grange
65 Justin Rose (USA) Team Bobs-Bicycles.com
66 Justin Kerr (NZl) Liquid Cycling Elite Team                             3.37
67 Max Jenkins (USA) California Giant Berry Farms/ Specialized             3.38
68 Jason Sager (USA) MonavieCannondale.com
69 Chris Stuart (USA) Team Bobs-Bicycles.com                               3.40
70 Christian Kearney (USA) ZteaM Cycling                                   3.41
71 Jorge Alvarado (Mex) Kahala La Grange                                   3.44
72 Jonathan Gormick (Can) Kona-Adobe                                       4.02
73 Matt Seagrave (USA) Kahala La Grange                                    4.04
74 Kevin Rowe (USA) Team Bobs-Bicycles.com                                 4.19
75 Daniel Harm (USA) Hagens Berman LLP Cycling Team                        4.50
76 Brian Buchholz (USA) Kelly Benefit Strategies/Medifast
77 Adrian Hegyvary (USA) Hagens Berman LLP Cycling Team                    4.52
78 Rand Miller (USA) ZteaM Cycling                                         4.56
79 Ivan Stevic SER Toyota-United                                           5.00
80 Alister Ratcliff (USA) Fiordifrutta Elite Cycling Team                  5.02
81 Dave Vukets (Can) Trek Red-Truck Racing presented by Mosaic Homes       5.04
82 Vincent Owens (USA) Sierra Pacific Racing
83 Omer Kem (USA) Bissell Pro Cycling Team                                 5.15
84 Roman Van Uden (NZl) Team Rubicon                                       5.23
85 Dave Richter (USA) Benaroya Research Institute                          5.38
86 Sam Johnson (USA) Hagens Berman LLP Cycling Team                        5.41
87 Ben Day (Can) Toyota-United                                             5.59
88 Chris Wherry (USA) Toyota-United                                        6.02
89 Tom Githen (USA) Kahala La Grange                                       6.07
90 Ryan Trebon (USA) Kona-Adobe                                            6.08
91 Joe Saperstein (USA) Rio Grande                                         6.13
92 Osvaldo Olmos (USA) California Giant Berry Farms/ Specialized           7.27
93 Matt White (USA) Fiordifrutta Elite Cycling Team
94 Michael Sayers (USA) BMC Pro Cycling Team                               7.44
95 Colby Pearce (USA) Slipstream/Chipotle pb H3O                           8.55
96 Hayden Brooks (Aus) Fiordifrutta Elite Cycling Team                     9.31
97 Hilton Clarke (Aus) Toyota-United                                      10.58
98 Nathan Miller (USA) BMC Pro Cycling Team                               11.00
99 Nicholas Waite (USA) Kelly Benefit Strategies/Medifast                 11.14
100 Jeff Shestobitoff (Can) Symmetrics Cycling                            12.06
101 Jackson Stewart (USA) BMC Pro Cycling Team                            14.32
102 Graham Howard (USA) Bissell Pro Cycling Team                          15.09
103 Tyler Trace (Can) Trek Red-Truck Racing presented by Mosaic Homes     16.41
104 Charles Dionne (Can) Successful Living.com P/B Parkpre                17.18
105 Logan Garey (USA) Rio Grande                                          17.19
106 Patrick Caro (USA) Liquid Cycling Elite Team                          17.22
107 Chris Swan (USA) ZteaM Cycling
108 Anthony Akers (USA) Kahala La Grange                                  17.39
109 Allen Krughoff (USA) Rio Grande                                       18.09
110 Josh Horowitz (USA) Liquid Cycling Elite Team                         18.29
111 Mitchell Trux (USA) Metromint Cycling on Marin Bikes                  19.13
112 Kevin Noiles (Can) Trek Red-Truck Racing presented by Mosaic Homes    19.17
113 Tyler Dibble (USA) California Giant Berry Farms/ Specialized          22.40
114 Gustavo-Adolfo Mendez (USA) Kahala La Grange                          23.03
115 Dave Brooks (Can) Trek Red-Truck Racing presented by Mosaic Homes     24.01
116 Nate Page (USA) Contender Bicycles                                    24.22
117 Matt Weyen (USA) Team Bobs-Bicycles.com                               29.30
118 Mike Zagorski (USA) Pacific Velo - IT&B                               30.14
119 Corey Carlson (USA) Rio Grande                                        37.31
 
Pro women
 
1 Joanne Kiesanowski (NZl) Team TIBCO                                   4.33.15
2 Julie Beveridge (Can) Aaron's Professional Women's Cycling Team          0.13
3 Felicia Gomez (USA) Aaron's Professional Women's Cycling Team            0.14
4 Jeanie Longo-Ciprelli (Fra) River City Racing                            0.17
5 Anne Samplonius (Can) Cheerwine Cycling                                  0.24
6 Leah Goldstein (Can) ValueAct Capital Cycling Team                       0.27
7 Tina Pic (USA) Colavita / Sutter Home p/b Cooking Light
8 Catherine Cheatley (NZl) Cheerwine Cycling                               0.28
9 Ruth Corset (Aus) Jazz Apple Cycling Team                                0.31
10 Kristin McGrath (USA) Colavita / Sutter Home p/b Cooking Light
11 Mara Abbott (USA) Discover Bicycles/Athletes for a Cure
12 Dotsie Bausch (USA) Colavita / Sutter Home p/b Cooking Light            0.34
13 Andrea Dvorak (USA) Colavita / Sutter Home p/b Cooking Light            0.35
14 Suz Weldon (USA) Wines of Washington                                    0.36
15 Leigh Hobson (Can) Cheerwine Cycling
16 Tiffany Cromwell (USA) Colavita / Sutter Home p/b Cooking Light         0.37
17 Jenn Halladay (USA) Bobs-Bicycles.com
18 Kim Anderson (USA) Discover Bicycles/Athletes for a Cure                0.39
19 Alison Testroete (Can) Aaron's Professional Women's Cycling Team        0.44
20 Stacy Marple (USA) Cheerwine Cycling                                    0.47
21 Sarah Barber (USA) Bobs-Bicycles.com                                    1.02
22 Rachel Heal (GBr) Team TIBCO                                            1.04
23 Sarah Stewart (Can) Wines of Washington                                 1.08
24 Sharon Allpress (USA) ValueAct Capital Cycling Team                     1.09
25 Gillian Moody (Can) River City Racing                                   1.10
26 Iona Wynter (Jam) Colavita / Sutter Home p/b Cooking Light              1.11
27 Betina Hold (USA) PROMAN Racing                                         1.19
28 Lauren Franges (USA) Team TIBCO                                         1.41
29 Rebecca Larson (USA) Aaron's Professional Women's Cycling Team          1.44
30 Alice Pennington (USA) VELOFORMA                                        1.56
31 Susy Pryde (USA) Jazz Apple Cycling Team                                1.59
32 Jacquelyn Crowell (USA) Team Kenda Tire                                 2.02
33 Meredith Miller (USA) Aaron's Professional Women's Cycling Team         2.07
34 Jane Robertson (USA) Metromint Cycling on Marin Bikes                   2.10
35 Tricia Bailey (USA) Wines of Washington                                 2.39
36 Victoria Bastide (Swe) Team TIBCO                                       2.50
37 Beverly Harper (USA) Touchstone Climbing Cycling                        3.01
38 Erin Ford (USA) Discover Bicycles/Athletes for a Cure                   3.04
39 Ally Stacher (USA) Bobs-Bicycles.com                                    3.49
40 Kathleen Billington (USA) VELOFORMA                                     5.03
41 Virginia Perkins (USA) PROMAN Racing                                    8.28
42 Maria Monica (USA) Touchstone Climbing Cycling                          8.41
43 Emily Zell (USA) ValueAct Capital Cycling Team                          8.45
44 Lara Kroepsch (USA) ValueAct Capital Cycling Team                       9.22
45 Marni Hambleton (Can) ValueAct Capital Cycling Team                     9.30
46 Sarah Bamberger (USA) Cheerwine Cycling                                 9.59
47 Molly Van Houweling (USA) Metromint Cycling on Marin Bikes             11.59
48 Alison Shanks (NZl) Jazz Apple Cycling Team                            12.54
49 Heather Sborz (USA) Touchstone Climbing Cycling                        15.54
50 Helen Kelly (Aus) Team TIBCO                                           16.20
51 Megan Guarnier (USA) PROMAN Racing                                     16.39
52 Melodie Metzger (USA) PROMAN Racing                                    17.27
53 Allison Beall (USA) Bobs-Bicycles.com                                  17.52
54 Melissa Sanborn (USA) Discover Bicycles/Athletes for a Cure            19.43
55 Martina Patella (USA) ValueAct Capital Cycling Team                    19.56
56 Rebecka Hartkop (USA) VELOFORMA                                        20.35
57 Heather Kay (Can) River City Racing                                    21.32
58 Amanda Eaken (USA) Metromint Cycling on Marin Bikes                    22.00
59 Megan Rathwell (Can) Touchstone Climbing Cycling                       23.28
60 Kelly Benjamin (USA) Cheerwine Cycling                                 24.05
61 Moriah Jo MacGregor (Can) Discover Bicycles/Athletes for a Cure        25.02
62 Tina Brubaker (USA) VELOFORMA                                          27.05
63 Lisa Turnbull (USA) Wines of Washington                                28.29
64 Gabriela Gonzalez-Ferrat (Mex) Metromint Cycling on Marin Bikes        29.48
65 Holly Borowski (USA) Touchstone Climbing Cycling                       30.20
66 Jennifer Gaertner (USA) Bobs-Bicycles.com                              33.20
67 Elizabeth Nettles (USA) Team Kenda Tire                                35.20
68 Yukie Nakamura (Jpn) Team Kenda Tire                                   36.26
 
Teams classification
 
Pro men
 
1 Toyota-United                                                        15.53.17
2 Rock Racing
3 Health Net/Maxis
4 Symmetrics Cycling                                                       0.08
5 Bissell Pro Cycling Team
6 Kelly Benefit Strategies/Medifast                                        0.16
7 BMC Pro Cycling Team                                                     0.29
8 Successful Living.com P/B Parkpre                                        0.50
9 Fiordifrutta Elite Cycling Team                                          2.35
10 California Giant Berry Farms/ Specialized                               3.18
11 Liquid Cycling Elite Team                                               6.30
12 Kahala La Grange
13 Rio Grande                                                              6.31
14 Trek Red-Truck Racing presented by Mosaic Homes                         9.01
15 Hagens Berman LLP Cycling Team                                          9.14
16 Team Bobs-Bicycles.com                                                 10.21
 
Pro women
 
1 Aaron's Professional Women's Cycling Team                            13.40.55
2 Colavita / Sutter Home p/b Cooking Light                                 0.08
3 Cheerwine Cycling
4 Team TIBCO                                                               1.49
5 Discover Bicycles/Athletes for a Cure                                    2.31
6 Wines of Washington                                                      3.10
7 Bobs-Bicycles.com                                                        3.57
8 ValueAct Capital Cycling Team                                            8.29
9 Jazz Apple Cycling Team                                                 14.07
10 River City Racing                                                      21.48
11 Touchstone Climbing Cycling                                            24.14
12 PROMAN Racing                                                          25.01
13 VELOFORMA                                                              26.08
14 Metromint Cycling on Marin Bikes                                       30.10
15 Team Kenda Tire                                                      1.12.38