6th Mount Hood Classic - NE/2.2W
Oregon, USA, May 13-18, 2008
2007 results Stage List Preview Start List Past winners
The Stages
Kitchen sink weather ready in Mt. Hood
By Mark Zalewski, North American Editor in Portland, Oregon
The organizers were not kidding when they said part of the course was "un-rideable".
Photo ©: Chad Sperry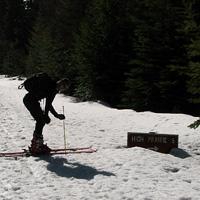 Sure it might say May on everyone's calendar, and the favorites in the men and women's races for the Mt. Hood Cycling Classic are likely coming from warm weather racing in southern places like Arkansas - but be warned, do NOT put away that cold weather clothing just yet. Record-setting weather of every kind seems to have hit the Mt. Hood area outside of Portland - including enough snow to cause a course re-route for the queen stage - the Wy'East road race up to Mt. Hood Meadows ski resort.
Organisers of the race announced this week that "due to substantial snow pack" the race start will change to The Dalles for the men and Dufur for the women. Despite the change, race spokesman Tre Hendricks said, "The new course, fortunately, is just as burly!" The race web site reports that the pro men's course will be 101 miles with 11,000 feet of climbing, while the women and amateur men will be race 75 miles with 8000 feet of climbing. The ski resort finish at 5,500 feet is also still open for skiing, so any rider not challenged enough could get in a few end-of-season runs.
The Mt. Hood region is always known... err, feared, for the variety of epic weather conditions presented to the racers - but this year should be more epic than usual, with record rains also hitting the area in recent weeks.
There will be no defending champion with Nathan O'Neill sitting out of competition for a doping violation, but Health Net-Maxxis is back with plenty of weapons. Two local boys, Kirk O'Bee who resides north in Vancouver and Matt Cooke from nearby Washington state are practically local, while Rory Sutherland is showing top form in both the Tour de Georgia and Joe Martin Stage Race. Cyclingnews readers will likely get a first person account of the weather from his popular diary. Phil Zajicek also comes to Health Net having finished second here last year with Navigators.
Mt. Hood provides the perfect backdrop
Photo ©: Kurt Jambretz

Toyota-United will also provide some favorites, including the two Chris' - Baldwin and Wherry. Both former national champions will do well with the challenging courses including a rolling 18.5 mile time trial. But the two Clarkes, crit specialist Hilton and almost-as-fast younger brother Jonny, will be salivating at the now two criterium courses that bookend the race - with stage one for the first time ever in downtown Portland and finishing up in downtown Hood River. But Justin England had the team's best finish last year here with fifth.
Symmetrics is another team to watch for as its Canadian riders will likely call this nasty weather "summer, eh?" But the team has ridden well as the clock counts down early on its season, and many will be looking to put in some top results in case they need to look for a new job in June. Rock Racing is coming but without the international contingent of controversial riders as they are busy contesting the Vuelta a Colombia. But local boy Doug Ollerenshaw from Portland is sure to show the local fans a thing or two.
Bissell Pro Cycling will be hurting a little from Tom Zirbel's injury at the Tour of the Gila the other week, but riders like Aaron Olsen and Ben Jacques-Maynes are ready to roll, as is Oregonian Omer Kem. And Kelly Benefits-Medifast will be showing that it is more than a crit team this year with additions to its roster such as Andy Bajadali.
Leigh Goldstein (Symmetrics)
Photo ©: Kurt Jambretz

On the women's side, which is UCI rated for the first time (2.2), there will be a defending champion, and a tough one at that. Three-time champion, in a row, Canadian Leah Goldstein will be the odds-on favorite again this year. And it could be an easier road to a win than last year, when she did with just one teammate in fellow Canadian Marni Hambleton, as she will be racing for the ValuAct Capital team with riders such as track world champion Katie Mactier. Hambleton will also be joining her on the team for the title defense.
American road champion Mara Abbott will be riding with her High Road team-mate Kim Anderson in support, but due to UCI rules they will be riding on a composite team. There is a rumour that multiple-time French champion Jeanie Longo will be competing as well.
The Aaron's team finished second through fourth overall last year and dominated the sprints with Katahrine Carroll, but will be without her services this time. However, strong riders such as last year's second-place Felicia Gomez, third-place Kristin Sanders and the addition of Meredith Miller from the former TEAm Lipton are ready to challenge Goldstein. Cheerwine's Kelly Benjamin will be a likely candidate to take up the increased sprinting opportunities with the addition of a second criterium.
The women of Colavita-Sutter Home will represent the sponsors here sans the male half, but could probably give many of the men's teams a challenge with riders such as recent Pan American pursuit gold medalist Dotsie Bausch and sprinter Tina Pic. As well, Team TIBCO has some contenders including US national team member Lauren Franges and Great Britain's Rachel Heal.
The racing begins Tuesday with an evening prologue along the Naito Parway in downtown Portland. Cyclingnews will have full reports and photos each day from all the action.
Start list
Coming!
Past winners
Men                                   Women
 
2007 Nathan O'Neill (Aus) Health Net  Leah Goldstein (Can) Symmetrics
2006 Nathan O'Neill (Aus) Health Net  Leah Goldstein (Isr) Symmetrics Cycling 
2005 Svein Tuft (Can) Symmetrics      Leah Goldstein (Can) Trek/Red Truck Beer Racing Team
 
Past winners by Mario Stiehl, www.world-of-cycling.com