4th Tour de Leelanau - 1.2
USA, May 25, 2008
2007 Results Results Past winners
Tolleson, Samplonius land Leelanau wins
By Mark Zalewski, North American Editor in Suttons Bay, Michigan
BMC blankets peloton to control for win
Taylor Tolleson (BMC) out-sprinted the long
Photo ©: Mark Zalewski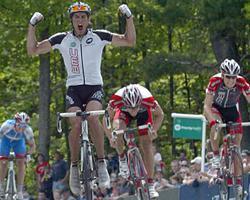 The rolling countryside of northern Michigan is infamous for its cherry production - sitting on the 45th parallel, equidistant from the equator to the north pole, the weather is ideal. But the hills here put a hurt on the peloton today, with a parcours more like a Belgian kermesse. The field quickly dwindled out of the start and the top pro teams shuffled to the front, with the winning break consisting of two BMC, two Bissell and one Successful Living for the final 20km. Tactics ensued the rest of the way but it was not until the final 100 meters that BMC's Taylor Tolleson was able to gap the other four, taking the win ahead of Bissell team-mates Ben Jacques-Maynes and Teddy King.
"It was a challenging course with all the up and down, and I'm glad the rain stopped," Tolleson said. "It reminded me a lot of a European-style race, a little like a Kermesse."
Despite each of the break riders attacking to try to reduce the numbers, all five entered the finish together, with the final 500 metres a curving uphill sprint. "Ben [Jacques-Maynes] whacked it at the bottom really hard and [Charles] Dionne was immediately on his wheel," said Tolleson. "[Darren] Lill was just in front of me so I just waited and waited until I thought it was 200 meters to go and got a little bit of gap inside the last 80 meters."
"It was the usual…'You work, no you work'," he said about the final 20 kilometres. "It was a tactical race all day, but our director Gavin had great tactics and the team rode well all day, so I'm just glad to give something back to them."
"I wanted to separate it out more, get Charles dropped and then dismantle it until it was one-on-one," said Jacques-Maynes. "But BMC wanted to take it to the line. And it worked well for them."
Even though Bissell could not win it for the home sponsor down in nearby Grand Rapids, Jacques-Maynes said this was good preparation for the upcoming Philly week of races. "A race like this is great to harden the legs for Philly," he said.
Most of the riders seemed to enjoy the tough course, and hope this race continues to grow. "If they made this race another 50 km this could easily be a classic," said Jacques-Maynes. "This is one of the hidden gems of American racing. It would be a great USPRO course."
The odd man out in the break was Quebecor Charles Dionne (Successful Living). Just returning from a long stretch off the bike to heal a broken elbow, Dionne was firstly happy to be there.
"Last week was my first race back after my broken elbow and it was 34 degrees celsius and a lot of long climbs in Mt. Hood, so I was suffering quite a bit," he said. "But I was better today so that is good. There were so many attacks going, so it made for a hard day. I got the sprinter jersey so at least we are on the podium."
"It was fun to be up there and it's where I want to be in two weeks," he said about Philly and his home race Tour de Beauce. "It's 100 percent improvement from last week."
While Successful Living put a lot of pressure on the field on the early climbs to thin the field, BMC did a textbook job of putting the contenders on the ropes early, including defending champion Garrett Peltonen and his Bissell team. Peltonen was in the second group on the road, but surrounded by BMC riders. While the leading break up the road played cat-and-mouse, he and team-mate Jeremy Vennell had to do the work to try to chase the break.
"We got close but not quite," said Peltonen. "[The BMC riders] started attacking us but if we had another five kilometres we would have caught [the leaders.]"
Tolleson was given bib number 13 on the day, and he proudly wore it upside down on his jersey - and it seems to be his lucky number. "It's my lucky number because it's my birthday," he laughed. "I was actually really pumped I had it!"
Cheerwine takes top two spots, Samplonius solos
Anne Samplonius (Cheerwine) rode solo off
Photo ©: Mark Zalewski

Anne Samplonius (Cheerwine) was just trying to make the race hard in the opening kilometers to soften Colavita-Sutter Home and TIBCO, who are rife with sprinters like defending champion Tina Pic and Joanne Kiesanowski. But what started as a solo break around 20km into the 112km race turned into the winning move, as the former world silver medalist in the time trial turned this road race into another time trial all the way to the finish.
"My main goal was to just hang out there - I was not going 100 percent," Samplonius told Cyclingnews. "At about 30 km to go I started going hard, otherwise I just kept my pace up, because I knew we had three other riders on my team to go if I got caught."
The tactics for the team was to make the rolling countryside bite into the legs of the others teams to neutralize their sprinters while giving her team's sprinter Laura Van Gilder a free ride. "The whole idea was to make the race as hard as possible so we put the hurt on the other teams right away," she said. "You have to put pressure to make the other teams work and we have such a good team here. I have Laura Van Gilder back there who is an awesome sprinter."
Back in the peloton, which was already small to begin with, due to a five rider maximum per team, TIBCO and Colavita-Sutter Home were left with a choice: burn matches to bring the break back or sit and wait to see if the course could do the work for them.
"We let her go right from the start and it looks like it was a big mistake," said TIBCO's Kiesanowski, who finished third on the day after chasing in the final kilometers with Cheerwine's Leigh Hobson sitting on her wheel. Hobson sprinted the tired Kiesanowski for second place on the line with Samplonius cheering on the radio.
"It put us on the back foot right from the start," said Kiesanowski. "We did some chasing and at the end, and I knew we had to at least get on the podium, which is why I dragged Leigh [Hobson] to the line. I knew it would be hard to beat her in the sprint but with Laura [Van Gilder] and Tina [Pic] behind us it was the better option."
"We were chasing but [Cheerwine was] really smart to have people up the road all day," said Tina Pic (Colavita-Sutter Home). "Once we chased down Laura they would put another up there and it would be them just sitting on getting a ride. We needed a few more to help chase because once I would chase it down another would attack."
"Colavita and us were trying but it wasn't a concerted chase," Kiesanowski added. "There were little breaks going off and at one point she was only 30 seconds away. I thought we were fine but I guess everyone died."
The small field was incongruous with the active racing, and riders like Van Gilder hope that this race only gets bigger. "It is a really great race that is well supported by the community, has a good prize list and a fun, race-able course," she said. "I was surprised to see the small field but we came here last year tried to talk it up all year.
"It's not epic climbing but that makes for a much more tactical race, because a course like this promotes a lot of strategy," she added.
Many of these riders were using this race to keep their legs ready for the upcoming UCI Women's World Cup race in Montréal and Le Tour du Grand Montréal. A native of Montréal, 2007 Canadian Time Trial Champion Samplonius was realistic about her chances there. "Montréal is a completely different course but this course really suited me," she said.
Photography
For a thumbnail gallery of these images, click here
Images by Mark Zalewski/Cyclingnews.com
Results
Pro men

1 Taylor Tolleson (USA) BMC                                     4.15.09
2 Ben Jacques-Maynes (USA) Bissell
3 Teddy King (USA) Bissell                                         0.01
4 Charles Dionne (Can) Successful Living                           0.02
5 Darren Lill (RSA) BMC                                            0.10
6 Brian Jensen (Den) Successful Living                             0.46
7 Brent Bookwalter (USA) BMC                                       0.52
8 Alessandro Bazzana (Ita) Successful Living                       0.53
9 Michael Sayers (USA) BMC
10 Mark Walters (Can) Team RACE Pro
11 Clayton Barrows (USA) Rite Aid Pro Cycling                      0.59
12 Aaron Olson (USA) Bissell                                       1.12
13 Jackson Stewart (USA) BMC                                       6.32
14 Jeremy Vennell (NZl) Bissell                                    6.33
15 Keir Plaice (Can) Team RACE Pro
16 Richard Geng (Ger) Rite Aid Pro Cycling
17 Michael Grabinger (USA) Successful Living
18 Ryan Roth (Can) Team RACE Pro                                   6.34
19 Ian Mckissick (USA) BMC                                         6.37
20 Steve Scholzen (USA) IS Corp Cycling Team
21 Bradley White (USA) Successful Living                           6.39
22 Garrett Peltonen (USA) Bissell                                  6.40
23 Graham Howard (USA) Bissell                                     6.52
24 Curtis Gunn (USA) Successful Living                             7.02
25 Tony Cruz (USA) BMC                                             7.03
26 Derrick St-John (Can) Jet Fuel Coffee                           7.04
27 John Doyle (USA) Priority Health U 23
28 Jared Gilyard (USA) ABG/Athletic Mentors                        7.05
29 Matt Busche (USA) IS Corp Cycling Team
30 Peter Morse (Can) Jet Fuel Coffee                               7.06
31 Ricardo Escuela (Arg) Successful Living
32 Jake Rytlewski (USA) Rite Aid Pro Cycling
33 Jonathon Garcia (USA) BMC                                       7.07
34 Kip Spaude (USA) IS Corp Cycling Team
35 Jonathon Prosser (Can) Aquila/Racer Sportif                     7.08
36 Matt Winstead (USA) Team Inferno Pro Cycling
37 Mark Santurbane (USA) Saturn of Toldeo                          7.12
38 Joel Dion-Poitras (Can) Team RACE Pro                           7.13
39 Derek Graham (USA) ABG/Athletic Mentors
40 Mark Batty (Can) Team RACE Pro                                  7.15
41 Adam Thuss (Can) Team RACE Pro                                  7.16
42 Richard England (Aus) Bissell
43 Derek Prechtl (USA) Hagerty Insurance                           7.22
44 Zach Mcbride (USA) Priority Health U 23                         7.23
45 Joe Cooper (NZl) Team Inferno Pro Cycling                       7.25
46 Jordan Roessingh (USA) IS Corp Cycling Team                     7.26
47 Cody O'reilly (USA) Successful Living                          12.45
48 Jeff Koch (USA) ABG/Athletic Mentors
DNF Andy Applegate (USA) Team Inferno Pro Cycling
DNF Ryan Gamm (USA) Team Inferno Pro Cycling
DNF Tim Swain (USA) Team Inferno Pro Cycling
DNF Robbie King (USA) Rite Aid Pro Cycling
DNF Miles Watson (NZl) Rite Aid Pro Cycling
DNF Thomas Kachelmeyer (USA) Team Giant-Michigan
DNF Terry Ritter (USA) Team Giant-Michigan
DNF Peter Ehmann (USA) Team Giant-Michigan
DNF Matt Baroli (USA) Team Giant-Michigan
DNF Ben Christian (USA) Team Giant-Michigan
DNF Ben Whitehead (USA) ABG/Athletic Mentors
DNF Derek Witte (USA) ABG/Athletic Mentors
DNF Andy Weir (USA) Priority Health/Two Wheel Tango
DNF Greg Battista (USA) Priority Health/Two Wheel Tango
DNF Matt Scott (USA) Priority Health/Two Wheel Tango
DNF Randy Hermann (USA) Priority Health/Two Wheel Tango
DNF Brian Rosewarne (USA) Priority Health/Two Wheel Tango
DNF Peter Schilling (USA) Priority Health/Two Wheel Tango
DNF Rich Stark (USA) Priority Health/Two Wheel Tango
DNF Roger Bowser (USA) Priority Health/Two Wheel Tango
DNF Gary Deangelis (USA) South Lyon Cycle
DNF Michael Simonson (USA) South Lyon Cycle
DNF Rob Iser (USA) South Lyon Cycle
DNF Alex Keomany (USA) South Lyon Cycle
DNF Steve Gordon (USA) South Lyon Cycle
DNF John Zaccone (USA) South Lyon Cycle
DNF Chris Aten (USA) South Lyon Cycle
DNF Eric Hinderager (USA) South Lyon Cycle
DNF David Williams (USA) Priority Health U 23
DNF Jordan Smitter (USA) Priority Health U 23
DNF Brian Hayden (USA) Priority Health U 23
DNF Daniel Mendoza (USA) Pista Elite
DNF Brian Nieport (USA) Pista Elite
DNF Ryan Sabga (USA) Pista Elite
DNF Adam Sczech (USA) Pista Elite
DNF John Stewart (USA) Pista Elite
DNF Matt Waite (USA) Pista Elite
DNF Isaac Smith (Can) Aquila/Racer Sportif
DNF Mike Amaral (Can) Aquila/Racer Sportif
DNF Justin Steeds (Can) Aquila/Racer Sportif
DNF Thomas Foster (Can) Aquila/Racer Sportif
DNF Kyle Jacobson (USA) IS Corp Cycling Team
DNF Eric Bean (USA) IS Corp Cycling Team
DNF Alex Wieseler (USA) IS Corp Cycling Team
DNF Eric Robertson (Can) Team RACE Pro
DNF Andrew Hunt (Can) Team RACE Pro
DNF Daniele Defranceschi (Can) Jet Fuel Coffee
DNF Kevin Hazzard (Can) Jet Fuel Coffee
DNF Bryson Bowers (Can) Jet Fuel Coffee
DNF David Byer (Can) Jet Fuel Coffee
DNF Robert Foshag (USA) Saturn of Toldeo
DNF Jon Card (USA) Saturn of Toldeo
DNF Brent Evans (USA) Saturn of Toldeo
DNF Shawn Adams (USA) Saturn of Toldeo
DNF William Mclaughlin (USA) Saturn of Toldeo
DNF Steve Clark (USA) Saturn of Toldeo
DNF Dan Hofstra (USA) Hagerty Insurance
DNF Myles Weitzman (USA) Hagerty Insurance
DNF Donald Fedrigon (USA) Hagerty Insurance
DNF Todd Vigland (USA) Hagerty Insurance
DNF Craig Webb (USA) Hagerty Insurance
DNF Norm Licht (USA) Hagerty Insurance
DNF Tim Barrons (USA) Hagerty Insurance
 
Pro women
 
1 Anne Samplonius (Can) Cheerwine                               2.58.05
2 Leigh Hobson (Can) Cheerwine                                     2.14
3 Joanne Kiesanowski (NZl) Team TIBCO                              2.16
4 Laura Van Gilder (USA) Cheerwine                                 3.00
5 Tina Pic (USA) Colavita/Sutter Home p/b Cooking Light            4.11
6 Iona Wyner-Parks (Jam) Colavita/Sutter Home p/b Cooking Light    5.47
7 Rachel Heal (GBr) Team TIBCO                                     5.54
8 Brooke Miller (USA) Team TIBCO                                   6.49
9 Tiffany Cromwell (Aus) Colavita/Sutter Home p/b Cooking Light    6.51
10 Natasha Elliot (Can) Team Giant - Michigan                      6.52
11 Sarah Maguire (USA) Bissell                                     6.53
12 Stacy Marple (USA) Cheerwine                                    6.58
13 Julie Bellerose (Can) Equipe Cascades                           7.02
14 Helen Kelly (Aus) Team TIBCO                                    7.09
15 Veronique Labonte (Can) Equipe Cascades                         7.11
16 Kacey Manderfield (USA) Verducci/Breakaway Racing               8.33
17 Aimee Lahann (USA) Priority Health                              9.29
HD Mackenzie Woodring (USA) Colavita/Sutter Home p/b Cooking Light
HD Jamie Dinkins (USA) Bissell
HD Anne Guzman (Dom) Team Kenda Tire
HD Jessie Maclean (Aus) Verducci/Breakaway Racing
HD Leslie Gaines (USA) Bissell
HD Kele Murdin (USA) Verducci/Breakaway Racing
HD Christy Mitchell (USA) Priority Health
HD Susan Vigland (USA) Hagerty Insurance
HD Lori Jug (USA) Team Kenda Tire
HD Johanna Schmidt (USA) Hagerty Insurance
HD Alicia Trevino (USA) Team Giant - Michigan
HD Joanie Caron (Can) Equipe Cascades
HD Karey Collins (USA) Team Giant - Michigan
DNF Johanne Cyr (Can) Equipe Cascades
DNF Jessica Burns (Can) Equipe Cascades
DNF Laura Johnson (USA) Priority Health
DNF Emily Flynn (USA) Priority Health
DNF Jen Mitchell (USA) Priority Health
DNF Beth Skau (USA) Bissell
DNF Susan Schubel (USA) Team Giant - Michigan
DNF Tara Tasma (USA) Team Giant - Michigan
DNF Yukie Nakamura (Jpn) Team Kenda Tire
DNF Debbie Dust (USA) Team Kenda Tire
DNF Erica Weitzman (USA) Hagerty Insurance
DNF Roberta Misko (USA) Hagerty Insurance
DNF Lauri Brockmiller (USA) Hagerty Insurance
DNF Theresa Cliff-Ryan (USA) Verducci/Breakaway Racing

Past winners
Men

2007 Garrett Peltonen (Priority Health)
2006 Eddy Hilger (Priority Health)
2005 Nick Reistad (Advantage Benefits)

Women

2007 Tina Pic (Priority Health)
2006 Mackenzie Woodring (Priority Health)
2005 Mackenzie Woodring (Advantage Benefits)