Joe Martin Stage Race - NE
Fayetteville, Arkansas, USA, May 8-11, 2008
Main Page Results Overall standings Previous Stage Next Stage
Stage 3 - May 10: Road Race, 92/69 miles
King catches sprinters off guard
By Kirsten Robbins in Fayetteville, Arkansas
Ted King (Bissell Pro Cycling) took a flyer in the final kilometer
Photo ©: Tom Ewart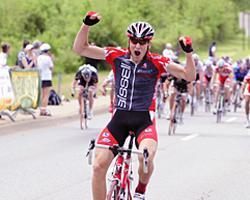 Edward King (Bissell) foiled the sprinting teams when he jumped away from the fast moving peloton with six hundred meters to go to take the stage victory from Sebastian Haedo (Colavita/Sutter Home) and Brad Huff (Jelly Belly) on the line.
"I think I beat them all to the punch today," King said of his surprise attack over a short highway overpass. "Coming into today I planned to have my 54x11 gearing put on my bike because I knew it would be a super fast down hill sprint so we had that in the cards all along."
Heavy cross winds allowed two riders to slip off the front in the first of three laps of the one hundred and forty five kilometre road race. Making up one half of the duo was Luis Amaran (Colavita/Sutter Home) who was also away for much of the stage yesterday. Today he was joined by Valarie Kobzarenko (Team Type 1).
Amaran attacked the field before the start of the first climb, seven kilometres into the stage and was later joined by Kobzarenko and for a short time his team-mate Jesse Anthony. "I felt strong yesterday and again today," he said of his consecutive one hundred kilometre effort. "We are protecting our GC rider Anthony Colby in second and I'm the kind of rider who has enough horsepower and can ride strong in a break.
"But with only two guys it was very complicated and it's too bad other teams didn't want to bridge across," he explained. The duo held a two and a half minute lead for much of the race, with HealthNet's seven riders controlling the rest of the peloton. "[It] was complicated because it was too hard for other guys to come across but not a big enough [gap] for us to hold it to the end."
Heath Net's overall leader Rory Sutherland put his boys to work for the second day. Rotating at just the right speed they kept the break-away hovering between two and three minutes, preparing for the right moment to pull the field back together on the last lap.
The men's podium
Photo ©: Kurt Jambretz

"The riders started out rolling through for the first fifty kilometres because they knew the break was very early," said Colavita/Sutter Home's director sportif Sebastian Alexandre. "When they were on the last lap, both Amaran and Kobzarenko worked very hard to try to stay away until the end, which is the reason they probably stayed away for so long."
HealthNet finally reeled in the two riders with eight kilometres remaining on the straight, lengthy road toward the Fayetteville finish. While team's Colavita/Sutter Home, Team Type 1 and HealthNet organized their lead out trains beside one another; Ted King seized his opportunity to attack while the field bunched up over the small rise before the descent down to the line.
"I'm not a sprinter so I knew I would win it up by going straight through the field on down hill," said King who knew the finale all to well after being caught on the line in the previous year's event. "I knew that at three kilometres out everyone was fighting for position. I had a good position, about fifteenth wheel and I attacked over the highway pass. Everyone was moving real quickly, it mushroomed out and so I went far to the left in a bigger gear, my 54."
Farina grabs unexpected race lead
Robin Farina (Cheerwine)
Photo ©: Kurt Jambretz

Robin Farina (Cheerwine) rolled through the Fayetteville finish line more than 10 minutes ahead of the peloton to take her first NRC victory and the overall race leader's jersey. Some time later, the field barreled down the straight in a sprint taken by Laura Van Gilder (Cheerwine) for second place with Mackenzie Woodring (Colavita/Sutter Home) rounding out third. Farina is currently leading the overall standings followed by her team-mate Catherine Cheatley and Mackenzie Woodring (Colavita/Sutter Home).
"I'm in a world a world of hurt right now," said Farina after her 100 kilometre break away. "No way did I ever think I would be in the leader's jersey after today, we wanted to keep Cheatley in it and defend it for the team. It was quite shocking."
Cheerwine started the stage with a healthy hold on the Joe Martin Stage Race with New Zealander Catherine Cheatley sitting in first and Marisa Asplund in third. But Farina turned the race on its head when she rolled off the front on lap one while every other team sat back and watched.
The rest of the peloton talks it over
Photo ©: Kurt Jambretz

While Colavita/Sutter Home's Mackenzie Woodring recognised her team's responsibility to chase, it was a case of too little too late as the women's field was neutralised when a men's category needed to pass on the course, doubling Farina's advantage to three minutes.
Officials were then forced to bring the women's race to a complete standstill for several minutes when the pro men's field need to pass, increasing Farina's lead to over 10 minutes.
Chief commissaire Dorothy Abbott emphasised the importance of safety anytime there is a "passing situation" (one group overtaking another category on the road) and offered her expertise on the situation. "It leaves the officials no option but to neutralise the group being overtaken," said Abbott regarding USA Cycling Rule Book section 3b3 entitled 'Road Closure'. It states that, similar to a rail road crossing, should the leaders get through a road closure or should circumstances not permit neutralisation, the closure shall be considered an unforeseeable incident and no compensation be allowed.
"It is standard procedure to treat this type of situation the same as we would treat any temporary road closure - railroad closure, for example," continued Abbott. "Neutralizing the women's field was the only option available for us to get the two other categories of riders past the women's field.
Laura Van Gilder (Cheerwine)
Photo ©: Kurt Jambretz

"In the second case, I gave instructions for the Women's field to be stopped at the safest location possible (if there was one; they pulled off at a wide intersection) until the Pro-1 Men's field had passed. The
According to Woodring, her team expected Cheerwine to continue chasing, but having only two team-mates in such windy conditions, she was disappointed in the lack of motivation from other teams. "I think we expected Cheerwine to attack and to be tough and dominating. But the attack that stuck was a big surprise, it was a surprise to watch the other teams not work to chase it down," said Woodring, who is currently third on GC.
The peloton continued an on-and-off chase combined with several attacks on the second and final circuit before the finish.
"It was a rough day with Cheerwine off the front in an attack that we really thought wouldn't stick, but I think everyone else thought that way too," said Woodring. "We kept it in check at a minute and thirty, until the men's field passed us and when we were neutralised the gap grew to three minutes, which made it unattainable to get back. When the pro men passed us we had to pull over and wait at the side of the road for a few minutes and when we were allowed to started again her gap had exploded."
The women's podium
Photo ©: Kurt Jambretz

Farina noted that she had little to no information on the size of her advantage during her long, lonely effort in the saddle. "I think the communication was lacking on what the gap was," she said. "Most of the time I had no communication on what was going on behind me. I had no idea what was going on up front, I just put my head down.
"I was feeling good and motivated we wanted to be aggressive and we wanted to keep people on the surprise keep people chasing. Conditions were tough and windy but on the backside I was able to go fast in the tail wind."
Crossing the line nearly ten minutes ahead of the peloton gave Farina ample time to watch her teammates form a lead out train for the field sprint. However, with 500 metres to go former race leader Catherine Cheatley crashed. "I had a couple of minutes to cool down and got to see the sprint finish and it was great that Laura did such a good job in the sprint and our lead out was great on the front. It was a great day - my team did a great job of keeping people from chasing too hard."
Photography
For a thumbnail gallery of these images, click here
Images by Tom Ewart/NWA Photography
Images by Kurt Jambretz/www.actionimages.cc
Results

1 Ted King (Bissell Pro Cycling)
2 Sebastian Haedo (Colavita/Sutter Home)
3 Brad Huff (Jelly Belly)

Women (unofficial)

1 Robin Farina  (Cheerwine)
2 Laura Van GIlder (Cheerwine)
3 Mackenzie Woodring (Colavita/Sutter Home)