29th International Bayern Rundfahrt - 2.HC
Germany, May 28-June 1, 2008
Main Page Results Overall standings Previous Stage Next Stage
Stage 4 - May 31: Neustadt a.d.Saale (ITT), 25.9 km
German day in Bavaria
By Susan Westemeyer
Schumacher turns up the power
Photo ©: Florian & Susanne Schaaf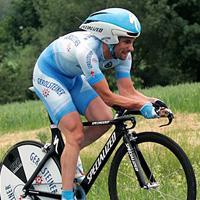 The German ProTour teams flexed their muscles in the fourth stage of the Bayern Rundfahrt, as Gerolsteiner's Stefan Schumacher won the 25,9 km time trial and Milram's Christian Knees took over the leader's jersey. Second place on the stage went to Stef Clement of Bouygues Telecom and third was Cyril Lemoine of Credit Agricole.
It was the first season win for Schumacher, who had come to the race as the defending champion, but lost seven minutes on the first stage. "This is my third time here at the Bayern Rundfahrt and my third stage win," he said. "Four years ago I had my very first pro win here, and last year I had the wonderful overall win. I have been very frustrated the last few days because of my pollen allergy, I felt terrible, and was very glad yesterday when it rained. Today I could finally breathe again and it was great to win again."
Schumacher had an early starting time and set a time of 32'57 which no one could beat. As the final riders came in, the reckoning started as to who would take over the leader's jersey. At first it looked as if Andreas Dietziker of Volksbank would take it, but Knees came in one second faster than the Swiss rider and propelled himself from fifth to first place. Dietziker is now second overall, three seconds down and Knees' team-mate Niki Terpstra is third, at six seconds, giving the Dutch youngster the best young rider's jersey.
Milram's Christian Knees
Photo ©: Florian & Susanne Schaaf

"I am incredibly happy and I think that our whole team has earned the yellow jersey with its performance," said Knees. "We are all pulling together and work very well together. Tomorrow we will do all we can to defend both jerseys. That surely won't be easy but if we continue to perform as we have so far in the Bayern Rundfahft, then we will make it."
Dietz and his Austrian Professional Continental team are going to put up a fight for the final title. "It will be a hectic finale," predicted Volksbank directeur sportif Patrick Vetsch. "Olaf Pollack will be going for his second stage win and Dietziker for the overall win. It will be hard but it's not unrealistic. It depends on how the stage goes, because our opponents won't be sleeping. The overall title would be nice but not at any price. We are well served with our performance so far in the race."
As expected, High Road's Gerald Ciolek lost the overall lead with a time 1'42 behind Schumacher, placing him 11th on the stage and fifth overall, 34 seconds down. He retained the sprinter's jersey.
Sunday's closing stage is a rolling 160 kilometres from Bad Neustadt a.d.Saale to Erlangen, and a mass sprint finish is expected.
Photography
For a thumbnail gallery of these images, click here
Images by Florian & Susanne Schaaf/cyclingpictures.de
Images by Sonja Csury/www.allaboutcycling.de
Results
1 Stefan Schumacher (Ger) Gerolsteiner                         32.57 (47.14 km/h)
2 Stef Clement (Ned) Bouygues Telecom                           0.22
3 Cyril Lemoine (Fra) Credit Agricole                           0.41
4 Christian Knees (Ger) Team Milram                             0.43
5 Andreas Dietziker (Swi) Team Volksbank                        0.45
6 Niki Terpstra (Ned) Team Milram                               0.48
7 Patrick Gretsch (Ger) Thüringer Energie Team                  0.55
8 Kim Kirchen (Lux) Team High Road                              0.56
9 Bert Grabsch (Ger) Team High Road                             0.58
10 Adriano Angeloni (Ita) Ceramica Flaminia Bossini Docce       1.02
11 Dainis Kairelis (Ltu) Ceramica Flaminia Bossini Docce        1.11
12 Bernhard Kohl (Aut) Gerolsteiner                             1.23
13 Lars Ytting Bak (Den) Team CSC                               1.31
14 Bjorn Glasner (Ger) Team Kuota-Senges                        1.32
15 Marcus Fothen (Ger) Gerolsteiner                             1.33
16 Thomas Rohregger (Aut) Elk Haus - Simplon                    1.36
17 Luke Roberts (Aus) Team Kuota-Senges                         1.40
18 Simon Gerrans (Aus) Credit Agricole                          1.41
19 Gerald Ciolek (Ger) Team High Road                           1.42
20 Bart Vanheule (Bel) Topsport Vlaanderen                      1.46
21 Gerhard Trampusch (Aut) Elk Haus - Simplon                   1.51
22 Björn Schröder (Ger) Team Milram                             1.52
23 Daniel Westmattelmann (Ger) Team Mapei Heizomat                  
24 Kristof Vandewalle (Bel) Topsport Vlaanderen                     
25 Malaya Van Ruitenbeek (Ned) Team Kuota-Senges                1.53
26 Paul Voss (Ger) Team 3C-Gruppe Lamonta                       1.54
27 Frederik Veuchelen (Bel) Topsport Vlaanderen                 1.56
28 Olaf Pollack (Ger) Team Volksbank                            2.00
29 Leonardo Giordani (Ita) Ceramica Flaminia Bossini Docce      2.01
30 Fabian Wegmann (Ger) Gerolsteiner                                
31 Marcel Kittel (Ger) Thüringer Energie Team                   2.02
32 Heinrich Haussler (Ger) Gerolsteiner                         2.05
33 Stanislav Kozubek (Cze) PSK Whirlpool - Author               2.13
34 Vladimir Duma (Ukr) Ceramica Flaminia Bossini Docce          2.17
35 Jose Joao Pimenta Costa Mendes (Por) Benfica                     
36 Karsten Kroon (Ned) Team CSC                                 2.21
37 Vincent Jérôme (Fra) Bouygues Telecom                        2.25
38 Serge Pauwels (Bel) Topsport Vlaanderen                      2.31
39 Helder Antonio Miranda Duarte (Por) Benfica                  2.35
40 Florian Stalder (Swi) Team Volksbank                         2.37
41 Maarten Neyens (Bel) Topsport Vlaanderen                     2.40
42 Daniel Schorn (Aut) Elk Haus - Simplon                           
43 Tomás Buchácek (Cze) PSK Whirlpool - Author                  2.42
44 Mario Jorge Da Costa Faria (Por) Benfica                     2.43
45 Johann Tschopp (Swi) Bouygues Telecom                            
46 Lucas Schädlich (Ger) Thüringer Energie Team                 2.44
47 Robert Retschke (Ger) Team Mapei Heizomat                        
48 Christian Leben (Ger) Team 3C-Gruppe Lamonta                 2.46
49 Evgeny Sokolov (Rus) Bouygues Telecom                        2.48
50 Thom Van Dulmen (Ned) Team Kuota-Senges                          
51 Jeremy Hunt (GBr) Credit Agricole                            2.53
52 Tobias Erler (Ger) Team 3C-Gruppe Lamonta                    2.54
53 Alessandro Donati (Ita) Acqua & Sapone - Caffe Mokambo           
54 Ronny Scholz (Ger) Gerolsteiner                              2.57
55 Martin Müller (Ger) Team Milram                              2.59
56 Leopold Konig (Cze) PSK Whirlpool - Author                       
57 Stuart O'grady (Aus) Team CSC                                3.00
58 Julien Belgy (Fra) Bouygues Telecom                          3.02
59 Eric Berthou (Fra) Credit Agricole                           3.06
60 Daniel Musiol (Ger) Team Volksbank                               
61 Marcus Ljungqvist (Swe) Team CSC                             3.10
62 Giampaolo Caruso (Ita) Ceramica Flaminia Bossini Docce       3.13
63 Bjorn Thurau (Ger) Elk Haus - Simplon                        3.14
64 Sebastian Hans (Ger) Team Mapei Heizomat                     3.16
65 Marcus Burghardt (Ger) Team High Road                        3.18
66 Mikel Pradera Rodriguez (Spa) Benfica                        3.19
67 Peter Wrolich (Aut) Gerolsteiner                                 
68 Antonio D'aniello (Ita) Ceramica Flaminia Bossini Docce      3.25
69 Olivier Bonnaire (Fra) Bouygues Telecom                          
70 Ralf Grabsch (Ger) Team Milram                                   
71 Moritz Mainzer (Ger) Team Kuota-Senges                       3.27
72 Artur Gajek (Ger) Team Milram                                3.31
73 Markus Eibegger (Aut) Elk Haus - Simplon                     3.33
74 Giovanni Bernaudeau (Fra) Bouygues Telecom                   3.34
75 Yannick Talabardon (Fra) Credit Agricole                     3.35
76 Giuseppe Palumbo (Ita) Acqua & Sapone - Caffe Mokambo        3.37
77 Bruno Miguel Castanheira Gomes (Por) Benfica                 3.39
78 Koen Barbe (Bel) Topsport Vlaanderen                         3.40
79 Rene Obst (Ger) Team 3C-Gruppe Lamonta                           
80 Philipp Klein (Ger) Thüringer Energie Team                   3.44
81 Felix Schäfermeier (Ger) Team 3C-Gruppe Lamonta              3.46
82 Luca Paolini (Ita) Acqua & Sapone - Caffe Mokambo                
83 Martin Mares (Cze) PSK Whirlpool - Author                    3.48
84 Mikhaylo Khalilov (Ukr) Ceramica Flaminia Bossini Docce      3.49
85 Matthias Friedemann (Ger) Team 3C-Gruppe Lamonta             3.51
86 Marcel Barth (Ger) Thüringer Energie Team                    3.52
87 Christoph Schwerdt (Ger) Team Mapei Heizomat                     
88 Marcel Sieberg (Ger) Team High Road                          3.53
89 André Korff (Ger) Team Volksbank                             4.00
90 Massimiliano Gentili (Ita) Acqua & Sapone - Caffe Mokambo    4.03
91 Gerrit Glomser (Aut) Team Volksbank                          4.04
92 Andrea Masciarelli (Ita) Acqua & Sapone - Caffe Mokambo          
93 Harald Morscher (Aut) Team Volksbank                         4.10
94 Michael Franzl (Ger) Team Mapei Heizomat                         
95 Frank Scherzinger (Ger) Team 3C-Gruppe Lamonta               4.12
96 Petr Bencik (Cze) PSK Whirlpool - Author                     4.14
97 Jean Marc Marino (Fra) Credit Agricole                       4.18
98 Andre Schulze (Ger) PSK Whirlpool - Author                   4.25
99 Javier Benítez Pomares (Spa) Benfica                         4.26
100 Kim Lachmann (Ger) Team Mapei Heizomat                      4.29
101 Mathias Jelitto (Ger) Team Kuota-Senges                     4.39
102 Steffen Radochla (Ger) Elk Haus - Simplon                   4.41
103 Andreas Klier (Ger) Team High Road                          4.46
104 Jakub Danacik (Cze) PSK Whirlpool - Author                  4.50
105 Florian Völk (Ger) Team Mapei Heizomat                      4.59
106 Nick Ingels (Bel) Topsport Vlaanderen                       5.03
107 Bruno Matos Sancho (Por) Benfica                            5.06
108 Karsten Hess (Ger) Thüringer Energie Team                   5.08
109 Stefan Ganser (Ger) Team Kuota-Senges                       5.11
110 Sebastian Schwager (Ger) Team Milram                        5.14
111 Daniel Becke (Ger) Thüringer Energie Team                   5.16
112 Scott Davis (Aus) Team High Road                            5.17
 
Teams
 
1 Gerolsteiner                                               1.41.47
2 Team Milram                                                   0.27
3 Team High Road                                                0.40
4 Ceramica Flaminia Bossini Docce                               1.18
5 Team Kuota-Senges                                             2.09
6 Credit Agricole                                               2.19
7 Team Volksbank                                                2.26
8 Bouygues Telecom                                              2.34
9 Topsport Vlaanderen                                           2.38
10 Thüringer Energie Team                                       2.45
11 Elk Haus - Simplon                                           3.11
12 Team CSC                                                     3.56
13 Team 3C-Gruppe Lamonta                                       4.38
14 Benfica                                                      4.39
15 Team Mapei Heizomat                                          4.56
16 PSK Whirlpool - Author                                       4.58
17 Acqua & Sapone - Caffe Mokambo                               7.21
 
General classification after stage 4
 
1 Christian Knees (Ger) Team Milram                         14.44.34
2 Andreas Dietziker (Swi) Team Volksbank                        0.03
3 Niki Terpstra (Ned) Team Milram                               0.06
4 Kim Kirchen (Lux) Team High Road                              0.14
5 Gerald Ciolek (Ger) Team High Road                            0.34
6 Bernhard Kohl (Aut) Gerolsteiner                              0.41
7 Lars Ytting Bak (Den) Team CSC                                0.49
8 Marcus Fothen (Ger) Gerolsteiner                              0.50
9 Bjorn Glasner (Ger) Team Kuota-Senges                             
10 Stef Clement (Ned) Bouygues Telecom                          0.53
11 Thomas Rohregger (Aut) Elk Haus - Simplon                    0.54
12 Luke Roberts (Aus) Team Kuota-Senges                         0.58
13 Bart Vanheule (Bel) Topsport Vlaanderen                      1.04
14 Dainis Kairelis (Ltu) Ceramica Flaminia Bossini Docce        1.06
15 Paul Voss (Ger) Team 3C-Gruppe Lamonta                           
16 Gerhard Trampusch (Aut) Elk Haus - Simplon                   1.09
17 Fabian Wegmann (Ger) Gerolsteiner                            1.10
18 Bert Grabsch (Ger) Team High Road                            1.12
19 Karsten Kroon (Ned) Team CSC                                 1.32
20 Serge Pauwels (Bel) Topsport Vlaanderen                      1.49
21 Florian Stalder (Swi) Team Volksbank                         1.55
22 Johann Tschopp (Swi) Bouygues Telecom                        2.01
23 Vincent Jérôme (Fra) Bouygues Telecom                        2.31
24 Giampaolo Caruso (Ita) Ceramica Flaminia Bossini Docce           
25 Björn Schröder (Ger) Team Milram                             2.32
26 Alessandro Donati (Ita) Acqua & Sapone - Caffe Mokambo       2.33
27 Mikel Pradera Rodriguez (Spa) Benfica                        2.37
28 Patrick Gretsch (Ger) Thüringer Energie Team                 2.45
29 Malaya Van Ruitenbeek (Ned) Team Kuota-Senges                2.48
30 Eric Berthou (Fra) Credit Agricole                           2.50
31 Yannick Talabardon (Fra) Credit Agricole                     2.52
32 Frederik Veuchelen (Bel) Topsport Vlaanderen                 2.53
33 Leonardo Giordani (Ita) Ceramica Flaminia Bossini Docce      3.04
34 Olivier Bonnaire (Fra) Bouygues Telecom                      3.09
35 Ralf Grabsch (Ger) Team Milram                                   
36 Massimiliano Gentili (Ita) Acqua & Sapone - Caffe Mokambo    3.21
37 Markus Eibegger (Aut) Elk Haus - Simplon                     3.28
38 Ronny Scholz (Ger) Gerolsteiner                              3.32
39 Antonio D'aniello (Ita) Ceramica Flaminia Bossini Docce      3.39
40 Kristof Vandewalle (Bel) Topsport Vlaanderen                 3.42
41 Robert Retschke (Ger) Team Mapei Heizomat                    3.52
42 Bjorn Thurau (Ger) Elk Haus - Simplon                        4.06
43 Marcel Sieberg (Ger) Team High Road                          4.24
44 Marcus Ljungqvist (Swe) Team CSC                                 
45 Jose Joao Pimenta Costa Mendes (Por) Benfica                 4.28
46 Evgeny Sokolov (Rus) Bouygues Telecom                        4.29
47 Daniel Musiol (Ger) Team Volksbank                           4.36
48 Cyril Lemoine (Fra) Credit Agricole                          5.09
49 Andrea Masciarelli (Ita) Acqua & Sapone - Caffe Mokambo      5.16
50 Daniel Westmattelmann (Ger) Team Mapei Heizomat              5.17
51 Simon Gerrans (Aus) Credit Agricole                          6.26
52 Sebastian Hans (Ger) Team Mapei Heizomat                         
53 Stefan Schumacher (Ger) Gerolsteiner                         6.30
54 Jakub Danacik (Cze) PSK Whirlpool - Author                   6.44
55 Christian Leben (Ger) Team 3C-Gruppe Lamonta                 6.46
56 Maarten Neyens (Bel) Topsport Vlaanderen                     7.28
57 Koen Barbe (Bel) Topsport Vlaanderen                         8.06
58 Harald Morscher (Aut) Team Volksbank                         8.27
59 Daniel Schorn (Aut) Elk Haus - Simplon                       8.57
60 Heinrich Haussler (Ger) Gerolsteiner                         9.12
61 Petr Bencik (Cze) PSK Whirlpool - Author                     9.28
62 Peter Wrolich (Aut) Gerolsteiner                             9.49
63 Mikhaylo Khalilov (Ukr) Ceramica Flaminia Bossini Docce     10.31
64 Marcus Burghardt (Ger) Team High Road                       10.40
65 Adriano Angeloni (Ita) Ceramica Flaminia Bossini Docce      10.43
66 Gerrit Glomser (Aut) Team Volksbank                         10.50
67 Tobias Erler (Ger) Team 3C-Gruppe Lamonta                   12.46
68 Jean Marc Marino (Fra) Credit Agricole                      13.33
69 Giuseppe Palumbo (Ita) Acqua & Sapone - Caffe Mokambo       14.07
70 Lucas Schädlich (Ger) Thüringer Energie Team                14.33
71 Luca Paolini (Ita) Acqua & Sapone - Caffe Mokambo           15.24
72 Stanislav Kozubek (Cze) PSK Whirlpool - Author              16.11
73 Jeremy Hunt (GBr) Credit Agricole                           16.29
74 Mario Jorge Da Costa Faria (Por) Benfica                    16.34
75 Helder Antonio Miranda Duarte (Por) Benfica                 16.35
76 Martin Mares (Cze) PSK Whirlpool - Author                   17.41
77 Giovanni Bernaudeau (Fra) Bouygues Telecom                  17.44
78 Bruno Miguel Castanheira Gomes (Por) Benfica                18.01
79 Javier Benítez Pomares (Spa) Benfica                        18.02
80 Artur Gajek (Ger) Team Milram                               19.09
81 Olaf Pollack (Ger) Team Volksbank                           19.22
82 Thom Van Dulmen (Ned) Team Kuota-Senges                     19.23
83 Stuart O'grady (Aus) Team CSC                               19.35
84 Felix Schäfermeier (Ger) Team 3C-Gruppe Lamonta             20.07
85 Bruno Matos Sancho (Por) Benfica                            20.16
86 Florian Völk (Ger) Team Mapei Heizomat                      21.20
87 Julien Belgy (Fra) Bouygues Telecom                         21.23
88 Martin Müller (Ger) Team Milram                             22.45
89 Nick Ingels (Bel) Topsport Vlaanderen                       23.39
90 André Korff (Ger) Team Volksbank                            24.06
91 Vladimir Duma (Ukr) Ceramica Flaminia Bossini Docce         25.00
92 Stefan Ganser (Ger) Team Kuota-Senges                       25.40
93 Leopold Konig (Cze) PSK Whirlpool - Author                  26.41
94 Scott Davis (Aus) Team High Road                            26.58
95 Kim Lachmann (Ger) Team Mapei Heizomat                      27.10
96 Tomás Buchácek (Cze) PSK Whirlpool - Author                 27.41
97 Sebastian Schwager (Ger) Team Milram                        27.58
98 Daniel Becke (Ger) Thüringer Energie Team                        
99 Moritz Mainzer (Ger) Team Kuota-Senges                      29.41
100 Christoph Schwerdt (Ger) Team Mapei Heizomat               29.48
101 Rene Obst (Ger) Team 3C-Gruppe Lamonta                     29.54
102 Philipp Klein (Ger) Thüringer Energie Team                 29.58
103 Marcel Barth (Ger) Thüringer Energie Team                  30.06
104 Mathias Jelitto (Ger) Team Kuota-Senges                    30.14
105 Michael Franzl (Ger) Team Mapei Heizomat                   30.24
106 Marcel Kittel (Ger) Thüringer Energie Team                 31.38
107 Matthias Friedemann (Ger) Team 3C-Gruppe Lamonta           34.50
108 Frank Scherzinger (Ger) Team 3C-Gruppe Lamonta             36.34
109 Andreas Klier (Ger) Team High Road                         37.09
110 Karsten Hess (Ger) Thüringer Energie Team                  40.10
111 Andre Schulze (Ger) PSK Whirlpool - Author                 43.53
112 Steffen Radochla (Ger) Elk Haus - Simplon                  44.09
 
Sprint classification
 
1 Gerald Ciolek (Ger) Team High Road                              14 pts
2 Matthias Friedemann (Ger) Team 3C-Gruppe Lamonta                12
3 Olaf Pollack (Ger) Team Volksbank                               10
4 Fabian Wegmann (Ger) Gerolsteiner                                7
5 Karsten Kroon (Ned) Team CSC                                     6
6 Luca Paolini (Ita) Acqua & Sapone - Caffe Mokambo                5
7 Christian Knees (Ger) Team Milram                                4
8 Paul Voss (Ger) Team 3C-Gruppe Lamonta                           4
9 Kim Lachmann (Ger) Team Mapei Heizomat                           3
10 Karsten Hess (Ger) Thüringer Energie Team                       3
11 Björn Schröder (Ger) Team Milram                                3
12 Serge Pauwels (Bel) Topsport Vlaanderen                         2
13 Andrea Masciarelli (Ita) Acqua & Sapone - Caffe Mokambo         2
14 Stefan Ganser (Ger) Team Kuota-Senges                           2
15 Daniel Becke (Ger) Thüringer Energie Team                       2
16 Marcus Fothen (Ger) Gerolsteiner                                1
17 Yannick Talabardon (Fra) Credit Agricole                        1
18 Robert Retschke (Ger) Team Mapei Heizomat                       1
19 Daniel Musiol (Ger) Team Volksbank                              1
20 Cyril Lemoine (Fra) Credit Agricole                             1
21 Bruno Matos Sancho (Por) Benfica                                1
22 Frank Scherzinger (Ger) Team 3C-Gruppe Lamonta                  1
 
Mountains classification
 
1 Thomas Rohregger (Aut) Elk Haus - Simplon                       11 pts
2 Daniel Becke (Ger) Thüringer Energie Team                        6
3 Fabian Wegmann (Ger) Gerolsteiner                                4
4 Kim Lachmann (Ger) Team Mapei Heizomat                           4
5 Stefan Ganser (Ger) Team Kuota-Senges                            3
6 Bernhard Kohl (Aut) Gerolsteiner                                 3
7 Olivier Bonnaire (Fra) Bouygues Telecom                          3
8 Vincent Jérôme (Fra) Bouygues Telecom                            2
9 Daniel Schorn (Aut) Elk Haus - Simplon                           2
10 Stanislav Kozubek (Cze) PSK Whirlpool - Author                  2
11 Karsten Hess (Ger) Thüringer Energie Team                       2
12 Giampaolo Caruso (Ita) Ceramica Flaminia Bossini Docce          1
13 Marcus Burghardt (Ger) Team High Road                           1
14 Frank Scherzinger (Ger) Team 3C-Gruppe Lamonta                  1
 
Young rider classification
 
1 Niki Terpstra (Ned) Team Milram                           14.44.40
2 Gerald Ciolek (Ger) Team High Road                            0.28
3 Paul Voss (Ger) Team 3C-Gruppe Lamonta                        1.00
4 Vincent Jérôme (Fra) Bouygues Telecom                         2.25
5 Patrick Gretsch (Ger) Thüringer Energie Team                  2.39
6 Markus Eibegger (Aut) Elk Haus - Simplon                      3.22
7 Kristof Vandewalle (Bel) Topsport Vlaanderen                  3.36
8 Bjorn Thurau (Ger) Elk Haus - Simplon                         4.00
9 Jose Joao Pimenta Costa Mendes (Por) Benfica                  4.22
10 Evgeny Sokolov (Rus) Bouygues Telecom                        4.23
11 Daniel Westmattelmann (Ger) Team Mapei Heizomat              5.11
12 Sebastian Hans (Ger) Team Mapei Heizomat                     6.20
13 Jakub Danacik (Cze) PSK Whirlpool - Author                   6.38
14 Christian Leben (Ger) Team 3C-Gruppe Lamonta                 6.40
15 Maarten Neyens (Bel) Topsport Vlaanderen                     7.22
16 Daniel Schorn (Aut) Elk Haus - Simplon                       8.51
17 Heinrich Haussler (Ger) Gerolsteiner                         9.06
18 Lucas Schädlich (Ger) Thüringer Energie Team                14.27
19 Mario Jorge Da Costa Faria (Por) Benfica                    16.28
20 Artur Gajek (Ger) Team Milram                               19.03
21 Thom Van Dulmen (Ned) Team Kuota-Senges                     19.17
22 Felix Schäfermeier (Ger) Team 3C-Gruppe Lamonta             20.01
23 Bruno Matos Sancho (Por) Benfica                            20.10
24 Florian Völk (Ger) Team Mapei Heizomat                      21.14
25 Nick Ingels (Bel) Topsport Vlaanderen                       23.33
26 Leopold Konig (Cze) PSK Whirlpool - Author                  26.35
27 Kim Lachmann (Ger) Team Mapei Heizomat                      27.04
28 Sebastian Schwager (Ger) Team Milram                        27.52
29 Moritz Mainzer (Ger) Team Kuota-Senges                      29.35
30 Christoph Schwerdt (Ger) Team Mapei Heizomat                29.42
31 Philipp Klein (Ger) Thüringer Energie Team                  29.52
32 Marcel Barth (Ger) Thüringer Energie Team                   30.00
33 Michael Franzl (Ger) Team Mapei Heizomat                    30.18
34 Marcel Kittel (Ger) Thüringer Energie Team                  31.32
35 Matthias Friedemann (Ger) Team 3C-Gruppe Lamonta            34.44
36 Frank Scherzinger (Ger) Team 3C-Gruppe Lamonta              36.28
37 Karsten Hess (Ger) Thüringer Energie Team                   40.04
 
Teams classification
 
1 Gerolsteiner                                              44.14.03
2 Team Milram                                                   0.59
3 Team High Road                                                1.57
4 Ceramica Flaminia Bossini Docce                               2.01
5 Elk Haus - Simplon                                            3.01
6 Team Kuota-Senges                                             3.58
7 Bouygues Telecom                                              3.59
8 Topsport Vlaanderen                                           4.01
9 Team Volksbank                                                4.58
10 Team CSC                                                     5.59
11 Credit Agricole                                              6.02
12 Acqua & Sapone - Caffe Mokambo                               8.00
13 Team 3C-Gruppe Lamonta                                      13.57
14 Team Mapei Heizomat                                         14.58
15 Benfica                                                     21.59
16 PSK Whirlpool - Author                                      27.58
17 Thüringer Energie Team                                      41.01