63rd Nokere Koerse - 1.1
Belgium, March 19, 2008
2007 Results Results Past winners
Weylandts takes Nokere in style
Wouter Weylandt (Quick-Step) rode superbly to take the 63rd edition
Photo ©: Stijn Vercaemer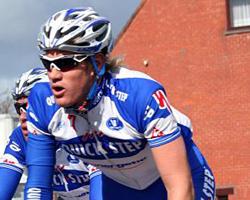 Twenty three year old Wouter Weylandt (Quick Step) took the 63rd edition of Nokere Koerse in a mass sprint ahead of neo-pro Jürgen Roelandts (Silence - Lotto) and the German ProTour leader André Greipel (High Road).
Shortly after racing got underway three riders, Sep Vanmarcke (Davitamon - Lotto - Jong Vlaanderen), Bjorn Papstein (Team 3C - Gruppe Lamonta) and David Boucher (Landbouwkrediet), escaped the peloton. By the time they reached the start of the 14.8km finishing loop, which included the infamous Nokereberg of which they were to ride ten times they had built up a lead of 4.48 over the peloton which had broken into two large groups.
Shortly after the first ascent of the Nokereberg the main field came back together as the large front group slowed to allow the chasers to latch back on. This slowing allowed the leaders to build up a lead of around ten minutes. The lack of any serious speed in the peloton prompted the race organisers to relay a message via race radio that they needed to lift the pace or there would be chaos for the traffic which was waiting patiently for the race to pass. Almost instantly the peloton reacted and the lead of the trio was brought back to seven minutes with 70km remaining.
With 45km to the line, Hungarian Laszlo Bodrogi made the first serious move off the front of the peloton but was quickly reeled back. Out front the three leaders were still working away in the hope that their bold move would pay off with a win - or at least the maximum amount of TV time - but with 25km to go they were swallowed up by the peloton.
As the main field passed the finish line for a lap to go, Kevin Hulsmans lifted the pace in an attempt to thin out the large main field and give himself and his team-mates a greater chance for the win. His efforts were not in vain as around 40 riders moved clear.
Laurens ten Dam (Rabobank) and Domenik Klemme (Team 3C - Gruppe Lamonta) were the next to try their luck, but were unable to gain a big enough advantage as the group hit the final ascent of the Nokereberg all together. Coming into the finish, initially it looked like Roelandts would finish on the top step but Weylandts speed was too great as he crossed the line arms aloft to take the Belgian semi-classic.
Photography
For a thumbnail gallery of these images, click here
Images by Stijn Vercaemer/www.cyclingview.be
Results - 196 km

1 Wouter Weylandt (Bel) Quick Step                                                4.48.31 (40.759 km/h)
2 Jurgen Roelandts (Bel) Silence - Lotto
3 André Greipel (Ger) Team High Road
4 Bobbie Traksel (Ned) P3Transfer - Batavus
5 Sjef De Wilde (Bel) Willems Veranda's Continental Team
6 Yauheni Hutarovich (Blr) Française des Jeux
7 Niko Eeckhout (Bel) Topsport Vlaanderen
8 Fabien Bacquet (Fra) Skil-Shimano
9 Frédéric Amorison (Bel) Landbouwkrediet - Tönissteiner
10 Dennis Pohl (Ger) Team 3C - Gruppe Lamonta
11 Bert De Waele (Bel) Landbouwkrediet - Tönissteiner
12 Matthias Friedemann (Ger) Team 3C - Gruppe Lamonta
13 Johan Coenen (Bel) Topsport Vlaanderen
14 Mark Renshaw (Aus) Crédit Agricole
15 Tom Veelers (Ned) Skil-Shimano
16 Yoann Offredo (Fra) Française des Jeux
17 Daniel Lloyd (GBr) An Post - M. Donnelly - Grant Thornton - Sean Kelly Team
18 René Joergensen (Den) Team Designa Køkken
19 Mathieu Criquielion (Bel) Mitsubishi-Jartazi
20 Johnny Hoogerland (Ned) Van Vliet - EBH Elshof
21 Kurt Hovelynck (Bel) Topsport Vlaanderen
22 Paidi O'Brien (Irl) An Post - M. Donnelly - Grant Thornton - Sean Kelly Team
23 Geert Steurs (Bel) Silence - Lotto
24 Tobias Erler (Ger) Team 3C - Gruppe Lamonta
25 Bauke Mollema (Ned) Rabobank
26 Kristof De Zutter (Bel) Willems Veranda's Continental Team
27 Stefan Ganser (Ger) Team Kuota - Senges
28 Jan Kuyckx (Bel) Landbouwkrediet - Tönissteiner
29 Guennadi Mikhailov (Rus) Mitsubishi-Jartazi
30 Wim De Vocht (Bel) Silence - Lotto
31 Aart Vierhouten (Ned) P3Transfer - Batavus
32 Edvald Boasson Hagen (Nor) Team High Road
33 John Devine (USA) Team High Road
34 Stefan Van Dijk (Ned) Mitsubishi-Jartazi
35 Tomas Buchacek (Cze) PSK Whirlpool - Author
36 Stijn Ennekens (Bel) Willems Veranda's Continental Team                           0.20
37 Janek Tombak (Est) Mitsubishi-Jartazi
38 Andreas Klier (Ger) Team High Road
39 Dmytro Grabovskyy (Ukr) Quick Step
40 Bastian Giling (Ned) Cycle Collstrop
41 Steffen Wesemann (Swi) Cycle Collstrop
42 Frantisek Rabon (Cze) Team High Road
43 Romain Zingle (Bel) Groupe Gobert.com
44 Yannick Talabardon (Fra) Crédit Agricole
45 Tom Criel (Bel) Cycle Collstrop                                                   0.31
46 Matthé Pronk (Ned) Cycle Collstrop                                                0.34
47 James Vanlandschoot (Bel) Mitsubishi-Jartazi
48 Koen Barbe (Bel) Topsport Vlaanderen
49 Arnaud Gérard (Fra) Française des Jeux
50 David Kopp (Ger) Cycle Collstrop
51 Jean-Paul Simon (Bel) Josan Mercedes Benz Aalst CT                                0.40
52 Igor Abakoumov (Rus) Mitsubishi-Jartazi
53 Michiel Elijzen (Ned) Rabobank
54 Kenny Van Braeckel (Bel) Willems Veranda's Continental Team
55 Kevin Hulsmans (Bel) Quick Step
56 Quincy Vens (Bel) Davitamon - Lotto - Jong Vlaanderen
57 Björn Papstein (Ger) Team 3C - Gruppe Lamonta
58 Justas Volungevicius (Ltu) Rietumu Bank-Riga
59 Rikke Dijkxhoorn (Ned) Van Vliet - EBH Elshof
60 Kasper Jebjerg (Den) Team Designa Køkken
61 Arnoud Van Groen (Ned) P3Transfer - Batavus
62 Jérémy Roy (Fra) Française des Jeux
63 Maarten Den Bakker (Ned) Skil-Shimano
64 Laszlo Bodrogi (Hun) Crédit Agricole
65 Kenny Robert Van Hummel (Ned) Skil-Shimano
66 Kristof Vandewalle (Bel) Topsport Vlaanderen
67 Wim Botman (Ned) P3Transfer - Batavus
68 Filip Meirhaeghe (Bel) Landbouwkrediet - Tönissteiner
69 Tom Leezer (Ned) Rabobank
70 Greg Van Aevermaet (Bel) Silence - Lotto
71 Thomas Bodo (Fra) Differdange - Apiflo Vacances
72 Bram Schmitz (Ned) Van Vliet - EBH Elshof
73 Ivor Bruin (Ned) Van Vliet - EBH Elshof
74 Jan Boven (Ned) Rabobank
75 Geert Omloop (Bel) Mitsubishi-Jartazi
76 Dimitri Claeys (Bel) Davitamon - Lotto - Jong Vlaanderen
77 Detlef Moerman (Bel) Willems Veranda's Continental Team
78 Viktor Folkesson (Swe) An Post - M. Donnelly - Grant Thornton - Sean Kelly Team
79 Markku Ainsalu (Est) Rietumu Bank - Riga
80 Jonathan Hivert (Fra) Crédit Agricole
81 Maurice Vrijmoed (Ned) Van Vliet - EBH Elshof
82 Maxime Méderel (Fra) Crédit Agricole
83 Arturs Ansons (Lat) Rietumu Bank-Riga
84 René Obst (Ger) Team 3C - Gruppe Lamonta
85 Timothy Vangheel (Bel) P3Transfer - Batavus
86 Pieter Jacobs (Bel) Silence - Lotto
87 Vojtech Dlouhy (Cze) PSK Whirlpool - Author
88 Bert Roesems (Bel) Silence - Lotto
89 Sébastien Rosseler (Bel) Quick Step
90 David Boucher (Fra) Landbouwkrediet - Tönissteiner
91 Hubert Schwab (Swi) Quick Step
92 André Schulze (Ger) PSK Whirlpool - Author
93 Leonardo Scarselli (Ita) Quick Step
94 Sebastian Forke (Ger) Team 3C - Gruppe Lamonta
95 Bram De Groot (Ned) Rabobank
96 Dennis Kreder (Ned) Van Vliet - EBH Elshof
97 Manman Van Ruitenbeek (Ned) Van Vliet - EBH Elshof
98 Laurens Ten Dam (Ned) Rabobank
99 Nick Gates (Aus) Silence - Lotto
100 Martin Mares (Cze) PSK Whirlpool - Author
101 Rick Flens (Ned) Rabobank                                                        2.16
102 Kenny Lisabeth (Bel) An Post - M. Donnelly - Grant Thornton - Sean Kelly Team    2.57
103 Stanislav Kozubek (Cze) PSK Whirlpool - Author                                   3.01
104 Kevin Neirynck (Bel) Landbouwkrediet - Tönissteiner                              3.59


Past winners
1st                           2nd                          3rd
2007  Leon Van Bon (Ned)      Aart Vierhouten (Ned)        Geert Steurs (Bel)
2006  Bert Roesems (Bel)      Wouter Weylandt (Bel)        Jeremy Hunt (GBr)
2005  Steven De Jongh (Ned)   Igor Abakoumov (Bel)         Geert Omloop (Bel)
2004  Max Van Heeswijk (Ned)  Rudi Kemna (Ned)             Jo Planckaert (Bel)
2003  Matthé Pronk (Ned)      Magnus Backstedt (Swe)       Hendrik Van Dijck (Bel)
2002  Aurélien Clerc (Swi)    Jans Koerts (Ned)            Steven De Jongh (Ned)
2001  Michel Van Haecke       Bart Voskamp (Ned)           Nico Eeckhout (Bel)
2000  Hendrik Van Dyck        Nico Mattan                  Jan Koerts (Ned)
1999  Jeroen Blijlevens       Michel Van Haecke            Wielfried Cretskens
1998  Scott Sunderland (Aus)  Leon Van Bon (Ned)           Chris Peers
1997  Hendrik Van Dyck        Wim Feys                     Bart Voskamp (Ned)
1996  Hendrik Van Dyck        Jelle Nijdam (Ned)           Michel Cornelisse (Ned)
1995  Jo Planckaert           Michel Vermote               Geert Van Bondt
1994  Peter De Clercq         Michel Cornelisse            Chris Peers
1993  Michel Cornelisse (Ned) Jan Bogaert                  Mario De Clercq
1992  Johan Capiot            Peter De Clercq              Benjamin Van Itterbeeck
1991  Koen Van Rooy           Johan Capiot                 Martin Koekelhoren (Ned)
1990  Herman Frison           Roger Vandenbossche          Filip Van Vooren
1989  Rik Van Slycke          Andrzej Mierzejewski (Pol)   Peter Spanhoven
1988  Patrick Versluys        Yves Godimus                 Danny Janssens
1987  Etienne De Wilde        Francky Van Oyen             Ludo Giesberts
1986  Luc Colyn               Jan Van Camp                 Rony Van Holen
1985  Didier Foubert          Patrick Versluys             Jan Bogaert
1984  Jan Bogaert             Patrick Versluys             Eric Stevens
1983  Walter Schoonjans       Patrick Cocquyt              Gerald Veldschoten (Ned)
1982  William Tackaert        Ludo De Keulenaer            Rudi Matthys
1981  Gerrit Knetemann (Ned)  Herman Van Springel          Claude Criquelion
1980  Jos Van De Poel         Johan Vandevelde (Ned)       Paul Jesson (NZl)
1979  Hendrik De Vos          William Tackaert             Tony Houbrechts
1978  Gustaaf Van Roosbroeck  Jan Aling (Ned)              Jos Jacobs
1977  Frans Van Looy          Gerrit Knetemann (Ned)       Roberto Cerieto (Ita)
1976  Luc Leman               Lucien De Brauwere           Geert Malfait
1975  Marc De Meyer           Willy Teirlinck              Jan Raas (Ned)
1974  Freddy Maertens         Pierrino Gavazzi (Ita)       Ronald De Witte
1973  Noël Van Tieghem        Claude Magni (Fra)           Gerard Vianen (Ned)
1972  Tony Houbrechts         Rony Van Marcke              Willy Planckaert
1971  Herman Van Springel     Eric Leman                   Maurice Eyers
1970  Andre Dierickx          Patrick Sercu                Bernard Van De Kerkhove
1969  Roger Rosiers           Frans Mintjes                Michel Jacquemin
1968  Frans Brands            Roger Cooreman               Michel Jacquemin
1967  Walter Godefroot        Jacques De Boever            Roger Blockx
1966  Jacques De Boever       Oswald De Clercq             Reindert De Jongh (Ned)
1965  Arthuur De Cabooter     Jos Mathy                    Gustaaf De Smet
1964  Robert De Middeleir     Leon Van Daele               André Noyelle
1963  Frans De Mulder         Daniël Doom                  Norbert Kerckbove
1962  No race
1961  Leon Van Daele          Jozef Vloeberghs             Gilbert Maes
1960  Gilbert De Smet         Louis Troonbeeckx            Pol Rosseel
1959  No race
1958  Arthuur De Cabooter     Gilbert Desmet               Julien Schepens
1957  André Auquier           Pino Cerami                  Francis Kemplaire
1956  Marcel Ryckaert         Roger Declerck               Lucien Mathijs
1955  Jozef Schils            Briek Schotte                Henri Denijs
1954  Jan Zagers              Roger Decock                 Roger Desmet
1953  Baziel Wambeke          Rik Jochums                  Julien Pascal
1952  Wim Van Est (Ned)       André Pieters                Rafaël Jonckheere
1951  Gerard Buyl             Maurice Blomme               Valeer Ollivier
1950  Jules De Poortere       Roger Decock                 Flander Janssens
1949  Nest Sterckx            Maurice De Simpelaere        Michel Remue
1948  Roger Cnockaert         André Declerck               Jeroom Renier
1947  Berten Sercu            Michel Remue                 Odiel van der Meerschaut
1946  Emanuel Thoma           André Pieters                Briek Schotte
1945  Briek Schotte           Michel Remue                 Desiré Keteleer
1944  Marcel Kint             Theo Middelkamp (Ned)        Gustaaf Van Overloop