62nd Nokere Koerse - 1.1
Belgium, March 21, 2007
2006 Results Results Past winners
Experienced Dutch dominance in Belgian semi-classic
Van Bon grabs first win after leaving pink army
By Brecht Decaluwé
Leon Van Bon (Rabobank)
Photo ©: Luc Claessen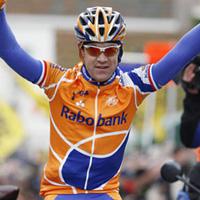 Dutchman Leon Van Bon (Rabobank) won Nokere Koerse - the first in a long series of Flemish classic - from a small group that splintered from the large breakaway of the day. The 35 year-old Dutchman rode in solo after dropping his two year older compatriot Aart Vierhouten (Skil – Shimano) and Belgian neo-pro Geert Steurs (Predictor – Lotto) in the ultimate lap.
The three riders were the only survivors of the big breakaway that dominated the 62th edition of the semi-classic. The three managed to get away from the group on the local circuit of 15km around Nokere, which the riders completed ten times. Each lap featured the cobbled Nokereberg climb, and neo-pro Steurs had to let go of his more experienced colleagues on this typical Flemish climb by the end of the penultimate lap.
Van Bon attacked Vierhouten in the final lap and easily grabbed his first win of the season. With this victory in a semi-classic, Van Bon is able to thank his new team for the confidence they had in him. Van Bon left the Belgian Lotto team after not being selected for the 1996 edition of the Tour de France. Van Bon is showing that he can still turn his experience into valuable wins and he will be looking forward to his real goal of the season, Paris-Roubaix. Steurs managed to hold on to his third place with the chasing group right on his wheel. The uphill sprint for fourth place was won by his team-mate and fellow neo-pro Greg Van Avermaet, winner of stage five of the Tour of Qatar.
How it unfolded
Greg Van Avermaet (Predictor-Lotto)
Photo ©: Luc Claessen

Twenty six riders managed to get away from the peloton after 55 kilometres of racing. There was a crash with Sebastian Langeveld (Rabobank) and Aart Vierhouten, with only the latter able to continue the race while Langeveld was brought over to hospital with a wrist injury. The group stayed together when entering the local circuit until Johan Coenen (Unibet.com) attacked with four laps to go.

Vierhouten and Cedric Vasseur joined the Belgian, but the three didn't get far and were joined by a part of the former breakaway group. With 35 kilometres to go Vierhouten was in the attack again together with Steurs. Van Bon, wisely seeing the move as the decisive split, bridged up to the pair.

With 15 kilometres to go the trio had 50" on a group of ten riders, but by then Steurs had to let go of the two experienced Dutch riders. Van Bon didn't wait for the ultimate Nokereberg climb towards the finish, and attacked Vierhouten with a blistering acceleration. Van Bon kept the furious pace, and was able to rack up the victory in Nokere. Vierhouten finished second ahead of Steurs who had to work hard to save his third place ahead of team-mate Greg Van Avermaet.
Photography
For a thumbnail gallery of these images, click here
Images by Luc Claessen/www.ctm-images.com
Results - 197 km

1 Leon Van Bon (Ned) Rabobank
2 Aart Vierhouten (Ned) Skil - Shimano                            0.18
3 Geert Steurs (Bel) Predictor - Lotto                            0.35
4 Greg Van Avermaet (Bel) Predictor - Lotto                       0.37
5 Markus Eichler (Ger) Unibet.com
6 Geert Omloop (Bel) Jartazi Promo Fashion
7 Konstantin Schubert (Ger) Team Regiostrom - Senges
8 James Vanlandschoot (Bel) Landbouwkrediet - Tönissteiner
9 Roy Curvers (Ned) Time - Van Hemert
10 Maarten Tjallingii (Ned) Skil - Shimano                        0.55
11 René Weissinger (Ger) Team Volksbank                           1.31
12 Hilton Clarke (Aus) Navigators Insurance Cycling Team          1.41
13 Jonas Ljungblad (Swe) Unibet.com                               1.57
14 Artur Gajek (Ger) Team Wiesenhof Felt                          3.16
15 Johan Coenen (Bel) Chocolade Jacques - Topsport Vlaanderen
16 Wilfried Cretskens (Bel) Quickstep - Innergetic
17 Albert Timmer (Ned) Skil - Shimano
18 Tom Steels (Bel) Predictor - Lotto
19 Matthé Pronk (Ned) Unibet.com
20 Tobias Erler (Ger) Team 3C - Gruppe Lamonta
21 Nico Eeckhout (Bel) Chocolade Jacques - Topsport Vlaanderen    3.30
22 Cédric Vasseur (Fra) Quickstep - Innergetic
23 Maint Berkenbosch (Ned) Team Regiostrom - Senges               5.27

Past winners
           1st                     2nd                      3rd
2006  Bert Roesems (Bel)      Wouter Weylandt (Bel)   Jeremy Hunt (GBr)
2005  Steven De Jongh (Ned)   Igor Abakoumov (Bel)    Geert Omloop (Bel)
2004  Max Van Heeswijk (Ned)  Rudi Kemna (Ned)        Jo Planckaert (Bel)
2003  Matthé Pronk (Ned)      Magnus Backstedt (Swe)  Hendrik Van Dijck (Bel)
2002  Aurélien Clerc (Swi)    Jans Koerts (Ned)       Steven De Jongh (Ned)
2001  Michel Van Haecke       Bart Voskamp (Ned)      Nico Eeckhout (Bel)
2000  Hendrik Van Dyck        Nico Mattan             Jan Koerts (Ned)
1999  Jeroen Blijlevens       Michel Van Haecke       Wielfried Cretskens
1998  Scott Sunderland (Aus)  Leon Van Bon (Ned)      Chris Peers
1997  Hendrik Van Dyck        Wim Feys                Bart Voskamp (Ned)
1996  Hendrik Van Dyck        Jelle Nydam (Ned)       Michel Cornelisse (Ned)
1995  Jo Planckaert           Michel Vermote          Geert Van Bondt
1994  Peter De Clercq         Michel Cornelisse       Chris Peers
1993  Michel Cornelisse (Ned) Jan Bogaert             Mario De Clercq
1992  Johan Capiot            Peter De Clercq         Benjamin Van Itterbeeck
1991  Koen Van Rooy           Johan Capiot            Martin Koekelhoren (Ned)
1990  Herman Frison           Roger Vandenbossche     Filip Van Vooren
1989  Rik Van Slycke          André Mierzejewski      Peter Spanhoven
1988  Patrick Versluys        Yves Godimus            Danny Janssens
1987  Etienne De Wilde        Francky Van Oyen        Ludo Giesberts
1986  Luc Colyn               Jan Van Camp            Rony Van Holen
1985  Didier Foubert          Patrick Versluys        Jan Bogaert
1984  Jan Bogaert             Patrick Versluys        Eric Stevens
1983  Walter Schoonjans       Patrick Cocquyt         Gerald Veldschoten (Ned)
1982  William Tackaert        Ludo De Keulenaer       Rudi Matthys
1981  Gerrit Knetemann (Ned)  Herman Van Springel     Claude Criquelion
1980  Jos Van De Poel         Johan Vandevelde (Ned)  Paul Jesson (NZl)
1979  Hendrik De Vos          William Tackaert        Tony Houbrechts
1978  Gustaaf Van Roosbroeck  Jan Aling (Ned)         Jos Jacobs
1977  Frans Van Looy          Gerrit Knetemann (Ned)  Roberto Cerieto (Ita)
1976  Luc Leman               Lucien De Brauwere      Geert Malfait
1975  Marc De Meyer           Willy Teirlinck         Jan Raas (Ned)
1974  Freddy Maertens         Pierrino Gavazzi (Ita)  Ronald De Witte
1973  Noël Van Tieghem        Claude Magni (Ita       Gerard Vianen (Ned)
1972  Tony Houbrechts         Rony Van Marcke         Willy Planckaert
1971  Herman Van Springel     Eric Leman              Maurice Eyers
1970  Andre Dierick           Patrick Sercu           Bernard Van De Kerkhove
1969  Roger Rosiers           Frans Mintjes           Michel Jacquemin
1968  Frans Brands            Roger Cooreman          Michel Jacquemin
1967  Walter Godefroot        Jacques De Boever       Roger Blockx
1966  Jacques De Boever       Oswald De Clercq        Reindert De Jongh (Ned)
1965  Arthuur De Cabooter     Jos Mathy               Gustaaf De Smet
1964  Robert De Middeleir     Leon Van Daele          André Noyelle
1963  Frans De Mulder         Daniël Doom             Norbert Kerckbove
1961  Leon Van Daele          Jozef Vloeberghs        Gilbert Maes
1960  Gilbert De Smet         Louis Troonbeeckx       Pol Rosseel
1959  No race
1958  Arthuur De Cabooter     Gilbert Desmet          Julien Schepens
1957  André Aucquier          Pino Cerami             Francis Kemplaire
1956  Marcel Ryckaert         Roger Declerck          Lucien Mathijs
1955  Jozef Schils            Briek Schotte           Henri Denijs
1954  Jan Zagers              Roger Decock            Roger Desmet
1953  Baziel Wambeke          Rik Jochums             Julien Pascal
1952  Wim Van Est             André Pieters           Rafaël Jonckheere
1951  Gerard Buyl             Maurice Blomme          Valeer