Recently on Cyclingnews.com
German National Championships - CN
Germany, June 27-29, 2008
National Champs summary 2007 results The program Preview
The program
Day 1 - June 27: Time Trials: Elite Men, Women, Juniors,
Day 2 - June 29: Road Races: Elite Men, Elite Women,
City course will decide next champion
By Bjorn Haake
Fabian Wegmann riding in the national champ top
Photo ©: Bjorn Haake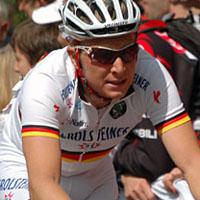 The winner of the 2008 German Championships will definitely have earned the jersey. The course is not hard in terms of climbing – the highest point is only 90 vertical metres compared to the start – but the course is a typical city course and several dividers, roundabouts and sharp turns will make potential breakaways possible. Some descents also suffer from lack of good pavement, adding to a potential crash fest, especially on a rainy day.
With 19 kilometres, laps are rather long. The men will have to complete the course 11 times, for a total of 210 kilometres. The women will do six laps, yielding 114 kilometres. The race starts out flat, but with a few sharp turns. A short uphill drag is followed by a descent on the Bruchstrasse, with the name probably given by the many potholes, cobble stones and otherwise not very smooth asphalt.
Midway through comes the major climb of the day. It drags on for about one kilometre, with the false flat at the top and possible head winds rushing over the farm fields from the riders' left not necessarily helping. The following kilometres through a residential area is at time technical, but mostly it is downhill, so the riders can recover a bit. The gradual descent extends almost all the way to the finish line, but a U-turn about half a kilometre from the finish will require the riders' concentration and will surely add an interesting aspect in case of a potential field sprint.
Wegmann able to defend?
Fabian Wegmann of Gerolsteiner is looking to defend his 2007 title, and if only so his girlfriend can keep recognising him in the peloton! The route may be a bit too flat for his liking, but the punchy rider is a good descender, too. Gerolsteiner is not putting all its eggs in one basket and has a total of 15 (!) riders on the start line. The Fothen brothers Markus and Thomas, as well as Stefan Schumacher and Johannes Fröhlinger could be the other men in potential breakaways, while Heinrich Haussler and Robert Förster will bide their time for a potential sprint.
Gerald Ciolek may look skeptical, but his chances of a win aren't bad
Photo ©: Roberto Bettini

Team Columbia (formerly knows as High Road formerly known as T-Mobile) used to have a subscription to the title and only had to figure out the finishing order. Those days have been over since a young Gerald Ciolek snatched the black-red-gold jersey in 2005. He was subsequently snatched up by T-Mobile and successor team Columbia is now hoping he will bring back the title after the squad has not won it in three years. Now registered in the USA, the team can only send half the amount of riders compared to Gerolsteiner, but, besides Ciolek, there are Marcus Burghardt, Bert Grabsch, Andreas Klier, André Greipel, Tony Martin and Marcel Sieberg. All of them have a potential chance of winning.
The third big cannon in the mix is Milram. It will have 12 riders, with Erik Zabel hoping for repeating a national title he won in 1998 and 2003. But Markus Eichler, Dominik Roels or Christian Knees may have equal or better chances, should it come to a break. Milram may save its season a bit if they manage to pull off a win.
Only two other ProTour teams will start, with Rabobank having two riders (Grischa Niermann and Paul Martens) and Jens Voigt being the sole representative of CSC, which hardly matters, as Voigt will undoubtedly be in a break.
Other riders with chances for the title include André Korff, Daniel Musiol, Olaf Pollack and René Weissinger of Team Volksbank, Steffen Radochla of Team ELK Haus Simplon, 2006 champion Dirk Müller of Team Sparkasse, Björn Glasner of Kuota-Senges or Danilo Hondo of Serramenti PVC Diquigiovanni-Androni Giocattoli.
It is a wide open race and how the different strengths in numbers will play out will certainly make for a very interesting Championships, with all eyes looking to Gerolsteiner.
Defending champion Keller unable to repeat?
Last year, Luise Keller was a surprise champion with her bold solo attack. Defending the title would be another surprise. Not because people will doubt her strengths, but she moved from Flexpoint to High Road/Team Columbia. Team tactics may have other plans for her, with Judith Arndt or Ina-Yoko Teutenberg more likely candidates for the title.
The biggest competition will come from Equipe Nürnberger, which has more than double the strengths of the Columbia team. Expect Christina Becker, Claudia Häusler, Eva Lutz, Regina Schleicher or Trixi Worrack near the front.
Charlottenburg Berlin, Rothaus-Vita Classica Bad Krozingen and Koga Miyata Cycling Team are also sending lots of riders, but it will be tough for any of the other teams to best the German powerhouses. Hanka Kupfernagel may stand a chance, but without team support it will be ambitious to try to break the top three on this course.