CSC Invitational- NE
Arlington, Virginia, USA, June 1, 2008
Damiani, Cheatley sprint out of breaks for CSC wins
By Mark Zalewski, North American Editor in Arlington, Virginia
Colavita-Sutter Home continues strong crit racing
Italian Luca Damiani (Colavita-Sutter Home) claimed victory
Photo ©: Jon Devich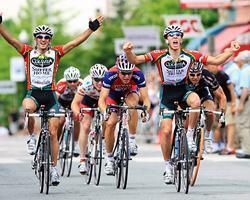 One of the deepest fields ever assembled in the CSC Classic's 11 year history promised to produce exciting racing, and it delivered. From a first lap attack by former Paris-Roubaix winner Magnus Backstedt (Slipstream-Chipotle-H30) that stayed away and lapped the field to the head-to-head battle between two of the top domestic criterium teams on the final lap, resulting in one of the more impressive executions of a lead-out. And the beneficiary of that lead-out was Colavita-Sutter Home's Luca Damiani, deputized as the team's sprinter in the 13 rider break and following speedster Sebastian Haedo to the line for the win.
"We had a good fight for the lead-out with HealthNet going into the final lap but we made it to the first corner and our guys just sprinted one at a time so nobody passed us," Damiani told Cyclingnews. "Haedo lead me out of the final turn and then led me to the line."
The breakaway was rife with more well-known sprinters such as HealthNet-Maxxis' Karl Menzies and Toyota-United's Dominique Rollin. But having an organized lead-out can trump all-out speed, even for Damiani who comes to road racing from cyclo-cross.
"I was worried about Menzies because he is a strong sprinter and Rollin is super strong too," said the Italian. "The team was super great in the finish. They are ready to lead-out all season and I sat on Haedo's wheel and the guys just opened it up for me."
The black and teal of HealthNet-Maxxis dominated the front over the last three laps with Rory Sutherland leading the whole time. It looked picture-perfect for Menzies until Colavita/Sutter Home roared up the inside on the bell lap, out-sprinting the squad to the first turn.
"They just jumped us coming down the homestretch on the last lap," said Menzies. "They had a few more guys in the race - there was going to be just six but [the organizer] changed it to eight a couple of weeks ago.
"Regardless, the team had me set-up nice and I was in the right spot coming into the last corner, but to my own detriment I just left it too late," he added. "I was fifth wheel and usually I jump it way too early and get swamped, so I second-guessed myself into the last turn. If I had jumped when I usually do in the gear I am in I probably could have won the sprint. But would haves and could haves, you know?"
There was a definite divide in the field with three major Tour de France-bound teams - Team CSC, High Road and Slipstream - versus the domestics. But being on the home turf does have its advantages, noticeable from break rider Roger Hammond (High Road), who was expecting a different outcome when the break lapped the field.
"It was strange racing really," he said. "It was ok until 30 laps to go when we lapped the peloton, and it should have been race over, but I don't understand the rules over here. We work hard to separate the guys from their teams, like Colavita who has half the peloton here.
"So we attack until there are only two of them left but we lap the field and then they have eight riders again," he added. "So if I come back next year I'll just sit in and do nothing, because it makes no difference!"
Adding to his woes the former British Road Champion slid out on a spot of oil on the road, resulting in a bit of road rash and a sore body - not the best way to start Philly week. "I just hit some oil and that was it," he said. "I was feeling good for the sprint before I crashed then like shit after. In a 200 km road race you have time to recover but not here where it's 100 km full on."
Another impressive ride for the day came from second-place Dominique Rollin (Toyota-United) who not only was alone in the break, he was alone in the entire race, with the team targeting the Tulsa Tough criterium. Driving a lone Prius to the race, finishing second against two strong lead-outs is a gutsy result.
"I managed to pull as much as the others, but it is a disadvantage at the end being by myself and having to fight for wheels," he said. "I was on Menzies' wheel and it was a fight between HealthNet and Colavita in the end. They had their entire teams leading out with one sweeping."
The break's instigator, earning him the most aggressive rider award on the day, Backstedt, said that the different style of racing pushed him to go early.
"It's hard racing but it is completely different than what I am used to," he said. "It's either in the mountains slugging away for seven hours or doing a two hour criterium full tilt - it's just so different.
"I have a big engine on me and my body feels good but I don't have the snap out of the corners," he added. "I knew if I were going to be able to do anything today I would have to get out early and stay away in a break."
But still, going away early and going away on the first lap are quite different, to which the Swedish champion replied. "Sometimes the crazy attacks are the best because nobody thinks they are going to go anywhere," he said.
Damiani quickly bridged to Backstedt and the two hung off the front for a few laps while the peloton tried to make sense of the beyond-early move. "It was so painful for the first few laps with just Backstedt, he rides so many watts and I am just a little guy - he was killing me!" laughed Damiani. "But when the group got up to us it was much better with working less."
The group that joined the two leaders consisted of Roger Hammond, Vincente Reynes Mimo (High Road), Francois Parisien (Team RACE), Luis Amaran (Colavita-Sutter Home), Ben Brooks, Chris Jones (Team Type 1), Bernard Van Ulden, Brad Huff (Jelly Belly), Karl Menzies (Health Net-Maxxis), Russ Langley (Battley-Harley Davidson) and Dominque Rollin (Toyota-United).
With most of the big teams represented with strong riders, the chasing was left to only a few. Kelly Benefits-Medifast were the only ones willing to put in a serious effort, as all but one of the CSC riders had dropped out before the half-way point.
"We missed the break and were kinda hoping CSC and Rock would help out, but it was pretty lame and all the work fell on us," said Kelly Benefits' sprinter Alex Candelario, who still took some of the blame himself. "There was a point where I should have gone across but it was still almost 20 seconds, so I don't know if I would have made that."
A lot of the break riders shared the same sentiment of Menzies, saying they are disappointed in not winning but happy with a good result going into the week of races. "It's a good start for the week but it was a good opportunity for a win," the Tassie said. "But the team is going great and I think we'll be up for a win this week."
Cheerwine finding its form
New Zealand's Catherine Cheatley (Cheerwine)
Photo ©: Jon Devich

The women's race was much more active than in previous years, which always seemed to result in a field sprint between Laura Van Gilder (Cheerwine) and Tina Pic (Colavita-Sutter Home). But that was not to be today, thanks to Van Gilder's team-mate Catharine Cheatley. The Kiwi's persistent attacking paid off, with a three-rider break that nearly lapped the field. But in the end, it was Cheatley proving to be the strongest, winning ahead of her break mates Laura Kroepsch (ValuAct Capital) and Andrea Dvorak (Colavita-Sutter Home).
"I took a lot of motivation from my team-mate Leigh Hobson taking third at the Montreal World Cup yesterday, we found out about it driving here," she said. "I was in a break earlier and I knew if it was hard and I was hurting that everyone else was hurting too. I had just come back from a break and I went straight after."
She was joined by Dvorak and Kroepsch, though Dvorak was only there in a covering role. "Andrea was there first and then Laura jumped across," said Cheatley. "Andrea didn't pull at all and I didn't know if she was a strong sprinter but I saw her struggling in corners a little."
"My job in crits is to cover breaks and not so much get into them," Dvorak admitted. "We have six really strong riders here and my job is to get Tina to the line. My director was letting me know we had 20 seconds and I was to sit on."
But the gap still grew to more than 40 with fewer than 15 laps to go, with Cheatley providing a big motor. "I led on the homestretch for like 25 of the 30 laps we were away," said Cheatley. "And then Laura finally said, 'Can I get a prime too?' and I said sure, if you want to take the headwind!"
Eventually it was obvious the break would stay away, and Dvorak started to work before putting in some attacks. "I attacked the break a couple of times knowing I wouldn't fair well in a sprint," she said. Unfortunately, the former triathlete in her second year attacked coming onto the headwind of the homestretch, neutralizing her effort.
"When she went she made some tactical mistakes attacking into the headwind and we were able to cover her both times," said Kroepsch. "So I knew it was between Catharine and me."
On the final lap it was Dvorak again going first. "She attacked through turns four and five and then Laura led around the corner and it was a straight race to the line."
"I tried to get the jump on her from the last corner but it was just too long, but it almost worked," Kroepsch lamented.
When asked if she was worried about not working in the break and then contesting the sprint, Dvorak chuckled. "It was going to be like that anyways," she said.
Photography
For a thumbnail gallery of these images, click here
Images by Jonathan Devich/

Results
Elite Men

1 Luca Damiani (Ita) Colavita-Sutter Home
2 Dominique Rollin (Can) Toyota-United
3 Karl Menzies (Aus) Health Net-Maxxis
4 Brad Huff (USA) Jelly Belly

Elite Women

1 Catherine Cheatley (NZl) Cheerwine
2 Laura Kroepsch (USA) ValuAct Capital
3 Andrea Dvorak (USA) Colavita-Sutter Home