CSC Invitational- NE
Arlington, Virginia, USA, June 2, 2007
Strongest survive in hot and fast CSC Invitational
By Mark Zalewski, North American Editor in Arlington, VA
Opportunistic Bahati pounces on huge win
Rahsaan Bahati (Rock & Republic)
Photo ©: Jon Devich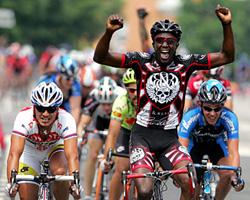 Early on it looked like a would-be suicide solo attempt by Viktor Rapinski (Navigators Insurance) might spoil everyone's plans. Later in the race it was the CSC team moving to the front in typical fashion with J.J. Haedo in tow, squashing a three-rider break. But in the end, it was a well-placed Rahsaan Bahati from the new Rock & Republic cycling team who shocked everyone, taking his momentum through the final corner and turning it into an impressive sprint win in the tenth CSC Invitational.
"Sometimes I take more risks than other people and today it paid off, because I went through the second-to-last corner probably three miles an hour faster than everybody else," said Bahati. "I went in eighth and came out fourth. I hooked up with Kayle [Leogrande] and once again our goal was to work together - either him for me or me for him. I was starting to cramp up but we got in a good position."
"Kayle was on my wheel so I had to go, and when I came out of the last corner it was like a big wave, the wind just stopped everyone!," he added. "I said to myself I have a chance, and once I got going I came off Stevic's wheel as he was starting to go backwards. It wasn't super fast because of the headwind, but I kept confidence in myself."
Rolling through the last turn.
Photo ©: Jon Devich

Bahati definitely benefited from a tactical error by Toyota-United's Ivan Stevic, who was being escorted into the last turn by teammate Henk Vogels. "In the last corner I wanted to pass Henk on the outside, but I didn't let him know that and I had to slam on my brakes," said Stevic. "From there I went, but I lost a lot of speed. It was a long way and he passed me in the last 20 meters. He did it perfect."
The racing got off to an odd start with Viktor Rapinski stretching the legs solo out of a small break. Before anyone realized he was out of sight and well on his way to taking a lap on the field. At one point, with 45 miles still left in the race, he had the tail-end of the field just in sight down the long finishing stretch. But the hard solo effort eventually took its toll, as the field finally picked up the pace. This also began the time honored tradition of attrition at this race, with the field shrinking in size every lap.
The other main break of the day was a three rider move that contained Oleg Grishkin (Navigators Insurance), Luca Damiani (Colavita-Sutter Home) and Sebastain Haedo (Rock & Republic). The latter the younger brother of one J.J. Haedo. But with 20-plus miles to go, the CSC train had plenty of time to reel them in. "It was pretty hot for us!," said J.J. Haedo. "They did a perfect job today, chasing down a few breakaways and keeping the speed high to keep people from attacking."
Hilton Clarke (Navigators)
Photo ©: Jon Devich

Four CSC riders jumped on the front and picked off the three leaders one by one, with Grishkin lasting the longest. With ten laps to go, CSC kept the speed high with help from Chris Wherry (Toyota-United) to ensure a field sprint. In the final two laps it was Navigators taking over, setting up its crit specialist Hilton Clarke. "I was a little disappointed not to be able to pull it off for the guys - they did a great job," said Clarke, who admitted to still feeling "banged up" from a crash last week.
"On the last corner Stevic and Vogels jumped underneath me which stopped me," explained Clarke. "Rahsann went so fast through there because he was never hampered - we came out and he was miles ahead of us. All good to him for taking a great corner."
Sebastian Haedo (Rock Racing)
Photo ©: Jon Devich

Notably absent from the sprint was J.J. Haedo, who said he was not feeling in top form today. "Someone opened up a gap going into the last corner and it was hard to close it," he explained. "For the kind of sprint it was I know how to do it, how to wait. But if you don't have it, you don't have it."
For Bahati and Rock & Republic, the win definitely puts them on the map in American cycling. "This is huge!" admitted Bahati. "I think the owner of Rock & Republic is going to be excited. This is our biggest win!"
This is also one of the biggest wins for Bahati, at least in recent years. After winning the USPRO criterium championships in 2000 as an eighteen year old junior, Bahati raced for Saturn, McGuire and TIAA-CREF, but never really found a true home for his personality. Now, with this new California-based, bling-heavy team, complete with LA-style Cadillac Escalade team vehicles, Bahati may have found the team that fits his style.
Val Gilder first to make it three at CSC
Sarah Uhl (Cheerwine) takes the sprint for third.
Photo ©: Bill McCarrick

Laura Van Gilder (Cheerwine) was in an elite group of only a few cyclists who have won the CSC Invitational twice. Now she is in an even more elite group as the only one to win it three times, initiating and winning out of a long breakaway with Rebecca Larson (Aaron's Pro Cycling).
"Breakaway is how I win here," revealed Van Gilder. "I really enjoy this course, it is technical and windy...one of the most fun courses all year. I've won it solo and in a breakaway - it is the preferred method here."
The group tries to get things together
Photo ©: Jon Devich

After such a long time out on the front, the field did finally claim back some real estate in the closing laps, which caused Van Gilder to focus on staying away rather than the best sprint tactics. "The field always has a big surge in the end and I wasn't willing to have them bearing down on us," said Van Gilder, who was forced to lead out of the last turn. "It wasn't where I wanted to sprint from, and it is what [Larson] had to do - it's what I thought she might do."
"I've been in this race enough times to know that Laura loves breaks," Larson said after the race. "I was telling my teammates this morning that she is going for a break today. Right away when she was being aggressive I was keying off of that. There was a relatively large break of five, but dysfunctional. I saw her go again and I let her go a little so that I could go across to her alone. And we just went away...but came through and saw we had 45 laps to go - that's 40km!"
Larson was happy with her positioning out of the final turn, but could not out-sprint the veteran racer. "I knew my best bet would be to come from behind her, but I think I went a little too early and she is such a great sprinter."
Photography
For a thumbnail gallery of these images, click here
Images by Jonathan Devich/epicimages.us
Images by Bill McCarrick/www.buffalo2step.com
Results
Pro men

1 Rahsaan Bahati (USA) Rock Racing                                            
2 Ivan Stevic (SCG) Toyota - United Pro Cycling Team                          
3 Hilton Clarke (Aus) Navigators Insurance Cycling Team                       
4 Alex Candelario (USA) Jelly Belly Cycling Team                              
5 Shawn Milne (USA) Health Net Presented By Maxxis                            
6 Juan José Haedo (Arg) Team CSC                                              
7 Ciaran Power (Irl) Navigators Insurance Cycling Team                        
8 Kayle Leo Grande (USA) Rock Racing                                          
9 Evan Elken (USA) The Jittery Joe's Pro Cycling Team                         
10 Rory Sutherland (Aus) Health Net Presented By Maxxis                       
11 David Veilleux (Can) Jittery Joe's Pro Cycling Team                        
12 Alejandro Acton (Arg) Colavita - Sutter Home presented by Cooking Light    
13 Mark Hekman (USA) Composite All-Stars                                      
14 Dominique Rollin (Can) Kodakgallery.com - Sierra Nevada Brewing Co.        
15 Davide Frattini (Ita) Colavita - Sutter Home presented by Cooking Light    
16 Bradley Huff (USA) Team Sliptream p/b Chipotle                             
17 Jonathan Sundt (USA) Kelly Benefit Strategies - Medifast                   
18 Guido Palma (Arg) Rite Aid                                                 
19 Todd Yezefski (USA) Nerac Pro Cycling                                      
20 Mike Sayers (USA) BMC Professional Cycling Team                            
21 Russ Langley (USA) Composite All-Stars                                     
22 Adam Bergman (USA) Colavita - Sutter Home presented by Cooking Light       
23 John Murphy (USA) Health Net Presented By Maxxis                           
24 Chad Hartley (USA) BMC Professional Cycling Team                           
25 Gustavo Artacho (Arg) Colavita - Sutter Home presented by Cooking Light    
26 Jean-Sebastien Perron (Can) Calyon - Lightspeed Pro Cycling Team           
27 Sean Sullivan (Aus) Toyota - United Pro Cycling Team                       
28 Ken Johnson (USA) Composite All-Stars                                      
29 Yasvany Falcon (Cuba) AEG - Toshiba - Jetnetwork Pro Cycling Team          
30 Frank Travieso (Cub) AEG - Toshiba - Jetnetwork Pro Cycling Team           
31 Dan Timmerman (USA) Kodakgallery.com - Sierra Nevada Brewing Co.           
32 Patrick Walsh (USA) Nerac Pro Cycling                                      
33 Ben Raby (USA) Kodakgallery.com - Sierra Nevada Brewing Co.                
34 Kasper Klostergaard Larsen (Den) Team CSC                                  
35 Benjamin Brooks (Aus) Navigators Insurance Cycling Team                    
36 unknown                                                                    
37 Brice Jones (USA) Jelly Belly Cycling Team                                 
38 Austin King (USA) The Jittery Joe's Pro Cycling Team                       
39 Danny Pate (USA) Team Slipstream powered by Chipotle                       
40 Daniel Holt (USA) Nerac Pro Cycling                                        
41 Edward King (USA) Priority Health Cycling Team presented by Bissell        
42 David O'Loughlin (Irl) Navigators Insurance Cycling Team                   
43 Chris Wherry (USA) Toyota - United Pro Cycling Team                        
44 David Vitoria (Swi) BMC Professional Cycling Team                          
45 Maxime Vives (Can) Calyon - Lightspeed Pro Cycling Team                    
46 Martin Gilbert (Can) Kelly Benefit Strategies - Medifast                   
47 Martin Pedersen (Den) Team CSC                                             
48 Frank Pipp (USA) Health Net Presented By Maxxis                            
49 Tommy Nankervis (Aus) The Jittery Joe's Pro Cycling Team                   
50 Kristian House (GBr) Navigators Insurance Cycling Team                     
51 Luca Damiani (Ita) Colavita Sutter Home p/b Cooking Light                  

Pro women

1 Laura Van Gilder (USA) Cheerwine                                  
2 Rebecca Larson (USA) Aaron's Corporate Furnishings                
3 Sarah Uhl (USA) Cheerwine                                         
4 Kelly Benjamin (USA) Cheerwine                                    
5 Sarah Caravella (USA) Aaron's Corporate Furnishings               
6 Nonnie Howard (USA) Verducci Breakaway Racing                     
7 Catherine Powers (USA) Aaron's Corporate Furnishings              
8 Mackenzie Dickey (USA) Colavita-Sutter Home p/b Cooking Light     
9 Kacey Manderfield (USA) Verducci/Breakaway                        
10 Lorena Candrian (USA) HPC/List                                   
11 Heidi Goldberg (USA) Kenda Tire                                  
12 Lisa Jellett (USA) Verducci Breakaway Racing                     
13 Kate Flore (USA) HPC/List                                        
14 Anna Kelso (USA) HPC/List                                        
15 Brenda Lyons (USA) Team Lipton                                   
16 Marni Harker (USA) Kenda Tire                                    
17 Marjan Huizing (USA) Kenda Tire                                  
18 Shannon Hutchison-Krupat (USA) Aaron's Corporate Furnishings     
19 Tiffany Cromwell (Aus) Colavita-Sutter Home p/b Cooking Light    
20 Jenny Bodine (USA) Abrt/Latitude                                 
21 Theresa Cliff-Ryan (USA) Verducci Breakaway Racing               
22 Leslie Jennings (USA) ABRT/Latitude                              
23 Christine Wehlburg (USA) NCVC/Inova Health Systems               
24 Robin Zimmerly (USA) Route 1 Velo/Capitol Hill Bikes             
25 Rebecca Much (USA) Targetraining                                 
26 Gina Voci (USA) Kenda Tire                                       
27 Susan Estes (USA) HPC/List                                       
28 Christina Dekraay (USA) Harris Teeter Naturals                   
29 Rachel Warner (USA) Charlottesville Racing Club                  
30 Dena Austin Miller (USA) Kenda Tire                              
31 Sarah Bamberger (USA) Cheerwine                                  
32 Elizabeth Hatch (USA) Vanderkitten                               
33 Robin Farina (USA) Targetraining                                 

Elite Amateur men

1 David Bozak (Team Clean Currents)                             
2 Peter Cannell (Immediate Mortgage - Artemis Elite)            
3 Todd Hipp (Battley Harley-Davidson)                           
4 Brian Butts (Battley Harley-Davidson)                         
5 Ben King (Hot Tubes)                                          
6 Tiago Depaula (Time Factory Development Team)                 
7 Gerardo Castro (Nature's Path)                                
8 Mario Sanchez (Battley Harley-Davidson)                       
9 Paul Ward (Nature's Path)                                     
10 Jay Moglia (Route1 Velo/Capitol Hill Bikes)                  
11 Steven Howard (Priority Health P/B Bissell)                  
12 Kenneth Young (Clean Currents P/B Don Beyer Volvo)           
13 Benjamin Haymes (Seigler / Axley Cycling Team)               
14 Andrew Shaw (NCVC/Inova Health System)                       
15 Jered Gruber (Time Factory Development Team)                 
16 Sean Barrie (Battley Harley-Davidson)                        
17 Ramon Benitez (Immediate Mortgage - Artemis Elite)           
18 Joshua Frick (Clean Currents P/B Don Beyer)                  
19 Keck Baker (Seigler/Axley Cycling Team)                      
20 Eric Bennett (Time Factory Team)                             
21 Stephen Koelbl (Warrenton Cycling Racing Team)               
22 Chris Pickett (NCVC & Georgetown University Cycling Team)    
23 Mark Sommers (Clean Currents P/B Don Beyer Volvo)            
24 Mark Warno (Evolution Cycling)                               
25 David Fuentes (Battley Harley-Davidson)                      
26 Evan Fader (Battley Harley-Davidson)                         
27 Jared Nieters (Haymarket Bicycles)                           
28 Chris Hayes (Warrenton Cycling Team)                         
29 Mark Olson (Priority Health P/B Bissell)                     
30 Nick Mulder (Clean Currents P/B Don Beyer Volvo)             
31 Andy Baker (Time Factory Development Team)                   
32 Christopher Monteleone (Time Factory Development Team)       
33 Adam Fung (Clean Currents P/B Don Beyer)                     
34 Ryan Mckinney (Clean Currents P/B Don Buyer Volvo)           
35 John Minturn (Meredith Group - GPOA)