Junior World Championships - CM Jr
Cape Town, South Africa, July 18-20, 2008
Main Page Results Previous Day
Day 2 - July 20: Road races men and women
Spectacular race winds up world champs
Johan Le Bon (France) rolls home for an easy
Photo ©: Alliance Photo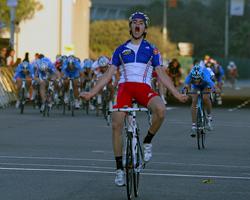 The 2008 UCI Junior World Championships came to a close with the Men's Individual Road Race, which took place in the centre of Cape Town today. Perfect weather conditions were conducive to a very high pace from the start.
The peloton strung out early, indicative of the leaders' determination to make an early bid for the gold medal. An early breakaway attempt by Russia and the Ukraine built up a respectable lead of 1'50" seconds ahead of the peloton. But a combined effort by the top nations not represented brought the two riders back into the safety of the field.
The testing course lived up to its reputation and produced a worthy champion in Johan le Bon of France. The silver medal went Mattia Cattaneo of Italy and Sebastian Lander of Denmark took the bronze in a bunch sprint.
This morning the 21st gold of the championship went to Jolien D'Hoore of Belgium in the Ladies' Road Race final, the men's race was the final medal of the championship.
"It was a great privilege for the Mother City to host the world championship and we want to thank UCI for their confidence in again choosing our city and country," Councillor Grant Haskin said. "The economic injection into our city has been predicted as over R30 million part of which is the 20 000 bed nights utilized by participants and their teams and families."
Australia led in the medal stakes with seven gold, France has six and Germany four at the end of the Championships.
As the ten days' of the Junior Worlds came to an end, Dr Wagih Azzam, President of the African Federation, paid tribute to the young cyclists who had travelled so far to compete in South Africa. "We have the cream of the cycling crop competing here and the events have showcased South Africa's ability to host this world class event," he said.
Photography
For a thumbnail gallery of these images, click here
Images by Alliance Photo /www.alliancephoto.com
Results
Men

1 Johan Le Bon (France)                                  3.20.52 (40.623 km/h)
2 Mattia Cattaneo (Italy)                                   0.02
3 Sebastian Lander (Denmark)                                0.03
4 Barry Markus (Netherlands)                                    
5 Eugenio Alafaci (Italy)                                       
6 Artur Ershov (Russian Federation)                             
7 Fabio Felline (Italy)                                         
8 Michael Matthews (Australia)                                  
9 Simon Lambert-Lemay (Canada)                                  
10 Toshi Van Der Sande (Belgium)                                
11 Kristian Sbaragli (Italy)                                0.04
12 Kuanysh Kylybayev (Kazakhstan)                               
13 Romain Bardet (France)                                       
14 Bastian Bürgel (Germany)                                     
15 Nicolas Vereecken (Belgium)                                  
16 Mark Dzamastagic (Slovenia)                                  
17 Tom Thill (Luxembourg)                                       
18 Peter Sagan (Slovakia)                                       
19 Boris Zimine (France)                                        
20 Roman Maykin (Russian Federation)                            
21 Daniel Freitas (Portugal)                                    
22 Loic Aubert (Switzerland)                                    
23 Mats Boeve (Netherlands)                                     
24 Sean Patrick Downey (Ireland)                            0.05
25 Arman Kamyshev (Kazakhstan)                                  
26 Lukasz Owsian (Poland)                                       
27 Jesus Herrada Lopez (Spain)                                  
28 Fabio Silvestre (Portugal)                                   
29 Ruslan Abdulmanov (Kazakhstan)                               
30 Josef Manousek (Czech Republic)                              
31 Oleh Solomko (Ukraine)                                   0.06
32 Thomas David (New Zealand)                                   
33 Michel Koch (Germany)                                        
34 Christopher Roth (Germany)                                   
35 Matvey Zubov (Russian Federation)                            
36 Anton Vorobyev (Russian Federation)                      0.07
37 Pawel Poljanski (Poland)                                     
38 Thibaut Pinot (France)                                       
39 Siarhei Plisko (Belarus)                                     
40 Enrico Barbin (Italy)                                    0.08
41 Nejc Kosir (Slovenia)                                        
42 Vegard Breen (Norway)                                        
43 Moreno Moser (Italy)                                     0.09
44 Andres Villarrear (Ecuador)                              0.12
45 Romain Bacon (France)                                    0.14
46 Masanori Noguchi (Japan)                                 0.20
47 Zico Waeytens (Belgium)                                  0.30
48 Jan Tratnik (Slovenia)                                   0.31
49 Pit Schlechter (Luxembourg)                              0.36
50 Nathan Brown (United States Of America)                  0.55
51 Benjamin Sydlik (Germany)                                0.56
52 Michael Hepburn (Australia)                                  
53 Michal Procner (Slovakia)                                    
54 Jasper Bovenhuis (Netherlands)                               
55 Andris Smirnovs (Latvia)                                 0.57
56 Piotr Gawronski (Poland)                                     
57 Felix Alejandro Varon Castillo (Colombia)                    
58 Jakub Novak (Czech Republic)                             0.58
59 Arnold Cristob Olavarria Abarca (Chile)                      
60 Wade Mangham (New Zealand)                               0.59
61 Alexandru Mocan (Republic of Moldova)                    1.01
62 Johan Ziesler (Norway)                                   2.31
63 Devon Novakowski (Canada)                                3.59
64 Guillaume Van Keirsbulck (Belgium)                       4.05
65 Christopher Jennings (South Africa)                      4.06
66 Ryan Aitcheson (Canada)                                      
67 Davit Mkrtchyan (Armenia)                                    
68 Mathias Jacobsen (Denmark)                               4.08
69 Jacob Rathe (United States Of America)                   5.08
70 Jomli Haroun (Tunisia)                                   6.03
71 Juan Enrique Aldapa (Mexico)                                 
72 Ki Ho Choi (Hong Kong, China)                                
73 Recep Ünalan (Turkey)                                    6.04
74 Daniel Rinner (Liechtenstein)                                
75 Mike Willam (Germany)                                        
76 Jonas Ahlstrand (Sweden)                                     
77 Mathew Marshall (New Zealand)                                
78 Michal Kwiatkowski (Poland)                                  
79 Daniel Alexander Jaramillo Diez (Colombia)                   
80 Janari-Joel Jõessar (Estonia)                                
81 Denis Lozinskiy (Russian Federation)                         
82 Jani Tewelde Weldegaber (Eritrea)                            
83 Aymen Mraïhi (Tunisia)                                   6.05
84 Hyeong Min Choe (Korea)                                      
85 Jimmi Sorensen (Denmark)                                     
86 Marouane Zenagui (Tunisia)                                   
87 Oleksandr Shapoval (Ukraine)                                 
88 Carlos Ruben Ackerman (Argentina)                        6.06
89 Albert Torres Barcelo (Spain)                                
90 Clinton Barrow (South Africa)                                
91 Leonardo Juarez (Mexico)                                 8.48
92 Niek Van Geffen (Netherlands)                            9.18
93 Yu Motosuna (Japan)                                     10.13
94 Johann Van Zyl (South Africa)                           12.51
95 Peter Balis (Slovakia)                                  14.43
96 Patrick Bevin (New Zealand)                             14.45
97 Ales Vojta (Czech Republic)                             14.46
98 Pawel Piotrowicz (Poland)                                    
99 Armands Becis (Latvia)                                       
100 Youcef Reguigui (Algeria)                                   
101 Stefan Petrovski (Former Yugoslav Republic of Macedonia)    
102 Arturo Pena (Mexico)                                        
103 Risto Raid (Estonia)                                        
104 Tesfay Abrhaha Habtemariam (Eritrea)                        
105 William Garneau (Canada)                                    
106 Bekir Baki Akirsan (Turkey)                            14.47
107 Hasan Aslan (Turkey)                                        
108 Michael Hümert (Germany)                               14.48
109 Luis Afonso (Portugal)                                      
110 Adam Leibovitz (United States Of America)              14.52
111 David Larson (Canada)                                       
112 Hugo Houle (Canada)                                    18.07
113 Artem Orlov (Ukraine)                                  18.36
114 Godfrey Gahemba RWA                                    23.40
115 Osama Atia (Libyan Arab Jamahiriya)                    24.31
DNF Florent Brochard (France)                                   
DNF Sean De Bie (Belgium)                                       
DNF Eliot Lietaer (Belgium)                                     
DNF Pawel Bernas (Poland)                                       
DNF Alex Mcgregor (New Zealand)                                 
DNF Silvan Dillier (Switzerland)                                
DNF Claudio Imhof (Switzerland)                                 
DNF Patrick Luternauer (Switzerland)                            
DNF Cyrille Thierry (Switzerland)                               
DNF Emil Soeberg Hovmand (Denmark)                              
DNF Frederik Jernov (Denmark)                                   
DNF Jasper Ockeloen (Netherlands)                               
DNF Filip Eidshiem (Norway)                                     
DNF Patrik Stenberg (Sweden)                                    
DNF Marek Benda (Czech Republic)                                
DNF Abdelmalek Kessi (Algeria)                                  
DNF Billal Saada (Algeria)                                      
DNF Alastair Loutit (Australia)                                 
DNF Cristopher Mansilla (Chile)                                 
DNF Pablo Ramirez (Chile)                                       
DNF Eric Ngomegni Kuissi (Cameroon)                             
DNF Hugo Sebas Salazar Castaneda (Colombia)                     
DNF Henok Abraha Habtemariyam (Eritrea)                         
DNF Pablo Lechuga Rodriguez (Spain)                             
DNF Reijo Puhm (Estonia)                                        
DNF King Lok Cheung (Hong Kong, China)                          
DNF Chi Ho Yuen (Hong Kong, China)                              
DNF Haimes Georges Benjamin (Honduras)                          
DNF Ryu Sasaki (Japan)                                          
DNF Dae Eun Kim (Korea)                                         
DNF Ji Gwang Kim (Korea)                                        
DNF Andzs Flaksis (Latvia)                                      
DNF Ali Abubregh (Libyan Arab Jamahiriya)                       
DNF Romain Halbwachs (Mauritius)                                
DNF Alexandre Juhel (Mauritius)                                 
DNF James Colin Mayer (Mauritius)                               
DNF Stefan Marggraff (Namibia)                                  
DNF Heiko Redecker (Namibia)                                    
DNF Frederick Van Zyl (Namibia)                                 
DNF Ramon Carretero (Panama)                                    
DNF Rourke Croeser (South Africa)                               
DNF Johannes Van Der Merwe (South Africa)                       
DNF Innocent Sibomana RWA                                       
DNF Carlos Daniel Linares Zambrano (Venezuela)                  
DNF Bright Chintu (Zambia)                                      

Women

1 Jolien D'Hoore (Belgium)                               2.20.28 (34.855 km/h)
2 Rossella Callovi (Italy)                                      
3 Hanna Amend (Germany)                                     0.01
4 Evelyn Arys (Belgium)                            
5 Irene San Sebastian Lasa (Spain)                 
6 Aurore Verhoeven (France)                        
7 Larisa Pankova (Russian Federation)              
8 Sinead Miller (United States Of America)         
9 Catalina Rayo Ramis (Spain)                      
10 Federica Primavera (Italy)                      
11 Anna-Bianca Schnitzmeier (Germany)              
12 Agnieta Francke (Netherlands)                   
13 Jerika Hutchinson (United States Of America)    
14 Nataliya Yelisseyeva (Kazakhstan)               
15 Anna Hunger (Germany)                           
16 Valeriya Kononenko (Ukraine)                    
17 Jenny Rios (Mexico)                                      0.02
18 Anna Van Der Breggen (Netherlands)                           
19 Kajsa Snihs (Sweden)                                         
20 Chiara Capuzzo (Italy)                                       
21 Melissa Ayala (Mexico)                                       
22 Denise Ramsden (Canada)                                      
23 Rossella Gobbo (Italy)                                       
24 Daniela Guajardo (Chile)                                     
25 Amy Pieters (Netherlands)                                    
26 Jessie Daams (Belgium)                                       
27 Zoe Appel (Australia)                                        
28 Wan Lin Chang (Chinese Taipei)                               
29 Charlotte Van Der Merwe (South Africa)                       
30 Gabriela Slamova (Czech Republic)                        0.03
31 Valentina Scandolara (Italy)                                 
32 Elodie Le Bail (France)                                      
33 Laurie-Anne Dupont Renaud (Canada)                           
34 Maria Grandt Petersen (Denmark)                          0.04
35 Jacqueline Hahn (Austria)                                    
36 Kaat Hannes (Belgium)                                        
37 Chloe Hosking (Australia)                                    
38 Winanda Spoor (Netherlands)                              0.05
39 Lauren Kitchen (Australia)                               0.10
40 Leah Kirchmann (Canada)                                  0.36
41 Jennifer Letue (France)                                  2.45
42 Caitlin De Wet (South Africa)                            2.49
43 Emma Mills (Sweden)                                      4.22
44 Tatiana Gorlova (Russian Federation)                         
45 Maryna Ivaniuk (Ukraine)                                 4.23
46 Lidia Malakhova (Russian Federation)                         
47 Marcia Fernandes Silva (Brazil)                          9.18
48 Ah Reum Na (Korea)                                      10.12
49 Sophie Ootes (Australia)                                10.59
50 Emma Petersen (New Zealand)                                  
51 Michelle Corbett (South Africa)                         13.38
52 Laurena Cussy (France)                                  15.01
53 Jessica Kisell (Canada)                                 15.38
54 Claire Matthews (South Africa)                          19.32
55 Sarra Henni (Algeria)                                   25.00
56 Nessrine Imadali (Algeria)                      
DNF Laura Dittmann (Germany)                       
DNF Elizaveta Oshurkova (Ukraine)                  
DNF Sofia Arreola (Mexico)                         
DNF Ana Usabiaga Balerdi (Spain)                   
DNF Hye Rim Kim (Korea)                            
DNF Autsanee Wongsrida (Thailand)