Junior World Championships - CM Jr
Cape Town, South Africa, July 18-20, 2008
Day 1 - July 18: Time trials men and women
Gold medal for Poland's Kwiatkowski
Michal Kwiatkowski of Poland won the gold medal
Photo ę: Alliance Photo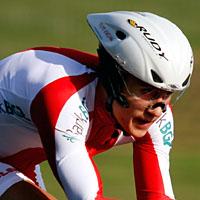 Michal Kwiatkowski from Poland posted the fastest time of the day to win the Worlds time trial title in the junior ranks. Kwiatkowski's time was 36'21"21. He was only five seconds ahead of Germany's Jakob Steigmiller. Pre-race favourite and recent pursuit champion Taylor Phinney (USA) ended the day with a bronze medal, less than ten seconds back.
Phinney, the defending champion, has nonetheless confirmed that he is one of the strongest and most consistent juniors out there.
The tough course was made even harder by a stiff headwind.
The grand finale of the UCI Junior World Championships is the individual road race being ridden through the streets of Cape Town on Sunday, July 20. Start time for women is 10:00 and men head out at 14:00.
The 'Grandt' Dane Peterson powers to victory
Maria Grandt Petersen of Denmark won the women's time trial
Photo ę: Alliance Photo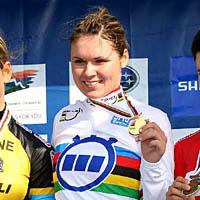 The 2008 UCI Junior World Championships continued today in Wellington with the Ladies time trials. In a strong headwind, Maria Grandt Petersen from Denmark took the gold medal with a time of 21'03"11 minutes. Valeriya Kononenko from the Ukraine won the silver medal, Laura Dittmann from Germany took bronze.
The riders had a 'baptism of fire' as they set off with a three-kilometre climb, testing their strength and endurance from the start. The wind, the rolling gradient and the variable road conditions were testing and after the race an ecstatic Petersen said, "I felt very good today, but the hills were very bad and for me, the conditions were difficult. But I am happy to win here in South Africa."
Michelle Corbett was the only South African rider in the women's race and put in a good effort. Her 22'47"480 secured her 18th in the race. 16-year old Michelle Corbett was the under-16 road and time trial in 2007 and won three medals at the South African Track Championships and the junior road and time trial titles - not bad for the youngest member of the team who will be riding in green and gold in all three disciplines.
Photography
For a thumbnail gallery of these images, click here
Images by Alliance Photo /www.alliancephoto.com
Results
Junior women - 14.1 km

1 Maria Grandt Petersen (Denmark)      21.03.11 (40.19 km/h)
2 Valeriya Kononenko (Ukraine)          0.17.13
3 Laura Dittmann (Germany)              0.49.30
4 Amy Pieters (Netherlands)             0.55.62
5 Sophie Ootes (Australia)              0.56.88
6 Jennifer Letue (France)               1.00.15
7 Jessie Daams (Belgium)                1.00.57
8 Franziska Ruschke (Germany)           1.04.16
9 Winanda Spoor (Netherlands)           1.08.75
10 Elizaveta Oshurkova (Ukraine)        1.09.94
11 Larisa Pankova (Russia)              1.10.40
12 Jerika Hutchinson (USA)              1.15.16
13 Zoe Appel (Australia)                1.18.59
14 Jacqueline Hahn (Austria)            1.20.13
15 Elodie Le Bail (France)              1.24.61
16 Denise Ramsden (Canada)              1.38.35
17 Nataliya Yelisseyeva (Kazakhstan)    1.43.32
18 Michelle Corbett (South Africa)      1.44.37
19 Kajsa Snihs (Sweden)                 1.47.56
20 Sinead Miller (USA)                  1.51.45
21 Evelyn Arys (Belgium)                1.56.22
22 Emma Petersen (New Zealand)          2.02.81
23 Chiara Capuzzo (Italy)               2.05.04
24 Emma Mills (Sweden)                  2.06.31
25 Leah Kirchmann (Canada)              2.19.76
26 Sofia Arreola (Mexico)               2.22.86
27 Irene Lasa Sebastian (Spain)         3.05.74
28 Marcia Fernandes Silva (Brazil)      3.07.59
29 Nessrine Imadali (Algeria)           5.24.33

Junior men - 26.8km

1 Michal Kwiatkowski (Poland)                  36.21.21 (44.232km/h)
2 Jakob Steigmiller (Germany)                   0.05.33
3 Taylor Phinney (USA)                          0.07.94
4 Jimmi Sorensen (Denmark)                      0.19.48
5 Johan Le Bon (France)                         0.27.81
6 Anton Vorobev (Russia)                        0.40.08
7 Tom David (New Zealand)                       0.41.99
8 Michael Humbert (Germany)                     0.45.51
9 Vegard Breen (Norway)                         0.47.35
10 Massimo Coledan (Italy)                      0.50.58
11 Albert Torres Barcelo (Spain)                0.53.34
12 Nathan Brown (USA)                           1.13.71
13 Jakub Novak (Czech Republic)                 1.24.19
14 Nikita Umerbekov (Kazakhstan)                1.45.73
15 Siarhei Plisko (Belarus)                     1.47.24
16 Arthur Vanoverberghe (Belgium)               1.48.57
17 Artur Ershov (Russia)                        1.49.28
18 Michael Freiberg (Australia)                 1.50.71
19 Piotr Gawronski (Poland)                     1.51.06
20 Daniil Fominykh (Kazakhstan)                 1.52.13
21 Nejc Kosir (Slovenia)                        1.53.18
22 Alex Mcgregor (New Zealand)                  1.53.88
23 Jasper Bovenhuis (Netherlands)               2.01.25
24 Fabio Silvestre (Portugal)                   2.01.51
25 Jan Tratnik (Slovenia)                       2.07.30
26 Guillaume Van Keirsbulck (Belgium)           2.09.42
27 Tom Thill (Luxembourg)                       2.11.14
28 Devon Novakowski (Canada)                    2.14.51
29 Tiaan Swart (South Africa)                   2.15.89
30 Frederik Jernov (Denmark)                    2.23.70
31 Rohan Dennis (Australia)                     2.25.86
32 Filip Eidshiem (Norway)                      2.26.67
33 Marek Benda (Czech Republic)                 2.33.85
34 Jesus Herrada Lopez (Spain)                  2.40.47
35 Romain Bacon (France)                        2.43.67
36 Claudio Imhof (Switzerland)                  2.44.52
37 Jani Tewelde Weldegaber (Eritrea)            2.44.97
38 Hugo Houle (Canada)                          2.47.06
39 Oleh Solomko (Ukraine)                       3.07.25
40 Sean Patrick Downey (Ireland)                3.12.92
41 Adam Leibovitz (USA)                         3.33.04
42 Artem Orlov (Ukraine)                        3.52.51
43 Alexander Emmanuel Caselles (Argentina)      4.01.04
44 Andzs Flaksis (Latvia)                       4.03.82
45 Mattia Sinigaglia (Italy)                    4.11.12
46 Niek Van Geffen (Netherlands)                4.13.11
47 Ryu Sasaki (Japan)                           4.25.69
48 Patrick Luternauer (Switzerland)             4.27.72
49 Felix Alejandro Baron Castillo (Colombia)    4.41.03
50 Shota Takahashi (Japan)                      4.45.49
51 King Lok Cheung (Hkg)                        4.45.55
52 Janari-Joel J§essar (Estonia)                4.46.66
53 Suren Petrosyan (Armenia)                    5.20.13
54 Recep ▄nalan (Turkey)                        5.23.23
55 Alexandru Mocan (Moldavia)                   5.40.97
56 Bilal Saada (Algeria)                               
57 Stefan Petrovski (FYR Macedonia)             5.54.70
58 Daniel Rinner (Liechtenstein)                5.58.17
59 Aymen Mra´hi (Tunisia)                       6.09.65
60 Jomli Haroun (Tunisia)                       6.40.24
61 Osama Atia (Libya)                           6.43.99
62 James Colin Mayer (Mauritius)                6.44.34
63 Berhane Melake Teklehaimanot (Eritrea)       7.05.02
64 Drobisch Florian (Namibia)                   7.09.16
65 Ali Abubregh (Libya)                         8.45.18
66 Mirko Meier (Namibia)                        8.49.17
DNF Paul Van Zweel (South Africa)                      
DNS Hasan Aslan (Turkey)                               
DNS Hugo Sebastian Salazar Castaneda (Colombia)