Cascade Cycling Classic - NE
Oregon, USA, July 9-13, 2008
Main Page Results Overall standings Previous Stage Next Stage
Stage 3 - July 11: Skyliners Time Trial, 15 mi
Leipheimer takes yellow after a blazing TT
By Kirsten Robbins in Bend, Oregon
Levi Leipheimer (Astana) finished the time trial in the expected position
Photo ©: Jon Devich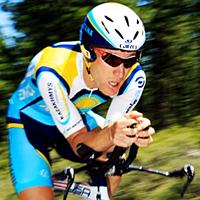 America's Levi Leipheimer (Astana) proved his top condition by taking victory on the Stage 3 time trial, and the general classification lead with it. The podium finisher from last year's Tour de France clocked a time of 28'07" to win the 22.4-kilometre stage over BMC pair Jeff Louder and Darren Lill.
"It was hard on the way out, always up hill, which is mentally difficult," said Leipheimer, who added that the course is similar to the one of this August's Olympic Games in Beijing, China. "It was good preparation, climbing on the way out and fast on the way back.
"These kinds of courses are really tough to do on a time trial bike where you're locked into one position, so it is good training," he added.
Leipheimer's time trial effort gives him a 1'28" lead over Tom Zirbel (Bissell) and 2'02" minutes ahead of Louder. With only one team-mate, Chris Horner, at the event Leipheimer admitted it will be hard to hold onto his lead.
"We are at the mercy of everyone for sure," said Leipheimer. "We are going to have to be smart.
"Pick one or two riders and teams to key off," he added. "Maybe we can make an alliance with some one who is interested in stage wins."
Leipheimer signed up to race the Cascade Classic as a form of training for he and team-mate. The 34 year-old was recently named on the United States of America squad for August's Olympic Games.
"We are just here following," said Leipheimer. "We will try to stay in the yellow as long as possible. If there is a way we can pull off the win we will try.
Peter Stetina (Garmin-Chipotle) had a good ride
Photo ©: Jon Devich

"It was a straight road and some times you could see more than a kilometre in front of you," added Leipheimer. "Its hard to stay focused on a course like that. But coming back was fun at like 40m/h."
General classification runner up Zirbel admitted that his team will take responsibility over the next stages, even though they do not have the leader's jersey. "I think the responsibility will automatically fall on us as second place in the overall because we have so many riders," said Zirbel.
"I know Horner is a strong guy," he added. "But if we want to maintain second place we are going to have to do some work too."
Armstrong wins in preparation for Beijing
Kristin Armstrong (Cervelo) rode in her usual
Photo ©: Jon Devich

United States of America Time Trial Champion Kristin Armstrong (Cervelo-Lifeforce) won the 22.4-kilometre stage three time trial to consolidate her overall lead. Armstrong claimed victory over Webcor pair Christine Thorburn and Katheryn Curi-Mattis.
The stage was Armstrong's final time trial before she vies for Olympic gold in Beijing, China this August. Like men's winner Leipheimer, Armstrong was pleased by her efforts over a course similar to that they will face in Beijing.
"The course was very similar to the one in Beijing," said Armstrong. "This course was only a kilometre or so short than the one in Beijing and was the same up hill, out and down hill, back again style."
Armstrong's victory furthers her advantage on general classification. She now holds a lead of nearly two minutes over Christine Thorburn (Webcor) and is a further minute ahead of third placed Julie Beverage (Aaron's).
"My being here is not about winning Cascade," said Armstrong. "It is all about preparing for the Olympics and I used the strong riders in the field today as rabbits to help with that preparation."
Webcor's performance is indicative of why the squad is currently leading the overall team general classification. The squad managed to place two of its riders on the time trial podium and also have one on the general classification podium.
"We have some really strong and consistent riders," said Webcor's runner up Christine Thorburn.
Photography
For a thumbnail gallery of these images, click here
Images by Jonathan Devich/

Results

Elite men
 
1 Levi Leipheimer (Astana)                                     28.07
2 Jeff Louder (BMC)                                             1.15
3 Darren Lill (BMC)                                             1.20
4 Tom Zirbel (Bissell Pro Cycling Team)                         1.35
5 Ben Day (Toyota-United)                                           
6 Benjamin Jacques Maynes (Bissell Pro Cycling Team)            1.46
7 Christopher D Barton                                          1.51
8 Chris Baldwin (Toyota-United)                                 2.00
9 Steven Cozza (Garmin/Chipotle p/b H3O)                        2.02
10 Peter Stetina (Garmin/Chipotle p/b H3O)                      2.06
11 Tom Danielson (Garmin/Chipotle p/b H3O)                      2.11
12 Jonathan Chodroff (Empire Cycling Team)                      2.13
13 Scott Nydam (BMC)                                            2.18
14 Brent Bookwalter (BMC)                                       2.20
15 Thomas I Peterson (Garmin/Chipotle p/b H3O)                      
16 Jonathan Garcia (BMC)                                        2.22
17 Chris Wherry (Toyota-United)                                     
18 Christopher Horner (Astana)                                  2.25
19 Valeriy Kobzarenko (Team Type 1)                             2.26
20 Kevin Rowe (Bobs-Bicycles.com)                               2.28
21 Aaron Olson (Bissell Pro Cycling Team)                       2.29
22 Taylor Shelden (Team Rio Grande Cycling)                     2.31
23 Jonathan P McCarty (Garmin/Chipotle p/b H3O)                     
24 Roman Kilun (Health Net presented by Maxxis)                     
25 Will Routley                                                 2.33
26 Cesar Grajales (Rock Racing)                                 2.36
27 Andy Jacques-Maynes (California Giant / Specialized)         2.39
28 Blake A Caldwell (Garmin/Chipotle p/b H3O)                   2.41
29 Moises Aldape (Team Type 1)                                  2.44
30 Ian Mckissick (BMC)                                          2.47
31 Logan Hunn (Rubicon-ORBEA)                                   2.48
32 Jason L Donald (Garmin/Chipotle p/b H3O)                     2.50
33 Burke Swindlehurst (Bissell Pro Cycling Team)                3.03
34 Matt Wilson (Team Type 1)                                    3.04
35 Phil Zajicek (Health Net presented by Maxxis)                3.05
36 Justin Mayfield (Bobs-Bicycles.com)                          3.07
37 Steve Bovay (BMC)                                            3.09
38 Michael Grabinger (Successful Living)                        3.11
39 Tim Johnson (Health Net presented by Maxxis)                 3.12
40 Jarred Berger (Team Legacy Energy Ciclismo)                  3.15
41 Steve Larsen                                                 3.18
42 Adrian Hegyvary (Hagens Berman LLP Cycling Te)               3.20
43 Glen Chadwick (Team Type 1)                                      
44 Corey Collier (Health Net presented by Maxxis)               3.25
45 Bradley White (Successful Living)                            3.26
46 Gardie Jackson (American R.A.D.D / AGEL)                     3.28
47 Chris Jones (Team Type 1)                                        
48 Bryson L Perry (American R.A.D.D / AGEL)                     3.31
49 Sam Johnson (Hagens Berman LLP Cycling Te)                   3.32
50 Brian Jensen (Successful Living)                             3.33
51 Rory Sutherland (Health Net presented by Maxxis)             3.35
52 Kyle Gritters (Health Net presented by Maxxis)               3.37
53 John Hunt (California Giant / Specialized)                       
54 Ivan Stevic (Toyota-United)                                  3.38
55 Edward King (Bissell Pro Cycling Team)                       3.41
56 James Mattis (California Giant / Specialized)                    
57 Matt Cooke (Health Net presented by Maxxis)                  3.42
58 Jesse Moore (California Giant / Specialized)                 3.43
59 Justin Rose (Bobs-Bicycles.com)                              3.48
60 Jonny Clarke (Toyota-United)                                 3.49
61 Luis A Zamudio (American R.A.D.D / AGEL)                     3.52
62 Rolf Eisinger (Team Legacy Energy Ciclismo)                      
63 Shawn Milne (Team Type 1)                                    3.54
64 Jeff Hartman (Michelob Ultra-Big Shark Racin)                    
65 Taylor Kneuven (Team Rio Grande Cycling)                     3.56
66 Stefano Barberi (THF Racing)                                 3.57
67 Steve Reaney (California Giant / Specialized)                3.59
68 Christian Helmig (Metro Volkswagen/ FCS Cycling)                 
69 Dominique Rollin (Toyota-United)                             4.00
70 Nick Clayville (Hagens Berman LLP Cycling Te)                4.01
71 Dan Porter (Team Rio Grande Cycling)                         4.02
72 Christopher M Teufel (Rubicon-ORBEA)                         4.04
73 Justin England (Toyota-United)                               4.07
74 Peter Dawson (Rock Racing)                                       
75 Alessandro Bazzana (Successful Living)                       4.09
76 Curtis Gunn (Successful Living)                              4.11
77 Osvaldo Olmos (California Giant / Specialized)               4.12
78 Chad Beyer                                                       
79 Craig Upton (Above Category Racing)                          4.14
80 Frank Pipp (Health Net presented by Maxxis)                  4.21
81 Caleb Manion (Toyota-United)                                 4.26
82 Dan Workman (Team Legacy Energy Ciclismo)                    4.27
83 Mark Schwab (excelsports.com)                                4.28
84 Mike Telega (California Giant / Specialized)                 4.31
85 Scott Tietzel (Jelly Belly Pro Cycling)                      4.32
86 Daniel Holloway (Garmin/Chipotle p/b H3O)                    4.34
87 Calvin Allan (Bobs-Bicycles.com)                             4.35
88 Allen Krughoff (Team Rio Grande Cycling)                     4.38
89 Trevor Connor (Chris Cookies/Swan Cycles)                    4.40
90 Kyle W Colavito (RIDECLEAN)                                  4.43
91 Nathan Miller (BMC)                                          4.46
92 Josh Bartlett (Rubicon-ORBEA)                                    
93 Paul Esposti (Team Legacy Energy Ciclismo)                   4.51
94 Patrick D Caro (Liquid Fitness)                              4.52
95 Phil Mann (Team Legacy Energy Ciclismo)                          
96 Chris Stuart (Bobs-Bicycles.com)                             4.56
97 Kiefer U Hahn (Hammer Nutrition)                             4.59
98 Tyler Wren (Colavital Sutterhome)                            5.03
99 Ricardo Escuela (Successful Living)                          5.04
100 Mike Zagorski (Pacific Velo)                                5.05
101 Ian Gray (Team Legacy Energy Ciclismo)                      5.06
102 Caleb Fairly (VMG/Felt)                                     5.08
103 Sean Passage (Therapeutic Associates)                       5.11
104 Sheldon Deeny (Empire Cycling Team)                         5.14
105 Omer Kem (Bissell Pro Cycling Team)                         5.22
106 Rudolph Naplolitano (Rock Racing)                               
107 Erik Slack (Bobs-Bicycles.com)                              5.26
108 Jeremy Vennell (Bissell Pro Cycling Team)                   5.27
109 Davide Frattini (Colavital Sutterhome)                      5.31
110 Benjamin L Bradshaw (Kahala La Grange)                      5.32
111 Craig Luekens (Targetraining U25/Elite)                         
112 Kevin Klein (Rock Racing)                                       
113 Billy Demong (American R.A.D.D / AGEL)                      5.37
114 Trevor Mays (Gin Optics)                                    5.53
115 Zag Grabowski (THF Racing)                                  6.03
116 Chris Swan (ZteaM Cycling)                                  6.11
117 Jonathan Eropkin (VOS Racing)                               6.12
118 Rich Davis (Team Legacy Energy Ciclismo)                    6.14
119 Jake Macarthur (Hagens Berman LLP Cycling Te)               6.20
120 Aaron B Tuckerman (Jelly Belly Pro Cycling)                 6.21
121 Santiago Botero (Rock Racing)                               6.25
122 Lang Reynolds (Hagens Berman LLP Cycling Te)                6.26
123 Jake Rubelt (RIDECLEAN)                                     6.29
124 Brad Cole (Team Legacy Energy Ciclismo)                     6.32
125 Jeremiah Wiscovitch (Rock Racing)                           6.33
126 Carson Miller (Rubicon-ORBEA)                               6.36
127 Josh A Horowitz (Liquid Fitness)                                
128 Robert Campbell (Bobs-Bicycles.com)                         6.46
129 Morgan Schmitt (Bissell Pro Cycling Team)                   6.52
130 Scott Stewart                                               6.56
131 Evan Hyde (NashvilleCyclist.com)                            7.04
132 Logan Garey (Team Rio Grande Cycling)                       7.09
133 Roman Van Uden (Rubicon-ORBEA)                              7.10
134 Hugh A Trenchard (Schwalbe)                                 7.15
135 Shaun Morris (Rubicon-ORBEA)                                7.33
136 Sam Silvey (Marx and Bensdorf Realtors)                     7.57
137 Jonathan N Baker (Vitamin Cottage Cycling Team)             8.12
138 Ken Hanson (California Giant / Specialized)                 8.15
139 Joe Kirch (RIDECLEAN)                                       8.28
140 Eric Riggs (NorCal Elite Cycling)                           8.33
 
Elite women
 
1 Kristin Armstrong Savola (Cervelo-Lifeforce)                 31.55
2 Christine Thorburn (Webcor Builders)                          0.52
3 Katheryn Mattis (Webcor Builders)                             1.47
4 Julie Beveridge (Aaron's Pro Cycling)                         2.03
5 Felicia Gomez (Aaron's Pro Cycling)                           2.25
6 Meredith Miller (Aaron's Pro Cycling)                         2.45
7 Ruth Clemence (Bicycle John's Serious Cycling)                2.46
8 Janel Holcomb (Webcor Builders)                               3.12
9 Kristin Sanders (Aaron's Pro Cycling)                         3.16
10 Kelly Mcdonald (Touchstone Climbing)                         3.18
11 Robin Secrist (Veloforma/Zym)                                3.56
12 Molly S Van Houweling (Metromint Cycling on Marin Bike)      3.58
13 Allison Beall (Bobs-Bicycles.com)                            4.02
14 Marisa Asplund-Owens (Cheerwine Cycling)                     4.04
15 Davina C Summers (Metromint Cycling on Marin Bike)           4.17
16 Martina Patella (ValueAct Capital Cycling Team)              4.24
17 Megan M Hottman (DFT-QA3 Financial)                          4.26
18 Alison Testroete (Aaron's Pro Cycling)                       4.33
19 Tricia Bailey (Team SHO-AIR/CVAC)                            4.41
20 Sarah Barber (Bobs-Bicycles.com)                             5.02
21 Olivia Dillon (Touchstone Climbing)                          5.03
22 Jane Robertson (Metromint Cycling on Marin Bike)                 
23 Suz Weldon (Team SHO-AIR/CVAC)                                   
24 Flavia Oliveira (Touchstone Climbing)                        5.16
25 Alison Starnes (Team TIBCO)                                  5.19
26 Maria Monica (Touchstone Climbing)                           5.20
27 Amber Rais (Team TIBCO)                                      5.24
28 Lana Atchley (Team SHO-AIR/CVAC)                             5.27
29 Gina Grain (Webcor Builders)                                 5.30
30 Morgan Kapp (SouthBay Wheelmen)                              5.32
31 Jennifer Reither (SouthBay Wheelmen)                         5.38
32 Sabrina Savage (Veloforma/Zym)                               5.39
33 Ashley Dymond (Team SHO-AIR/CVAC)                            5.41
34 Shannon L Koch (Metro Volkswagen Cycling Tea)                5.44
35 Katharine Lundby (Bend Bike N Sport)                         5.49
36 Sharon Allpress (ValueAct Capital Cycling Team)              5.53
37 Kelli Jones (SouthBay Wheelmen)                                  
38 Rebecka Hartkop (Veloforma/Zym)                              6.03
39 Amy Dombroski (Webcor Builders)                              6.06
40 Alice Pennington (Veloforma/Zym)                             6.08
41 Ally Stacher (Bobs-Bicycles.com)                             6.10
42 Linsey Bradshaw (Team SHO-AIR/CVAC)                          6.19
43 Beatrice Rodriguez (Bicycle John's Serious Cycling)              
44 Coryn J Rivera (Kahala La Grange)                            6.20
45 Teri Sheasby (Bend Bike N Sport)                             6.25
46 Jadine Riley (Team Group Health)                             6.31
47 Lara Kroepsch (ValueAct Capital Cycling Team)                6.38
48 Erin Ford (Team SHO-AIR/CVAC)                                    
49 Heather A Clark (Bend Bike N Sport)                              
50 Lindsay M Myers (Dewar's Racing Team)                        6.41
51 Kelsey M Withrow (PCIM)                                      6.42
52 Melanie Meyers (Specialized D4W /Bicycle Haus)               6.44
53 Ashley Anderson (Metro Volkswagen Cycling Tea)               6.46
54 Emily Zell (ValueAct Capital Cycling Team)                   6.53
55 Gabriela Ferrat (Bicycle John's Serious Cycling)                 
56 Carrie S Eller (Metromint Cycling on Marin Bike)             7.11
57 Anna Davenport                                               7.19
58 Hilary Billington (Veloforma/Zym)                            7.25
59 Jessica Phillips (Aspen Bike Guide)                          7.26
60 Helen Kelly (Team TIBCO)                                     7.28
61 Kristina Seley (Touchstone Climbing)                         7.35
62 Tricia Sandstrom (Team Group Health)                         7.37
63 Kendall Ryan (Team SHO-AIR/CVAC)                             7.38
64 Izette Swan (Team Group Health)                              7.39
65 Rushlee Buchanan (Team TIBCO)                                7.40
66 Brooke Miller (Team TIBCO)                                   7.43
67 Dana Robertson-Halter (Team Group Health)                    7.47
68 Marni Hambleton (ValueAct Capital Cycling Team)              7.49
69 Michelle Beltran (Bicycle John's Serious Cycling)            7.50
70 Anny Henry (Metromint Cycling on Marin Bike)                     
71 Megan Rathwell (Touchstone Climbing)                         7.57
72 Lynn Allbrow (Bend Bike N Sport)                             8.30
73 Jen Weinbrecht (Bend Bike N Sport)                           8.33
74 Janeen Thorpe (Touchstone Climbing)                          8.42
75 Anna Drakulich (Bicycle John's Serious Cycling)              9.05
76 Elizabeth Nettles (Team Group Health)                        9.09
77 Ryan Hostetter (Velo Bella)                                  9.28
78 Emily Thurston (Team Organic Athlete)                        9.33
79 Sami R Fournier (Organic Athlete Cycling Team)               9.37
80 Yukie Nakamura (Metromint Cycling on Marin Bike)             9.45
81 Arielle Filiberti (Bend Bike N Sport)                       10.31
82 Megan Elliott (Bend Bike N Sport)                           10.46
83 Laurel Green (SouthBay Wheelmen)                            10.47
84 Miranda Moon (Veloforma/Zym)                                11.00
 
General Classification after Stage 3
 
Elite men
 
1 Levi Leipheimer (Astana)                                   6.19.42
2 Tom Zirbel (Bissell Pro Cycling Team)                         1.58
3 Jeff Louder (BMC)                                             2.02
4 Chris Baldwin (Toyota-United)                                 2.18
5 Matt Wilson (Team Type 1)                                     2.27
6 Darren Lill (BMC)                                             2.30
7 Chris Wherry (Toyota-United)                                  3.09
8 Peter Stetina (Garmin/Chipotle p/b H3O)                       3.32
9 Steven Cozza (Garmin/Chipotle p/b H3O)                        3.35
10 Thomas I Peterson (Garmin/Chipotle p/b H3O)                  3.38
11 Jonathan P McCarty (Garmin/Chipotle p/b H3O)                 4.05
12 Blake A Caldwell (Garmin/Chipotle p/b H3O)                       
13 Brent Bookwalter (BMC)                                           
14 Chris Jones (Team Type 1)                                    4.24
15 Aaron Olson (Bissell Pro Cycling Team)                       4.29
16 Will Routley                                                 4.30
17 Cesar Grajales (Rock Racing)                                 4.32
18 Glen Chadwick (Team Type 1)                                  4.40
19 Burke Swindlehurst (Bissell Pro Cycling Team)                4.47
20 Corey Collier (Health Net presented by Maxxis)               4.48
21 Phil Zajicek (Health Net presented by Maxxis)                4.53
22 Taylor Shelden (Team Rio Grande Cycling)                     5.03
23 Benjamin Jacques Maynes (Bissell Pro Cycling Team)           5.23
24 Brian Jensen (Successful Living)                             5.26
25 Ben Day (Toyota-United)                                      5.35
26 John Hunt (California Giant / Specialized)                   5.49
27 Michael Grabinger (Successful Living)                        5.55
28 Scott Nydam (BMC)                                            6.01
29 Moises Aldape (Team Type 1)                                  6.29
30 Jonathan Chodroff (Empire Cycling Team)                      6.33
31 Santiago Botero (Rock Racing)                                    
32 Chad Beyer                                                   6.40
33 James Mattis (California Giant / Specialized)                6.44
34 Tyler Wren (Colavital Sutterhome)                            6.52
35 Kevin Rowe (Bobs-Bicycles.com)                               6.56
36 Christopher D Barton                                         7.06
37 Edward King (Bissell Pro Cycling Team)                       7.13
38 Roman Kilun (Health Net presented by Maxxis)                 7.17
39 Andy Jacques-Maynes (California Giant / Specialized)         7.18
40 Steve Bovay (BMC)                                            7.19
41 Tim Johnson (Health Net presented by Maxxis)                 7.30
42 Stefano Barberi (THF Racing)                                 7.32
43 Jonathan Garcia (BMC)                                        7.38
44 Valeriy Kobzarenko (Team Type 1)                             7.42
45 Logan Hunn (Rubicon-ORBEA)                                   7.52
46 Rolf Eisinger (Team Legacy Energy Ciclismo)                  7.58
47 Christian Helmig (Metro Volkswagen/ FCS Cycling)             8.07
48 Nick Clayville (Hagens Berman LLP Cycling Te)                8.16
49 Jarred Berger (Team Legacy Energy Ciclismo)                      
50 Jeff Hartman (Michelob Ultra-Big Shark Racin)                8.28
51 Ricardo Escuela (Successful Living)                          8.40
52 Ian Gray (Team Legacy Energy Ciclismo)                       9.01
53 Tom Danielson (Garmin/Chipotle p/b H3O)                      9.07
54 Trevor Connor (Chris Cookies/Swan Cycles)                    9.16
55 Jesse Moore (California Giant / Specialized)                 9.22
56 Steve Larsen                                                 9.23
57 Matt Cooke (Health Net presented by Maxxis)                  9.28
58 Jonny Clarke (Toyota-United)                                 9.35
59 Davide Frattini (Colavital Sutterhome)                       9.37
60 Dominique Rollin (Toyota-United)                             9.52
61 Billy Demong (American R.A.D.D / AGEL)                       9.57
62 Ian Mckissick (BMC)                                          9.58
63 Osvaldo Olmos (California Giant / Specialized)              10.01
64 Shawn Milne (Team Type 1)                                   10.03
65 Jeremy Vennell (Bissell Pro Cycling Team)                   10.11
66 Bryson L Perry (American R.A.D.D / AGEL)                    10.12
67 Adrian Hegyvary (Hagens Berman LLP Cycling Te)              10.15
68 Sam Johnson (Hagens Berman LLP Cycling Te)                  10.32
69 Taylor Kneuven (Team Rio Grande Cycling)                    10.46
70 Josh Bartlett (Rubicon-ORBEA)                               10.49
71 Kyle Gritters (Health Net presented by Maxxis)              10.56
72 Calvin Allan (Bobs-Bicycles.com)                            10.57
73 Mark Schwab (excelsports.com)                               11.20
74 Luis A Zamudio (American R.A.D.D / AGEL)                    11.26
75 Gardie Jackson (American R.A.D.D / AGEL)                    11.32
76 Erik Slack (Bobs-Bicycles.com)                              11.38
77 Bradley White (Successful Living)                           11.39
78 Frank Pipp (Health Net presented by Maxxis)                 11.46
79 Justin Mayfield (Bobs-Bicycles.com)                         12.00
80 Mike Zagorski (Pacific Velo)                                12.20
81 Rory Sutherland (Health Net presented by Maxxis)            12.23
82 Roman Van Uden (Rubicon-ORBEA)                              12.52
83 Omer Kem (Bissell Pro Cycling Team)                         13.12
84 Paul Esposti (Team Legacy Energy Ciclismo)                  13.21
85 Benjamin L Bradshaw (Kahala La Grange)                      13.41
86 Carson Miller (Rubicon-ORBEA)                               13.43
87 Ivan Stevic (Toyota-United)                                 14.14
88 Josh A Horowitz (Liquid Fitness)                            14.21
89 Dan Porter (Team Rio Grande Cycling)                        14.25
90 Justin England (Toyota-United)                              15.02
91 Curtis Gunn (Successful Living)                             15.06
92 Alessandro Bazzana (Successful Living)                      15.07
93 Craig Upton (Above Category Racing)                         15.51
94 Caleb Manion (Toyota-United)                                15.58
95 Lang Reynolds (Hagens Berman LLP Cycling Te)                16.05
96 Kevin Klein (Rock Racing)                                   16.06
97 Chris Swan (ZteaM Cycling)                                  16.17
98 Hugh A Trenchard (Schwalbe)                                 16.20
99 Kyle W Colavito (RIDECLEAN)                                      
100 Aaron B Tuckerman (Jelly Belly Pro Cycling)                16.31
101 Caleb Fairly (VMG/Felt)                                    16.40
102 Steve Reaney (California Giant / Specialized)              16.48
103 Morgan Schmitt (Bissell Pro Cycling Team)                  17.11
104 Daniel Holloway (Garmin/Chipotle p/b H3O)                  17.31
105 Zag Grabowski (THF Racing)                                 17.45
106 Craig Luekens (Targetraining U25/Elite)                    18.03
107 Kiefer U Hahn (Hammer Nutrition)                           18.09
108 Christopher Horner (Astana)                                18.37
109 Phil Mann (Team Legacy Energy Ciclismo)                    18.41
110 Sheldon Deeny (Empire Cycling Team)                        18.42
111 Justin Rose (Bobs-Bicycles.com)                            18.52
112 Rudolph Naplolitano (Rock Racing)                          19.46
113 Nathan Miller (BMC)                                        19.55
114 Jonathan Eropkin (VOS Racing)                              20.30
115 Peter Dawson (Rock Racing)                                 20.45
116 Allen Krughoff (Team Rio Grande Cycling)                   21.35
117 Chris Stuart (Bobs-Bicycles.com)                           22.07
118 Scott Tietzel (Jelly Belly Pro Cycling)                    22.33
119 Christopher M Teufel (Rubicon-ORBEA)                       24.46
120 Mike Telega (California Giant / Specialized)               27.01
121 Patrick D Caro (Liquid Fitness)                            27.17
122 Dan Workman (Team Legacy Energy Ciclismo)                  27.42
123 Jason L Donald (Garmin/Chipotle p/b H3O)                   29.30
124 Evan Hyde (NashvilleCyclist.com)                           30.04
125 Brad Cole (Team Legacy Energy Ciclismo)                    31.44
126 Scott Stewart                                              31.45
127 Sean Passage (Therapeutic Associates)                      31.52
128 Logan Garey (Team Rio Grande Cycling)                      37.57
129 Jeremiah Wiscovitch (Rock Racing)                          41.33
130 Robert Campbell (Bobs-Bicycles.com)                        42.14
131 Jake Macarthur (Hagens Berman LLP Cycling Te)              42.17
132 Trevor Mays (Gin Optics)                                   43.32
133 Rich Davis (Team Legacy Energy Ciclismo)                   50.14
134 Jake Rubelt (RIDECLEAN)                                    54.42
 
Elite women
 
1 Kristin Armstrong Savola (Cervelo-Lifeforce)               7.57.36
2 Christine Thorburn (Webcor Builders)                          1.55
3 Julie Beveridge (Aaron's Pro Cycling)                         2.50
4 Katheryn Mattis (Webcor Builders)                             4.55
5 Kristin Sanders (Aaron's Pro Cycling)                         6.54
6 Janel Holcomb (Webcor Builders)                               7.02
7 Felicia Gomez (Aaron's Pro Cycling)                           7.12
8 Gina Grain (Webcor Builders)                                  9.49
9 Kelly Mcdonald (Touchstone Climbing)                         10.18
10 Meredith Miller (Aaron's Pro Cycling)                            
11 Alison Testroete (Aaron's Pro Cycling)                      11.02
12 Martina Patella (ValueAct Capital Cycling Team)             11.08
13 Ruth Clemence (Bicycle John's Serious Cycling)              11.22
14 Robin Secrist (Veloforma/Zym)                               11.53
15 Marisa Asplund-Owens (Cheerwine Cycling)                    12.12
16 Sarah Barber (Bobs-Bicycles.com)                            12.45
17 Tricia Bailey (Team SHO-AIR/CVAC)                           12.55
18 Amber Rais (Team TIBCO)                                     13.00
19 Jane Robertson (Metromint Cycling on Marin Bike)            13.05
20 Davina C Summers (Metromint Cycling on Marin Bike)          13.21
21 Flavia Oliveira (Touchstone Climbing)                       13.48
22 Molly S Van Houweling (Metromint Cycling on Marin Bike)     14.09
23 Amy Dombroski (Webcor Builders)                             14.25
24 Morgan Kapp (SouthBay Wheelmen)                                  
25 Allison Beall (Bobs-Bicycles.com)                           14.32
26 Hilary Billington (Veloforma/Zym)                           14.47
27 Maria Monica (Touchstone Climbing)                          15.02
28 Alice Pennington (Veloforma/Zym)                            15.03
29 Sharon Allpress (ValueAct Capital Cycling Team)             15.21
30 Teri Sheasby (Bend Bike N Sport)                            15.38
31 Ally Stacher (Bobs-Bicycles.com)                                 
32 Suz Weldon (Team SHO-AIR/CVAC)                              16.05
33 Megan M Hottman (DFT-QA3 Financial)                         16.24
34 Rebecka Hartkop (Veloforma/Zym)                             16.59
35 Lindsay M Myers (Dewar's Racing Team)                       17.01
36 Olivia Dillon (Touchstone Climbing)                         17.21
37 Brooke Miller (Team TIBCO)                                  17.27
38 Katharine Lundby (Bend Bike N Sport)                        17.50
39 Gabriela Ferrat (Bicycle John's Serious Cycling)            19.20
40 Heather A Clark (Bend Bike N Sport)                         19.31
41 Anna Drakulich (Bicycle John's Serious Cycling)             19.38
42 Alison Starnes (Team TIBCO)                                      
43 Megan Rathwell (Touchstone Climbing)                        19.50
44 Melanie Meyers (Specialized D4W /Bicycle Haus)              20.00
45 Izette Swan (Team Group Health)                             20.15
46 Jadine Riley (Team Group Health)                            20.29
47 Beatrice Rodriguez (Bicycle John's Serious Cycling)         20.34
48 Dana Robertson-Halter (Team Group Health)                   20.42
49 Michelle Beltran (Bicycle John's Serious Cycling)           20.54
50 Sabrina Savage (Veloforma/Zym)                              21.00
51 Rushlee Buchanan (Team TIBCO)                               21.19
52 Jen Weinbrecht (Bend Bike N Sport)                          21.33
53 Emily Thurston (Team Organic Athlete)                       21.51
54 Janeen Thorpe (Touchstone Climbing)                         21.54
55 Linsey Bradshaw (Team SHO-AIR/CVAC)                         22.30
56 Kristina Seley (Touchstone Climbing)                        22.32
57 Shannon L Koch (Metro Volkswagen Cycling Tea)               23.08
58 Tricia Sandstrom (Team Group Health)                        23.53
59 Kelli Jones (SouthBay Wheelmen)                             23.58
60 Coryn J Rivera (Kahala La Grange)                           24.02
61 Elizabeth Nettles (Team Group Health)                       24.05
62 Emily Zell (ValueAct Capital Cycling Team)                  24.11
63 Jessica Phillips (Aspen Bike Guide)                         24.19
64 Kendall Ryan (Team SHO-AIR/CVAC)                            24.32
65 Helen Kelly (Team TIBCO)                                    24.37
66 Anna Davenport                                              24.52
67 Lana Atchley (Team SHO-AIR/CVAC)                            27.06
68 Ashley Anderson (Metro Volkswagen Cycling Tea)              28.30
69 Jennifer Reither (SouthBay Wheelmen)                        30.29
70 Ashley Dymond (Team SHO-AIR/CVAC)                           30.51
71 Erin Ford (Team SHO-AIR/CVAC)                               31.05
72 Ryan Hostetter (Velo Bella)                                 33.28
73 Marni Hambleton (ValueAct Capital Cycling Team)             33.51
74 Kelsey M Withrow (PCIM)                                     34.03
75 Lara Kroepsch (ValueAct Capital Cycling Team)               34.48
76 Carrie S Eller (Metromint Cycling on Marin Bike)            35.22
77 Anny Henry (Metromint Cycling on Marin Bike)                35.30
78 Lynn Allbrow (Bend Bike N Sport)                            40.14
 
Teams classification
 
Elite men
 
1 Garmin/Chipotle p/b H3O                                   19.06.07
2 BMC                                                           1.38
3 Team Type 1                                                   2.44
4 Bissell Pro Cycling Team                                      2.45
5 Toyota-United                                                 3.39
6 Health Net presented by Maxxis                                8.30
7 Successful Living                                            11.22
8 California Giant / Specialized                               12.21
9 Rock Racing                                                  16.30
10 Team Legacy Energy Ciclismo                                 16.49
11 Team Rio Grande Cycling                                     18.31
12 Bobs-Bicycles.com                                           18.36
13 Rubicon-ORBEA                                               21.10
14 Hagens Berman LLP Cycling Team                              21.59
15 American R.A.D.D / AGEL                                     22.25
 
Elite women
 
1 Webcor Builders                                           24.03.00
2 Aaron's Pro Cycling                                           4.18
3 Touchstone Climbing                                          28.39
4 Veloforma/Zym                                                29.40
5 Metromint Cycling on Marin Bikes                             30.23
6 Team TIBCO                                                   35.12
7 ValueAct Capital Cycling Team                                36.19
8 Bicycle John's Serious Cycling                               36.50
9 Team SHO-AIR/CVAC                                            37.16
10 Bend Bike N Sport                                           42.46
11 Team Group Health                                           51.04
12 SouthBay Wheelmen                                           52.54