Cascade Cycling Classic - NE
Oregon, USA, July 9-13, 2008
Main Page Results Overall standings Previous Stage Next Stage
Stage 2 - July 10: Three Creeks Road Race, 78.5 mi
Wilson dedicates victory to injured team-mate
By Kirsten Robbins in Sisters, Oregon
Matt Wilson (Team Type 1)
Photo ©: Jon Devich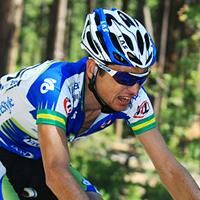 Australia's Matt Wilson (Team Type 1) claimed victory on Stage 2 at the Cascade Cycling Classic and dedicated it to injured compatriot and team-mate Ben Brooks. Brooks fell while descending on the previous day's stage and hit a cattle guard, leaving the rider unconscious. He was then airlifted to a nearby hospital where he remains in a stable condition.
"I'd like to dedicate this day to my team-mate Ben Brooks who crashed in yesterday's stage," said Wilson. "He's in an induced coma but they've been bringing him out of it to check to see if he's alright - it's looking very positive."
Wilson claimed victory ahead of Thomas Peterson (Garmin-Chipotle) in a two-man sprint atop Three Creek Snow Park's mountain top finish. Corey Collier (Health Net-Maxxis) followed the pair close behind in third place.
"For a guy like me, I did what I needed to do which was get in a large break, gain some time and then just race the guys who are with me," said Wilson.
Along with the stage victory, Wilson scooped up a healthy lead in the KOM competition and moved into the yellow jersey 37 seconds ahead of Levi Leipheimer (Astana) and 45 seconds ahead of previous leader Santiago Botero (Rock Racing).
The main bunch takes up
Photo ©: Jon Devich

A break away of 11 riders approached the base of the finale 10-mile climb with a nearly five minute lead on the main peloton, predominantly controlled by BMC and Rock Racing.
"I knew the climb wasn't incredibly steep so in my mind, if we had five minutes on Leipheimer and Botero at the bottom, we should be able to hold them off," continued Wilson.
Runner up on general classification Leipheimer inched his way closer to yellow by reeling in the break away riders one by one. He along with climbers Botero and Chris Baldwin (Toyota-United) tried to minimise their time lost in the general classification by setting a strong tempo up the ascent's as the gradient increased.
"Chris [Horner] and I are just here following around because we have no control over the race if a break goes," said Leipheimer. "We're going to continue to do our best but we can't guarantee a victory here because we don't have a team to chase with. But I think the time trial tomorrow morning will make a big difference in GC."
How it unfolded
BMC still controlling the front.
Photo ©: Jon Devich

The peloton started its 128-kilometre trek in Bend before riding along the scenic country roads that surround the Deschutes National Forest. The stage finished up a grueling 16 kilometre ascent into the Cascade mountain range and up to the Three Creek Snow Park finish line.
Some 30 kilometres into the stage 12 riders slipped off the front. The group included Wilson, Thomas Peterson (Garmin/Chipotle p/b H3O), Corey Collier (Health Net presented by Maxxis), Kyle Gritters (Health Net-Maxxis), Chris Wherry (Toyota-United), Tom Zirbel (Bissell), Brian Jensen (Successful Living), Valeriy Kobzarenko (Team Type 1), Steven Cozza (Garmin-Chipotle), Stefano Barberi (THF Racing), Allen Krughoff (Rio Grande) and Andy Jacques-Maynes (California Giant -Specialized).
Rock Racing organized its riders at the front in the peloton to try to reduce the separation between the front group and its race leader Botero. BMC included themselves in the initial chase as the separation continued to increase from two to four minutes, until eventually they were forced to take full control when the number of Rock Racing riders chasing dwindled to just two.
Cory Collier (HealthNet-Maxxis) stays tucked in
Photo ©: Jon Devich

"We were the only ones with out a rider in it except for Rock Racing but they didn't seem strong enough to chase so we had to take responsibility," said BMC's Jeff Louder. "They worked hard but we were working harder, for them, because they don't have a strong team here, obvious because they lost the jersey today."
Peterson noted the equal effort being put in amongst the large group, which led to the large advantage. "It was actually a great break with a good mix of rider," said Peterson.
The pressure on the peloton to ride faster continued to increase when Zirbel became the virtual leader on the road and several other represented riders followed suit.
Cozza forced his competitors to chase at the bottom of the lengthy climb when he launched himself into a nearly 30 seconds flyer. Kobzarenko and Gritters pushed over the climb to bring back Cozza, a tactic that also provided Wilson and Peterson an opportunity to open a gap.
Levi Leipheimer (Astana) comes to the front
Photo ©: Jon Devich

Collier saw the two riders separate themselves from the group on one of the ascent's steep pitches, but admitted that he was unable to respond. "I ended up with Wherry and Zirbel and they were trying to chase the two leader's back," said Collier, who jumped ahead of the pair toward the finish.
Cesar Grajales (Rock Racing) and Chris Horner (Astana) set a fast enough tempo in the peloton to cause mass destruction amongst the tired legs behind them.
"This is a good quality race with a lot of heritage and a quality field but I was surprised at the tactics, Rock should have been chasing for 90 percent of the race," said Horner. "But I have to say when Cesar Grajales came to the front on the climb, he put me in the hurt."
Leipheimer took over the pace setting with Botero, Baldwin and Louder riding close behind. However the American national champion increased his pace until he found himself alone, catching all but five of the initial break away riders.
Sanders solo's to victory; Armstrong maintains yellow
Kristin Sanders (Aaron's) rolls across
Photo ©: Jon Devich

Kristin Sanders (Aaron's) soloed into her first National Racing Calendar victory on Stage 2. Sanders outpaced mid-race breakaway companions Gina Grain (Webcor) and Brooke Miller (Tibco) atop the 16-kilometre finishing ascent into Three Creeks Snow Park.
"It was a hard climb but the difficulty really comes with the pace," said Sanders, who set a fast enough pace to separate herself from the remaining five riders. "This is my first NRC win and I can't believe it, I'm so excited."
Race leader Kristin Armstrong (Cervelo-Lifeforce) increased her overall advantage over Julie Beverage (Aaron's) and Christine Thorburn (Webcor). Armstrong started the ascent more than five minutes behind the front group of six riders and caught all but three before the line.
"I decided that when I saw a steep pitch I would try to make an initial separation," said Armstrong. "I jumped again and gained more of a gap and then treated the rest of the race like a time trial, picking off the break away riders."
How it unfolded
Christine Thorburn (Webcor) came up
Photo ©: Jon Devich

Team Tibco led the 90 rider peloton into a flurry of attacks, an effort that eventually launched six riders into a 100 kilometre break away. The escapees included Sanders, Grain and Miller along with Martina Patella (Value Act Capital), Alison Testroete (Aaron's) and Tricia Bailey (SHO-AIR).
"We worked really hard to get the break going because we wanted to make it a hard race," said Miller. "Flat races with a finishing climb tend to be boring so we really wanted to make sure we raced aggressively."
Several small groups tried to bridge across to the front group, but in the end the peloton was reduce to chasing in order to limiting its losses.
"It was a long day and there were a lot of people who were expecting me to do a lot of work because I had the leader's jersey," said Armstrong. "I was willing to put the work in and did a lot of it, but I also know that I'm not the only one here who should be expected to race my bike."
As the advantage from the front group to the peloton increased to over six minutes, Sanders became a threatening rider to the general classification contenders.
Kristin Armstrong (Cervelo-Lifeforce) rode strong
Photo ©: Jon Devich

"Webcor had to start working too because they had just as much to lose as I did with their GC, they had to keep it intact too," said Armstrong, who noted Sanders' potential for tomorrow's time trial.
Webcor began to organize its riders at the front, instructing Grain not to work in the break. "At one point I was going to go back to the group to help my team chase," said Grain.
Alison Testroete set a tempo that dwindle the break away to four riders. Feeling the hurt in her legs, Miller attacked over a steeper pitch as a last ditch effort to stay within the top three. Miller's effort was successful, reducing the front group to the three podium riders.
Sanders saw the opportunity to open a sizable lead with several kilometres to the finish. "We expected the race to be aggressive and once we got into the break we assess the situation," said Sanders. "I get excited in break situations and it's easy to do that so I tried to contain myself until the end."
Photography
For a thumbnail gallery of these images, click here
Images by Jonathan Devich/

Results
Elite men

1 Matt Wilson (Team Type 1)
2 Thomas Peterson (Garmin-Chipotle)
3 Corey Collier (Health Net-Maxxis)

Elite women

1 Kristin Sanders (Aarons)
2 Gina Grain (Webcor)
3 Brooke Miller (Tibco)

General Classificiation after Stage 2

Elite men

1 Matt Wilson (Team Type 1)

Elite women

1 Kristin Armstrong (Cervelo-Lifeforce)