24th Rothaus Regio-Tour International - 2.1
Germany, August 20-24, 2008
Main Page Results Overall standings Previous Stage Next Stage
Stage 4 - August 23: Gundelfingen (ITT), 14.2km
Niermann time trials like in the old days
Schröder takes over yellow
By Bjorn Haake in Gundelfingen
Grischa Niermann during his winning ride
Photo ©: Florian und Susanne Schaaf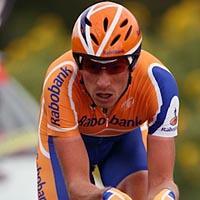 Rabobank's Grischa Niermann tasted success again at the Regio Tour, almost ten years after he won the overall classification. Niermann set the best time of the day with 17'59 and was the only rider who could break the barrier of 18 minutes on a flat but technical course. Milram's Björn Schröder was only three seconds slower and took over the lead in the general classification. Former leader Manuel Vázquez produced a decent ride to finish 10th and to stay within seven seconds of the overall lead.
Niermann stormed to the finish so fast that the chaperone had a real hard time catching up. The chaperones are tasked to stay with a new overall leader until the end of the time trial or until a new best time is set. Once both the chaperone and Niermann had caught their breath, the Rabobank rider declared his satisfaction with the ride. "I had the feeling that after a long time I finally did a good time trial again. I used to do good time trials when I was in my mid-20's," the 32 year-old smiled.
Niermann had prepared the course well, saying he looked at the parcours twice before he went off at 16:11 local time. He also felt lucky with the weather, despite some threatening clouds and the occasional rain drops here and there. "When I rode, the streets were dry. The course was very twisty and it went over some smaller farm roads. There was some dirt, but since it was dry it wasn't a problem."
Schröder used a perfect time trial to take over the overall lead, clocking in at 18:02. Schröder was happy to switch his green sprinters jersey with the yellow leader's outfit. "This is my seventh Regio-Tour and my first time in yellow. It feels great," Schröder said. "The course suited me well. Beforehand, I had checked it out three times and so I knew which curves I could take all out. I rode absolutely without error, which was the key to my success. Tomorrow we will do absolutely everything to bring the overall title home with us."
Tick tock – Gundelfingen celebrated its 1000 years of existence with a time trial
Photo ©: Bjorn Haake

U23 German champion Andreas Henig had a strong ride and finished second, only two seconds behind Niermann. Henig had said before the race that a top ten placing would be awesome.
Belarusian time trial champion Andrei Kunitski had a great performance and scored third place. A placing most would be happy with wasn't quite the desired result for Kunitski, though. "I wanted to win. The stage was very difficult, since there was a lot of curves. I prefer a straight route with some climbs. It was also a very short course."
One rider clearly disappointed was Colombian Miguel Angel Rubiano Chavez (Centri Della Calzatura-Partizan). His weak time trial saw him tumble from second to 15th. He made no excuses. "The stage was very hard. The time trial is not my specialty. I didn't prepare that very well. But I am hoping for tomorrow."
Rubiano is unlikely to make a comeback tomorrow, but with the top ten still within a good half minute, Milram will have its work cut out. The final stage does the traditional loop in the vineyards, with a tough loop to be completed seven times. The stage runs from Teningen to Vogtsburg over 166.7 kilometres.
Photography
For a thumbnail gallery of these images, click here
Images by Florian und Susanne Schaaf/www.cyclingpictures.de
Images by Bjorn Haake/Cyclingnews.com
Results
1 Grischa Niermann (Ger) Rabobank                                      17.59 (47.36 km/h)
2 Andreas Henig (Ger) Atlas - Romer's Hausbäckerei                      0.02
3 Andrei Kunitski (Blr) Acqua & Sapone - Caffe Mokambo                  0.03
4 Björn Schröder (Ger) Team Milram                                          
5 Markus Fothen (Ger) Gerolsteiner                                          
6 Voß Paul (Ger) Team 3C - Gruppe Lamonta                               0.07
7 Sergej Fuchs (Ger) Team 3C - Gruppe Lamonta                           0.09
8 Paul Martens (Ger) Rabobank                                           0.10
9 Simon Geschke (Ger) Team Milram                                       0.12
10 Manuel Vazquez Hueso (Spa) Contentpolis - Murcia                         
11 Pieter Weening (Ned) Rabobank                                        0.16
12 Ronny Scholz (Ger) Gerolsteiner                                          
13 Patrick Gretsch (Ger) U23 German National Team                       0.19
14 Martin Reimer (Ger) U23 German National Team                         0.20
15 Dario Andriotto (Ita) Acqua & Sapone - Caffe Mokambo                 0.22
16 Walter Proch (Ita) LPR Brakes                                            
17 Frederik Willmann (Nor) Joker - Bianchi                                  
18 Rafael Serrano Fernandez (Spa) Contentpolis - Murcia                 0.25
19 Johannes Fröhlinger (Ger) Gerolsteiner                                   
20 Björn Glasner (Ger) Team Kuota - Senges                              0.29
21 Sergey Firsanov (Rus) Rietumu Bank-Riga                                  
22 Luca Paolini (Ita) Acqua & Sapone - Caffe Mokambo                    0.33
23 Luca Zanasca (Ita) Centri Della Calzatura-Partizan                   0.34
24 Stefan Schäfer (Ger) U23 German National Team                        0.35
25 Fabien Wolf (Swi) Atlas - Romer's Hausbäckerei                       0.36
26 Dominique Nerz (Ger) U23 German National Team                            
27 Matteo Montaguti (Ita) LPR Brakes                                    0.39
28 Giairo Ermeti (Ita) LPR Brakes                                       0.40
29 Dirk Bellemakers (Ned) Landbouwkrediet - Tönissteiner                    
30 Robert Retschke (Ger) Team Mapei Heizomath                           0.41
31 Dominik Roels (Ger) Team Milram                                      0.45
32 Sebastian Hans (Ger) Team Mapei Heizomath                            0.46
33 Andrea Rossi (Ita) Acqua & Sapone - Caffe Mokambo                        
34 Markus Eibegger (Aut) Elk Haus - Simplon                                 
35 Cristiano Salerno (Ita) LPR Brakes                                   0.47
36 Theo Eltink (Ned) Rabobank                                           0.48
37 Zsolt Der (Srb) Centri Della Calzatura-Partizan                      0.49
38 Harald Starzengruber (Aut) Elk Haus - Simplon                        0.50
39 Reto Hollenstein (Swi) Atlas - Romer's Hausbäckerei                  0.52
40 Malaya Van Ruitenbeck (Ned) Team Kuota - Senges                      0.54
41 Sergio Laganà (Ita) LPR Brakes                                       0.55
42 Laurent Didier (Lux) Team Kuota - Senges                                 
43 Daniel Westmattelmann (Ger) Team Mapei Heizomath                         
44 Bert De Waele (Bel) Landbouwkrediet - Tönissteiner                   0.56
45 Björn Thurau (Ger) Elk Haus - Simplon                                0.57
46 Claudio Cucinotta (Ita) LPR Brakes                                   0.58
47 Javier Chacon Quesasa (Spa) Contentpolis - Murcia                        
48 Diego Milán Jiménez (Spa) Acqua & Sapone - Caffe Mokambo             1.00
49 Alexander Kristoff (Nor) Joker - Bianchi                                 
50 Dennis Pohl (Ger) Team 3C - Gruppe Lamonta                           1.04
51 Oliver Zaugg (Swi) Gerolsteiner                                          
52 Miguel Angel Rubiano Chavez (Col) Centri Della Calzatura-Partizan        
53 David Hesselbarth (Ger) Team Mapei Heizomath                             
54 Björn Papstein (Ger) Team 3C - Gruppe Lamonta                        1.07
55 Lars Petter Nordhaug (Nor) Joker - Bianchi                           1.08
56 Frank Scherzinger (Ger) Team 3C - Gruppe Lamonta                     1.11
57 Marius Bernatonis (Ltu) Atlas - Romer's Hausbäckerei                     
58 Mauricio Alberto Ardila Cano (Col) Rabobank                          1.12
59 Aleksejs Saramotins (Lat) Rietumu Bank-Riga                          1.14
60 Domenik Klemme (Ger) Team 3C - Gruppe Lamonta                        1.15
61 Matthias Bertling (Ger) Team Kuota - Senges                          1.16
62 Svein Vold (Nor) Joker - Bianchi                                     1.17
63 Timo Honstein (Ger) Atlas - Romer's Hausbäckerei                     1.18
64 Stian Sommerseth (Nor) Joker - Bianchi                               1.20
65 John Degenkolb (Ger) U23 German National Team                        1.23
66 Roman Koltsov (Rus) Rietumu Bank-Riga                                1.25
67 Stefan Ganser (Ger) Team Kuota - Senges                                  
68 Nico Keinath (Ger) Gerolsteiner                                      1.27
69 Sébastien Delfosse (Bel) Landbouwkrediet - Tönissteiner              1.28
70 Timo Albiez (Ger) Stegcomputer - CKT - Cogeas                        1.32
71 Michael Haiser (Ger) Stegcomputer - CKT - Cogeas                         
72 Robert Kiserlovski (Cro) Adria Mobil                                 1.33
73 Kim Lachmann (Ger) Team Mapei Heizomath                              1.34
74 Marko Kump (Slo) Adria Mobil                                         1.36
75 Bert Scheirlinckx (Bel) Landbouwkrediet - Tönissteiner               1.39
76 Nico Schndeider (Ger) Atlas - Romer's Hausbäckerei                   1.40
77 Sebastian Schwager (Ger) Team Milram                                 1.41
78 Arne Hassink (Ned) Team Milram                                       1.42
79 Phillip Ries (Ger) U23 German National Team                          1.44
80 Artur Krol (Pol) Centri Della Calzatura-Partizan                     1.49
81 Volker Ordowski (Ger) Gerolsteiner                                   1.51
82 Ivan Seledkov (Rus) Rietumu Bank-Riga                                1.52
83 Kevin Neirynck (Bel) Landbouwkrediet - Tönissteiner                  1.54
84 Benjamin Gourgue (Bel) Landbouwkrediet - Tönissteiner                1.55
85 Clemens Fankhauser (Aut) Elk Haus - Simplon                          2.03
86 Dmitri Nikandrov (Rus) Centri Della Calzatura-Partizan               2.05
87 Uros Murn (Slo) Adria Mobil                                          2.10
88 Janusch Laule (Swi) Stegcomputer - CKT - Cogeas                      2.15
89 Manuel Calvente Corbas (Spa) Contentpolis - Murcia                   2.35
90 Mitja Schlüter (Ger) Team Milram                                     2.56
91 William Walker (Aus) Rabobank                                        3.11
 
Young rider
1 Andrei Kunitski (Blr) Acqua & Sapone - Caffe Mokambo             12.15.51
2 Sergej Fuchs (Ger) Team 3C - Gruppe Lamonta                          0.06
3 Walter Proch (Ita) LPR Brakes                                        0.19
4 Johannes Fröhlinger (Ger) Gerolsteiner                               0.22
5 Matteo Montaguti (Ita) LPR Brakes                                    0.31
6 Miguel Angel Rubiano Chavez (Col) Centri Della Calzatura-Partizan    0.46
7 Frederik Willmann (Nor) Joker - Bianchi                              0.57
8 Dominique Nerz (Ger) U23 German National Team                        2.09
9 Simon Geschke (Ger) Team Milram                                      2.12
10 Cristiano Salerno (Ita) LPR Brakes                                  2.26
11 Martin Reimer (Ger) U23 German National Team                        3.43
12 Andreas Henig (Ger) Atlas - Romer's Hausbäckerei                    4.19
13 Robert Kiserlovski (Cro) Adria Mobil                                4.21
14 Dirk Bellemakers (Ned) Landbouwkrediet - Tönissteiner               4.22
15 Reto Hollenstein (Swi) Atlas - Romer's Hausbäckerei                 4.34
16 William Walker (Aus) Rabobank                                       5.58
17 Voß Paul (Ger) Team 3C - Gruppe Lamonta                             6.38
18 Laurent Didier (Lux) Team Kuota - Senges                            6.59
19 Marius Bernatonis (Ltu) Atlas - Romer's Hausbäckerei                7.22
20 John Degenkolb (Ger) U23 German National Team                       7.27
21 Patrick Gretsch (Ger) U23 German National Team                      8.06
22 Daniel Westmattelmann (Ger) Team Mapei Heizomath                    8.35
23 Timo Albiez (Ger) Stegcomputer - CKT - Cogeas                       8.37
24 Javier Chacon Quesasa (Spa) Contentpolis - Murcia                   8.48
25 Frank Scherzinger (Ger) Team 3C - Gruppe Lamonta                    9.33
26 Benjamin Gourgue (Bel) Landbouwkrediet - Tönissteiner               9.35
27 Domenik Klemme (Ger) Team 3C - Gruppe Lamonta                      11.14
28 Sebastian Schwager (Ger) Team Milram                               12.33
29 David Hesselbarth (Ger) Team Mapei Heizomath                       13.19
30 Phillip Ries (Ger) U23 German National Team                        13.28
31 Alexander Kristoff (Nor) Joker - Bianchi                           13.38
32 Marko Kump (Slo) Adria Mobil                                       13.39
33 Markus Eibegger (Aut) Elk Haus - Simplon                           14.07
34 Fabien Wolf (Swi) Atlas - Romer's Hausbäckerei                     14.12
35 Kim Lachmann (Ger) Team Mapei Heizomath                                 
36 Stian Sommerseth (Nor) Joker - Bianchi                             14.16
37 Nico Schndeider (Ger) Atlas - Romer's Hausbäckerei                 14.18
38 Björn Thurau (Ger) Elk Haus - Simplon                              14.42
39 Diego Milán Jiménez (Spa) Acqua & Sapone - Caffe Mokambo           16.02
40 Dennis Pohl (Ger) Team 3C - Gruppe Lamonta                         16.56
41 Michael Haiser (Ger) Stegcomputer - CKT - Cogeas                   16.57
42 Stefan Schäfer (Ger) U23 German National Team                      17.06
43 Dominik Roels (Ger) Team Milram                                    17.17
44 Lars Petter Nordhaug (Nor) Joker - Bianchi                         19.14
45 Sebastian Hans (Ger) Team Mapei Heizomath                          19.18
46 Mitja Schlüter (Ger) Team Milram                                   21.51
47 Rafael Serrano Fernandez (Spa) Contentpolis - Murcia               23.15
48 Nico Keinath (Ger) Gerolsteiner                                    24.17
49 Arne Hassink (Ned) Team Milram                                     25.14
50 Clemens Fankhauser (Aut) Elk Haus - Simplon                        30.13
51 Matthias Bertling (Ger) Team Kuota - Senges                        32.27
52 Svein Vold (Nor) Joker - Bianchi                                   38.31

Teams
 
1 Rabobank                                                             54.23
2 Gerolsteiner                                                          0.18
3 Acqua & Sapone - Caffe Mokambo                                        0.32
4 Team Milram                                                           0.34
5 German U23 National Team                                              0.48
6 Team 3C-Gruppe Lamonta                                                0.54
7 Atlas-Romer's Hausbäckerei                                            1.04
8 Contentpolis - Murcia                                                 1.09
9 LPR Brakes                                                            1.15
10 Team Kuota-Senges                                                    1.52
11 Team Mapei Heizomat                                                  1.56
12 Centri Della Calzatura-Partizan                                      2.01
13 Joker Bianchi                                                        2.04
14 Elk Haus - Simplon                                                   2.07
15 Landbouwkrediet - Tonissteiner                                       2.38
16 Rietumu Bank-Riga                                                    2.42
17 Stegcomputer - CKT - Cogeas                                          4.53
18 Adria Mobil                                                              
 
General classification after stage 4
 
1 Björn Schröder (Ger) Team Milram                                  12.15.37
2 Manuel Vazquez Hueso (Spa) Contentpolis - Murcia                      0.07
3 Markus Fothen (Ger) Gerolsteiner                                      0.12
4 Andrei Kunitski (Blr) Acqua & Sapone - Caffe Mokambo                  0.14
5 Sergej Fuchs (Ger) Team 3C - Gruppe Lamonta                           0.20
6 Paul Martens (Ger) Rabobank                                           0.21
7 Pieter Weening (Ned) Rabobank                                         0.27
8 Dario Andriotto (Ita) Acqua & Sapone - Caffe Mokambo                  0.33
9 Walter Proch (Ita) LPR Brakes                                             
10 Johannes Fröhlinger (Ger) Gerolsteiner                               0.36
11 Björn Glasner (Ger) Team Kuota - Senges                              0.39
12 Sergey Firsanov (Rus) Rietumu Bank-Riga                              0.40
13 Matteo Montaguti (Ita) LPR Brakes                                    0.45
14 Luca Zanasca (Ita) Centri Della Calzatura-Partizan                       
15 Miguel Angel Rubiano Chavez (Col) Centri Della Calzatura-Partizan    1.00
16 Bert De Waele (Bel) Landbouwkrediet - Tönissteiner                   1.07
17 Ronny Scholz (Ger) Gerolsteiner                                      1.09
18 Frederik Willmann (Nor) Joker - Bianchi                              1.11
19 Grischa Niermann (Ger) Rabobank                                      1.13
20 Theo Eltink (Ned) Rabobank                                           1.58
21 Dominique Nerz (Ger) U23 German National Team                        2.23
22 Mauricio Alberto Ardila Cano (Col) Rabobank                          2.25
23 Simon Geschke (Ger) Team Milram                                      2.26
24 Cristiano Salerno (Ita) LPR Brakes                                   2.40
25 Robert Retschke (Ger) Team Mapei Heizomath                           2.43
26 Björn Papstein (Ger) Team 3C - Gruppe Lamonta                        3.00
27 Aleksejs Saramotins (Lat) Rietumu Bank-Riga                          3.14
28 Martin Reimer (Ger) U23 German National Team                         3.57
29 Andreas Henig (Ger) Atlas - Romer's Hausbäckerei                     4.33
30 Robert Kiserlovski (Cro) Adria Mobil                                 4.35
31 Dirk Bellemakers (Ned) Landbouwkrediet - Tönissteiner                4.36
32 Reto Hollenstein (Swi) Atlas - Romer's Hausbäckerei                  4.48
33 Kevin Neirynck (Bel) Landbouwkrediet - Tönissteiner                  4.49
34 Luca Paolini (Ita) Acqua & Sapone - Caffe Mokambo                    5.09
35 Bert Scheirlinckx (Bel) Landbouwkrediet - Tönissteiner               5.16
36 William Walker (Aus) Rabobank                                        6.12
37 Voß Paul (Ger) Team 3C - Gruppe Lamonta                              6.52
38 Laurent Didier (Lux) Team Kuota - Senges                             7.13
39 Marius Bernatonis (Ltu) Atlas - Romer's Hausbäckerei                 7.36
40 John Degenkolb (Ger) U23 German National Team                        7.41
41 Zsolt Der (Srb) Centri Della Calzatura-Partizan                      8.07
42 Patrick Gretsch (Ger) U23 German National Team                       8.20
43 Roman Koltsov (Rus) Rietumu Bank-Riga                                8.40
44 Daniel Westmattelmann (Ger) Team Mapei Heizomath                     8.49
45 Timo Albiez (Ger) Stegcomputer - CKT - Cogeas                        8.51
46 Javier Chacon Quesasa (Spa) Contentpolis - Murcia                    9.02
47 Janusch Laule (Swi) Stegcomputer - CKT - Cogeas                      9.34
48 Frank Scherzinger (Ger) Team 3C - Gruppe Lamonta                     9.47
49 Benjamin Gourgue (Bel) Landbouwkrediet - Tönissteiner                9.49
50 Domenik Klemme (Ger) Team 3C - Gruppe Lamonta                       11.28
51 Oliver Zaugg (Swi) Gerolsteiner                                     11.45
52 Artur Krol (Pol) Centri Della Calzatura-Partizan                    12.26
53 Sebastian Schwager (Ger) Team Milram                                12.47
54 Uros Murn (Slo) Adria Mobil                                         13.18
55 David Hesselbarth (Ger) Team Mapei Heizomath                        13.33
56 Phillip Ries (Ger) U23 German National Team                         13.42
57 Alexander Kristoff (Nor) Joker - Bianchi                            13.52
58 Marko Kump (Slo) Adria Mobil                                        13.53
59 Markus Eibegger (Aut) Elk Haus - Simplon                            14.21
60 Fabien Wolf (Swi) Atlas - Romer's Hausbäckerei                      14.26
61 Kim Lachmann (Ger) Team Mapei Heizomath                                  
62 Stian Sommerseth (Nor) Joker - Bianchi                              14.30
63 Nico Schndeider (Ger) Atlas - Romer's Hausbäckerei                  14.32
64 Björn Thurau (Ger) Elk Haus - Simplon                               14.56
65 Diego Milán Jiménez (Spa) Acqua & Sapone - Caffe Mokambo            16.16
66 Dennis Pohl (Ger) Team 3C - Gruppe Lamonta                          17.10
67 Michael Haiser (Ger) Stegcomputer - CKT - Cogeas                    17.11
68 Stefan Schäfer (Ger) U23 German National Team                       17.20
69 Dominik Roels (Ger) Team Milram                                     17.31
70 Stefan Ganser (Ger) Team Kuota - Senges                                  
71 Sébastien Delfosse (Bel) Landbouwkrediet - Tönissteiner             17.34
72 Manuel Calvente Corbas (Spa) Contentpolis - Murcia                  18.00
73 Volker Ordowski (Ger) Gerolsteiner                                  19.12
74 Sergio Laganà (Ita) LPR Brakes                                      19.22
75 Claudio Cucinotta (Ita) LPR Brakes                                  19.26
76 Lars Petter Nordhaug (Nor) Joker - Bianchi                          19.28
77 Sebastian Hans (Ger) Team Mapei Heizomath                           19.32
78 Giairo Ermeti (Ita) LPR Brakes                                      20.13
79 Mitja Schlüter (Ger) Team Milram                                    22.05
80 Dmitri Nikandrov (Rus) Centri Della Calzatura-Partizan              23.20
81 Rafael Serrano Fernandez (Spa) Contentpolis - Murcia                23.29
82 Harald Starzengruber (Aut) Elk Haus - Simplon                       23.34
83 Andrea Rossi (Ita) Acqua & Sapone - Caffe Mokambo                   23.41
84 Nico Keinath (Ger) Gerolsteiner                                     24.31
85 Ivan Seledkov (Rus) Rietumu Bank-Riga                               24.38
86 Arne Hassink (Ned) Team Milram                                      25.28
87 Timo Honstein (Ger) Atlas - Romer's Hausbäckerei                    29.11
88 Clemens Fankhauser (Aut) Elk Haus - Simplon                         30.27
89 Malaya Van Ruitenbeck (Ned) Team Kuota - Senges                     32.19
90 Matthias Bertling (Ger) Team Kuota - Senges                         32.41
91 Svein Vold (Nor) Joker - Bianchi                                    38.45
 
Points classification
 
1 Björn Schröder (Ger) Team Milram                                           34 pts
2 Miguel Angel Rubiano Chavez (Col) Centri Della Calzatura-Partizan          22
3 Luca Paolini (Ita) Acqua & Sapone - Caffe Mokambo                          20
4 Manuel Vazquez Hueso (Spa) Contentpolis - Murcia                           16
5 Robert Retschke (Ger) Team Mapei Heizomath                                 15
6 Domenik Klemme (Ger) Team 3C - Gruppe Lamonta                              15
7 Matteo Montaguti (Ita) LPR Brakes                                          14
8 Theo Eltink (Ned) Rabobank                                                 10
9 Markus Fothen (Ger) Gerolsteiner                                           10
10 Claudio Cucinotta (Ita) LPR Brakes                                        10
11 Paul Martens (Ger) Rabobank                                                8
12 Dario Andriotto (Ita) Acqua & Sapone - Caffe Mokambo                       8
13 Ronny Scholz (Ger) Gerolsteiner                                            6
14 Dominik Roels (Ger) Team Milram                                            6
15 Aleksejs Saramotins (Lat) Rietumu Bank-Riga                                6
16 Sergio Laganà (Ita) LPR Brakes                                             5
17 Mauricio Alberto Ardila Cano (Col) Rabobank                                5
18 Artur Krol (Pol) Centri Della Calzatura-Partizan                           4
19 Johannes Fröhlinger (Ger) Gerolsteiner                                     3
20 Grischa Niermann (Ger) Rabobank                                            3
21 John Degenkolb (Ger) U23 German National Team                              3
22 Dennis Pohl (Ger) Team 3C - Gruppe Lamonta                                 2
23 Sebastian Hans (Ger) Team Mapei Heizomath                                  2
24 Mitja Schlüter (Ger) Team Milram                                           2
25 Dmitri Nikandrov (Rus) Centri Della Calzatura-Partizan                     2
26 Björn Glasner (Ger) Team Kuota - Senges                                    1
27 Bert De Waele (Bel) Landbouwkrediet - Tönissteiner                         1
28 Luca Zanasca (Ita) Centri Della Calzatura-Partizan                         1
29 Walter Proch (Ita) LPR Brakes                                              1
30 William Walker (Aus) Rabobank                                              1
31 Voß Paul (Ger) Team 3C - Gruppe Lamonta                                    1
32 Zsolt Der (Srb) Centri Della Calzatura-Partizan                            1
 
Mountains classification
 
1 Miguel Angel Rubiano Chavez (Col) Centri Della Calzatura-Partizan          44 pts
2 Luca Zanasca (Ita) Centri Della Calzatura-Partizan                         38
3 Manuel Vazquez Hueso (Spa) Contentpolis - Murcia                           32
4 Sébastien Delfosse (Bel) Landbouwkrediet - Tönissteiner                    24
5 Lars Petter Nordhaug (Nor) Joker - Bianchi                                 16
6 Mauricio Alberto Ardila Cano (Col) Rabobank                                14
7 Voß Paul (Ger) Team 3C - Gruppe Lamonta                                    12
8 William Walker (Aus) Rabobank                                               8
9 David Hesselbarth (Ger) Team Mapei Heizomath                                8
10 Markus Fothen (Ger) Gerolsteiner                                           6
11 Cristiano Salerno (Ita) LPR Brakes                                         6
12 Benjamin Gourgue (Bel) Landbouwkrediet - Tönissteiner                      6
13 Oliver Zaugg (Swi) Gerolsteiner                                            6
14 Andrei Kunitski (Blr) Acqua & Sapone - Caffe Mokambo                       4
15 Björn Papstein (Ger) Team 3C - Gruppe Lamonta                              4
16 Artur Krol (Pol) Centri Della Calzatura-Partizan                           4
17 Björn Thurau (Ger) Elk Haus - Simplon                                      4
18 Dennis Pohl (Ger) Team 3C - Gruppe Lamonta                                 4
 
Young rider classification
 
1 Andrei Kunitski (Blr) Acqua & Sapone - Caffe Mokambo              12.15.51
2 Sergej Fuchs (Ger) Team 3C - Gruppe Lamonta                           0.06
3 Walter Proch (Ita) LPR Brakes                                         0.19
4 Johannes Fröhlinger (Ger) Gerolsteiner                                0.22
5 Matteo Montaguti (Ita) LPR Brakes                                     0.31
6 Miguel Angel Rubiano Chavez (Col) Centri Della Calzatura-Partizan     0.46
7 Frederik Willmann (Nor) Joker - Bianchi                               0.57
8 Dominique Nerz (Ger) U23 German National Team                         2.09
9 Simon Geschke (Ger) Team Milram                                       2.12
10 Cristiano Salerno (Ita) LPR Brakes                                   2.26
11 Martin Reimer (Ger) U23 German National Team                         3.43
12 Andreas Henig (Ger) Atlas - Romer's Hausbäckerei                     4.19
13 Robert Kiserlovski (Cro) Adria Mobil                                 4.21
14 Dirk Bellemakers (Ned) Landbouwkrediet - Tönissteiner                4.22
15 Reto Hollenstein (Swi) Atlas - Romer's Hausbäckerei                  4.34
16 William Walker (Aus) Rabobank                                        5.58
17 Voß Paul (Ger) Team 3C - Gruppe Lamonta                              6.38
18 Laurent Didier (Lux) Team Kuota - Senges                             6.59
19 Marius Bernatonis (Ltu) Atlas - Romer's Hausbäckerei                 7.22
20 John Degenkolb (Ger) U23 German National Team                        7.27
21 Patrick Gretsch (Ger) U23 German National Team                       8.06
22 Daniel Westmattelmann (Ger) Team Mapei Heizomath                     8.35
23 Timo Albiez (Ger) Stegcomputer - CKT - Cogeas                        8.37
24 Javier Chacon Quesasa (Spa) Contentpolis - Murcia                    8.48
25 Frank Scherzinger (Ger) Team 3C - Gruppe Lamonta                     9.33
26 Benjamin Gourgue (Bel) Landbouwkrediet - Tönissteiner                9.35
27 Domenik Klemme (Ger) Team 3C - Gruppe Lamonta                       11.14
28 Sebastian Schwager (Ger) Team Milram                                12.33
29 David Hesselbarth (Ger) Team Mapei Heizomath                        13.19
30 Phillip Ries (Ger) U23 German National Team                         13.28
31 Alexander Kristoff (Nor) Joker - Bianchi                            13.38
32 Marko Kump (Slo) Adria Mobil                                        13.39
33 Markus Eibegger (Aut) Elk Haus - Simplon                            14.07
34 Fabien Wolf (Swi) Atlas - Romer's Hausbäckerei                      14.12
35 Kim Lachmann (Ger) Team Mapei Heizomath                                  
36 Stian Sommerseth (Nor) Joker - Bianchi                              14.16
37 Nico Schndeider (Ger) Atlas - Romer's Hausbäckerei                  14.18
38 Björn Thurau (Ger) Elk Haus - Simplon                               14.42
39 Diego Milán Jiménez (Spa) Acqua & Sapone - Caffe Mokambo            16.02
40 Dennis Pohl (Ger) Team 3C - Gruppe Lamonta                          16.56
41 Michael Haiser (Ger) Stegcomputer - CKT - Cogeas                    16.57
42 Stefan Schäfer (Ger) U23 German National Team                       17.06
43 Dominik Roels (Ger) Team Milram                                     17.17
44 Lars Petter Nordhaug (Nor) Joker - Bianchi                          19.14
45 Sebastian Hans (Ger) Team Mapei Heizomath                           19.18
46 Mitja Schlüter (Ger) Team Milram                                    21.51
47 Rafael Serrano Fernandez (Spa) Contentpolis - Murcia                23.15
48 Nico Keinath (Ger) Gerolsteiner                                     24.17
49 Arne Hassink (Ned) Team Milram                                      25.14
50 Clemens Fankhauser (Aut) Elk Haus - Simplon                         30.13
51 Matthias Bertling (Ger) Team Kuota - Senges                         32.27
52 Svein Vold (Nor) Joker - Bianchi                                    38.31
 
Teams classification
 
1 Rabobank                                                          36.48.05
2 Gerolsteiner                                                              
3 LPR Brakes                                                            1.59
4 Team 3C-Gruppe Lamonta                                                2.57
5 Acqua & Sapone - Caffe Mokambo                                        3.59
6 Centri Della Calzatura-Partizan                                       4.58
7 German U23 National Team                                              6.00
8 Landbouwkrediet - Tonissteiner                                        7.55
9 Team Milram                                                           8.58
10 Rietumu Bank-Riga                                                   10.57
11 Atlas-Romer's Hausbäckerei                                          14.56
12 Team Kuota-Senges                                                   17.59
13 Team Mapei Heizomat                                                 18.56
14 Contentpolis - Murcia                                               23.55
15 Joker Bianchi                                                       25.58
16 Adria Mobil                                                         29.58
17 Stegcomputer - CKT - Cogeas                                         33.57
18 Elk Haus - Simplon                                                  41.00