3-Länder-Tour der Sparkassen Versicherung - 2.1
Germany, September 19-23, 2007
Main Page Results Overall standings Previous Stage
Stage 5 - September 23: Nürtingen - Bad Dürrheim, 191.8km
Burghardt and Dekker win in 3-Länder Tour
By Susan Westemeyer
Marcus Burghardt (T-Mobile) has won
Photo ©: Florian Schaaf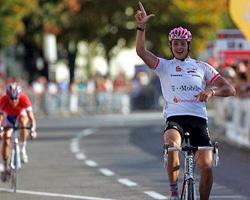 Wining the 3-Länder-Tour's third stage was so good that Marcus Burghardt (T-Mobile) went ahead and won the last stage as well. He took the race's Queen stage ahead of Clément Lhotellerie (Skil - Shimano) and Björn Schröder (Milram). Thomas Dekker (Rabobank) took the overall title, with Jens Voigt (Team CSC) finishing second and Michael Boogerd (Rabobank) third.
"It is a good result in a good race," said Rabobank team manager Erik Dekker on the team's website, Rabobank.nl. "We are very happy, but it is also very important that Dekker and Boogerd are in good shape going into the World Championships." Dekker won two stages in the race, setting up his overall win.
The Stage 5 victory was T-Mobile's third stage win, with Gerald Ciolek winning the opening stage and Burghardt two more Etappen. "That was really great, what Marcus showed today," praised T-Mobile Directeur Sportif Jan Schaffrath. "He can go confidently into the Worlds with this form." The 24 year-old Gent-Wevelgem winner also won the sprinter's jersey and finished sixth overall.
Sunday's stage was the race's Queen stage, featuring four category three climbs and one category one test. A group of 17 got away early in the 191.8-kilometre stage. At the first climb on the first of two closing rounds Lhotellerie broke away. Burghardt, Sven Krauss (Gerolsteiner), Harald Totschnig (Elk Haus), Simon Clark (SouthAustralia.com-AIS) and Schröder went after him. On the last climb of the day, Burghardt was able to catch the French rider and stormed ahead as they approached the finish line to finish one second ahead.
Photography
For a thumbnail gallery of these images, click here
Images by Florian Schaaf/www.cyclingpictures.de
Results
1 Marcus Burghardt (Ger) T-Mobile Team                   4.32.35 (42.218 km/h)
2 Clément Lhotellerie (Fra) Skil - Shimano                  0.01
3 Björn Schröder (Ger) Team Milram                          0.06
4 Simon Clarke (Aus) South Australia.com - AIS                  
5 Harald Totschnig (Aut) Elk Haus - Simplon                     
6 Sven Krauss (Ger) Gerolsteiner                                
7 Timo Honstein (Ger) Team Sparkasse                        0.18
8 Wesley Sulzberger (Aus) South Australia.com - AIS         0.48
9 Luke Roberts (Aus) Team CSC                                   
10 Dennis Pohl (Ger) Heinz von Heiden Focus                     
11 Thierry Dupont (Fra) Skil - Shimano                          
12 Christoph Meschenmoser (Ger) Skil - Shimano                  
13 Sergej Fuchs (Ger) Team 3C - Gruppe Lamonta                  
14 Sebastian Siedler (Ger) Team Milram                          
15 Patric Röstel (Ger) Team Akud-Rose Versand               2.19
16 Volker Ordowski (Ger) Gerolsteiner                           
17 Robert Retschke (Ger) Team Wiesenhof Felt                4.28
18 Jonas Owczarek (Ger) Team Sparkasse                          
19 Daniel Westmattelmann (Ger) Team Akud-Rose Versand           
20 Stefan Ganser (Ger) Team Regiostrom - Senges                 
21 Serge Herz (Ger) Heinz von Heiden Focus                      
22 Nico Graf (Ger) Thüringer Energie Team                       
23 Gerben Löwik (Ned) Rabobank                                  
24 Pieter Weening (Ned) Rabobank                                
25 Marcel Beima (Ned) T-Mobile Team                             
26 Patrick Gretsch (Ger) Thüringer Energie Team                 
27 Thorwald Veneberg (Ned) Rabobank                         4.31
28 Michael Boogerd (Ned) Rabobank                               
29 Thomas Dekker (Ned) Rabobank                                 
30 Jens Voigt (Ger) Team CSC                                    
31 Kurt-Asle Arvesen (Nor) Team CSC                             
32 Frank Schleck (Lux) Team CSC                                 
33 Andreas Schillinger (Ger) Team Sparkasse                     
34 Maint Berkenbosch (Ned) Team Regiostrom - Senges             
35 Christian Knees (Ger) Team Milram                            
36 Finn Heitmann (Ger) Heinz von Heiden Focus                   
37 Daniel Musiol (Ger) Team Wiesenhof Felt                      
38 Ralf Grabsch (Ger) Team Milram                               
39 Konstantin Schubert (Ger) Team Regiostrom - Senges           
40 Malaya Van Ruitenbeek (Ned) Team Regiostrom - Senges         
41 Mitja Schlüter (Ger) Team Akud-Rose Versand                  
42 Christian Pfannberger (Aut) Elk Haus - Simplon               
43 Bobby Julich (USA) Team CSC                                  
44 Jan Valach (Svk) Elk Haus - Simplon                          
45 Richard Faltus (Cze) Team Sparkasse                          
46 Lucas Schädlich (Ger) Thüringer Energie Team                 
47 Paul Martens (Ger) Skil - Shimano                            
48 Ronny Scholz (Ger) Gerolsteiner                              
49 Dirk Müller (Ger) Team Sparkasse                             
50 Frank Scherzinger (Ger) Team 3C - Gruppe Lamonta             
51 Gerald Ciolek (Ger) T-Mobile Team                            
52 Jens Grewe (Ger) Team Akud-Rose Versand                      
53 Clemens Frankhauser (Aut) Elk Haus - Simplon                 
54 Florian Frohn (Ger) Thüringer Energie Team                   
55 Linus Gerdemann (Ger) T-Mobile Team                          
56 Oliver Giesecke (Ger) Thüringer Energie Team                 
57 Maarten Den Bakker (Ned) Skil - Shimano                      
58 Lachlan Norris (Aus) South Australia.com - AIS               
59 Gene Bates (Aus) South Australia.com - AIS                   
60 Steffen Wesemann (Swi) Team Wiesenhof Felt                   
61 Johnny Walker (Aus) South Australia.com - AIS                
62 Björn Glasner (Ger) Team Regiostrom - Senges                 
63 Marcel Sieberg (Ger) Team Milram                             
64 Olaf Pollack (Ger) Team Wiesenhof Felt                       
65 Holger Sievers (Ger) Team 3C - Gruppe Lamonta                
66 Lars Wackernagel (Ger) Team Sparkasse                        
67 Bernhard Kohl (Aut) Gerolsteiner                             
68 Thomas Fothen (Ger) Gerolsteiner                             
69 Elnathan Heizmann (Ger) Team 3C - Gruppe Lamonta             
70 Marco Pinotti (Ita) T-Mobile Team                            
71 Marc Weisshaupt (Ger) Elk Haus - Simplon                 5.01
DNF Oscar Gatto (Ita) Gerolsteiner                              
DNF Albert Timmer (Ned) Skil - Shimano                          
DNF Erik Hoffmann (Nam) Team 3C - Gruppe Lamonta                
DNF Björn Papstein (Ger) Team 3C - Gruppe Lamonta               
DNF Marcel Barth (Ger) Thüringer Energie Team                   
DNF Sebastian Hans (Ger) Team Akud-Rose Versand                 
DNF Richard Geng (Ger) Heinz von Heiden Focus                   
 
Points
 
Sprint 1
1 Marcus Burghardt (Ger) T-Mobile Team                         6 pts
2 Björn Schröder (Ger) Team Milram                             4
3 Christoph Meschenmoser (Ger) Skil - Shimano                  2
 
Sprint 2
1 Björn Schröder (Ger) Team Milram                             6 pts
2 Marcus Burghardt (Ger) T-Mobile Team                         4
3 Sergej Fuchs (Ger) Team 3C - Gruppe Lamonta                  2
 
Sprint 3
1 Marcus Burghardt (Ger) T-Mobile Team                         6 pts
2 Christoph Meschenmoser (Ger) Skil - Shimano                  4
3 Sergej Fuchs (Ger) Team 3C - Gruppe Lamonta                  2
 
Mountains 
 
GPM 1
1 Clément Lhotellerie (Fra) Skil - Shimano                     3 pts
2 Thierry Dupont (Fra) Skil - Shimano                          2
3 Volker Ordowski (Ger) Gerolsteiner                           1
 
GPM 2
1 Clément Lhotellerie (Fra) Skil - Shimano                     7 pts
2 Thierry Dupont (Fra) Skil - Shimano                          5
3 Sven Krauss (Ger) Gerolsteiner                               3
4 Patric Röstel (Ger) Team Akud-Rose Versand                   2
5 Volker Ordowski (Ger) Gerolsteiner                           1
 
GPM 3
1 Clément Lhotellerie (Fra) Skil - Shimano                     3 pts
2 Thierry Dupont (Fra) Skil - Shimano                          2
3 Harald Totschnig (Aut) Elk Haus - Simplon                    1
 
GPM 4
1 Simon Clarke (Aus) South Australia.com - AIS                 3 pts
2 Clément Lhotellerie (Fra) Skil - Shimano                     2
3 Marcus Burghardt (Ger) T-Mobile Team                         1
 
GPM 5
1 Clément Lhotellerie (Fra) Skil - Shimano                     3 pts
2 Marcus Burghardt (Ger) T-Mobile Team                         2
3 Simon Clarke (Aus) South Australia.com - AIS                 1
 
Young rider
 
1 Marcus Burghardt (Ger) T-Mobile Team                   4.32.35
2 Clément Lhotellerie (Fra) Skil - Shimano                  0.01
3 Simon Clarke (Aus) South Australia.com - AIS              0.06
4 Sven Krauss (Ger) Gerolsteiner                                
5 Timo Honstein (Ger) Team Sparkasse                        0.18
6 Wesley Sulzberger (Aus) South Australia.com - AIS         0.48
7 Dennis Pohl (Ger) Heinz von Heiden Focus                      
8 Thierry Dupont (Fra) Skil - Shimano                           
9 Christoph Meschenmoser (Ger) Skil - Shimano                   
10 Sergej Fuchs (Ger) Team 3C - Gruppe Lamonta                  
11 Patric Röstel (Ger) Team Akud-Rose Versand               2.19
12 Daniel Westmattelmann (Ger) Team Akud-Rose Versand       4.28
13 Serge Herz (Ger) Heinz von Heiden Focus                      
14 Nico Graf (Ger) Thüringer Energie Team                       
15 Marcel Beima (Ned) T-Mobile Team                             
16 Patrick Gretsch (Ger) Thüringer Energie Team                 
17 Thomas Dekker (Ned) Rabobank                             4.31
18 Andreas Schillinger (Ger) Team Sparkasse                     
19 Finn Heitmann (Ger) Heinz von Heiden Focus                   
20 Daniel Musiol (Ger) Team Wiesenhof Felt                      
21 Konstantin Schubert (Ger) Team Regiostrom - Senges           
22 Malaya Van Ruitenbeek (Ned) Team Regiostrom - Senges         
23 Mitja Schlüter (Ger) Team Akud-Rose Versand                  
24 Lucas Schädlich (Ger) Thüringer Energie Team                 
25 Paul Martens (Ger) Skil - Shimano                            
26 Frank Scherzinger (Ger) Team 3C - Gruppe Lamonta             
27 Gerald Ciolek (Ger) T-Mobile Team                            
28 Jens Grewe (Ger) Team Akud-Rose Versand                      
29 Clemens Frankhauser (Aut) Elk Haus - Simplon                 
30 Florian Frohn (Ger) Thüringer Energie Team                   
31 Linus Gerdemann (Ger) T-Mobile Team                          
32 Oliver Giesecke (Ger) Thüringer Energie Team                 
33 Lachlan Norris (Aus) South Australia.com - AIS               
34 Johnny Walker (Aus) South Australia.com - AIS                
35 Marcel Sieberg (Ger) Team Milram                             
36 Bernhard Kohl (Aut) Gerolsteiner                             
37 Thomas Fothen (Ger) Gerolsteiner                             
38 Elnathan Heizmann (Ger) Team 3C - Gruppe Lamonta             
 
Teams

1 Skil-Shimano                                          13.39.22
2 Team Milram                                               3.48
3 Southaustralia.com-AIS                                        
4 Gerolsteiner                                              5.19
5 T-Mobile Team                                             7.22
6 Elk Haus-Simplon                                          7.31
7 Team Sparkasse                                            7.40
8 Heinz von Heiden Focus                                    8.10
9 Team CSC                                                  8.13
10 Team 3 C Gruppe-Lamonta                                      
11 Akud Rose                                                9.41
12 Rabobank                                                11.50
13 Thüringer Energie Team                                       
14 Team Regiostrom-Senges                                  11.53
15 Team Wiesenhof Felt                                          

Final general classification

1 Thomas Dekker (Ned) Rabobank                          17.10.57
2 Jens Voigt (Ger) Team CSC                                 0.16
3 Michael Boogerd (Ned) Rabobank                            1.54
4 Frank Schleck (Lux) Team CSC                              2.12
5 Christian Pfannberger (Aut) Elk Haus - Simplon            4.25
6 Marcus Burghardt (Ger) T-Mobile Team                      5.22
7 Björn Schröder (Ger) Team Milram                          7.49
8 Christoph Meschenmoser (Ger) Skil - Shimano               8.39
9 Luke Roberts (Aus) Team CSC                               9.06
10 Sven Krauss (Ger) Gerolsteiner                           9.08
11 Clément Lhotellerie (Fra) Skil - Shimano                 9.23
12 Harald Totschnig (Aut) Elk Haus - Simplon                9.30
13 Simon Clarke (Aus) South Australia.com - AIS             9.47
14 Ronny Scholz (Ger) Gerolsteiner                         10.23
15 Christian Knees (Ger) Team Milram                       10.35
16 Dennis Pohl (Ger) Heinz von Heiden Focus                12.00
17 Malaya Van Ruitenbeek (Ned) Team Regiostrom - Senges    12.25
18 Bobby Julich (USA) Team CSC                             13.07
19 Gene Bates (Aus) South Australia.com - AIS              13.11
20 Paul Martens (Ger) Skil - Shimano                       13.25
21 Thierry Dupont (Fra) Skil - Shimano                     13.32
22 Andreas Schillinger (Ger) Team Sparkasse                13.40
23 Sergej Fuchs (Ger) Team 3C - Gruppe Lamonta             13.42
24 Wesley Sulzberger (Aus) South Australia.com - AIS       13.55
25 Nico Graf (Ger) Thüringer Energie Team                  14.20
26 Kurt-Asle Arvesen (Nor) Team CSC                        14.22
27 Holger Sievers (Ger) Team 3C - Gruppe Lamonta           14.26
28 Robert Retschke (Ger) Team Wiesenhof Felt               14.31
29 Gerald Ciolek (Ger) T-Mobile Team                            
30 Pieter Weening (Ned) Rabobank                           15.02
31 Dirk Müller (Ger) Team Sparkasse                        15.09
32 Daniel Musiol (Ger) Team Wiesenhof Felt                 15.21
33 Marcel Sieberg (Ger) Team Milram                        15.34
34 Konstantin Schubert (Ger) Team Regiostrom - Senges      15.39
35 Maarten Den Bakker (Ned) Skil - Shimano                      
36 Timo Honstein (Ger) Team Sparkasse                      15.44
37 Maint Berkenbosch (Ned) Team Regiostrom - Senges        15.50
38 Gerben Löwik (Ned) Rabobank                             16.13
39 Richard Faltus (Cze) Team Sparkasse                     16.29
40 Bernhard Kohl (Aut) Gerolsteiner                        16.36
41 Sebastian Siedler (Ger) Team Milram                     17.22
42 Johnny Walker (Aus) South Australia.com - AIS           17.44
43 Jan Valach (Svk) Elk Haus - Simplon                     18.27
44 Marcel Beima (Ned) T-Mobile Team                        19.18
45 Marco Pinotti (Ita) T-Mobile Team                       19.28
46 Olaf Pollack (Ger) Team Wiesenhof Felt                  19.55
47 Björn Glasner (Ger) Team Regiostrom - Senges            20.46
48 Florian Frohn (Ger) Thüringer Energie Team              21.10
49 Patric Röstel (Ger) Team Akud-Rose Versand              21.30
50 Patrick Gretsch (Ger) Thüringer Energie Team            21.35
51 Daniel Westmattelmann (Ger) Team Akud-Rose Versand      22.03
52 Volker Ordowski (Ger) Gerolsteiner                      22.41
53 Steffen Wesemann (Swi) Team Wiesenhof Felt              22.54
54 Ralf Grabsch (Ger) Team Milram                          23.14
55 Clemens Frankhauser (Aut) Elk Haus - Simplon            23.15
56 Stefan Ganser (Ger) Team Regiostrom - Senges            23.51
57 Linus Gerdemann (Ger) T-Mobile Team                          
58 Oliver Giesecke (Ger) Thüringer Energie Team            24.46
59 Mitja Schlüter (Ger) Team Akud-Rose Versand             25.39
60 Thomas Fothen (Ger) Gerolsteiner                        26.37
61 Lucas Schädlich (Ger) Thüringer Energie Team            26.43
62 Marc Weisshaupt (Ger) Elk Haus - Simplon                27.15
63 Jonas Owczarek (Ger) Team Sparkasse                     27.24
64 Thorwald Veneberg (Ned) Rabobank                        27.35
65 Finn Heitmann (Ger) Heinz von Heiden Focus                   
66 Elnathan Heizmann (Ger) Team 3C - Gruppe Lamonta        27.47
67 Frank Scherzinger (Ger) Team 3C - Gruppe Lamonta        27.49
68 Lars Wackernagel (Ger) Team Sparkasse                   28.04
69 Serge Herz (Ger) Heinz von Heiden Focus                 30.49
70 Jens Grewe (Ger) Team Akud-Rose Versand                 31.11
71 Lachlan Norris (Aus) South Australia.com - AIS          31.38
 
Points classification
 
1 Marcus Burghardt (Ger) T-Mobile Team                        65 pts
2 Thomas Dekker (Ned) Rabobank                                28
3 Jens Voigt (Ger) Team CSC                                   28
4 Clément Lhotellerie (Fra) Skil - Shimano                    28
5 Björn Schröder (Ger) Team Milram                            23
6 Christian Knees (Ger) Team Milram                           22
7 Gerald Ciolek (Ger) T-Mobile Team                           20
8 Luke Roberts (Aus) Team CSC                                 20
9 Christoph Meschenmoser (Ger) Skil - Shimano                 19
10 Marcel Sieberg (Ger) Team Milram                           17
11 Andreas Schillinger (Ger) Team Sparkasse                   17
12 Christian Pfannberger (Aut) Elk Haus - Simplon             16
13 Ronny Scholz (Ger) Gerolsteiner                            15
14 Frank Schleck (Lux) Team CSC                               15
15 Sebastian Siedler (Ger) Team Milram                        13
16 Michael Boogerd (Ned) Rabobank                             13
17 Simon Clarke (Aus) South Australia.com - AIS               11
18 Harald Totschnig (Aut) Elk Haus - Simplon                   9
19 Sven Krauss (Ger) Gerolsteiner                              9
20 Dirk Müller (Ger) Team Sparkasse                            7
21 Gene Bates (Aus) South Australia.com - AIS                  5
22 Timo Honstein (Ger) Team Sparkasse                          5
23 Sergej Fuchs (Ger) Team 3C - Gruppe Lamonta                 4
24 Marcel Beima (Ned) T-Mobile Team                            3
25 Wesley Sulzberger (Aus) South Australia.com - AIS           3
26 Marco Pinotti (Ita) T-Mobile Team                           2
27 Olaf Pollack (Ger) Team Wiesenhof Felt                      2
28 Malaya Van Ruitenbeek (Ned) Team Regiostrom - Senges        2
29 Dennis Pohl (Ger) Heinz von Heiden Focus                    1
30 Konstantin Schubert (Ger) Team Regiostrom - Senges          1
 
Mountains classification
 
1 Clément Lhotellerie (Fra) Skil - Shimano                    27 pts
2 Thierry Dupont (Fra) Skil - Shimano                          9
3 Christian Knees (Ger) Team Milram                            7
4 Ronny Scholz (Ger) Gerolsteiner                              5
5 Simon Clarke (Aus) South Australia.com - AIS                 4
6 Marcus Burghardt (Ger) T-Mobile Team                         3
7 Björn Schröder (Ger) Team Milram                             3
8 Christoph Meschenmoser (Ger) Skil - Shimano                  3
9 Sven Krauss (Ger) Gerolsteiner                               3
10 Thomas Dekker (Ned) Rabobank                                2
11 Frank Schleck (Lux) Team CSC                                2
12 Bobby Julich (USA) Team CSC                                 2
13 Andreas Schillinger (Ger) Team Sparkasse                    2
14 Gerald Ciolek (Ger) T-Mobile Team                           2
15 Dirk Müller (Ger) Team Sparkasse                            2
16 Patric Röstel (Ger) Team Akud-Rose Versand                  2
17 Volker Ordowski (Ger) Gerolsteiner                          2
18 Michael Boogerd (Ned) Rabobank                              1
19 Christian Pfannberger (Aut) Elk Haus - Simplon              1
20 Harald Totschnig (Aut) Elk Haus - Simplon                   1
21 Gene Bates (Aus) South Australia.com - AIS                  1
22 Marcel Sieberg (Ger) Team Milram                            1
23 Thorwald Veneberg (Ned) Rabobank                            1
 
Young rider classification
 
1 Thomas Dekker (Ned) Rabobank                          17.10.57
2 Marcus Burghardt (Ger) T-Mobile Team                      5.22
3 Christoph Meschenmoser (Ger) Skil - Shimano               8.39
4 Sven Krauss (Ger) Gerolsteiner                            9.08
5 Clément Lhotellerie (Fra) Skil - Shimano                  9.23
6 Simon Clarke (Aus) South Australia.com - AIS              9.47
7 Dennis Pohl (Ger) Heinz von Heiden Focus                 12.00
8 Malaya Van Ruitenbeek (Ned) Team Regiostrom - Senges     12.25
9 Paul Martens (Ger) Skil - Shimano                        13.25
10 Thierry Dupont (Fra) Skil - Shimano                     13.32
11 Andreas Schillinger (Ger) Team Sparkasse                13.40
12 Sergej Fuchs (Ger) Team 3C - Gruppe Lamonta             13.42
13 Wesley Sulzberger (Aus) South Australia.com - AIS       13.55
14 Nico Graf (Ger) Thüringer Energie Team                  14.20
15 Gerald Ciolek (Ger) T-Mobile Team                       14.31
16 Daniel Musiol (Ger) Team Wiesenhof Felt                 15.21
17 Marcel Sieberg (Ger) Team Milram                        15.34
18 Konstantin Schubert (Ger) Team Regiostrom - Senges      15.39
19 Timo Honstein (Ger) Team Sparkasse                      15.44
20 Bernhard Kohl (Aut) Gerolsteiner                        16.36
21 Johnny Walker (Aus) South Australia.com - AIS           17.44
22 Marcel Beima (Ned) T-Mobile Team                        19.18
23 Florian Frohn (Ger) Thüringer Energie Team              21.10
24 Patric Röstel (Ger) Team Akud-Rose Versand              21.30
25 Patrick Gretsch (Ger) Thüringer Energie Team            21.35
26 Daniel Westmattelmann (Ger) Team Akud-Rose Versand      22.03
27 Clemens Frankhauser (Aut) Elk Haus - Simplon            23.15
28 Linus Gerdemann (Ger) T-Mobile Team                     23.51
29 Oliver Giesecke (Ger) Thüringer Energie Team            24.46
30 Mitja Schlüter (Ger) Team Akud-Rose Versand             25.39
31 Thomas Fothen (Ger) Gerolsteiner                        26.37
32 Lucas Schädlich (Ger) Thüringer Energie Team            26.43
33 Finn Heitmann (Ger) Heinz von Heiden Focus              27.35
34 Elnathan Heizmann (Ger) Team 3C - Gruppe Lamonta        27.47
35 Frank Scherzinger (Ger) Team 3C - Gruppe Lamonta        27.49
36 Serge Herz (Ger) Heinz von Heiden Focus                 30.49
37 Jens Grewe (Ger) Team Akud-Rose Versand                 31.11
38 Lachlan Norris (Aus) South Australia.com - AIS          31.38
 
Teams classification
 
1 Team CSC                                              51.43.29
2 Rabobank                                                  5.48
3 Skil-Shimano                                             15.32
4 Team Milram                                              19.22
5 Elk Haus-Simplon                                         21.01
6 Gerolsteiner                                             23.19
7 T-Mobile Team                                            23.30
8 Southaustralia.com-AIS                                   26.15
9 Team Sparkasse                                           28.14
10 Team Wiesenhof Felt                                     30.13
11 Team Regiostrom-Senges                                  31.29
12 Team 3 C Gruppe-Lamonta                                 34.01
13 Thüringer Energie Team                                  37.11
14 Heinz von Heiden Focus                                  49.32
15 Akud Rose                                               52.16