Recently on Cyclingnews.com
112th Melbourne to Warrnambool Cycling Classic - 1.2
Victoria, Australia, October 27, 2007
2006 Results Results Past winners
Decker takes tight finish in long classic
By Mal Sawford in Warrnambool
In the end, Tim Decker
Photo ©: Fiona Carnibella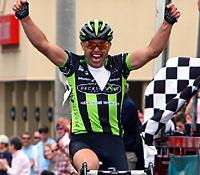 The 112th running of the world's longest – at 299 kilometres – and second oldest classic was fittingly won by one of the 'veterans' of the famous race, 34 year-old Tim Decker (Decked Out Coaching). The Australian was victorious with a last gasp sprint to lead home young Western Australian rider Ben King (Cycle Mania) and Mark Hooper (Baum) from a very select group of nine riders left in contention at the finish.
Decker, riding his 14th classic, and wearing saddlecloth 14, was understandably delighted to take the win, having finished second, third, fourth, fifth and seventh in recent years, and dedicated the win to his wife Michelle and six week old son Cohen. "14 years. 14 years – I've finally done it. It's the most – except for my marriage to my wife and the birth of my son – this is – it's unbelievable," an emotional Decker said moments after crossing the line. "If I had have won it six years ago, I wouldn't have had the fire I needed today." Decker crossed the line in 7 hours, 15 minutes and 15 seconds.
How it unfolded
The early break
Photo ©: Fiona Carnibella

157 riders rolled out under clear blue skies from the spectacular Sanctuary Lakes Golf Resort at the (unearthly) time of 7:30AM, and with the first of 24 sprints only a little over one kilometre from the end of the neutral period, the pace was quickly pegged at 50km/h.
After a few opening forays, the first serious break went clear at Werribee, led by CCCC/SHM Elite team mates Matt Chessum and Brendan Rowbotham and Port Fairy rider Gerard Faulkiner. Unfortunately for the trio, the presence of a Team Decked Out Coaching police man put paid to their effort. Vaughan Bowman was next to fly the flag for the CCCC/SHM team, and won the sprint at Little River alone, and was soon after joined by Nick Walker (VIS), with the bunch in hot pursuit.
Approaching Lara, eight riders attacked, and with no immediate reaction from the bunch built a handy lead. Lead by one of the pre-race favourites, Pat Shaw (VIS), the group also contained Chessum and Peter Barnett (CCCC/SHM Elite), Shaun McCarthy (Decked Out), Tom Leaper (Pro-Motion Bicycles), Craig Johnson and Brett Perez (Prime Estate).
Pete Barnett and Brendam Rowbotham
Photo ©: Fiona Carnibella

The lead group grew bigger with the addition of Trent Stevenson, Peter Ladd, Glen O'Shea and Evan Corry (Decked Out), David Tozer, Wade Wallace (O2 Networks), Rownbotham, Will Alexander (New Zealand) and Brendan Schultz (Hamilton). The lead grew past three minutes at Moorabool and was approaching four minutes at the first feed station at Inverleigh, before a chase group of twenty, lead by David Pell (Savings & Loans) began to make headway. Kristian House's (Navigators) day came to an early end with a puncture after 110 kilometres, with the margin back to two minutes, and the chasers reached the leaders thirty minutes later, soon after the turn off towards Colac. What was left of the main bunch was over eight minutes back by this point, and it was obvious that the winner would emerge from the thirty-odd leaders.
An initial counter-attack saw eventual winner Decker at the head of affairs for the first time, along with Brad Edmunds (Cycle City Ballarat), Stevenson, Barnett, Chessum, Hooper, Ladd and Rowbotham move clear of the recently formed lead group. More riders bridged up, and at the 185-kilometre mark, the lead group also contained Lachlan Stewart (VIS), Pell, Shaw, Hooper, Joel Pearson (Cycle City Ballarat), Steve Pilson and Charles Howlett (Fujitsu), Queenland veteran Paul Wild, O'Shea, Richard England and IPC track world champion Michael Gallagher (VIS), Cameron Hughes (Ord Minnett) and King.
Tim Decker (Decked Out Coaching) and Joel Pearson (Cyclecity Ballarat)
Photo ©: Fiona Carnibella

Stevenson won the sprint at the Mamre Hotel in Pirron Yallock, which doubled as the Victorian 200-kilometre Championship, and also took an unassailable lead in the sprint championship. With the second feed still 30 kilometres distant, the temperature nearing 30 degrees, and the crosswinds increasing in intensity, the rolling hills of the Stoney Rises saw a number of riders fall off the pace, until just twelve were left: Pell, England, Pearson, Hughes, Gallagher, Howlett, Decker, Stewart, King, Pilson, Edmunds and Stevenson.
Next to pop was Stewart, followed in quick succession by Pell, Gallagher and Stevenson at the 225-kilometre mark. Decker later admitted "I feel sorry for David Pell, he was pretty marked, but he's still young, he's got a few years left still." The remaining nine settled into a good rhythm, and worked solidly for the next monotonous hour. King attacked shortly before the final feedzone to take the sprint at Garvoc, and held a ten second advantage through the feeding zone.
None of the other riders showed much interest in bringing the youngster back, and King kept the pressure on over the next couple of rolling hills before the group reformed. Over the final 30 kilometres, King, Hughes and Edmunds all attacked repeatedly, but couldn't split the group. Decker sat at the back of the group, and looked to be in difficulty with cramps, while Pearson, the best credentialed sprinter of the group looked quite relaxed. Decker revealed later "I was cramping from the second feed onwards, but I kept pushing along, I never gave up, it's my attitude to life."
Hughes attacked strongly over the summit of the final rise and was the first rider to come into view at the uphill drag to the finish. Fifty metres clear with one kilometre to race, Hughes looked to have the race won, before England jumped from the chase group and set off in pursuit. King was quick to pounce on England's wheel, and as England drew level with Hughes, King hit the lead – only to have Decker time his run perfectly to sneak past on the left in the final twenty metres for his emotional win.
Richard England was another VIS rider
Photo ©: Fiona Carnibella

Decker replayed the closing stages of the race for the media. "They hit out, and I was in bits, and I chased wheels, and chased wheels, and for some reason I put it in the 11 [cog], which is silly, because Dave and I have spoken about sprinting up there in the 14 or the 15, and I just jumped in the 11, but no one was taking that away from me, no one at all, no one at all."
He was also quick to thank his family and his team-mates for their support. "My wife, she's sacrificed so much for me, and I hope today shows how much I love her, and shows Australia what sort of rider I am." Young Cohen was on hand to witness his father's big win – too young to make the trip to Sydney last weekend to see Decker's twin World Masters Track Championships wins in the 30-34 years Scratch and Points races, he didn't have to wait long to see dad land another big win.
Decker runs a cycle coaching business in his home town of Bendigo, and 'his' boys in black and green were very prominent throughout the race. "The boys rode well above themselves today. They were in everything, some of them sacrificed themselves themselves for me."
Even King, who hails from a much warmer climate, found the hot weather tough. "It was quite hard out there. The last 40 Ks there was a bit of a tail breeze, so it was hard to get away. Joel Pearson was sticking to my wheel like glue unfortunately. I'm not much of a bunch sprinter, so second is alright I guess. I thought I'd won it, but I just got rolled."
Hooper was delighted to finish on the podium. "It's my best result ever. I was confident of a top ten, but third is awesome. I attacked just before the last hill, and then was cramping half way up, so I was in trouble."
Race notes
The podium (l-r) Ben King, Tim Decker and Mark Hooper.
Photo ©: Fiona Carnibella

The hot and windy weather took it's toll on the field, with reports from the sag wagon that 75 riders had abandoned at the 170-kilometre mark. An early pile-up approaching Werribee, less than twenty kilometres in, saw around twenty riders hit the deck.
Emma Carney was one of two women to tackle this year's race. A former world class triathlete, Carney retired from the sport after being diagnosed with a heart condition, and has had a pacemaker fitted. Carney pulled up behind the crash in Werribee in some distress, according to former Giro d'Italia stage winner David Mackenzie, with her pace maker apparently playing up. Despite initial serious concerns for her well being, Carney recovered quickly from the scare, but did not continue the race.
Howlett won the B Grade classification, with an impressive ride to finish with the leading group. Wild, who made the early selection, hung on to take out C Grade with a 13th place overall, while D Grade went to Carnegie Caulfield committee man Darren Cathie. Simon Crispie was the first Warrnambool rider to finish.
The total prize money for the event totaled $17,000, with a significant portion divided between the Sprint and King of the Mountain Championships. Stevenson took the Sprint title, while Tom Leaper was the mountains classification winner.
Photography
For a thumbnail gallery of these images, click here
Images by Malcolm Sawford
Images by Fiona Carnibella
Results - 299km

1 Timothy Decker (Aus) Bendigo                  7.15.15 (41.22 Km/Hr)
2 Benjamin King (Aus) Western Australia                
3 Mark Hooper (Aus) Geelong                            
4 Richard England (Aus) Blackburn                      
5 Cameron Hughes (Aus) Queensland                      
6 Bradley Edmunds (Aus) Echuca/Moama               0.03
7 Joel Pearson (Aus) New South Wales                   
8 Charles Howlett (Aus) Latrobe                        
9 Steven Pilson (Aus) Coburg                       0.11
10 Trent Stevenson (Aus) Shepparton               15.03
11 Michael Gallagher (Aus) Carnegie Caulfield     17.05
12 Will Alexander (NZl) New Zealand               21.08
13 Paul Wild (Aus) Queensland                     21.16
14 Tim Elmer (Aus) Tasmania                       21.19
15 Tom Leaper (Aus) Blackburn                     21.33
16 Peter Ladd (Aus) Bendigo                       21.40
17 Van Beveren, (Aus) Clint Carnegie Caulfield    21.43
18 Matt Colston (Aus) St Kilda                         
19 Brendan Rowbotham (Aus) Carnegie Caulfield          
20 Wade Wallace (Aus) St Kilda                         
21 Ewin Williams (Aus) Brunswick                  21.46
22 Damien Turner (Aus) Ballarat/Sebastopol        21.52
23 Lachlan Stewart (Aus) Ararat                   21.59
24 Jim Moore (Aus) New South Wales                22.13
25 James Broadway (Aus) St Kilda                  23.04
26 Peter Smith (Aus) Carnegie Caulfield           25.34
27 Danny Kah (Aus) Carnegie Caulfield             25.36
28 Adrian Hanson (Aus) Coburg                     26.47
29 Brendan Schultz (Aus) Hamilton                      
30 James Fairweather (NZl) New Zealand                 
31 Brett Perez (Aus) St Kilda                          
32 Justin Davis (Aus) Carnegie Caulfield               
33 Tom Crebbin (Aus) Hawthorn                          
34 John Cipriano (Aus) Carnegie Caulfield              
35 Glen Peterson (Aus) St Kilda                        
36 Steven Rankine (Aus) Queensland                     
37 Andrew Rolland (Aus) Blackburn                      
38 Danny Cohen (Aus) St Kilda                          
39 Robert Croft (Aus) St Kilda                         
40 Reece Stephens (Aus) St Kilda                       
41 Brendon Sharratt (Aus) Coburg                  27.05
42 Christopher D'amelio (Aus) Bairnsdale          27.13
43 Simon Crispie (Aus) Warrnambool                33.57
44 Cameron Gillies (Aus) Port Fairy                    
45 Robert Mann (Aus) South Australia                   
46 Peter Howard (Aus) Carnegie Caulfield               
47 Rudolf Schmidt (Aus) Geelong                        
48 Rohan Creed (Aus) Warrnambool                       
49 Scott Noonan (Aus) South Australia                  
50 Evan Corry (Aus) Bendigo                            
51 Darren Cathie (Aus) Carnegie Caulfield              
52 Michael Mcgee (Aus) South Australia                 
53 David Tozer (Aus) Port Fairy                        
54 David Shanahan (Aus) Latrobe                        
55 Samuel Rix (Aus) St Kilda                      34.05
56 Cameron Winton (Aus) Carnegie Caulfield        34.07
57 Christopher Fry (Aus) Geelong                  34.09
58 Andrew Ward (Aus) Ballarat/Sebastopol               
59 Paul Mason (Aus) Carnegie Caulfield                 
60 Geoffrey Robertson (Aus) Footscray                  
61 Craig Robertson (Aus) Footscray                41.59
62 Neale Sturt (Aus) Carnegie Caulfield           48.07
63 Kevin Harnett (Aus) South Australia            51.31
64 Will Tehan (Aus) Carnegie Caulfield            54.09
65 Grant Webster (Aus) Echuca/Moama               56.48
66 Bradley Campbell (Aus) Mornington            1.08.42
67 Craig Johnson (Aus) St Kilda                        
68 Matthew Opperman (Aus) South Australia       1.11.01
69 Michael Hartman (Aus) Preston                       
70 David Fairburn (Aus) Bendigo                        
71 Bradley Clifford (Aus) Tasmania                     
72 James Ibrahim (Aus) Bendigo                         
73 Luke Mcdonough (Aus) Coburg                         
74 David Lucid (Aus) Footscray                         
75 John Marcan (Aus) Sunbury                           
76 Daniel Keane (Aus) St Kilda                         
77 Cameron Woolcock (Aus) Hawthorn                     
78 Matt Corderoy (Aus) St Kilda                        
79 Darren Pearce (Aus) Port Fairy               1.11.14
80 Leigh Murphy (Aus) Bendigo                   1.11.16
81 Thomas Mcdonough (Aus) Coburg                1.11.23
82 Luke Colthup (Aus) Mornington                1.11.31
83 Glen Janetzki (Aus) Carnegie Caulfield              
84 Vin Mccarthy (Aus) Warrnambool                      
85 Larry Mccarthy (Aus) Warrnambool                    
86 Brendan Washington (Aus) New South Wales     1.12.01
87 James Drohan (Aus) Hawthorn                         
88 Les Tokolyi (Aus) St Kilda                   1.23.52
89 Jacobus Langedyk (Aus) Geelong               1.25.05
90 Adrian Sinnatt (Aus) Blackburn               1.25.11
91 Noel Sens (Aus) Bendigo                      1.32.56
92 Luke Aggett (Aus) Port Fairy                        
93 William Murray (Aus) Chelsea                 1.47.56
DNF Evan Oliphant (GBr) Scotland                       
DNF David Pell (Aus) Bendigo                           
DNF Patrick Shaw (Aus) Ballarat/Sebastopol             
DNF Johnnie Walker (Aus) Brunswick                     
DNF Gavin Nicholls (Aus) Queensland                    
DNF Chris Pryor (Aus) Queensland                       
DNF Nicholas Walker (Aus) Brunswick                    
DNF Peter Barnett (Aus) Carnegie Caulfield             
DNF Vaughan Bowman (Aus) Carnegie Caulfield            
DNF Matthew Chessum (Aus) Carnegie Caulfield           
DNF Jacob Lea (Aus) Bendigo                            
DNF Kyle Marwood (Aus) Bendigo                         
DNF Shaun Mccarthy (Aus) Bendigo                       
DNF Glenn O'shea (Aus) Bendigo                         
DNF Will Dickeson (Aus) South Australia                
DNF Christopher Eichler (Aus) Hamilton                 
DNF Christopher Green (Aus) South Australia            
DNF Matthew Sherwin (Aus) Carnegie Caulfield           
DNF James Steinhauser (Aus) Ballarat                   
DNF Timothy White (Aus) Hawthorn                       
DNF Graeme Allbon (Aus) A.C.T.                         
DNF John Anderson (Aus) Hamilton                       
DNF Kok-boon Chia (Aus) Carnegie Caulfield             
DNF John Danvers (Aus) South Australia                 
DNF Michael Day (Aus) St Kilda                         
DNF Rob Licciardo (Aus) Carnegie Caulfield             
DNF Peter Mcweeney (Aus) Carnegie Caulfield            
DNF Leigh Schilling (Aus) Carnegie Caulfield           
DNF John Burtt (Aus) Geelong                           
DNF Paul Carnibella (Aus) Carnegie Caulfield           
DNF Adam Kliska (Aus) St Kilda                         
DNF Brian Mcmanus (Aus) Queensland                     
DNF David Short (Aus) St Kilda                         
DNF Peter Umbers (Aus) Port Fairy                      
DNF Paul Nolte (Aus) Hamilton                          
DNF Gerard Faulkner (Aus) Port Fairy                   
DNF Frank Mccarthy (Aus) Warrnambool                   
DNF Damien Mcdowell (Aus) Port Fairy                   
DNF Chris Taplin (Aus) Carnegie Caulfield              
DNF Malcolm Hart (Aus) Carnegie Caulfield              
DNF James Langedyk (Aus) Geelong                       
DNF Steven Robb (Aus) Brunswick                        
DNF Kristian House (GBr) England                       
DNF Robert Pagey (Aus) Carnegie Caulfield              
DNF Rick Cartwright (Aus) Port Fairy                   
DNF Turi Berg (Aus) Hawthorn                           
DNF Emma Carney (Aus) Carnegie Caulfield               
DNF Tim Koopman (Aus) South Australia                  
DNF Nigel Kimber (Aus) Carnegie Caulfield              
DNF Russell Hunt (Aus) Carnegie Caulfield              
DNF Mark Kelly (Aus) Carnegie Caulfield                
DNS Stephen Twining (Aus) Warragul                     
DNS Ashley Warton (Aus) Colac                          
DNS Peter O'donnell (Aus) Blackburn                    
DNS Timothy Joiner (Aus) Brunswick                     
DNS Gina Grain (Can) Canada                            
DNS Philip Austin (Aus) New South Wales                
DNS Stephen Hickey (Aus) Chelsea                       
DNS Ben Edwards (Aus) St Kilda                         
DNS Alistair Crossling (NZl) New Zealand               
DNS Casey Munro (Aus) Brunswick                        
DNS Pip Grinter (Aus) Bendigo                          
DNS Daniel Braunsteins (Aus) Hawthorn                  
DNS Hayden Roulston (NZl) New Zealand                  
 
Sprints
 
1
1 Kristian House (GBr) England                        3 pts
2 Patrick Shaw (Aus) Ballarat/Sebastopol              2
3 Trent Stevenson (Aus) Shepparton                    1
 
2
1 Kristian House (GBr) England                        3 pts
2 Timothy White (Aus) Hawthorn                        2
3 Tom Leaper (Aus) Blackburn                          1
 
3
1 Patrick Shaw (Aus) Ballarat/Sebastopol              3 pts
2 Kristian House (GBr) England                        2
3 Timothy White (Aus) Hawthorn                        1
 
4
1 Vaughan Bowman (Aus) Carnegie Caulfield             3 pts
2 Matthew Chessum (Aus) Carnegie Caulfield            2
3 Peter Ladd (Aus) Bendigo                            1
 
5
1 Tom Leaper (Aus) Blackburn                          3 pts
2 Craig Johnson (Aus) St Kilda                        2
3 Brendan Rowbotham (Aus) Carnegie Caulfield          1
 
6
1 Trent Stevenson (Aus) Shepparton                    3 pts
2 Tom Leaper (Aus) Blackburn                          2
3 Peter Barnett (Aus) Carnegie Caulfield              1
 
7
1 Tom Leaper (Aus) Blackburn                          3 pts
2 Patrick Shaw (Aus) Ballarat/Sebastopol              2
3 Craig Johnson (Aus) St Kilda                        1
 
8
1 Glenn O'shea (Aus) Bendigo                          3 pts
2 Trent Stevenson (Aus) Shepparton                    2
3 Matthew Chessum (Aus) Carnegie Caulfield            1
 
9
1 Trent Stevenson (Aus) Shepparton                    3 pts
2 David Tozer (Aus) Port Fairy                        2
3 Tom Leaper (Aus) Blackburn                          1
 
10
1 Brendan Schultz (Aus) Hamilton                      3 pts
2 Tom Leaper (Aus) Blackburn                          2
3 Trent Stevenson (Aus) Shepparton                    1
 
11
1 Tom Leaper (Aus) Blackburn                          3 pts
2 Trent Stevenson (Aus) Shepparton                    2
3 Evan Corry (Aus) Bendigo                            1
 
12
1 Tom Leaper (Aus) Blackburn                          3 pts
2 Glenn O'shea (Aus) Bendigo                          2
3 Peter Barnett (Aus) Carnegie Caulfield              1
 
13
1 Tom Leaper (Aus) Blackburn                          3 pts
2 Peter Barnett (Aus) Carnegie Caulfield              2
3 Will Alexander (NZl) New Zealand                    1
 
14
1 Trent Stevenson (Aus) Shepparton                    3 pts
2 Peter Barnett (Aus) Carnegie Caulfield              2
3 Peter Ladd (Aus) Bendigo                            1
 
15
1 Trent Stevenson (Aus) Shepparton                    3 pts
2 Peter Barnett (Aus) Carnegie Caulfield              2
3 Bradley Edmunds (Aus) Echuca/Moama                  1
 
16
1 Joel Pearson (Aus) New South Wales                  3 pts
2 Trent Stevenson (Aus) Shepparton                    2
3 Michael Gallagher (Aus) Carnegie Caulfield          1
 
17
1 Trent Stevenson (Aus) Shepparton                    3 pts
2 Joel Pearson (Aus) New South Wales                  2
3 Lachlan Stewart (Aus) Ararat                        1
 
18
1 Joel Pearson (Aus) New South Wales                  3 pts
2 Steven Pilson (Aus) Coburg                          2
3 Richard England (Aus) Blackburn                     1
 
19
1 Joel Pearson (Aus) New South Wales                  3 pts
2 Steven Pilson (Aus) Coburg                          2
3 Richard England (Aus) Blackburn                     1
 
20
1 Joel Pearson (Aus) New South Wales                  3 pts
2 Benjamin King (Aus) Western Australia               2
3 Mark Hooper (Aus) Geelong                           1
 
21
1 Joel Pearson (Aus) New South Wales                  3 pts
2 Benjamin King (Aus) Western Australia               2
3 Cameron Hughes (Aus) Queensland                     1
 
22
1 Benjamin King (Aus) Western Australia               3 pts
2 Joel Pearson (Aus) New South Wales                  2
3 Cameron Hughes (Aus) Queensland                     1
 
23
1 Steven Pilson (Aus) Coburg                          3 pts
2 Benjamin King (Aus) Western Australia               2
3 Mark Hooper (Aus) Geelong                           1
 
24
1 Bradley Edmunds (Aus) Echuca/Moama                  3 pts
2 Steven Pilson (Aus) Coburg                          2
3 Timothy Decker (Aus) Bendigo                        1
 
Sprints classification
 
1 Trent Stevenson (Aus) Shepparton                   23 pts
2 Tom Leaper (Aus) Blackburn                         21
3 Joel Pearson (Aus) New South Wales                 19
4 Benjamin King (Aus) Western Australia               9
5 Steven Pilson (Aus) Coburg                          9
6 Peter Barnett (Aus) Carnegie Caulfield              8
7 Kristian House (GBr) England                        8
8 Patrick Shaw (Aus) Ballarat/Sebastopol              7
9 Glenn O'shea (Aus) Bendigo                          5
10 Bradley Edmunds (Aus) Echuca/Moama                 4
11 Matthew Chessum (Aus) Carnegie Caulfield           3
12 Vaughan Bowman (Aus) Carnegie Caulfield            3
13 Timothy White (Aus) Hawthorn                       3
14 Brendan Schultz (Aus) Hamilton                     3
15 Craig Johnson (Aus) St Kilda                       3
16 Mark Hooper (Aus) Geelong                          2
17 Peter Ladd (Aus) Bendigo                           2
18 David Tozer (Aus) Port Fairy                       2
19 Cameron Hughes (Aus) Queensland                    2
20 Richard England (Aus) Blackburn                    2
21 Brendan Rowbotham (Aus) Carnegie Caulfield         1
22 Lachlan Stewart (Aus) Ararat                       1
23 Will Alexander (NZl) New Zealand                   1
24 Timothy Decker (Aus) Bendigo                       1
25 Evan Corry (Aus) Bendigo                           1
26 Michael Gallagher (Aus) Carnegie Caulfield         1
 
Mountains
 
1
1 Tom Leaper (Aus) Blackburn                          3 pts
2 Brendan Rowbotham (Aus) Carnegie Caulfield          2
3 Patrick Shaw (Aus) Ballarat/Sebastopol              1
 
2
1 Christopher Fry (Aus) Geelong                       3 pts
2 Tom Leaper (Aus) Blackburn                          2
3 Will Alexander (NZl) New Zealand                    1
 
3
1 Tom Leaper (Aus) Blackburn                          3 pts
2 Peter Barnett (Aus) Carnegie Caulfield              2
3 Will Alexander (NZl) New Zealand                    1
 
4
1 Tom Leaper (Aus) Blackburn                          3 pts
2 Peter Barnett (Aus) Carnegie Caulfield              2
3 Patrick Shaw (Aus) Ballarat/Sebastopol              1
 
5
1 Joel Pearson (Aus) New South Wales                  3 pts
2 Bradley Edmunds (Aus) Echuca/Moama                  2
3 Trent Stevenson (Aus) Shepparton                    1
 
6
1 Joel Pearson (Aus) New South Wales                  3 pts
2 Cameron Hughes (Aus) Queensland                     2
3 Benjamin King (Aus) Western Australia               1
 
Mountains classification
 
1 Tom Leaper (Aus) Blackburn                         11 pts
2 Joel Pearson (Aus) New South Wales                  6
3 Peter Barnett (Aus) Carnegie Caulfield              4
4 Christopher Fry (Aus) Geelong                       3
5 Will Alexander (NZl) New Zealand                    2
6 Brendan Rowbotham (Aus) Carnegie Caulfield          2
7 Bradley Edmunds (Aus) Echuca/Moama                  2
8 Patrick Shaw (Aus) Ballarat/Sebastopol              2
9 Cameron Hughes (Aus) Queensland                     2
10 Trent Stevenson (Aus) Shepparton                   1
11 Benjamin King (Aus) Western Australia              1
 
A Grade
 
1 Timothy Decker (Aus) Bendigo                  7.15.15
2 Benjamin King (Aus) Western Australia                
3 Mark Hooper (Aus) Geelong                            
4 Richard England (Aus) Blackburn                      
5 Cameron Hughes (Aus) Queensland                      
6 Bradley Edmunds (Aus) Echuca/Moama               0.03
7 Joel Pearson (Aus) New South Wales                   
8 Steven Pilson (Aus) Coburg                       0.11
9 Trent Stevenson (Aus) Shepparton                15.03
10 Michael Gallagher (Aus) Carnegie Caulfield     17.05
11 Tom Leaper (Aus) Blackburn                     21.33
12 Peter Ladd (Aus) Bendigo                       21.40
13 Brendan Rowbotham (Aus) Carnegie Caulfield     21.43
14 Damien Turner (Aus) Ballarat/Sebastopol        21.52
15 Lachlan Stewart (Aus) Ararat                   21.59
16 Danny Kah (Aus) Carnegie Caulfield             25.36
17 Adrian Hanson (Aus) Coburg                     26.47
18 Brendan Schultz (Aus) Hamilton                      
19 James Fairweather (NZl) New Zealand                 
20 Steven Rankine (Aus) Queensland                     
21 Robert Croft (Aus) St Kilda                         
22 Brendon Sharratt (Aus) Coburg                  27.05
23 Christopher D'amelio (Aus) Bairnsdale          27.13
24 Michael Mcgee (Aus) South Australia            33.57
25 David Tozer (Aus) Port Fairy                        
26 Christopher Fry (Aus) Geelong                  34.09
27 Andrew Ward (Aus) Ballarat/Sebastopol               
DNF Evan Oliphant (GBr) Scotland                       
DNF David Pell (Aus) Bendigo                           
DNF Patrick Shaw (Aus) Ballarat/Sebastopol             
DNF Johnnie Walker (Aus) Brunswick                     
DNF Gavin Nicholls (Aus) Queensland                    
DNF Chris Pryor (Aus) Queensland                       
DNF Nicholas Walker (Aus) Brunswick                    
DNF Peter Barnett (Aus) Carnegie Caulfield             
DNF Vaughan Bowman (Aus) Carnegie Caulfield            
DNF Matthew Chessum (Aus) Carnegie Caulfield           
DNF Jacob Lea (Aus) Bendigo                            
DNF Kyle Marwood (Aus) Bendigo                         
DNF Shaun Mccarthy (Aus) Bendigo                       
DNF Glenn O'shea (Aus) Bendigo                         
DNF Will Dickeson (Aus) South Australia                
DNS Casey Munro (Aus) Brunswick                        
DNS Pip Grinter (Aus) Bendigo                          
DNS Daniel Braunsteins (Aus) Hawthorn                  
DNS Hayden Roulston (NZl) New Zealand                  
DNF Steven Robb (Aus) Brunswick                        
DNF Kristian House (GBr) England                       
 
B Grade

1 Charles Howlett (Aus) Latrobe                 7.15.18 (41.21 Km/Hr)
2 Will Alexander (NZl) New Zealand                21.05
3 Wade Wallace (Aus) St Kilda                     21.40
4 Ewin Williams (Aus) Brunswick                   21.43
5 Jim Moore (Aus) New South Wales                 22.10
6 James Broadway (Aus) St Kilda                   23.01
7 Peter Smith (Aus) Carnegie Caulfield            25.31
8 Brett Perez (Aus) St Kilda                      26.44
9 Justin Davis (Aus) Carnegie Caulfield                
10 John Cipriano (Aus) Carnegie Caulfield              
11 Glen Peterson (Aus) St Kilda                        
12 Reece Stephens (Aus) St Kilda                       
13 Peter Howard (Aus) Carnegie Caulfield          33.54
14 Evan Corry (Aus) Bendigo                            
15 Samuel Rix (Aus) St Kilda                      34.02
16 Cameron Winton (Aus) Carnegie Caulfield        34.04
17 Craig Robertson (Aus) Footscray                41.56
18 Kevin Harnett (Aus) South Australia            51.28
19 Will Tehan (Aus) Carnegie Caulfield            54.06
20 Craig Johnson (Aus) St Kilda                 1.08.39
21 Matt Corderoy (Aus) St Kilda                 1.10.58
22 Brendan Washington (Aus) New South Wales     1.11.58
23 James Drohan (Aus) Hawthorn                         
24 Luke Aggett (Aus) Port Fairy                 1.32.53
DNF Christopher Eichler (Aus) Hamilton                 
DNF Christopher Green (Aus) South Australia            
DNF Matthew Sherwin (Aus) Carnegie Caulfield           
DNF James Steinhauser (Aus) Ballarat                   
DNF Timothy White (Aus) Hawthorn                       
DNS Stephen Hickey (Aus) Chelsea                       
DNS Ben Edwards (Aus) St Kilda                         
DNS Alistair Crossling (NZl) New Zealand               
DNF Gerard Faulkner (Aus) Port Fairy                   
DNF James Langedyk (Aus) Geelong                       
DNF Mark Kelly (Aus) Carnegie Caulfield                
 
C Grade

1 Paul Wild (Aus) Queensland                    7.36.31 (39.30 Km/Hr)
2 Tim Elmer (Aus) Tasmania                         0.03
3 Van Beveren, (Aus) Clint Carnegie Caulfield      0.27
4 Matt Colston (Aus) St Kilda                          
5 Tom Crebbin (Aus) Hawthorn                       5.31
6 Andrew Rolland (Aus) Blackburn                       
7 Danny Cohen (Aus) St Kilda                           
8 Simon Crispie (Aus) Warrnambool                 12.41
9 Cameron Gillies (Aus) Port Fairy                     
10 Robert Mann (Aus) South Australia                   
11 Rudolf Schmidt (Aus) Geelong                        
12 Rohan Creed (Aus) Warrnambool                       
13 Scott Noonan (Aus) South Australia                  
14 Paul Mason (Aus) Carnegie Caulfield            12.53
15 Geoffrey Robertson (Aus) Footscray                  
16 Neale Sturt (Aus) Carnegie Caulfield           26.51
17 Bradley Campbell (Aus) Mornington              47.26
18 Matthew Opperman (Aus) South Australia         49.45
19 David Fairburn (Aus) Bendigo                        
20 Daniel Keane (Aus) St Kilda                         
21 Darren Pearce (Aus) Port Fairy                 49.58
22 Leigh Murphy (Aus) Bendigo                     50.00
23 Thomas Mcdonough (Aus) Coburg                  50.07
24 Luke Colthup (Aus) Mornington                  50.15
25 Glen Janetzki (Aus) Carnegie Caulfield              
26 William Murray (Aus) Chelsea                 1.26.40
DNF Graeme Allbon (Aus) A.C.T.                         
DNF John Anderson (Aus) Hamilton                       
DNF Kok-boon Chia (Aus) Carnegie Caulfield             
DNF John Danvers (Aus) South Australia                 
DNF Michael Day (Aus) St Kilda                         
DNF Rob Licciardo (Aus) Carnegie Caulfield             
DNF Peter Mcweeney (Aus) Carnegie Caulfield            
DNF Leigh Schilling (Aus) Carnegie Caulfield           
DNS Ashley Warton (Aus) Colac                          
DNS Peter O'donnell (Aus) Blackburn                    
DNS Timothy Joiner (Aus) Brunswick                     
DNS Gina Grain (Can) Canada                            
DNS Philip Austin (Aus) New South Wales                
DNF Paul Nolte (Aus) Hamilton                          
DNF Chris Taplin (Aus) Carnegie Caulfield              
DNF Malcolm Hart (Aus) Carnegie Caulfield              
DNF Emma Carney (Aus) Carnegie Caulfield               
DNF Tim Koopman (Aus) South Australia                  
DNF Nigel Kimber (Aus) Carnegie Caulfield              
DNF Russell Hunt (Aus) Carnegie Caulfield              
 
D Grade

1 Darren Cathie (Aus) Carnegie Caulfield        7.49.12 (38.24 Km/Hr)
2 David Shanahan (Aus) Latrobe                         
3 Grant Webster (Aus) Echuca/Moama                22.51
4 Michael Hartman (Aus) Preston                   37.04
5 Bradley Clifford (Aus) Tasmania                      
6 James Ibrahim (Aus) Bendigo                          
7 Luke Mcdonough (Aus) Coburg                          
8 David Lucid (Aus) Footscray                          
9 John Marcan (Aus) Sunbury                            
10 Cameron Woolcock (Aus) Hawthorn                     
11 Vin Mccarthy (Aus) Warrnambool                 37.34
12 Larry Mccarthy (Aus) Warrnambool                    
13 Les Tokolyi (Aus) St Kilda                     49.55
14 Jacobus Langedyk (Aus) Geelong                 51.08
15 Adrian Sinnatt (Aus) Blackburn                 51.14
16 Noel Sens (Aus) Bendigo                        58.59
DNF John Burtt (Aus) Geelong                           
DNF Paul Carnibella (Aus) Carnegie Caulfield           
DNF Adam Kliska (Aus) St Kilda                         
DNF Brian Mcmanus (Aus) Queensland                     
DNF David Short (Aus) St Kilda                         
DNF Peter Umbers (Aus) Port Fairy                      
DNS Stephen Twining (Aus) Warragul                     
DNF Frank Mccarthy (Aus) Warrnambool                   
DNF Damien Mcdowell (Aus) Port Fairy                   
DNF Robert Pagey (Aus) Carnegie Caulfield              
DNF Rick Cartwright (Aus) Port Fairy                   
DNF Turi Berg (Aus) Hawthorn                           
 
Warrnambool Riders

1 Simon Crispie (Aus) Warrnambool               7.49.12 (38.24 Km/Hr)
2 Rohan Creed (Aus) Warrnambool                        
3 Vin Mccarthy (Aus) Warrnambool                  37.34
4 Larry Mccarthy (Aus) Warrnambool                     
DNF Frank Mccarthy (Aus) Warrnambool                   

Past winners
Melbourne to Warrnambool Cycling Classic winners
 
2006 Robert McLachlan (Aus)             7.54.15
2005 Jonas Ljungblad (Swe) Amore e Vita 7.39.21
2004 William Walker (Aus)               7.59.22
2003 Simon Gerrans (Aus) Team Ringerike 6.47.38
2002 Jamie Drew (Aus) iTeamnova.com     6.09.57
2001 David McKenzie (Aus)               7.01.55
2000 H. Clarke Jr. (Aus) Carnegie       7.34.36
1999 J. Drew (Aus) Warrnambool          6.42.51
1998 B. Heirwegh (Bel)                  7.20.56
1997 D. Schnider (Swi)                  6.17.54
1996 C. White (Aus)                     6.44.16
1995 B. McAuliffe (60m)                 6.34.35
1994 G. Parsonage, WA (scratch)         7.20.04
1993 D. Woods (scratch)                 7.36.08
1992 P. Besanko (scratch)               7.01.28
1991 A. Stirling (scratch)              7.15.45
1990 R. Jordan (42 min)                 5.49.33
1989 P. Besanko (scratch)               6.49.19
1988 B. Burns (scratch)                 7.18.59
1987 P. Rugari (scratch)                6.32.50
1986 M. Lynch (scratch)                 6.36.56
1985 B. Leach (30 min)                  6.18.09
1984 P. Besanko (scratch)               6.36.43
1983 A. Lindsay (40 min)                6.30.08
1982 D. Allan (scratch)                 6.32.31
1981 P. Cox (10 min)                    6.20.46
1980 J. Hine (amateur)                  6.02.34
1979 D. Allan (scratch)                 7.06.48
1978 D. Shaw (4 min)                    6.50.24
1977 I. Grindlay (32 min)               6.20.59
1976 D. Allan (scratch)                 6.38.31
1975 M. Giramondo (45 min)              8.01.36
1974 J. Bylsma (5 min)                  7.27.54
1973 B. Clarke (10 min)                 6.32.06
1972 L. Sedley (13 min)                 7.15.14
1971 B. Clark (20 min)                  8.56.20
1970 M. Giramondo (46 min)              6.37.52
1969 B. Farmer (30 min)                 6.53.55
1968 R. Crowe, NSW (18 min)             6.21.06
1967 G. Gilmore, TAS (scratch)          7.14.07
1966 L. Wearne (8 min)                  7.20.15
1965 W. Dove (28 min)                   7.22.52
1964 P. Fry (40 min)                    6.26.05
1963 J. Binding (40 min)                6.40.04
1962 W. O'Brien (20 min)                7.23.12
1961 T. Robson (34 min)                 6.59.39
1960 J. Sommer (15 min)                 8.38.11
1959 G. Daws (50 min)                   8.08.53
1958 W. O'Brien (46 min)                6.24.15
1957 S. Bonney (36 min)                 6.18.45
1956 R. Davis, WA (51 min)              6.34.45
1955 E. Smith (scratch)                 6.04.55
1954 W. Guyatt (27 min)                 8.34.58
1953 M. French (17 min)                 6.19.42
1952 V. Beasley (50 min)                7.53.55
1951 A. Julius (27 min)                 6.36.54
1950 M. Rowley (scratch)                7.53.28
1949 S. Bonney (33 min)                 6.33.05
1948 A. Saunders (33' min)              7.32.02
1947 A. Edwards, SA (45 min)            7.19.15
1939 D. Toseland, SA (scratch)          8.18.06
1938 T. Rogers, QLD (31 min)            7.05.56
1937 T. Brooks, TAS (24 min)            7.39.19
1936 J. McEvoy, SA (43 min)             7.17.28
1935 T. Reynolds, SA (57 min)           7.01.04
1933 L. Willoughby (48 min)             7.05.55
1932 R. J. Reynolds (39 min)            6.39.33
1931 G. E. Lessing (63 min)             7.13.18
1930 J. P. Egan (52 min)                9.03.00
1929 H. Marshall, WA (6 min)            8.13.09
1926 L. Einsiedel (48 min)              8.16.09
1925 E. E. Williamson (60 min)          7.39.34
1924 W. F. King (64 min)                8.09.18
1923 P. Wells (56 min)                  8.37.05
1922 P. Hill, NZ (32 min)               9.20.45
1911 J. Tebbs (42 min)                  8.53.12
1910 C. A. Piercy (47 min)             10.01.21
1909 W. Knaggs (41 min)                 7.32.19
1908 J. T. Donohue, NSW (49 min)        8.00.38
1907 M. B. Dobie (42 min)               7.45.37
1906 D. D. Riley (28 min)               8.58.50
1905 W. E. Hawley (25 min)              7.52.26
1904 J. Wright (38 min)                 7.53.57
1903 J. Arnst, NZ (scratch)             7.43.00
1902 M. Chappell (55 min)               9.00.08
1901 W. Nioa (40 min)                   9.20.40
1898 W. Collins (90 min)                9.50.50
1897 W. C. Jackson (10 min)             9.51.09
1896 J. Carpenter (scratch)             8.40.05
1895 W. Nicol (90 min)                 13.34.00
1895 A. Calder (2 hours start)         11.44.30

Blue Riband Winners
 
1995 M. Wust (Ger) (scratch)            5.39.27
1994 G. Parsonage, WA (scratch)         7.20.04
1993 D. Woods (scratch)                 7.36.08
1992 P. Besanko (scratch)               7.01.28
1991 A. Stirling (scratch)              7.15.45
1990 D. Woods (scratch)                 5.12.26 Record
1989 P. Besanko (scratch)               6.49.19
1988 B. Burns (scratch)                 7.18.29
1987 P. Rugari (scratch)                6.32.50
1986 M. Lynch (scratch)                 6.36.56
1985 T. Hammond (scratch)               6.01.02
1984 P. Besanko (scratch)               6.36.43
1983 T. Hammond (scratch)               6.00.25
1982 D. Allan (scratch)                 6.32.31
1981 D. Allan (scratch)                 6.16.54
1980 W. Hildred (scratch)               5.37.10
1979 D. Allan (scratch)                 7.06.48
1978 T. Stacey (scratch)                6.46.24
1977 T. Stacey (scratch)                5.53.03
1976 D. Allan (scratch)                 6.38.31
1975 H. Clarke (scratch)                7.24.24
1974 J. Bylsma (5 min)                  7.27.54
1973 G. Wilson (5 min)                  6.27.27
1972 F. Atkins, TAS (scratch)           7.11.18
1971 H. Clarke (scratch)                8.36.20
1970 K. Oliver, NSW (scratch)           6.03.25
1969 K. Hoole, NSW (scratch)            6.25.16
1968 B. Waddell (scratch)               6.12.33
1967 G. Gilmore, TAS (scratch)          7.14.07
1966 L. Wearne (8 min)                  7.20.15
1965 B. Waddell (scratch)               7.11.06
1964 B. Waddell (scratch)               6.07.34
1963 W. Dalton (scratch)                6.09.33
1962 J. X. McDonough (5 min)            7.11.31
1961 J. O'Sullivan (scratch)            6.43.02
1960 K. Stiefler (scratch)              8.32.47
1959 P. Anthony (6 min)                 7.30.15
1958 G. Goodwin (scratch)               5.49.35
1957 R. Mockridge (scratch)             6.06.12
1956 R. Mockridge (scratch)             5.47.05
1955 E. Smith (scratch)                 6.04.55
1954 D. Williams (4 min)                8.11.58
1953 A. W. Saunders (scratch)           6.08.58
1952 G. Stabell (scratch)               7.27.08
1951 G. Stabell (scratch)               6.27.03
1950 M. Rowley (scratch)                7.53.28
1949 A. W. Saunders (scratch)           6.12.10
1948 H. Guyatt, VIC (10 min)            7.09.10
1947 K. Rowley, VIC (10 min)            6.57.43
1939 D. Toseland, SA (scratch)          8.18.06
1938 D. Toseland, SA (scratch)          6.44.53
1937 A. Angus, VIC (scratch)            7.19.09
1936 A. Angus, VIC (scratch)            6.44.50
1935 C. J. Beasley, VIC (scratch)       6.24.36
1933 W. F. Stuart, VIC (scratch)        6.27.56
1932 R. W. Lamb, VIC (scratch)          6.21.18
1931 M. Lynch, VIC (8 min)              6.31.28
1930 R. W. Lamb, VIC (scratch)          8.20.10
1929 H. Opperman, VIC (scratch)         8.07.10
1926 H. Opperman, VIC (scratch)         7.36.10
1925 H. K. Smith, WA (scratch)          7.25.01
1924 H. Opperman, VIC (scratch)         7.15.37
1923 P. O'Shea, NZ (scratch)            7.51.41
1922 P. O'Shea, NZ (scratch)            8.59.08
1911 P. O'Shea, NZ (scratch)            8.08.44
1910 J. Pianta, WA (11 min)             9.30.46
1909 J. R. Munro, VIC (3 min)           7.12.51
1908 M. Chappell, VIC (scratch)         7.46.27
1907 T. Larcombe, NSW (scratch)         7.40.10
1906 H. Mehrtens, NZ (10 min)           8.53.52
1905 W. E. Hawley, VIC (25 min)         7.52.26
1904 T. Larcombe, NSW (20 min)          7.48.07
1903 J. Arnst, NZ (scratch)             7.43.00
1902 H. G. O'Callaghan, VIC (10 min)    8.46.23
1901 A. Ralston, NZ (scratch)           9.00.30
1898 W. Adams, VIC (35 min)             9.08.45
1897 W. C. Jackson (10 min)             9.51.09
1896 J. Carpenter, VIC (scratch)        8.40.05
1895 J. Carpenter, VIC (scratch)       12.53.00
1895 J. Carpenter, VIC (scratch)       10.52.00

Sprint Champions
 
2006 Stuart Shaw (ACT)
2005 Shaun Snodden (GBr)
2004 Trent Wilson (Aus)
2003 S. Guyton (NZl)
2002 S. Guyton (NZl)
2001 E. Wakker (Kyg)
2000 K. Snorrason (Aus)
1999 Jamie Drew (Aus)
1998 Eric Wohlberg (Can)
1997 Dennis Rasmussen (Den)
1996 Ralf Grabsch (Ger)

King of the Mountain Championship
 
2006 Jason Phillips (Qld)
2005 Jason Phillips (Aus)

Past winners by Rod Morris