Recently on Cyclingnews.com
111th Melbourne to Warrnambool Cycling Classic - 1.2
Victoria, Australia, October 21, 2006
2005 Results Results Past winners
Drapac's former Olympian wins classic Warrnambool
The field head towards an intermediate sprint
Photo ©: Shane Stokes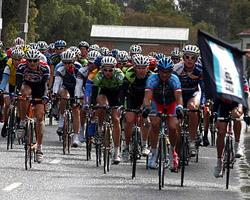 By Mal Sawford in Warrnambool
The 2006 edition of the UCI's longest one day classic was run in typically tough conditions, with early rain and a cool southerly wind blowing in the record field's faces as the riders set off for the epic 300.3 km journey. Taking the win almost eight hours later was 1992 Barcelona Olympian Rob McLachlan, riding for the locally based UCI Continental team Drapac Porsche, ahead of David Pell (Carvalhelhos-Boavista) and Finland's Kjell Carltstrom (Liquigas).
How the race unfolded
Rolling off from the Kooringal Golf Club on the outskirts of Melbourne, the current race route passes through Point Cook, Werribee, Inverleigh, Camperdown and Garvoc before finishing in Raglan Parade, Warrnambool's main street. Herald Sun Tour runner up Chris Jongewaard and reigning Australian champion Russell Van Hout, two of the pre-race favourites, were late scratchings.
Robert McLachlan from Canberra
Photo ©: Shane Stokes

The field began to splinter early in the tough conditions. The traditional early break saw eleven riders go for broke, including 2005 third-place finisher Jason Phillips (CATS), Peter Barnett and Brendan Rowbotham (both SHM Cycles) and Matt Chessum (Fitzroy Cycles).
With some apparent disharmony in the break, the leaders were eventually re-absorbed by the peloton a third of the way into the race, leaving around 35 riders still in contention until Phillips, Barnett, Rowbotham and Chessum forced the pace again. Joining then in the second break of ten were Pell, Will Dickeson (Sturt Holdfast Marion CC), Joel Pearson (VC Côtes d'Armor Cyclisme), Brad Edmunds (Echuca-Moama CC), Stuart Shaw (Drapac-Porsche) and Tim Decker (Decked Our Coaching).
Approaching the hill climb at Alvie after 182km, the lead group was down to seven, with Rowbotham, Dickeson and Pearson losing contact but still held a 1'10" advantage over the chase group led by Carltstrom, Kristian House and McLachlan. The sprint at Mamre also served as the finish line of the Victorian 200km Championships, where Shaw won from Phillips and Barnett.
The rolling hills of Stony Rises saw the chasers drop a further minute behind, before closing the gap back to 1'30" approaching the Camperdown feed station with 70km remaining. Carltstrom, McLachlan and team mate Darren Lapthorne, Jonnie Walker and Pearson counter attacked the chase group, with the Finn and McLachlan successful in reaching the long time leaders after a 40km time trial like effort from a fired up McLachlan.
More riders coming…
Photo ©: Shane Stokes

The fresh legs of Carltstrom and McLachlan saw the pace lift again, with McLachlan reportedly telling his companions that if they didn't roll through he would 'hit them even harder', and Barnett, Chessum and Edmunds soon had to let go - leaving only Shaw, Pell, Decker and Phillips with a chance of upsetting the two favourites. With 15km to race, team mates McLachlan and Shaw started to one-two the group; Shaw was the first to open a gap, with Phillips on his wheel, but Pell was able to close the attack down.
McLachlan's counter saw Pell immediately respond, with the Bendigo based rider also shutting down Shaw's next effort. McLachlan went again at the Hopkins River bridge, 10km from home, with only Phillips ready to follow, and the pair quickly opened a ten-second advantage. With 7km remaining and the gap out to 150 metres, Carltstrom moved to the front of the chasing group and chipped away at the margin, eventually bringing the two groups together three kilometers from home.
Shaw launched an expected counter attack, but failed to get clear. Seconds later McLachlan jumped hard and caught the rest napping - blasting clear to hit the final short climb with a 200 metre lead. Carltstrom and Decker both surged on the climb, but it was too little, too late, as McLachlan increased the margin as he stormed to victory. Shaw led out the sprint for second, fighting a good battle with Carltstrom down to the line, but Pell blew past both to claim second place. Shaw claimed the lucrative Sprint Championship, decided over the 24 intermediate sprints, while Phillips was crowned King of the Mountains after the six categorized climbs.
McLachlan was delighted with the win and described it: "as one of my best ever." He admitted he hadn't had a stellar ride in the Herald Sun Tour and was unsure of his form after a few days off the bike since.
The podium (L-R): Robert McLachlan (1st), David Pell (2nd),
Photo ©: Shane Stokes

"I felt pretty good all day," explained McLachlan. "The team was great today, particularly Stuart Shaw. Having him there in the final break was so important. At the end, he'd attack, they'd bring him back, then I'd attack. If they brought me back, he'd attack again. I got away with about 10km to go but they brought us back with about five kilometers to go and I thought 'oh no!', but then Stuey attacked, which was really good, but they brought him back."
"I thought 'I don't feel like doing that again, but it came really down to team tactics, so I did, and they hesitated. Because they hesitated I got the gap and then a few of them started thinking about the sprint – I spoke to a few of them after the race, you know. I rode away with about 3km to go. I probably had about thirty seconds at the end, so the last 500 metres I was able to start waving to the crowd - which was a great feeling."
At 35, racing at this level has become a year-to-year proposition for McLachlan. "I'm intending to ride again next year," added McLachlan, a full-time school teacher. "Drapac want me, so as long as it all works out – I have to get leave without pay - so if I start going down hill I'll probably hang it up. But it's looking like at least another year, it could be two, who knows?"
The biggest bunch of riders finished well over half an hour down, and included Kate Nicholls, who recorded her second finish in a race three times as long as most professional women's races.
Photography
For a thumbnail gallery of these images, click here
Images by Shane Stokes/www.licoricegallery.com
Results - 300.3 km
Grades A, B, C
 
1 Robert McLachlan      7.54.15
2 David Pell               1.28
3 Kjell Carlrom                
4 Stuart Shaw                  
5 Jason Phillips               
6 Timothy Decker               
7 Brad Edmunds             3.51
8 Peter Barnett                
9 Mathew Cheesum               
10 Jason Hegert           13.36
11 Joel Pearson                
12 John Forre                  
13 Johnnie Walker              
14 Tim Hucker                  
15 Steve Cunningham            
16 John Ebeling                
17 Cameron Hughes         13.45
18 Darren Lapthorne       13.48
19 Kyle Marwood           25.01
20 Shane Stiles                
21 Peter Smith                 
22 Brad McDermott              
23 Jacob Sutherland            
24 Brendan Rowbotham           
25 Juin Davis                  
26 Steven Pilson               
27 Russell Edgar               
28 Greg Featonby               
29 Damien Turner               
30 David Tozer                 
31 James Fitzgerald       34.22
32 Trent Stevenson             
33 Dylan Newell           38.28
34 Andrew Rolland         40.23
35 Brenden Savage              
36 Brett Franklin              
37 Evan Corry                  
38 Damien Jones                
39 Jesse Foer                  
40 Tony Hallam                 
41 Michael Villani             
42 David Newton           41.01
43 John Cipriano               
44 Kevin Nichols               
45 Dale Woonton                
46 Luke Mackenzie              
47 Andrew Ward                 
48 Jeffrey Provan              
49 Guy Green                   
50 Wayne Flint                 
51 Chriopher Eichler           
52 Ben Edwards                 
53 James Stokie                
54 Mick Ritchie                
55 Robert Mann                 
56 Michael Hartman             
57 Stephen Hanlon              
58 Jason Theobald              
59 Gavin Nicholls              
60 Andrew Hutcheson            
61 Nick Oakley                 
62 Wade Wallace                
63 James Broadway              
64 Stephen Fraser              
65 EUGEN Schilter              
66 Michael Heenan              
67 Neil Tatt                   
68 Tim Watson                  
69 Darren Cathie               
70 Michael Sparke              
71 Dominic O'Loughlin          
72 Hayden Mead                 
73 Cameron Winton              
74 David Foer                  
75 Vaughan Bowman              
76 Danny Cohen                 
77 Shaun Gatter                
78 Gerard Faulkner             
79 John Anderson               
80 Sean Hurley                 
81 Frank McCarthy              
82 Reece Stephens              
83 John Danvers                
84 Kate Nichols                
85 John Marcan                 
86 Glen Peterson               
87 Andrew McKellar             
88 Neale Sturt                 
89 Jeffrey Gray           41.22
90 Peter Howard                
91 Darren Pearce          41.36
92 John Guerin            42.54
93 Michael Bentley        44.35
94 Samuel Rix             45.34
95 Marc Loecherer         47.05
96 Craig Van Der Valk     50.07
97 Larry McCarthy         56.08
98 Reece Emm Van Beek          
99 Matthew Opperman            
100 Brendan Washington    56.11
101 Brad Speller          59.15
102 Luke Aggett         1.00.07
103 Tom McDonough       1.05.08
104 Gary Simondson      1.05.09
105 Luke McDonough      1.05.30
106 Simon Vandeadt      1.05.46
107 Rohan Creed                
108 Stephen Hickey      1.10.10
109 Kevin Murphy        1.11.53
110 Errol Schmidt       1.24.07
111 Sean Egan                  
112 Chris Cheney               
113 Mark Kelly                 
114 Darren Sayers       1.38.52
115 Damien Bourke              
116 Les Tokolyi                
117 William Murray             
118 Gregory Walmsley           
OTL Stephanie Frawley          
OTL Mark Johnson               
DNF Kriian House               
DNF David Kemp                 
DNF Mark O'Brien               
DNF Patrick Shaw               
DNF Casey Munro                
DNF Jack Alexander             
DNF Craig McCartney            
DNF Brendan O,Connell          
DNF Brendon Sharratt           
DNF Will Dickeson              
DNF Simon Pearson              
DNF Daryl Burns                
DNF Mark Hooper                
DNF Matthew Jensen             
DNF Ben Ledwidge               
DNF Shaun Mccarthy             
DNF Andras Nagy                
DNF Rich Ross                  
DNF Simon Ross                 
DNF Michael Smith              
DNF Rhys Smith                 
DNF Chris Steffanoni           
DNF James Steinhauser          
DNF Bruce Tallon               
DNF Aaron Wilson               
DNF Alex Brewer                
DNF Mark Cleary                
DNF Matt Colon                 
DNF Peter McWeeney             
DNF Paul Nolte                 
DNF Peter O'Donnell            
DNF Anthony Peacock            
DNF Andrew Robinson            
DNF Matthew Szymczak           
DNF Michael Vogt               
DNF Andrew Wilmott             
DNF Ryan Braybrook             
DNF Rene Bueman                
DNF Paul Doman                 
DNF Alan Dudderidge            
DNF Wayne Gebert               
DNF Cameron Hart               
DNF Thomas Huberts             
DNF James Ibrahim              
DNF John Lehner                
DNF Alex Marchese              
DNF Philip Moss                
DNF Tony Prytz                 
DNF Richard Read               
DNF Jeffrey Shaw               
DNF Andrew Smith               
DNF Blair Smith                
DNF Colin Smith                
DNF Lindsay Tunbridge          
DNS Tom Southam                
DNS Tommy Nankervis            
DNS Jai Crawford               
DNS Michael Ford               
DNS Peter Ladd                 
DNS Steven Rankine             
DNS Chris Jongewaard           
DNS Russell van Hout           
DNS Ville Suominen             
DNS Nathan Wise                
DNS Carl Brewer                
DNS Ron Burgess                
DNS Tom Crebbin                
DNS Malcolm Hart               
DNS Dylan Hately               
DNS Chriopher Teakle           
DNS Daniel Burke               
DNS Chriopher Franklin         
DNS Robert Moore               

General Classification by Grade

A Grade
1 Robert McLachlan (ACT)
2 David Pell (Vic)
3 Kjell Carlstrom (Finland)

B Grade
1 John Forest (ACT)
2 Peter Smith (Vic)
3 Justin Davis (Vic).

C Grade
1 Shane Stiles (Vic)
2 Russell Edgar (Vic)
3 James Fitzgerald (Vic)

D Grade
1 Brad McDermott (Vic)
2 Greg Featonby (NSW)
3 Damien Jones (Vic)

Bianchi Sprint Championship
Stuart Shaw (ACT)

ANZ Bank King of the Mountain Championship
Jason Phillips (Qld)

First Warrnambool rider
David Tozer

Victorian 200 km Championship
Stuart Shaw (ACT)

Past winners
Melbourne to Warrnambool Cycling Classic winners
2005 Jonas Ljungblad (Swe) Amore e Vita 7.39.21
2004 William Walker (Aus)               7.59.22
2003 Simon Gerrans (Aus) Team Ringerike 6.47.38
2002 Jamie Drew (Aus) iTeamnova.com     6.09.57
2001 David McKenzie (Aus)               7.01.55
2000 H. Clarke Jr. (Aus) Carnegie       7.34.36
1999 J. Drew (Aus) Warrnambool          6.42.51
1998 B. Heirwegh (Bel)                  7.20.56
1997 D. Schnider (Swi)                  6.17.54
1996 C. White (Aus)                     6.44.16
1995 B. McAuliffe (60m)                 6.34.35
1994 G. Parsonage, WA (scratch)         7.20.04
1993 D. Woods (scratch)                 7.36.08
1992 P. Besanko (scratch)               7.01.28
1991 A. Stirling (scratch)              7.15.45
1990 R. Jordan (42 min)                 5.49.33
1989 P. Besanko (scratch)               6.49.19
1988 B. Burns (scratch)                 7.18.59
1987 P. Rugari (scratch)                6.32.50
1986 M. Lynch (scratch)                 6.36.56
1985 B. Leach (30 min)                  6.18.09
1984 P. Besanko (scratch)               6.36.43
1983 A. Lindsay (40 min)                6.30.08
1982 D. Allan (scratch)                 6.32.31
1981 P. Cox (10 min)                    6.20.46
1980 J. Hine (amateur)                  6.02.34
1979 D. Allan (scratch)                 7.06.48
1978 D. Shaw (4 min)                    6.50.24
1977 I. Grindlay (32 min)               6.20.59
1976 D. Allan (scratch)                 6.38.31
1975 M. Giramondo (45 min)              8.01.36
1974 J. Bylsma (5 min)                  7.27.54
1973 B. Clarke (10 min)                 6.32.06
1972 L. Sedley (13 min)                 7.15.14
1971 B. Clark (20 min)                  8.56.20
1970 M. Giramondo (46 min)              6.37.52
1969 B. Farmer (30 min)                 6.53.55
1968 R. Crowe, NSW (18 min)             6.21.06
1967 G. Gilmore, TAS (scratch)          7.14.07
1966 L. Wearne (8 min)                  7.20.15
1965 W. Dove (28 min)                   7.22.52
1964 P. Fry (40 min)                    6.26.05
1963 J. Binding (40 min)                6.40.04
1962 W. O'Brien (20 min)                7.23.12
1961 T. Robson (34 min)                 6.59.39
1960 J. Sommer (15 min)                 8.38.11
1959 G. Daws (50 min)                   8.08.53
1958 W. O'Brien (46 min)                6.24.15
1957 S. Bonney (36 min)                 6.18.45
1956 R. Davis, WA (51 min)              6.34.45
1955 E. Smith (scratch)                 6.04.55
1954 W. Guyatt (27 min)                 8.34.58
1953 M. French (17 min)                 6.19.42
1952 V. Beasley (50 min)                7.53.55
1951 A. Julius (27 min)                 6.36.54
1950 M. Rowley (scratch)                7.53.28
1949 S. Bonney (33 min)                 6.33.05
1948 A. Saunders (33' min)              7.32.02
1947 A. Edwards, SA (45 min)            7.19.15
1939 D. Toseland, SA (scratch)          8.18.06
1938 T. Rogers, QLD (31 min)            7.05.56
1937 T. Brooks, TAS (24 min)            7.39.19
1936 J. McEvoy, SA (43 min)             7.17.28
1935 T. Reynolds, SA (57 min)           7.01.04
1933 L. Willoughby (48 min)             7.05.55
1932 R. J. Reynolds (39 min)            6.39.33
1931 G. E. Lessing (63 min)             7.13.18
1930 J. P. Egan (52 min)                9.03.00
1929 H. Marshall, WA (6 min)            8.13.09
1926 L. Einsiedel (48 min)              8.16.09
1925 E. E. Williamson (60 min)          7.39.34
1924 W. F. King (64 min)                8.09.18
1923 P. Wells (56 min)                  8.37.05
1922 P. Hill, NZ (32 min)               9.20.45
1911 J. Tebbs (42 min)                  8.53.12
1910 C. A. Piercy (47 min)             10.01.21
1909 W. Knaggs (41 min)                 7.32.19
1908 J. T. Donohue, NSW (49 min)        8.00.38
1907 M. B. Dobie (42 min)               7.45.37
1906 D. D. Riley (28 min)               8.58.50
1905 W. E. Hawley (25 min)              7.52.26
1904 J. Wright (38 min)                 7.53.57
1903 J. Arnst, NZ (scratch)             7.43.00
1902 M. Chappell (55 min)               9.00.08
1901 W. Nioa (40 min)                   9.20.40
1898 W. Collins (90 min)                9.50.50
1897 W. C. Jackson (10 min)             9.51.09
1896 J. Carpenter (scratch)             8.40.05
1895 W. Nicol (90 min)                 13.34.00
1895 A. Calder (2 hours start)         11.44.30

Blue Riband Winners
1995 M. Wust (Ger) (scratch)            5.39.27
1994 G. Parsonage, WA (scratch)         7.20.04
1993 D. Woods (scratch)                 7.36.08
1992 P. Besanko (scratch)               7.01.28
1991 A. Stirling (scratch)              7.15.45
1990 D. Woods (scratch)                 5.12.26 Record
1989 P. Besanko (scratch)               6.49.19
1988 B. Burns (scratch)                 7.18.29
1987 P. Rugari (scratch)                6.32.50
1986 M. Lynch (scratch)                 6.36.56
1985 T. Hammond (scratch)               6.01.02
1984 P. Besanko (scratch)               6.36.43
1983 T. Hammond (scratch)               6.00.25
1982 D. Allan (scratch)                 6.32.31
1981 D. Allan (scratch)                 6.16.54
1980 W. Hildred (scratch)               5.37.10
1979 D. Allan (scratch)                 7.06.48
1978 T. Stacey (scratch)                6.46.24
1977 T. Stacey (scratch)                5.53.03
1976 D. Allan (scratch)                 6.38.31
1975 H. Clarke (scratch)                7.24.24
1974 J. Bylsma (5 min)                  7.27.54
1973 G. Wilson (5 min)                  6.27.27
1972 F. Atkins, TAS (scratch)           7.11.18
1971 H. Clarke (scratch)                8.36.20
1970 K. Oliver, NSW (scratch)           6.03.25
1969 K. Hoole, NSW (scratch)            6.25.16
1968 B. Waddell (scratch)               6.12.33
1967 G. Gilmore, TAS (scratch)          7.14.07
1966 L. Wearne (8 min)                  7.20.15
1965 B. Waddell (scratch)               7.11.06
1964 B. Waddell (scratch)               6.07.34
1963 W. Dalton (scratch)                6.09.33
1962 J. X. McDonough (5 min)            7.11.31
1961 J. O'Sullivan (scratch)            6.43.02
1960 K. Stiefler (scratch)              8.32.47
1959 P. Anthony (6 min)                 7.30.15
1958 G. Goodwin (scratch)               5.49.35
1957 R. Mockridge (scratch)             6.06.12
1956 R. Mockridge (scratch)             5.47.05
1955 E. Smith (scratch)                 6.04.55
1954 D. Williams (4 min)                8.11.58
1953 A. W. Saunders (scratch)           6.08.58
1952 G. Stabell (scratch)               7.27.08
1951 G. Stabell (scratch)               6.27.03
1950 M. Rowley (scratch)                7.53.28
1949 A. W. Saunders (scratch)           6.12.10
1948 H. Guyatt, VIC (10 min)            7.09.10
1947 K. Rowley, VIC (10 min)            6.57.43
1939 D. Toseland, SA (scratch)          8.18.06
1938 D. Toseland, SA (scratch)          6.44.53
1937 A. Angus, VIC (scratch)            7.19.09
1936 A. Angus, VIC (scratch)            6.44.50
1935 C. J. Beasley, VIC (scratch)       6.24.36
1933 W. F. Stuart, VIC (scratch)        6.27.56
1932 R. W. Lamb, VIC (scratch)          6.21.18
1931 M. Lynch, VIC (8 min)              6.31.28
1930 R. W. Lamb, VIC (scratch)          8.20.10
1929 H. Opperman, VIC (scratch)         8.07.10
1926 H. Opperman, VIC (scratch)         7.36.10
1925 H. K. Smith, WA (scratch)          7.25.01
1924 H. Opperman, VIC (scratch)         7.15.37
1923 P. O'Shea, NZ (scratch)            7.51.41
1922 P. O'Shea, NZ (scratch)            8.59.08
1911 P. O'Shea, NZ (scratch)            8.08.44
1910 J. Pianta, WA (11 min)             9.30.46
1909 J. R. Munro, VIC (3 min)           7.12.51
1908 M. Chappell, VIC (scratch)         7.46.27
1907 T. Larcombe, NSW (scratch)         7.40.10
1906 H. Mehrtens, NZ (10 min)           8.53.52
1905 W. E. Hawley, VIC (25 min)         7.52.26
1904 T. Larcombe, NSW (20 min)          7.48.07
1903 J. Arnst, NZ (scratch)             7.43.00
1902 H. G. O'Callaghan, VIC (10 min)    8.46.23
1901 A. Ralston, NZ (scratch)           9.00.30
1898 W. Adams, VIC (35 min)             9.08.45
1897 W. C. Jackson (10 min)             9.51.09
1896 J. Carpenter, VIC (scratch)        8.40.05
1895 J. Carpenter, VIC (scratch)       12.53.00
1895 J. Carpenter, VIC (scratch)       10.52.00

Sprint Champions
2005 Shaun Snodden (GBr)
2004 Trent Wilson (Aus)
2003 S. Guyton (NZl)
2002 S. Guyton (NZl)
2001 E. Wakker (Kyg)
2000 K. Snorrason (Aus)
1999 Jamie Drew (Aus)
1998 Eric Wohlberg (Can)
1997 Dennis Rasmussen (Den)
1996 Ralf Grabsch (Ger)

King of the Mountain Championship
2005 Jason Phillips (Aus)

Past winners by Rod Morris