US Collegiate championships - CN
USA, May 11-13, 2007
Main Page Results Overall standings Previous Stage
Stage 3 - May 13: Criterium,
Stanford, western Washington capture collegiate national titles
Stanford University wins
Photo ©: Jason O. Watson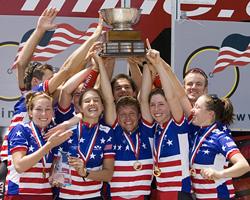 The 2007 USA Cycling Collegiate Road National Championships concluded on Sunday as Stanford University claimed the overall Division I title and Western Washington University won the overall Division II championship. Eight individual titles were also determined on Sunday as the three-day event closed with criterium racing in downtown Lawrence for the third consecutive year.
Stanford amassed 519 points to beat defending champion University of California-Davis (430) and perennial collegiate cycling powerhouse Fort Lewis College (409).
Western Washington scored 478 points to finish ahead of Dartmouth College (448) and defending champion Whitman College (405).
Mark Hardman (University of Virginia) and Rebecca Larson (University of Florida) captured individual Division I overall titles while Chris Stuart (Mesa State) and Mara Abbott (Whitman College) rode to overall wins in the Division II standings.
Colorado State's Phil Mann works
Photo ©: Jason O. Watson

Hardman and Abbott successfully defended their overall titles from a year ago. Hardman amassed enough points with a seventh-place effort in Saturday's road race and a third-place performance in Sunday's criterium to beat runner-up Tyler Dibble (UC-Davis), 231-206.
"I have the best team in the country," Hardman said after pulling on his stars-and-stripes jersey. "All year long they've been giving me great support. We knew going into today's criterium that we had to win almost every prime and that we had to finish first, second or third for me to make the overall podium. That was our goal going into it this morning and these guys helped me get into the right position and I took it from there."
Abbott captured her third consecutive road race title on Saturday and placed third in the criterium to score a win over Jennifer Bodine (George Washington University), 274-226.
Mara Abbott of Whitman College
Photo ©: Jason O. Watson

Stuart's 12th-place effort in the criterium and sixth-place ride in the road race was enough to earn him the overall title ahead of Eric Schlidge (Dartmouth College) by just one point, 181-180.
Larson beat Erica Allar (Penn State University) by just two points, 253-251, after winning the road race and placing fifth in the criterium. Last year's criterium winner, Larson hoped to defend her title, but rode conservatively in order to protect her lead in the overall standings.
"Of course I wanted to win the criterium, but the omnium was pretty important to me so I kind of rode it like a points race," explained Larson of her tactics on Sunday. "I didn't feel great for the final sprint, but getting fifth was enough. Overall, it was a great weekend."
University of California Santa Barbara's mascot 'El Gaucho'
Photo ©: Jason O. Watson

Stanford University's overall Division I title was the result of solid performances throughout the weekend that included third- and sixth-place finishes respectively by its women's and men's team time trial squads. Rand Miller led the Stanford men in both individual events, placing ninth in the road race and sixth in the criterium, while top women's performances came from Caitlyn McCollough in the criterium (sixth) and Arwen Bradley in the road race (ninth).
Western Washington University won the men's team trial and placed second in the women's race against the clock while top individual performances came from Megan McPhee, who placed fifth in the women's criterium and 16th in the road race, Brian Williams (sixth, men's criterium) and Chris Daifuku (ninth, men's road race).
Overall team titles were determined by point contributions from both the men's and women's squads.
Bodine celebrates the victory
Photo ©: Jason O. Watson

Also on Sunday, four criterium titles were earned. In the men's 65-minute Division I race, Phil Mann (Colorado State University) out sprinted his nine breakaway companions to claim the national title. In the women's 55-minute Division I contest, Natalie Klemko (Midwestern State University) escaped from the field to solo across the line nearly eight seconds ahead of her nearest threat. Jennifer Bodine (George Washington University) won the only mass-sprint finish of the day with her victory in the women's 55-minute Division II race. Jared Faciszewski (Colorado College) rode to a national title in the men's 65-minute Division II contest by holding off a charging field by a mere second.
In addition to the stars-and stripes national championship jerseys and the medals presented to the podium finishers, the USA Cycling Development Foundation will contribute a total of $5,000 to the top three programs in the final Division I and Division II team standings. As part the USA Cycling Collegiate Performance Awards program, Stanford University and Western Washington University will each receive $1,200, while runner-ups UC-Davis and Dartmouth College will each receive $800 and Fort Lewis College and Whitman College will each receive $500. Awards are provided to the collegiate club budget to be used for operational and developmental purposes.
Courtesy USA Cycling Media Services
Photography
For a thumbnail gallery of these images, click here
Images by Jason O. Watson/www.jasonowatson.com
Results
Men - Division 1
 
1 Phil Mann (CSU Rams Cycling)                            1.10.49
2 Tyler Dibble (UC Davis)                                    0.00
3 Mark Hardman (University of Virginia)                          
4 Jeffrey Buckles (Virginia Commonwealth Universit)              
5 Reed Tanger (Northwestern University)                      0.01
6 Rand Miller (Stanford U Cycling)                               
7 Jared Barrilleaux (Cal Poly Wheelmen Cycling Club)         0.01
8 Scott Veggeberg (University of Texas Cycling)              0.01
9 Daniel Blomgren (Cal Poly Wheelmen Cycling Club)           0.01
10 Mark Smelser (KSU Cycling)                                0.01
11 Ryan Parnes (Stanford U Cycling)                          0.56
12 Will Dugan (UVM Cycling)                                  0.58
13 Elliot Holland (Stanford U Cycling)                       0.58
14 Alex Boyd (Midwestern State University)                   0.58
15 Kiel Reijnen (University of Colorado at Bould)                
16 Thom Coupe (University of New Hampshire)                  0.58
17 Zach Kimsey (UC Davis)                                        
18 Owen Nielsen (Virginia Tech Cycling Team)                 0.59
19 Scott Stewart (Lees-McRae Cycling Team)                   0.59
20 Ryan Baumann (U of Wisconsin-Madison)                     0.59
21 Max Jenkins (UC Berkeley)                                 0.59
22 Orion Berryman (University of Oregon)                     0.59
23 Chris Ruhl (Penn State Cycling)                               
24 Derek Laan (Purdue University)                                
25 Reid Beloni (Virginia Tech Cycling Team)                  1.00
26 Sasha Land (Indiana University)                           1.00
27 Dave Varoujean (Oregon State Cycling)                         
28 Matt Spohn (Penn State Cycling)                           1.00
29 Zack Simkover (UC San Diego Cycling)                          
30 Nick Martinez (UC - Santa Barbara Cycling)                1.01
31 Nick Truitt (CSU Rams Cycling)                                
32 Vasanth Coorg (Texas A&M University)                      1.01
33 David Kuhns (Oregon State Cycling)                        1.01
34 Jamey Driscoll (UVM Cycling)                              1.02
35 Michael Schmidt (Fort Lewis College)                      1.03
36 John Meyers (University of Illinois)                      1.03
37 William Nowak (Northwestern University)                   1.03
38 Benjamin Zawacki (Clemson University)                     1.05
39 Stephen Dey (UC Davis)                                    1.05
40 Isaac Neff (Indiana University)                           1.06
41 Kyle Jacobson (UW Milwaukee)                              1.06
42 Brian Crosby (University of Minnesota)                    1.06
43 Nick Angus (Auburn Flyers)                                    
44 Anton Petrov (UCLA Cycling)                               1.07
45 Chris Uberti (Purdue University)                          1.08
46 Josh Raizin (Northwestern University)                         
47 Michael Esbach (University of Virginia)                   1.08
48 Colter Cederlof (UC San Diego Cycling)                    1.09
49 Kevin Holldber (Lees-McRae Cycling Team)                  1.10
50 Taylor Hansen (University of Utah Cycling)                1.10
51 Kip Spaude (Midwestern State University)                  1.10
52 Jeff Schutt (Penn State Cycling)                              
53 Fred Stamm (Cal Poly Wheelmen Cycling Club)               1.11
54 Matt Beck (UNM Lobo Cycling)                              1.11
55 Ryan Mcfeely (US Naval Academy)                           1.11
56 Rick Wetherald (Fort Lewis College)                       1.11
57 Jon Mason (US Naval Academy)                              1.12
58 David Glick (University of Arizona Cycling)               1.12
59 Jeff Schroeder (KU Cycling)                               1.12
60 Brian Reilly (University of Utah Cycling)                 1.13
61 Jp Long (NC State Cycling)                                1.13
62 Ryan Carney (University of New Hampshire)                 1.13
63 Mitch Comardo (Midwestern State University)                   
64 Josh Furman (UC - Santa Barbara Cycling)                  1.14
65 Adam Bickett (UC San Diego Cycling)                       1.15
66 Eric Tsai (PSU Cycling)                                   1.15
67 J Gabriel Lloyd (Columbia University)                     1.16
68 Evan Ruzanski (CSU Rams Cycling)                          1.16
69 Corey Behrens (U of Wisconsin-Madison)                    1.16
70 Devin Carroll (Texas A&M University)                      1.16
71 Bobby Sweeting (University of Florida Cycling C)          1.17
72 Gregory Christian (Michigan State U Cycling)              1.24
73 Nick Hight-Huf (UC - Santa Barbara Cycling)               1.34
74 Patrick Healy (UC - Santa Barbara Cycling)                1.43
75 Jimmy Lingwood (PSU Cycling)                              1.44
76 Shawn Rosenthal (UC Davis)                                1.55
77 Stephen De Lisle (University of Virginia)                 1.56
78 Adam Winck (University of Virginia)                       1.59
79 John Zaccone (Virginia Tech Cycling Team)                     
80 Jonathan Royal (Marian College Cycling Team)              2.05
81 Joshua Lipka (University Of New Hampshire)                2.11
82 Mike Sherer (Indiana University)                          2.15
83 Luke Winger (Lees-McRae Cycling Team)                     2.18
84 Jason Knight (KU Cycling)                                 2.19
85 Christian Beer (KU Cycling)                               2.19
86 Weston Shirey (Lees-McRae Cycling Team)                   2.49
87 Frank Palmieri (University of Texas Cycling)              3.21
88 Devin Flaherty (Stanford U Cycling)                       3.22
89 Blake Harlan (University of Colorado at Bould)            3.22
90 Braden Bingham (University of Colorado at Bould)              
91 Taylor Kneuven (University of Colorado at Bould)              
92 Isaac Howe (UVM Cycling)                                  3.23
93 Alexander Scott (Cal Poly Wheelmen Cycling Club)              
 
Women - Division 1
 
1 Natalie Klemko (Midwestern State University)              59.28
2 Kristin Mcgrath (Fort Lewis College)                       0.08
3 Erica Allar (Penn State Cycling)                           0.10
4 Susannah Pratt (University of New Hampshire)               0.10
5 Rebecca Larson (University of Florida Cycling C)           0.10
6 Caitlyn Mccullough (Stanford U Cycling)                    0.10
7 Kacey Manderfield (Lees-McRae Cycling Team)                0.11
8 Hadley Trotter (UNC-Chapel Hill)                           0.11
9 Amanda Seigle (UC Davis)                                   0.11
10 Lila Hickey (CSU Rams Cycling)                            0.12
11 Rae Brownsberger (Stanford U Cycling)                     0.13
12 Kim Trenbath (University of Colorado at Bould)            0.13
13 Pamela Archer (Oregon State Cycling)                      0.13
14 Monique Hein (Lees-McRae Cycling Team)                    0.13
15 Jenna Kowalski (Cal Poly Wheelman Cycling Club)           0.14
16 Ann Turner (UGA Cycling)                                  0.14
17 Cate Mclean (University of Virginia)                      0.15
18 Melissa Doherty (U of Wyoming Cycling)                    0.15
19 Julianne Stemp (University of New Hampshire)              0.16
20 Lauren Liscinski (UC - Santa Barbara Cycling)             0.16
21 Julia Manley (CSU Rams Cycling)                           0.17
22 Melanie Wong (Northwestern University)                    0.17
23 Rebecca Blatt (University of Virginia)                    0.17
24 Anna Mcloon (Harvard U Cycling)                           0.17
25 Amy Chandos (UC Davis)                                    0.17
26 Christy Roberts (Fort Lewis College)                      0.17
27 Kimberly Fong (UC Berkeley)                               0.18
28 Jacquelyn Crowell (University of Florida Cycling C)       0.18
29 Jennifer Johansen (UC - Santa Barbara Cycling)            0.18
30 Julia Lafranchise (UC San Diego Cycling)                  0.19
31 Jessica Cole (University of Illinois)                     0.19
32 Ally Stacher (Lees-McRae Cycling Team)                        
33 Jamima Iley (UC Davis)                                    0.20
34 Heidi Scronce (University of Texas Cycling)               0.20
35 Sheri Jordan (Midwestern State University)                0.20
36 Amy Encalada (UC Davis)                                   0.21
37 Brenna Wozniak (University of Texas Cycling)              0.21
38 Melissa Wills (Penn State Cycling)                        0.21
39 Clara Smart (Northwestern Unviersity)                     0.22
40 Arwen Bradley (Stanford U Cycling)                        0.22
41 Ivana Miucic (Midwestern State University)                0.22
42 Kristen High (KU Cycling)                                     
43 Vikki Appel (UCLA Cycling)                                0.22
44 Whitney Schultz (University of Texas Cycling)             0.22
45 Sabina Kraushaar (Fort Lewis College)                     0.22
46 Heidi Goodson (Columbia University)                       0.22
47 Kristi Henne (Lees-McRae Cycling Team)                    0.23
48 Kari Edvenson (University of Minnesota)                   0.23
49 Tiffany Stewart (Midwestern State University)             0.23
50 Yvonne Schumacher (U of Wisconsin-Madison)                0.24
51 Heather Sborz (Arizona State University)                  0.26
52 Miriam Gillow-Wiles (PSU Cycling)                             
53 Tammy Thompson (University of Texas Cycling)              0.26
54 Stephanie Thompson (University of Minnesota)              0.27
55 Margaret Shirley (Columbia University)                    1.02
56 Eve Mcneill (Harvard U Cycling)                           1.11
57 Hannah Whitaker (NC State Cycling)                        1.11
58 Sasha Richey (Stanford U Cycling)                         2.04
59 Heidi Buehler (UC - Santa Barbara Cycling)                    
DQ Tirrel Grovenstein (CSU Rams Cycling)                         
 
Men - Division 2
 
1 Jared Faciszewski (Coloarado College)                   1.11.15
2 Nicholas Bennette (Princeton)                              0.02
3 Spencer Beamer (Furman University)                         0.02
4 Craig Luekens (Yale University)                            0.02
5 Thomas Brown (Emory University)                            0.03
6 Brian Williams (WWU Cycling)                               0.03
7 Jason Sears (MIT Cycling)                                      
8 Eric Schildge (Dartmouth College)                              
9 Peter Horn (Vassar College)                                    
10 Adam Carr (Johnson State College)                         0.03
11 Chris Stuart (Mesa State)                                     
12 Glenn Murray (UCCS)                                       0.04
13 Ross Bowden (Appalachian State Cycling)                       
14 Michael Chauner (Bucknell Cycling)                        0.04
15 Ryan Bodge (American U Cycling)                           0.04
16 Chris Pickett (Georgetown University Cycling T)           0.04
17 Huy Tran (Lehigh University Cycling Club)                 0.04
18 Kevin Wolfson (Dartmouth College)                         0.05
19 Derek Merkler (USMA Cycling Team)                         0.05
20 Chris Daifuku (WWU Cycling)                                   
21 Nick Frey (Princeton)                                         
22 Eric Anderson (NGCSU CYCLING CLUB)                        0.05
23 Michael Wilson (Appalachian State Cycling)                    
24 Matt Rossman (Dartmouth College)                          0.05
25 Nick Clayville (WWU Cycling)                              0.05
26 Andrew Walters (Lehigh University Cycling Club)           0.05
27 David Forkner (Appalachian State Cycling)                 0.06
28 Nathan Coleman (Johns Hopkins U Cycling)                  0.06
29 Jon Awerbuch (Dartmouth College)                          0.06
30 Shawn Mullican (Cumberland University)                    0.07
31 Phil Mooney (DePauw U Cycling)                            0.07
32 Ross White (University of Wisconsin Whitewa)              0.07
33 Vince Chavanon (Tufts University)                             
34 Joe Lewis (University of Denver Cycling)                  0.07
35 Jake Boyce (St. Olaf)                                     0.07
36 Adam Cadez-Schmidt (University of I daho)                 0.08
37 Sam Camens (Bucknell Cycling)                                 
38 Logan Wetzel (WWU Cycling)                                    
39 Mike Campbell (USMA Cycling Team)                         0.08
40 Matt Prygoski (Notre Dame Cycling)                        0.08
41 Todd Nordblom (Colorado College)                          0.09
42 Ira Tibbitts (USU Cycling)                                0.10
43 Ben Showman (USMA Cycling Team)                           0.14
44 Kevin Mullervy (Mesa State)                               0.15
45 Josh Nagode (UW-Sheboygan Cycling)                        0.16
46 Conor Mullervy (Mesa State)                               0.16
47 Brian Boyle (Colorado College)                            0.16
48 Mitchell Hamilton (Mesa State)                            0.17
49 Steve Forbes (University of Denver Cycling)               0.17
50 Preston Moon (US Air Force Academy Cycling Cl)            0.17
51 Sean Noonan (Carleton College)                            0.17
52 Mark Fraser (US Air Force Academy Cycling Cl)             0.17
53 Jamie Wendell (Whitman College Cycling)                   0.18
54 Zach Garrett (US Air Force Academy Cycling Cl)            0.18
55 Tucker Sawin (Williams College)                           0.18
56 Christopher Butler (Furman University)                    0.18
57 Chris Thomas (Whitman College Cycling)                    0.19
58 Stephen Kriss (Yale University)                           0.20
59 Phil Becker (US Air Force Academy Cycling Cl)                 
60 Todd Dowling (Bucknell Cycling)                           0.21
61 Tim Campbell (Notre Dame Cycling)                         0.22
62 Casey Mccauley (UW La Crosse)                             0.23
63 Ryan Bloom (Johns Hopkins U Cycling)                      0.23
64 Collin Davis (Stephen F Austin Cycling Club)              0.27
65 Shaun Higgins (Colorado School of Mines / Mine)           0.30
66 Peter Fairbanks (Cumberland University)                   0.31
67 Christopher Mina (Lehigh University Cycling Club)         0.31
68 Elliot Dumont (Claremont Colleges Cycling)                0.33
69 Ross Mcentarfer (DePauw U Cycling)                        0.46
 
Women - Division 2
 
1 Jennifer Bodine (George Washington University)          1.03.30
2 Kendi Thomas (Whitman College Cycling)                     0.00
3 Mara Abbott (Whitman College Cycling)                      0.00
4 Jen Stebbins (Dartmouth College)                           0.01
5 Meagan Mcphee (WWU Cycling)                                0.01
6 Devon Haskell (University of Chicago Cycling T)            0.01
7 Megan Guarnier (Middlebury College Cycling)                0.02
8 Ashley Anderson (Furman University)                        0.02
9 Andrea Luebbe (Lehigh University Cycling Club)                 
10 Netana Hotimsky (Mesa State)                              0.03
11 Aston Armstrong (USMA Cycling Team)                       0.03
12 Jess Lueschen (US Air Force Academy Cycling Cl)           0.03
13 Jenna Farleigh (Dartmouth College)                        0.03
14 Katie Ronsse (University of Denver Cycling)                   
15 Kate Scheider (Williams College)                          0.03
16 Heidi Hoff (WWU Cycling)                                  0.03
17 Megan Myrick (University of Chicago Cycling T)                
18 Naticia Slusher (Mesa State)                              0.04
19 Stephanie Jansing (St Louis U Cycling)                    0.04
20 Judy Wexler (Tufts University)                            0.04
21 Mia Huth (Whitman College Cycling)                        0.04
22 Ali Davis (DePauw U Cycling)                              0.05
23 Caitlin Thompson (Tufts University)                       0.05
24 Melissa Marts (Colorado School of Mines / Mine)           0.05
25 Rose Long (Colby College Cycling)                         0.05
26 Elicia Hildebrand (UW-Sheboygan Cycling)                  0.06
27 Amy Krull (Colorado College)                              0.07
28 Morgan Robinson (Yale University)                         0.07
29 Caitlin Bever (MIT Cycling)                               0.07
30 Rebecca Jensen (Whitman College Cycling)                  0.07
31 Angela Sherbondy (Bucknell Cycling)                       0.08
32 Kristen Naegle (MIT Cycling)                              0.08
33 Courtney Rehwoldt (USMA Cycling Team)                     0.10
34 Rachel Clattenburg (Princeton)                            0.10
35 Ilana Brito (MIT Cycling)                                 0.54
36 Kristen Stouder (WWU Cycling)                             1.54
 
Men - Division 1 teams
 
1 STANFORD U CYCLING                                          149 pts
2 UC DAVIS                                                    120
3 University of Virginia                                      111
4 CSU RAMS CYCLING                                            101
5 Virginia Commonwealth University                             78
6 UC Berkeley                                                  70
7 Northwestern University                                      66
8 CAL POLY WHEELMEN                                            66
9 UNIV OF TEXAS CYC                                            57
10 KSU CYCLING                                                 51
11 Virginia Tech Cycling Team                                  38
12 UVM Cycling                                                 38
13 MIDWESTERN STATE                                            34
14 CU AT BOULDER                                               32
15 UNIV OF NEW HAMP                                            30
16 LEES-MCRAE CYCLING                                          27
17 U OF WISC-MADISON                                           22
18 PENN STATE CYCLING                                          22
19 University of Oregon                                        18
20 Purdue University                                           14
21 INDIANA UNIVERSITY                                          10
22 Oregon State Cycling                                         8
23 Clemson University                                           7
24 UC San Diego Cycling                                         4
25 UC-SANTA BARBARA                                             2
26 University of Illinois                                       1
 
Women - Division 1 teams
 
1 STANFORD U CYCLING                                          111 pts
2 UNIV OF NEW HAMP                                            101
3 MIDWESTERN STATE                                            100
4 FORT LEWIS COLLEGE                                           98
5 LEES-MCRAE CYCLING                                           97
6 PENN STATE CYCLING                                           95
7 UNIV OF FLORIDA CYC                                          93
8 CSU RAMS CYCLING                                             64
9 UC DAVIS                                                     61
10 UNC-CHAPEL HILL                                             52
11 University of Virginia                                      44
12 CU AT BOULDER                                               38
13 Oregon State Cycling                                        36
14 CAL POLY WHEELMEN                                           32
15 UGA Cycling                                                 30
16 UC-SANTA BARBARA                                            26
17 U of Wyoming Cycling                                        26
18 Northwestern University                                     18
19 Harvard U Cycling                                           15
20 UC Berkeley                                                  8
21 UC San Diego Cycling                                         2
 
Men - Division 2 teams
 
1 Colorado College                                            119 pts
2 Dartmouth College                                           117
3 Princeton                                                   110
4 WWU Cycling                                                 102
5 Furman University                                            85
6 Yale University                                              77
7 Emory University                                             66
8 Appalachian State Cycling                                    60
9 Mesa State                                                   59
10 MIT Cycling                                                 56
11 Vassar College                                              48
12 Johnson State College                                       44
13 UCCS                                                        38
14 Lehigh University Cycling Club                              38
15 Bucknell Cycling                                            34
16 American U Cycling                                          32
17 Georgetown University Cycling Team                          30
18 USMA Cycling Team                                           24
19 NGCSU CYCLING CLUB                                          18
20 Cumberland University                                        9
21 Johns Hopkins U Cycling                                      6
 
Women - Division 2 teams
 
1 Whitman College Cycling                                     220 pts
2 Dartmouth College                                           120
3 George Washington University                                106
4 WWU Cycling                                                 103
5 University of Chicago Cycling Team                           93
6 Mesa State                                                   73
7 Middlebury College Cycling                                   60
8 Furman University                                            52
9 Lehigh University Cycling Club                               50
10 USMA Cycling Team                                           40
11 US Air Force Academy                                        38
12 Tufts University                                            38
13 University of Denver                                        34
14 Williams College                                            32
15 St Louis U Cycling                                          24
16 DePauw U Cycling                                            18
17 Colorado School of Mines                                    14
18 Colby College Cycling                                       12
19 UW-Sheboygan Cycling                                        10
20 Colorado College                                             8
21 Yale University                                              6
22 MIT Cycling                                                  4
23 Princeton                                                    3
 
Final classification
 
Men - Division 1 overall points
 
1 Mark Hardman (University of Virginia)                       231 pts
2 Tyler Dibble (UC DAVIS)                                     206
3 Alex Boyd (MIDWESTERN STATE)                                200
4 Kiel Reijnen (CU AT BOULDER)                                188
5 Will Dugan (UVM Cycling)                                    186
6 Rand Miller (STANFORD U CYCLING)                            181
7 Jeffrey Buckles (Virginia Commonwealth University)          180
8 Phil Mann (CSU Rams Cycling)                                162
9 Owen Nielsen (Virginia Tech Cycling Team)                   152
10 Steve Scholzen (U OF WISC-MADISON)                         140
11 Ryan Parnes (STANFORD U CYCLING)                           136
12 Yarden Gazit (Fort Lewis College)                          132
13 Mark Smelser (KSU CYCLING)                                 105
14 Jared Barrilleaux (CAL POLY WHEELMEN)                      102
15 Zach Kimsey (UC Davis)                                     101
16 Derek Laan (Purdue University)                              94
17 Chris Ruhl (PENN STATE CYCLING)                             92
18 Stephen Dey (UC DAVIS)                                      92
19 Scott Leland (U of Nevada Cycling Team)                     88
20 Joey Thompson (Fort Lewis College)                          84
21 Bobby Sweeting (UNIV OF FLORIDA CYC)                        70
22 J Gabriel Lloyd (Columbia University)                       69
23 Reed Tanger (Northwestern University)                       66
24 Seth Meyer (Northwestern University)                        64
25 Taylor Hansen (UNIVERSITY OF UTAH)                          58
26 Scott Veggeberg (UNIV OF TEXAS CYC)                         57
27 Michael Schmidt (Fort Lewis College)                        56
28 Isaac Howe (UVM Cycling)                                    53
29 Isaac Neff (Indiana University)                             52
30 Daniel Blomgren (UC Berkeley)                               50
31 Chris Kuhl (FORT LEWIS COLLEGE)                             50
32 Zack Simkover (UC San Diego Cycling)                        48
33 William Allender (CAL POLY WHEELMEN)                        46
34 David Glick (UNIV OF ARIZONA)                               42
35 Colter Cederlof (UC San Diego Cycling)                      40
36 Mitch Comardo (MIDWESTERN STATE)                            38
37 Elliot Holland (STANFORD U CYCLING)                         36
38 Dan Workman (CSU Rams Cycling)                              34
39 Christopher Clary (Northwestern University)                 32
40 Benjamin Zawacki (Clemson University)                       31
41 Thom Coupe (UNIV OF NEW HAMP)                               30
42 Ryan Mcfeely (US NAVAL ACADEMY)                             30
43 Scott Riddle (U of Michigan Cycling)                        28
44 Scott Stewart (LEES-MCRAE CYCLING)                          27
45 Jason Knight (KU Cycling)                                   26
46 Orion Berryman (University of Oregon)                       22
47 John Zaccone (Virginia Tech Cycling Team)                   22
48 Ryan Baumann (U OF WISC-MADISON)                            22
49 Max Jenkins (UC Berkeley)                                   20
50 Alexander Bremer (Columbia University)                      20
51 Patrick Mcglynn (CSU RAMS CYCLING)                          18
52 Jimmy Lingwood (Portland Stste Cycling)                     16
53 Taylor Kneuven (CU AT BOULDER)                              14
54 Blake Harlan (CU AT BOULDER)                                12
55 Reid Beloni (Virginia Tech Cycling Team)                    12
56 Sasha Land (INDIANA UNIVERSITY)                             10
57 Joey Dantoni (NC State Cycling)                             10
58 Vasanth Coorg (Texas A&M University)                         8
59 Dave Varoujean (Oregon State Cycling)                        8
60 Michael Esbach (University of Virginia)                      6
61 Matt Spohn (Penn State Cycling)                              6
62 Nick Martinez (UC-SANTA BARBARA)                             2
63 Luke Winger (LEES-MCRAE CYCLING)                             2
64 John Meyers (University of Illinois)                         1
 
Women - Division 1 overall points
 
1 Rebecca Larson (UNIV OF FLORIDA CYC)                        253 pts
2 Erica Allar (PENN STATE CYCLING)                            251
3 Susannah Pratt (UNIV OF NEW HAMP)                           217
4 Hadley Trotter (UNC-CHAPEL HILL)                            178
5 Natalie Klemko (MIDWESTERN STATE)                           176
6 Kristin Mcgrath (FORT LEWIS COLLEGE)                        172
7 Rae Brownsberger (Stanford U Cycling)                       160
8 Margaret Shirley (Columbia University)                      159
9 Caitlyn Mccullough (Stanford U Cycling)                     159
10 Anna Mcloon (Harvard U Cycling)                            147
11 Ann Turner (UGA Cycling)                                   144
12 Monique Hein (LEES-MCRAE CYCLING)                          133
13 Arwen Bradley (STANFORD U CYCLING)                         108
14 Amanda Seigle (UC DAVIS)                                   107
15 Julianne Stemp (UNIV OF NEW HAMP)                          104
16 Hannah Whitaker (NC STATE CYCLING)                         102
17 Jennifer Johansen (UC-SANTA BARBARA)                        96
18 Jenna Kowalski (CAL POLY WHEELMEN)                          93
19 Pamela Archer (Oregon State Cycling)                        90
20 Jessica Cole (University of Illinois)                       73
21 Brenna Wozniak (UNIV OF TEXAS CYC)                          70
22 Pam Loebig (INDIANA UNIVERSITY)                             67
23 Rebecca Blatt (University of Virginia)                      66
24 Monica Foley (UNC-Chapel Hill)                              64
25 Lauren Liscinski (UC-SANTA BARBARA)                         64
26 Kacey Manderfield (LEES-MCRAE CYCLING)                      64
27 Kim Trenbath (CU AT BOULDER)                                60
28 Sheri Jordan (MIDWESTERN STATE)                             56
29 Heidi Scronce (UNIV OF TEXAS CYC)                           52
30 Melanie Wong (Northwestern University)                      52
31 Kari Edvenson (UNIV OF MINNESOTA)                           48
32 Yvonne Schumacher (U OF WISC-MADISON)                       46
33 Lila Hickey (CSU RAMS CYCLING)                              44
34 Melissa Doherty (U of Wyoming Cycling)                      44
35 Jamima Iley (UC Davis)                                      44
36 Ally Stacher (LEES-MCRAE CYCLING)                           40
37 Megan Cassidy (CSU Rams Cycling)                            38
38 Vikki Appel (UCLA Cycling)                                  36
39 Kimberly Fong (UC Berkeley)                                 34
40 Stephanie Thompson (UNIV OF MINNESOTA)                      32
41 Julia Manley (CSU Rams Cycling)                             30
42 Tammy Thompson (UNIV OF TEXAS CYC)                          30
43 Cate Mclean (University of Virginia)                        30
44 Tiffany Stewart (MIDWESTERN STATE)                          28
45 Heidi Goodson (Columbia University)                         24
46 Jacquelyn Crowell (UNIV OF FLORIDA CYC)                     22
47 Heather Sborz (Arizona State University)                    20
48 Christy Roberts (FORT LEWIS COLLEGE)                        18
49 Julia Lafranchise (UC San Diego Cycling)                    16
50 Amy Chandos (UC Davis)                                      12
51 Sabina Kraushaar (FORT LEWIS COLLEGE)                       12
52 Melissa Wills (PENN STATE CYCLING)                           6
 
Men - Division 2 overall points
 
1 Chris Stuart (Mesa State)                                   183 pts
2 Eric Schildge (Dartmouth College)                           181
3 Peter Horn (Vassar College)                                 180
4 Todd Nordblom (Colorado College)                            173
5 Toby Marzot (Dartmouth College)                             166
6 Duncan Mcgovern (Whitman College Cycling)                   148
7 Phil Mooney (DePauw U Cycling)                              140
8 Chris Daifuku (WWU Cycling)                                 130
9 Matt Prygoski (Notre Dame Cycling)                          114
10 Casey Mccauley (UW La Crosse)                              102
11 Jared Faciszewski (Colorado College)                       102
12 Huy Tran (Lehigh University Cycling Club)                  101
13 Nick Clayville (WWU Cycling)                                97
14 Zach Garrett (US Air Force Academy)                         96
15 Glenn Murray (UCCS)                                         92
16 Ben Showman (USMA Cycling Team)                             92
17 Mike Lavery (Notre Dame Cycling)                            88
18 Nicholas Bennette (Princeton)                               88
19 Spencer Beamer (Furman University)                          85
20 Ryan Bloom (Johns Hopkins U Cycling)                        84
21 Ryan Bodge (American U Cycling)                             82
22 Craig Luekens (Yale University)                             77
23 Nate Keck (Mesa State)                                      76
24 Chris Pickett (Georgetown University Cycling Team)          72
25 Charles Alexander (Bucknell Cycling)                        70
26 Kyle Wagner (Lehigh University Cycling Club)                67
27 Andrew Walters (Lehigh University Cycling Club)             66
28 Thomas Brown (Emory University)                             66
29 Ross Mcentarfer (DePauw U Cycling)                          64
30 Brian Williams (WWU Cycling)                                63
31 Christopher Mina (Lehigh University Cycling Club)           61
32 Matt Rossman (Dartmouth College)                            60
33 Kevin Mullervy (Mesa State)                                 58
34 Jason Sears (MIT Cycling)                                   56
35 Eric Edlund (MIT Cycling)                                   52
36 Ross Bowden (Appalachian State Cycling)                     52
37 Stephen Kriss (Yale University)                             48
38 Phil Becker (US Air Force Academy)                          44
39 Adam Carr (Johnson State College)                           44
40 Grant Goerzen (University of Denver)                        40
41 Christopher Tracy (MIT Cycling)                             38
42 Mitchell Hamilton (Mesa State)                              36
43 Adam Kahler (Bucknell Cycling)                              34
44 Michael Chauner (Bucknell Cycling)                          34
45 Jonathan Tower (Colorado College)                           32
46 Mitch Hoke (Colorado College)                               30
47 Kevin Wolfson (Dartmouth College)                           29
48 Phil Elsasser (WWU Cycling)                                 28
49 Thomas Weatherall (Johns Hopkins U Cycling)                 26
50 Steve Pingree (USMA Cycling Team)                           24
51 Derek Merkler (USMA Cycling Team)                           24
52 Jonathan Chodroff (Yale University)                         22
53 Nick Frey (Princeton)                                       22
54 Mark Fraser (US Air Force Academy)                          20
55 Eric Anderson (NGCSU CYCLING CLUB)                          18
56 Sean Noonan (Carleton College)                              18
57 Peter Fairbanks (Cumberland University)                     17
58 Michael Wilson (Appalachian State Cycling)                  16
59 Mike Campbell (USMA Cycling Team)                           14
60 Jon Awerbuch (Dartmouth College)                            13
61 Neal Broshears (DePauw U Cycling)                           12
62 John Stallings (DePauw U Cycling)                           10
63 Shawn Mullican (Cumberland University)                       9
64 David Forkner (Appalachian State Cycling)                    8
65 Jonathan Tenney (University of Chicago Cycling Team)         8
66 Ira Tibbitts (USU Cycling)                                   6
67 Nathan Coleman (Johns Hopkins U Cycling)                     6
68 Tucker Sawin (Williams College)                              4
69 Conor Mullervy (Mesa State)                                  2
 
Women - Division 2 overall points
 
1 Mara Abbott (Whitman College Cycling)                       274 pts
2 Jennifer Bodine (George Washington University)              226
3 Megan Guarnier (Middlebury College Cycling)                 216
4 Devon Haskell (University of Chicago Cycling Team)          213
5 Kendi Thomas (Whitman College Cycling)                      196
6 Ashley Anderson (Furman University)                         192
7 Andrea Luebbe (Lehigh University Cycling Club)              176
8 Meagan Mcphee (WWU Cycling)                                 147
9 Naticia Slusher (Mesa State)                                143
10 Martha Buckley (MIT Cycling)                               132
11 Jenna Farleigh (Dartmouth College)                         131
12 Rose Long (Colby College Cycling)                          104
13 Stephanie Jansing (St Louis U Cycling)                     104
14 Courtney Rehwoldt (USMA Cycling Team)                      102
15 Katie Ronsse (University of Denver)                        101
16 Heidi Hoff (WWU Cycling)                                   100
17 Rachel Clattenburg (Princeton)                              99
18 Melissa Marts (Colorado School of Mines)                    87
19 Devon Spika (Whitman College Cycling)                       84
20 Aston Armstrong (USMA Cycling Team)                         80
21 Jen Stebbins (Dartmouth College)                            77
22 Judy Wexler (Tufts University)                              76
23 Megan Myrick (University of Chicago Cycling Team)           74
24 Netana Hotimsky (Mesa State)                                72
25 Caitlin Thompson (Tufts University)                         72
26 Morgan Robinson (Yale University)                           70
27 Michelle Couch (DePauw U Cycling)                           61
28 Kristen Stouder (WWU Cycling)                               60
29 Elicia Hildebrand (UW-Sheboygan Cycling)                    54
30 Lauren Guggina (DePauw U Cycling)                           52
31 Angela Sherbondy (Bucknell Cycling)                         50
32 Kay Sherwood (Colorado College)                             48
33 Caitlin Marine (St. Olaf)                                   42
34 Caitlin Bever (MIT Cycling)                                 38
35 Ilana Brito (MIT Cycling)                                   38
36 Jess Leuschen (US Air Force Academy)                        38
37 Julia Liang (Georgetown University Cycling Team)            36
38 Katherine Ross (Johns Hopkins U Cycling)                    32
39 Kate Scheider (Williams College)                            32
40 Jenn Perricone (Notre Dame Cycling)                         30
41 Ali Davis (DePauw U Cycling)                                26
42 Amy Krull (Colorado College)                                26
43 Eva Dugoff (George Washington University)                   26
44 Kristen Naegle (MIT Cycling)                                24
45 Mia Huth (Whitman College Cycling)                          22
46 Kelsey Hassin (USMA Cycling Team)                           22
47 Christina Moon (Mesa State)                                 20
48 Abby Currens (DePauw U Cycling)                             16
49 Ashley Krakow (University of WI - LaCrosse Cycling Club)    14
50 Rebecca Jensen (Whitman College Cycling)                    12
51 Meghan Johnson (Notre Dame Cycling)                         12
 
Division 1 teams
 
1 STANFORD U CYCLING                                          519 pts
2 UC DAVIS                                                    430
3 FORT LEWIS COLLEGE                                          409
4 MIDWESTERN STATE                                            385
5 CSU RAMS CYCLING                                            347
6 UNIV OF FLORIDA CYC                                         307
7 UNIV OF NEW HAMP                                            286
8 LEES-MCRAE CYCLING                                          267
9 CU AT BOULDER                                               259
10 PENN STATE CYCLING                                         239
11 U OF WISC-MADISON                                          233
12 University of Virginia                                     220
13 UNIV OF TEXAS CYC                                          208
14 CAL POLY WHEELMEN                                          207
15 UC-SANTA BARBARA                                           196
16 UNC-CHAPEL HILL                                            186
17 INDIANA UNIVERSITY                                         179
18 Northwestern University                                    168
19 Columbia University                                        141
20 UVM Cycling                                                128
21 Virginia Commonwealth University                           123
22 Virginia Tech Cycling Team                                 120
23 NC STATE CYCLING                                           120
24 UNIV OF MINNESOTA                                          116
25 KSU CYCLING                                                113
26 UC Berkeley                                                108
27 UC San Diego Cycling                                       107
28 Oregon State Cycling                                        95
29 UGA Cycling                                                 90
30 Harvard U Cycling                                           85
31 US NAVAL ACADEMY                                            83
32 Purdue University                                           68
33 UNIVERSITY OF UTAH                                          62
34 University of Illinois                                      61
35 UNIV OF ARIZONA                                             58
36 U of Nevada Cycling Team                                    55
37 U of Wyoming Cycling                                        50
38 KU CYCLING                                                  48
39 Clemson University                                          44
40 University of Oregon                                        42
41 UCLA Cycling                                                32
42 U of Michigan Cycling                                       30
43 Portland Stste Cycling                                      24
44 Arizona State University                                    24
45 Texas A&M University                                        20
 
Division 2 teams
 
1 WWU Cycling                                                 478 pts
2 Dartmouth College                                           448
3 Whitman College Cycling                                     405
4 Mesa State                                                  399
5 MIT Cycling                                                 340
6 Colorado College                                            303
7 USMA Cycling Team                                           299
8 DePauw U Cycling                                            286
9 Lehigh University Cycling Club                              245
10 Furman University                                          236
11 Princeton                                                  221
12 Yale University                                            196
13 University of Denver                                       191
14 University of Chicago Cycling Team                         191
15 Bucknell Cycling                                           164
16 Notre Dame Cycling                                         146
17 George Washington University                               144
18 US Air Force Academy                                       143
19 Johns Hopkins U Cycling                                    138
20 Appalachian State Cycling                                  138
21 Middlebury College Cycling                                 132
22 Vassar College                                             107
23 Georgetown University Cycling Team                         100
24 Tufts University                                            97
25 Cumberland University                                       84
26 UCCS                                                        82
27 St Louis U Cycling                                          80
28 Colby College Cycling                                       78
29 Colorado School of Mines                                    74
30 American U Cycling                                          74
31 Williams College                                            64
32 UW-Sheboygan Cycling                                        60
33 St. Olaf                                                    60
34 Emory University                                            54
35 UW La Crosse                                                52
36 Johnson State College                                       39
37 Carleton College                                            38
38 USU Cycling                                                 32
39 University of WI - LaCrosse Cycling Club                    26
40 NGCSU CYCLING CLUB                                          24