US Collegiate championships - CN
USA, May 11-13, 2007
Main Page Results Overall standings Previous Stage Next Stage
Stage 2 - May 12: Road Race,
Boyd, Larson claim division i road race titles
Midwestern University's Alex Boyd makes a bold move
Photo ©: Jason O. Watson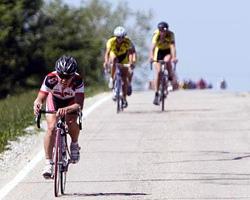 The 2007 USA Cycling Collegiate Road National Championships continued Saturday as four individual national champions were crowned in the road race event and teams took another step towards securing overall titles.
In the Men's Division I Road Race, USA Cycling National Development Team member Alex Boyd (Midwestern State University) escaped from a five-man breakaway in the event's closing miles to claim the national title. Boyd clocked a winning time of 3.46.09 over the 84-mile course as the fastest rider of the 138-man field. After riding in a late-race breakaway with four other riders, Boyd rolled off the front of the move and held off a closing field by just 25 seconds to claim one of the most significant wins of his young career.
Boyd and four others amassed a lead of nearly two minutes before the peloton started closing in and the move became disorganized.
"We were working together pretty well until the gap came down to about 30 seconds and so I decided to go by myself," Boyd said. "I've never won a national title before and I've been racing since I was 12, so this ranks up there as one of my biggest results."
Boyd's contribution helped move Midwestern State University into fourth place in Division I overall standings with 278 points behind Stanford (351), Fort Lewis College (343) and defending champion University of California-Davis (305).
A typical scene all day long - there were dozens
Photo ©: Jason O. Watson

In the Women's Division I Road Race, Rebecca Larson (University of Florida) added another title to her résumé by outkicking the remainder of the 83-rider field at the line in the field sprint finish. Larson, fresh off a six-week trip to Europe as part of USA Cycling's Women's National Team program where she competed in several World Cup and elite-level international races, captured a win in the criterium in 2006. Her efforts in Saturday's 56-mile road race helped put the University of Florida in fifth place overall in the Division I standings behind Midwestern State with 253 points.
"I'm a little tired, I've been on the road a lot in Europe with the national team," Larson explained after her win. "I'm tired, but collegiate racing is such a good thing and I love supporting it and I have a really great collegiate team."
The Women's Division 1 road race included
Photo ©: Jason O. Watson

In the Women's Division II Road Race, pre-race favorite and two-time defending champion Mara Abbott (Whitman College) rode away from her 53 challengers to claim her third consecutive road race title. Abbott finished 39 seconds ahead of runner-up Megan Guarnier (Middlebury College) and four other chasers in the 56-mile race. After claiming five gold medals in 2006 (road race, criterium, team time trial, individual omnium, team overall), Abbott is on her way to repeating that feat this year with a Whitman College win in Friday's Team Time Trial. With only Sunday's criterium remaining, Whitman College is only 25 points behind Western Washington University in the Division II standings.
In the Men's Division II Road Race, Toby Marzot (Dartmouth College) earned the stars-and-stripes jersey with a victory in the 84-mile race. Marzot won a three-up sprint ahead of Todd Nordblom (Colorado College) and Duncan McGovern (Whitman College) to claim the win and help move his squad into third place in the overall Division II standings.
University of Florida's Rebecca Larson wins a field sprint
Photo ©: Jason O. Watson

Sunday's criterium in downtown Lawrence will provide the final opportunity for teams to move up in their respective divisions in order to claim overall team titles. In the Division II standings, Western Washington University leads Whitman College 346-321, while Dartmouth College (294), Mesa State (293) and MIT (276) are still in contention.
Also on the line Sunday will be individual overall titles as competitors will score points in the criterium to add to their road race points earned on Saturday. Criterium points and road race points will be combined to name four individual overall champions.
Courtesy USA Cycling Media Services
Photography
For a thumbnail gallery of these images, click here
Images by Jason O. Watson/www.jasonowatson.com
Results
Men - Division 1
 
1 Alex Boyd (Midwestern State University)              3.46.09
2 Kiel Reijnen (University of Colorado at Bould)          0.26
3 Will Dugan (UVM Cycling)                                    
4 Steve Scholzen (U of Wisconsin-Madison)                     
5 Yarden Gazit (Fort Lewis College)                           
6 Owen Nielsen (Virginia Tech Cycling Team)                   
7 Mark Hardman (University of Virginia)                       
8 ok Dibble (UC Davis)                                        
9 Rand Miller (Stanford U Cycling)                            
10 Jeffrey Buckles (Virginia Commonwealth Universit)          
11 Ryan Parnes (Stanford U Cycling)                           
12 Stephen Dey (UC Davis)                                     
13 Scott Leland (U of Nevada Cycling Team)                0.27
14 Joey Thompson (Fort Lewis College)                         
15 Derek Laan (Purdue University)                             
16 Chris Ruhl (Penn State Cycling)                            
17 Zach Kimsey (UC Davis)                                     
18 Bobby Sweeting (University of Florida Cycling C)           
19 J Gabriel Lloyd (Columbia University)                      
20 Seth Meyer (Northwestern University)                   0.28
21 Phil Mann (CSU Rams Cycling)                           0.29
22 Taylor Hansen (University of Utah Cycling)             0.32
23 Michael Schmidt (Fort Lewis College)                       
24 Mark Smelser (KSU Cycling)                                 
25 Isaac Neff (Indiana University)                        0.33
26 Chris Kuhl (Fort Lewis College)                            
27 Isaac Howe (UVM Cycling)                                   
28 William Allender (Cal Poly Wheelmen Cycling Club)          
29 Zack Simkover (UC San Diego Cycling)                   0.34
30 David Glick (University of Arizona Cycling)                
31 Colter Cederlof (UC San Diego Cycling)                     
32 Mitch Comardo (Midwestern State University)                
33 Jared Barrilleaux (Cal Poly Wheelmen Cycling Club)         
34 Dan Workman (CSU Rams Cycling)                         0.35
35 Christopher Clary (Northwestern University)            0.38
36 Ryan Mcfeely (US Naval Academy)                        0.39
37 Scott Riddle (U of Michigan Cycling)                   1.05
38 Jason Knight (KU Cycling)                              1.16
39 Benjamin Zawacki (Clemson University)                  1.27
40 John Zaccone (Virginia Tech Cycling Team)              1.43
41 Alexander Bremer (Columbia University)                 2.40
42 Patrick Mcglynn (CSU Rams Cycling)                     2.41
43 Jimmy Lingwood (PSU Cycling)                               
44 Taylor Kneuven (University of Colorado at Bould)           
45 Blake Harlan (University of Colorado at Bould)         3.28
46 Joey Dantoni (NC State Cycling)                        3.46
47 Vasanth Coorg (Texas A&M University)                   4.17
48 Michael Esbach (University of Virginia)                    
49 Orion Berryman (University of Oregon)                  4.32
50 Luke Winger (Lees-McRae Cycling Team)                  4.45
51 Mark Scaife (UC - Santa Barbara Cycling)               5.16
52 Braden Bingham (University of Colorado at Bould)       6.35
53 Anton Petrov (UCLA Cycling)                            7.56
54 Kevin Holldber (Lees-McRae Cycling Team)               8.31
55 Ryan Baumann (U of Wisconsin-Madison)                  8.53
56 Eric Bean (U of Wisconsin-Madison)                     8.54
57 Ryan Knapp (Indiana University)                        9.14
58 Jonathan Royal (Marian College Cycling Team)           9.36
59 Ryan Kelly (University of New Hampshire)              15.16
60 Chris Chartier (Indiana University)                   18.44
61 John Hatlelid (University of Texas Cycling)           20.16
62 Frank Palmieri (University of Texas Cycling)          20.19
63 Brett Tack (CSU Rams Cycling)                              
64 Evan Pickett (Stanford U Cycling)                     20.22
65 Daniel Blomgren (UC Berkeley)                              
66 Brian Reilly (University of Utah Cycling)             20.23
67 Bryan Moritz (Iowa State University Cycling)          20.24
68 Richard Shurtz (KSU Cycling)                               
69 Matt Waite (U of Wisconsin-Madison)                   20.39
70 Matt Beck (UNM Lobo Cycling)                          20.41
71 Matt Spohn (Penn State Cycling)                       21.29
72 Jon Mason (US Naval Academy)                               
73 Eric Eichner (Texas A&M University)                   30.10
74 Mitchell Peterson (University of Utah Cycling)        30.33
75 Justin Brown (Penn State Cycling)                     31.38
76 David Kuhns (Oregon State Cycling)                         
77 Nick Angus (Auburn Flyers)                            37.26
78 Patrick Healy (UC - Santa Barbara Cycling)            37.33
79 Tomas Simonson (US Naval Academy)                     37.41
80 John Giles (KU Cycling)                               42.11
81 Jameson Ribbens (University of Minnesota)             48.44
 
Women - Division 1 
 
1 Rebecca Larson (University of Florida Cycling C)     2.47.52
2 Erica Allar (Penn State Cycling)                        0.01
3 Margaret Shirley (Columbia University)                      
4 Susannah Pratt (University of New Hampshire)                
5 Anna Mcloon (Harvard U Cycling)                             
6 Hadley Trotter (UNC-Chapel Hill)                        0.02
7 Rae Brownsberger (Stanford U Cycling)                       
8 Ann Turner (UGA Cycling)                                    
9 Arwen Bradley (Stanford U Cycling)                          
10 Hannah Whitaker (NC State Cycling)                         
11 Monique Hein (Lees-McRae Cycling Team)                     
12 Jennifer Johansen (UC - Santa Barbara Cycling)             
13 Caitlyn Mccullough (Stanford U Cycling)                    
14 Kristin Mcgrath (Fort Lewis College)                       
15 Julianne Stemp (University of New Hampshire)               
16 Natalie Klemko (Midwestern State University)               
17 Jessica Cole (University of Illinois)                      
18 Brenna Wozniak (University of Texas Cycling)           0.03
19 Pam Loebig (Indiana University)                            
20 Monica Foley (UNC-Chapel Hill)                             
21 Jenna Kowalski (Cal Poly Wheelman Cycling Club)        0.04
22 Amanda Seigle (UC Davis)                               0.05
23 Sheri Jordan (Midwestern State University)                 
24 Pamela Archer (Oregon State Cycling)                   0.06
25 Heidi Scronce (University of Texas Cycling)                
26 Rebecca Blatt (University of Virginia)                     
27 Kari Edvenson (University of Minnesota)                0.11
28 Yvonne Schumacher (U of Wisconsin-Madison)             0.12
29 Jamima Iley (UC Davis)                                     
30 Lauren Liscinski (UC - Santa Barbara Cycling)              
31 Ally Stacher (Lees-McRae Cycling Team)                 0.13
32 Megan Cassidy (CSU Rams Cycling)                           
33 Vikki Appel (UCLA Cycling)                                 
34 Melanie Wong (Northwestern University)                 0.14
35 Stephanie Thompson (University of Minnesota)           0.15
36 Tammy Thompson (University of Texas Cycling)           0.17
37 Tiffany Stewart (Midwestern State University)          0.19
38 Kimberly Fong (UC Berkeley)                            0.20
39 Heidi Goodson (Columbia University)                        
40 Kim Trenbath (University of Colorado at Bould)         0.21
41 Heather Sborz (Arizona State University)                   
42 Melissa Doherty (U of Wyoming Cycling)                 0.22
43 Jacquelyn Crowell (University of Florida Cycling C)    0.24
44 Julia Lafranchise (UC San Diego Cycling)               0.26
45 Sabina Kraushaar (Fort Lewis College)                  0.27
46 Julia Manley (CSU Rams Cycling)                            
47 Christy Roberts (Fort Lewis College)                   0.28
48 Melissa Wills (Penn State Cycling)                     4.08
49 Kacey Manderfield (Lees-McRae Cycling Team)            4.28
50 Cate Mclean (University of Virginia)                   4.29
51 Clara Smart (Northwestern Unviersity)                  4.38
52 K. Jo Markham (Lees-McRae Cycling Team)                    
53 Amy Chandos (UC Davis)                                 4.41
54 Amy Encalada (UC Davis)                                4.42
55 Whitney Schultz (University of Texas Cycling)          4.45
56 Rebecca Finley (Iowa State University Cycling)         4.50
57 Lila Hickey (CSU Rams Cycling)                         4.55
58 Kim Potter (UGA Cycling)                               5.02
59 Alicia Mitchell (UC - Santa Barbara Cycling)           6.08
60 Katherine L. Haft (Indiana University)                 7.00
61 Sarah Rawley (CSU Rams Cycling)                        7.31
62 Heidi Buehler (UC - Santa Barbara Cycling)             7.54
63 Emily Flynn (Michigan State University)                    
64 Shannon Eliot (UC-San Diego Cycling)                   7.55
65 Katie Gasser (University of Utah Cycling)              7.57
66 Kristen High (KU Cycling)                              8.04
67 Kathy Kalbac (KU Cycling)                                  
68 Jessica Kukla (University of New Hampshire)           16.17
69 Madeline Puissant (UW Milwaukee)                      19.18
70 Ashley Simon (U of Wisconsin-Madison)                 28.35
71 Miriam Gillow-Wiles (PSU Cycling)                     31.44
72 Jessie Duppler (U of Wisconsin-Madison)               36.11
73 Mary Coats (U of Wisconsin-Madison)                   36.12
 
Men - Division 2
 
1 Toby Marzot (Dartmouth College)                        57.24
2 Todd Nordblom (Colorado College)                            
3 Duncan Mcgovern (Whitman College Cycling)                   
4 Phil Mooney (DePauw U Cycling)                          0.02
5 Peter Horn (Vassar College)                                 
6 Chris Stuart (Mesa State)                                   
7 Eric Schildge (Dartmouth College)                           
8 Matt Prygoski (Notre Dame Cycling)                      0.03
9 Chris Daifuku (WWU Cycling)                                 
10 Casey Mccauley (UW La Crosse)                          0.04
11 Zach Garrett (US Air Force Academy Cycling Cl)         0.05
12 Ben Showman (USMA Cycling Team)                            
13 Mike Lavery (Notre Dame Cycling)                       0.14
14 Ryan Bloom (Johns Hopkins U Cycling)                   0.18
15 Nick Clayville (WWU Cycling)                           6.50
16 Nate Keck (Mesa State)                                 7.00
17 Huy Tran (Lehigh University Cycling Club)             11.18
18 Charles Alexander (Bucknell Cycling)                  11.32
19 Kyle Wagner (Lehigh University Cycling Club)          11.43
20 Ross Mcentarfer (DePauw U Cycling)                    11.44
21 Christopher Mina (Lehigh University Cycling Club)     11.45
22 Kevin Mullervy (Mesa State)                           11.48
23 Andrew Walters (Lehigh University Cycling Club)            
24 Glenn Murray (UCCS)                                   11.49
25 Eric Edlund (MIT Cycling)                             11.50
26 Ryan Bodge (American U Cycling)                       11.53
27 Stephen Kriss (Yale University)                       11.57
28 Matt Rossman (Dartmouth College)                      12.14
29 Phil Becker (US Air Force Academy Cycling Cl)         13.53
30 Chris Pickett (Georgetown University Cycling T)       14.39
31 Grant Goerzen (University of Denver Cycling)          14.43
32 Christopher Tracy (MIT Cycling)                       14.48
33 Mitchell Hamilton (Mesa State)                        14.50
34 Adam Kahler (Bucknell Cycling)                        14.52
35 Jonathan Tower (Colorado College)                     14.53
36 Mitch Hoke (Colorado College)                              
37 Phil Elsasser (WWU Cycling)                                
38 Thomas Weatherall (Johns Hopkins U Cycling)                
39 Steve Pingree (USMA Cycling Team)                     14.54
40 Jonathan Chodroff (Yale University)                   14.55
41 Mark Fraser (US Air Force Academy Cycling Cl)         14.56
42 Sean Noonan (Carleton College)                        19.30
43 Ross Bowden (Appalachian State Cycling)               19.32
44 Mike Campbell (USMA Cycling Team)                     23.51
45 Neal Broshears (DePauw U Cycling)                     34.39
46 John Stallings (DePauw U Cycling)                          
47 Jonathan Tenney (University of Chicago Cycling T)     36.59
48 Ira Tibbitts (USU Cycling)                            37.59
49 Tucker Sawin (Williams College)                       50.00
 
Women - Division 2
 
1 Mara Abbott (Whitman College Cycling)                2.57.15
2 Megan Guarnier (Middlebury College Cycling)             0.33
3 Devon Haskell (University of Chicago Cycling T)             
4 Ashley Anderson (Furman University)                     0.34
5 Martha Buckley (MIT Cycling)                            0.35
6 Andrea Luebbe (Lehigh University Cycling Club)              
7 Jennifer Bodine (George Washington University)          1.43
8 Naticia Slusher (Mesa State)                            1.53
9 Kendi Thomas (Whitman College Cycling)                      
10 Courtney Rehwoldt (USMA Cycling Team)                  1.54
11 Rachel Clattenburg (Princeton)                             
12 Rose Long (Colby College Cycling)                      1.57
13 Jenna Farleigh (Dartmouth College)                         
14 Devon Spika (Whitman College Cycling)                      
15 Stephanie Jansing (St Louis U Cycling)                 2.11
16 Meagan Mcphee (WWU Cycling)                            3.18
17 Melissa Marts (Colorado School of Mines / Mine)        3.45
18 Heidi Hoff (WWU Cycling)                                   
19 Katie Ronsse (University of Denver Cycling)            3.47
20 Morgan Robinson (Yale University)                          
21 Michelle Couch (DePauw U Cycling)                      3.48
22 Kristen Stouder (WWU Cycling)                              
23 Caitlin Thompson (Tufts University)                    3.53
24 Judy Wexler (Tufts University)                         4.04
25 Lauren Guggina (DePauw U Cycling)                      4.42
26 Angela Sherbondy (Bucknell Cycling)                    4.45
27 Kay Sherwood (Colorado College)                            
28 Megan Myrick (University of Chicago Cycling T)             
29 Elicia Hildebrand (UW-Sheboygan Cycling)               4.46
30 Caitlin Marine (St. Olaf)                                  
31 Aston Armstrong (USMA Cycling Team)                    4.47
32 Ilana Brito (MIT Cycling)                                  
33 Julia Liang (Georgetown University Cycling T)          5.08
34 Caitlin Bever (MIT Cycling)                                
35 Katherine Ross (Johns Hopkins U Cycling)               5.30
36 Jenn Perricone (Notre Dame Cycling)                    6.15
37 Netana Hotimsky (Mesa State)                           9.16
38 Eva Dugoff (George Washington University)             11.04
39 Kristen Naegle (MIT Cycling)                          12.15
40 Kelsey Hassin (USMA Cycling Team)                     19.39
41 Christina Moon (Mesa State)                           19.43
42 Amy Krull (Colorado College)                          21.12
43 Abby Currens (DePauw U Cycling)                       21.32
44 Ashley Krakow (University of WI - LaCrosse Cyc)       23.27
45 Meghan Johnson (Notre Dame Cycling)                   27.38
46 Rebecca Jensen (Whitman College Cycling)              30.54
47 Ali Davis (DePauw U Cycling)                          30.55